TORONTO – Load management was a sub-plot never far from the surface all season long for the Toronto Raptors. When Kawhi Leonard would play and under what circumstances was the lurking question after he lost nearly an entire season to injury the year before.
But as the buzz from Leonard's one-of-a-kind game-winner Sunday night – it was the first Game 7 walk-off shot in NBA history – slowly wears off, a different kind of 'load management' will likely take centre stage as the Raptors turn their attention to Game 1 of the Eastern Conference Finals against the Milwaukee Bucks Wednesday night.
What is the right load for Leonard to carry offensively? And for how long can he carry what the Raptors have asked him to so far in the post-season?
The euphoria of the moment obscured a fairly salient fact as the Raptors prepare to take on the Bucks: The Raptors offence struggled to score at a steady clip against Philly and became overly reliant on Leonard to save them.
It will likely get more difficult against Milwaukee, who had the NBA's best defensive rating during the regular season at 104.9 points per 100 possessions and have tightened the screws more in the playoffs, posting a 98.2 mark through two rounds, best among all playoff teams.
Meanwhile the Raptors' 113.1 offensive rating in the regular season slipped to 111.4 against Orlando in the first round and 106.3 against the Sixers.
As the Raptors offence has struggled, Leonard's role has increased. Through the regular season Leonard had a usage rate of 30.3 but that has spiked to 34 through 12 playoff starts and all the way to 35.6 against the Sixers. In Game 7 it was 48.1, which means nearly half of every possession Leonard was on the floor for ended with him either shooting, turning the ball over or getting fouled.
It was the highest usage rate of Leonard's post-season career – he's never been above 40 per cent before – and his 39 shot attempts was tied for fourth-most of all time, the record belonging to Michael Jordan who took 45 shots on his way to a 55-point game against the Cleveland Cavaliers in 1988.
Leonard was prepared to do whatever it would take to advance and if that meant looking to score nearly every time he touched it, so be it.
"I knew it was Game 7. I didn't want to leave no shots in my mind. I just wanted to go out and leave it all on the floor," he said Sunday night. "This could have been my last game for the season and I would have had to wait four or five months to put up another shot in a game. So I was gonna leave it all out on the floor tonight and not worry about makes or misses and still just try to will us to a win or just get to my spots."
Leonard can't be faulted for looking for his own. Raptors not named Kawhi shot just 39.8 per cent from the floor against the Sixers and 27.4 per cent from deep. In Game 7 his teammates shot 36 per cent from the floor and 23.8 per cent from three.
Stream all Sportsnet games of the NBA Finals as the Toronto Raptors take on the Golden State Warriors for the Larry O'Brien Trophy. Plus, get the Stanley Cup Final, MLB, IndyCar and more.
"He did a great job with [carrying the load] because offensively we didn't have it going tonight," said Danny Green who is shooting 36.3 per cent from three in the playoffs after connecting on 45.5 per cent in the regular season, the second-best high-volume total in the NBA and a career-high for the 10-year veteran. "We did well defensively, rebounding, we boxed out, did the little things well like we wanted to. Didn't shoot it well, offensively we couldn't get the pace we wanted or the open looks. He carried that load for us on that end of the floor and we needed him to."
But there can be too much of a good thing. It's easy to forget that being a high-usage, volume scorer is a relatively new phenomenon for Leonard, who broke into the NBA as a defensive specialist and had to develop himself into a spot-up three-point shooter after being a post player in college. His first season with a usage rate over 30 per cent – the threshold for elite scorers in the NBA – was only two years ago, and don't forget he only played nine games last season. He's learning on the fly.
Talk to members of the Raptors staff and they'll tell you: Leonard is still figuring things out. His next step will be to become a more instinctive playmaker. Of the 14 players in the NBA this season with a usage rate of 30 per cent or greater, Leonard was the least likely playmaker – his assist percentage of 16.4 was the lowest, trailing even Joel Embiid, the Sixers big centre who was 18.4 per cent. James Harden, the ball-dominant star with the Houston Rockets had an assist percentage of 39.5.
It's not uncommon for elite scorers to use the early part of a game to feel out the defence and look for chances to get their teammates involved early, knowing that if they exist as options in the mind of the defence he'll benefit, and also confident that they can get their looks at will. So why not help others gain their confidence?
That wasn't how Leonard came out in Game 7 as a sequence of plays late in the first quarter shows he was thinking score first and second, pass only after other options dried up.
In this one Gasol sets a screen for Leonard and rolls into the space around the foul line where he can take a short jumper, take one dribble to the rim or maybe pass to an open three-point shooter if the defence collapses on him in the paint. Most relevantly, he's wide open. Instead, Leonard never looks at Gasol and gets his shot blocked on a tough two by Ben Simmons.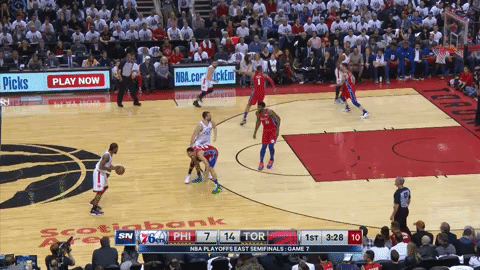 On the next possession Gasol sets the screen for Leonard but Leonard picks up his dribble too soon to move the defence. Meanwhile Gasol doesn't roll and instead looks up, convinced Leonard is going to shoot. Who is to blame here, Gasol trying to hold the screen too long, assuming (reasonably) Leonard was going to shoot or drive? Or Gasol for not rolling harder and faster into the space available? Regardless, it's another stilted possession and they have to settle for a contested jumper form Ibaka.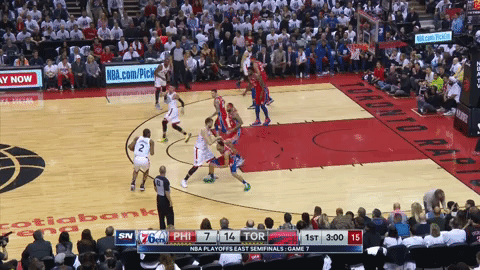 A few moments later Leonard makes his first turnover as he uses a Pascal Siakam screen to drive to the paint but, without a clear plan, gets herded to the baseline where he pitches out in desperation. Siakam could have relocated better, but it's another example where Leonard didn't leave himself or his teammates great options.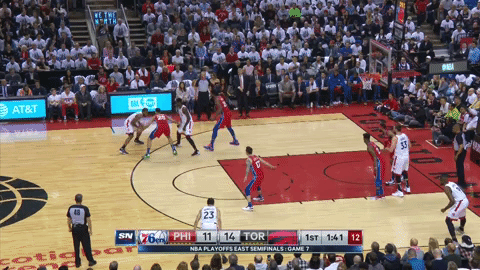 And again, Leonard attacks into a crowd, has to pick up his dribble early and luckily gets bailed out when Simmons fouls him. There were 14 seconds on the shot clock when he started with the ball, plenty of time to reset and get better spacing, but Leonard was over-eager.
It's a small sample, but if you happened to be wondering how the Raptors held the Sixers to 5-of-19 shooting in the first quarter, forcing five turnovers, and yet only led 18-13 these types of plays help explain it. Leonard eventually got rolling – he ended up shooting 6-of-9 in the fourth quarter for 15 points and saved the day – but he entered the final frame shooting 10-of-30 with three turnovers and just two assists. It wasn't pretty and who knows, with a different approach the heroics may not have been necessary.
In any case, there is blame to go around. Players not named Kawhi have to present themselves as shooting threats and be ready to fire when they get the chance. It may be tempting to stand and watch and catering to him might feel like the right play, but it's not an approach that can win in the next round.
It's just one example, but here Leonard draws a crowd, pitches in out to Gasol – who has shot 43 per cent from deep since joining the Raptors in February – he swings it to Green, the best three-point shooter the Raptors have. Neither of them so much as looked at the rim. It's bizarre.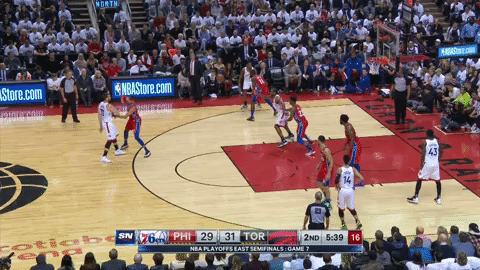 The good news is these are relatively simple fixes. More patience, more movement, more sets where Leonard doesn't start with the ball could all contribute to a slightly more balanced attack, as would a more concentrated effort by his teammates to show themselves as threats. It may just be a coincidence but two of the Raptors most impressive offensive games in the post-season – their Game 5 closeout win over Orlando and their franchise-record 36-point Game 5 blowout of Philly – were the two lowest-usage games Leonard has had.
Sure, the Raptors have won plenty of games with Leonard doing everything – and they won one of the biggest games in franchise history doing just that – but he shouldn't have to carry that kind of load, and if he does it's doubtful he'll be able to carry the Raptors much farther.