OAKLAND — In hindsight, this should have been a thunderous dunk, right?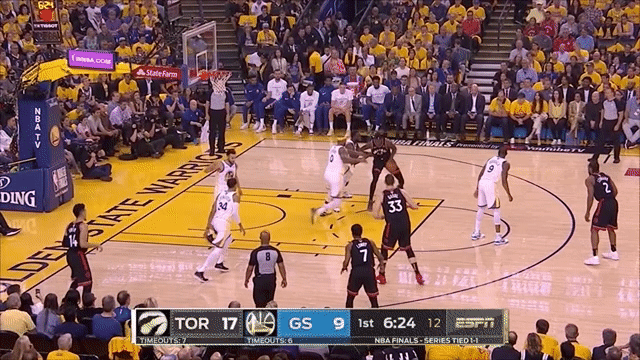 Like, that should have been the Marc Gasol poster. Just seven feet of Big Spain jamming all over a turnstyling Steph Curry in Game 3 of the NBA Finals. Maybe five years ago when Gasol was in his late 20s and still had hops like that. Or, actually, maybe never, because Gasol's poster is definitely just him throwing a perfect pass, or dissecting a defence, or setting a pick, moving the ball quickly and putting in motion a fluid run of play that leads to an uncontested, high-percentage look.
And since that's what goes up on the wall of Gasol's biggest fan, you can bet the Toronto Raptors centre just loved being a part of his team's 123-109 overwhelming of the Golden State Warriors on Wednesday. Not just because it put the Raptors up a game in the NBA Finals, only two wins away from the franchise's first championship and Gasol's first ring. But because it was one of the most thorough, comprehensive, synergistic offensive efforts the Raptors have put forward all playoffs.
All five starters made 10 attempts or more and scored at least 17 points. Four of them had five rebounds or more. Four of them had at least four assists. If there was one thing they didn't do, it was getting to the line as Toronto shot only 21 free throws to Golden State's 30. But when you shoot 52 per cent from the field and 45 per cent from beyond the arc, do you really need to?
If there is a podcasting odd couple, this might be it. Donnovan Bennett and JD Bunkis don't agree on much, but you'll agree this is the best Toronto Raptors podcast going.
Four Raptors finished with usage rates over 20 per cent, and none of them hit 30. The Raptors averaged 124.2 points per 100 possessions, the third-best rate they've put up in 21 games this post-season. They played to a 70 per cent assist rate for only the fifth time in these playoffs, piling up 30 assists on 43 buckets. They set playoff highs in effective field goal percentage (62.8 per cent) and true shooting (67.4 per cent). They put on an offensive show in the house of basketball's best offence.
"Well, our offence wasn't very good in Game 2 and we knew that was hurting our defence as well," said Raptors head coach Nick Nurse. "We tried to play with more pace up the court, and we tried to play with more pace in the half court. I thought you just saw a lot more cutting and passing. Obviously, 30 assists. And you saw a lot more shots go in. That helps, right?"
You know what, we've looked into it and the answer is yes — yes, it does. It helps when Gasol's making plays like the one above, moving toward the basket off the ball, taking a crisp pass from Pascal Siakam and finishing at the rim. It helps when Gasol's cutting into the paint like that, looking for teammates to throw him the same smooth passes he so often provides, like this one from Kawhi Leonard, which came out of his huge hands like a missile: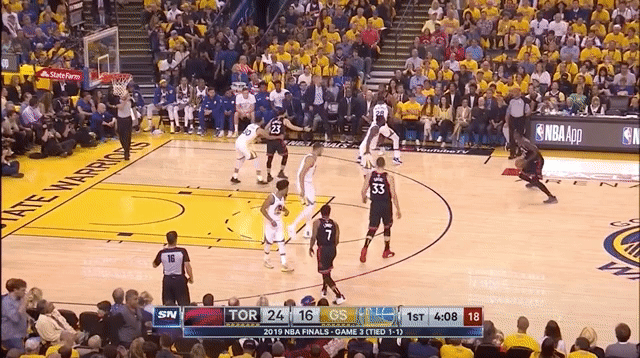 It helps when Kyle Lowry's having one of his be everywhere, do everything games, setting an early offensive tone while dishing out nine assists, pulling up at will from beyond the arc and hitting five of the nine three's he attempted. When he's still contributing all the little things, as he led his team in contested shots (13), went flying into the second row of seats after a loose ball and boxed out guys with six inches and 40 pounds on him, such as Draymond Green, who actually ended up being called for a foul on this one: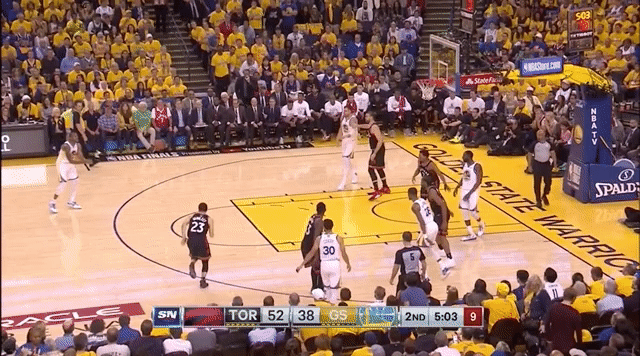 It helps when Leonard's leading his team in points again despite never hitting a shot you'd remember. When he's overcoming an unusually ineffective first half to pour in 15 in the third quarter alone, just coldly, calmly, ruthlessly deconstructing a defence. When he's deciding he simply wants the ball more than anyone else on the court and taking it, like the board man does here when he comes out of nowhere to grab his second offensive board and extend a possession that ultimately resulted in a Danny Green three:
It helps, speaking of the devil, when Green's looking like himself again, stepping confidently into his threes and actually making them, hitting as many times from distance Wednesday (six) as he did in his six previous games combined, and two more than he hit in the entire Eastern Conference Finals. When he's not only making the open ones from the corners, which he must but drilling the rushed, off-balance looks like the one he took immediately after Leonard's all-hustle offensive rebound: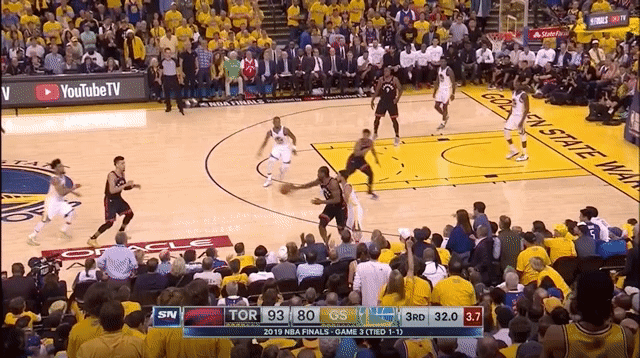 It helps when Fred VanVleet's continuing to play as the people's two-way MVP, carrying a massive load defensively in chasing Curry all over the floor, and coming up with clutch, no-time-to-set-your-feet, did-he-actually-just-make-that circus buckets like this one, which was essentially Wednesday's dagger: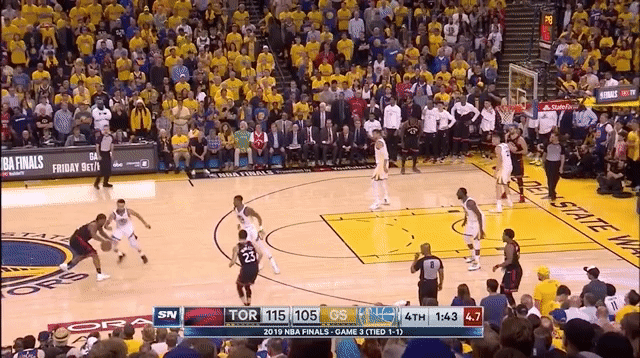 It helps when Siakam's getting into the paint and feasting on those little five-foot hook shots, or putting Jonas Jerebko on roller skates, or with the shot clock draining and his team's offensive possession stalled, drilling a step-back jumper right in Shaun Livingston's face:
This was the Raptors at their offensive best — sharing the ball, generating good looks, hitting shots. It's simple stuff. But think about how many times this year you've watched Toronto's offence put the ball in Leonard's hands, clear out and hope he can create something. Yes, it's been necessary at times — the Raptors wouldn't be here, two wins from a title, without Leonard carrying them through a not-insignificant amount of games. And, yes, Leonard's absurdly talented enough to make that approach work.
But as an opponent, you'd certainly rather play the give-it-to-Kawhi-and-let-him-cook Raptors than the Raptors who never trailed against the Warriors on Wednesday night. The ones who played freely, fluidly and together, trusting one another and getting contributions from up and down the roster.
"Once I'm driving in the paint, kicking out to guys that are making shots, the defence doesn't want to collapse as easy. We've just got to keep playing them in that flow, really," said Leonard, who had six assists for the fourth time in these playoffs, after doing it only six times during the regular season. "I feel like we just don't need to worry about me scoring the basketball. We all can score with the offence that we have — we've just got to keep moving.
At times, when I do have the ball the offence gets real stagnant and we just stay in one spot. And that's so easy to guard if you're defending us. So, it's about just moving the ball, playing the team sport and trusting everyone."
Sounds straightforward enough, and if the Raptors can carry that offensive cohesion forward into Friday's Game 4, and the one to three games that follow, they'll have a very good chance of shocking the world. It's a mentality and an approach that was expressed in three words someone wrote on the whiteboard in Toronto's dressing room before the game: "Let it rip."
Move the ball, take your shots, trust the guy beside you to make them if you don't. That all starts with a confidence, an aggressiveness that the Raptors carried into Oracle Arena on Wednesday. A belief in each other, in their system and in themselves.
"It doesn't really matter, right?" Nurse said, in response to a question about trying to contain Curry, who went off for 47 points in a losing effort. "All that matters is — my dad used to tell me the stats don't matter, just the final score. So, we'll just take the win and be thankful for that."