TORONTO — Steve Kerr peeled back the black curtain to the left of the podium in the Scotiabank Arena press conference room and flashed a warm smile as he greeted public relations staff.
The Golden State Warriors head coach engaged in a few words of chatter before pouring water from a plastic Dasani bottle into a green Gatorade cup, then stepped toward the spotlight.
The glare of the NBA Finals is something he's become accustomed to over his NBA career as a championship player, then a championship coach, and Kerr knows how to adjust the lighting as he sees fit, doing just so in this media availability shortly before Sunday's Game 2 tipoff.
Kerr, 53, was wearing a black T-shirt with lettering that read, "Vote For Our Lives." He donned it to represent his advocacy for stricter firearm laws in the U.S. following the mass shooting in Virginia last Friday when a gunman killed 12 people.
"The shirt has everything to do with the tragedy in Virginia Beach a couple days ago, and how devastated so many families are and so many people are," Kerr said, his smile replaced by a serious expression. "The shirt is a reminder that the only way we can get out of this mess is to actually vote, and to vote for people who are going to be willing to create some change in our gun laws in our country."
Kerr, who said he was unaware that former U.S. president Barack Obama was set to attend Game 2 in Toronto, has voiced his stance on gun violence in America several times in the past. It's a deeply personal subject — his father, Malcolm, was assassinated by terrorists in Lebanon 35 years ago while serving as president of the American University of Beirut.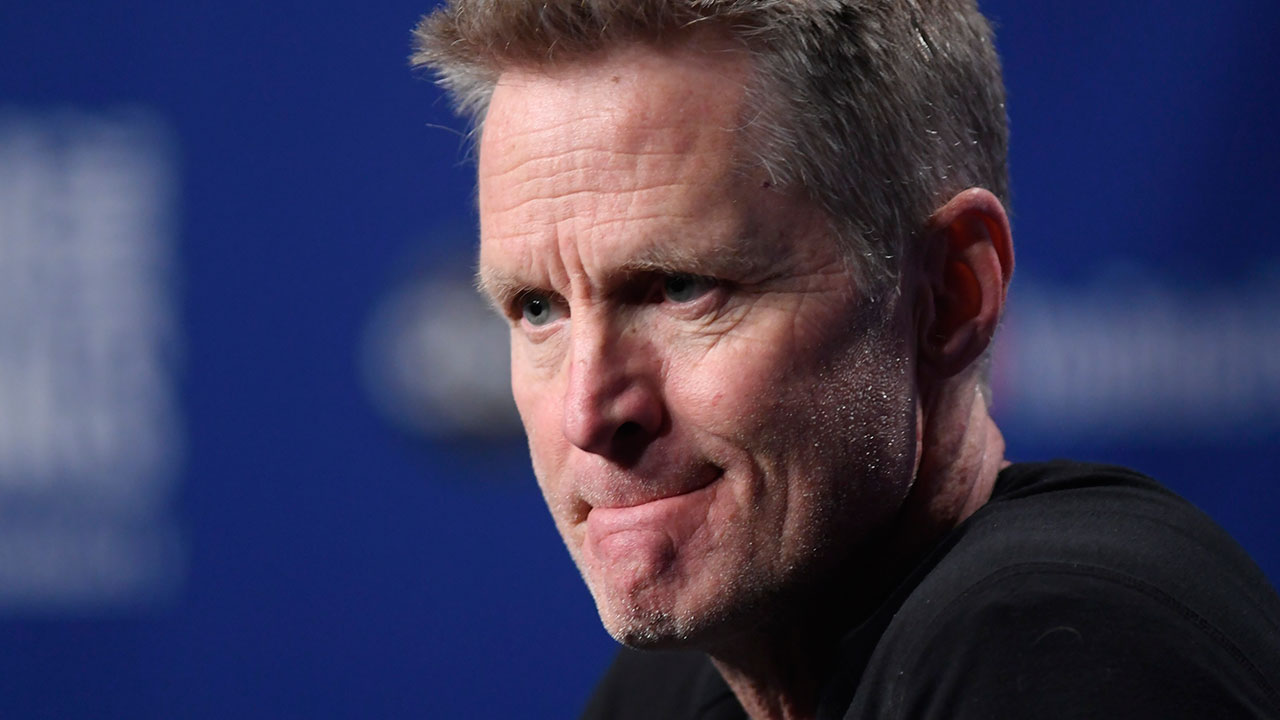 Kerr's willingness to be one of the NBA's leading voices on social issues is what has endeared him to so many in and outside of basketball.
"He understands the platform he has," said ESPN commentator Michael Wilbon, who covered Kerr as both player and head coach. "He's not afraid. The stance he takes, the guts he demonstrates, the passion and humanity he has."
Kerr's playing career included five NBA championships (three with Michael Jordan's Bulls and two with Tim Duncan's Spurs) and he followed that with three rings in his first four seasons as an NBA head coach.
It's very much a charmed life when compared to the that of his counterpart in the 2019 NBA Finals.
Toronto Raptors head coach Nick Nurse didn't crack the NBA as a player and earned his coaching stripes in the British Basketball League and the D-League. He was essentially a pauper to Kerr's prince.
Their matchup is a small subplot to this championship series, especially considering that Kerr and Nurse are two of only six rookie head coaches to reach the NBA Finals over the past 40 years.
One has lived and thrived in the spotlight. The other is just stepping into it.
"The contrast is an attractive one to have in the NBA Finals," said Wilbon. "For Nick Nurse to have the path that he took, if he winds up with an NBA championship ring, that's extraordinary."
With the series tied 1-1, the logo that's to be embroidered on jewelry is a long way from being decided. But for Nurse, 51, even getting to this position is an achievement.
The story has been told all season. He took over for Coach of the Year Dwane Casey. He was faced with a win-or-bust scenario. He had to navigate the load management of superstar Kawhi Leonard, whose upcoming free agency could alter the organization's trajectory.
"Everybody's on pins and needles because you don't know what Kawhi is going to do," said Basketball Hall of Fame journalist David Aldridge. "If he leaves, whose fault was it? It's hard to take that job and [Nurse has] taken the bull by the horns."
Nurse impressed observers along the way, drawing praise for his ability to make adjustments.
"I've watched Nick closely," said Rick Carlisle, longtime head coach of the Dallas Mavericks. "I love the way he's approached the entire season. They have set up the entire season to work to get to this point and for a first-time NBA head coach, that's not easy to do."
Managing people — many with big egos — is arguably the most important task of a head coach at this stage of professional basketball. Nurse, like Kerr, is known for that. Neither is overbearing or excessively demonstrative. And the two are expert communicators, their traits on display every time they meet with media and evident in the fine print of player discourse.
"I think Nick honestly yelled at us twice the whole year," Raptors guard Kyle Lowry said recently. "That's legit: twice the whole year. And that's a long season to only yell at a team twice."
The obvious area where Nurse and Kerr differ, though, is profile. Kerr played for one of the greatest teams in league history and now coaches its modern day equivalent. His star status was evident Sunday when legendary head coach Frank Layden, the 2019 Chuck Daly Lifetime Achievement Award winner, was asked his impressions of Kerr.
"I always judge coaches by: 'Would I want my son to play for that coach or would I want my daughter to play for that coach?'" answered Layden. "And if the answer is 'Yes,' then they're a good coach. And I think that that's what I could say about Steve Kerr … He seems to be a gentleman. He handles winning well when a lot of people don't."
[relatedlinks]
Asked about Nurse, Layden said he was impressed by the Raptors leader, but admitted that he had never met him.
The world will become more acquainted with Nurse over the next week, as he gets more time under the intense glare of the NBA Finals.
However, if he manages to defeat his peer, then acquainted will need to be replaced with a stronger word.
"If he wins one, in Canada, it means the background goes away. You stand out," said Wilbon. "You're forced out front and I think Nick would be cool doing that. Because I think Nick has conviction.
"He would be comfortable in that position because he's not overwhelmed."