MILWAUKEE — Considering how well he's played through four games against the Milwaukee Bucks in the Eastern Conference Final, you might not realize how injured Kyle Lowry is.
For the series, he's shooting 52 per cent from the field and 48 per cent from beyond the arc. No player on either team has hit more than Lowry's 15 three-pointers — only Norman Powell (11) has more than nine. Lowry holds his team's best net rating at 10.7. When he's been on the court, Toronto's offence has averaged 109.5 points per 100 possessions. When he's been off of it, that number plummets to 87.7.
A badly sprained left thumb, suffered during Toronto's epic Game 7 victory over the Philadelphia 76ers a week-and-a-half ago, hasn't been enough to stop Lowry from playing as one of the most impactful players in the subsequent four games. But every once and a while, you get a glimpse of how bad it is. Pascal Siakam certainly did, when Lowry tried to find him on the baseline early in Game 4 with a pass off his left hand.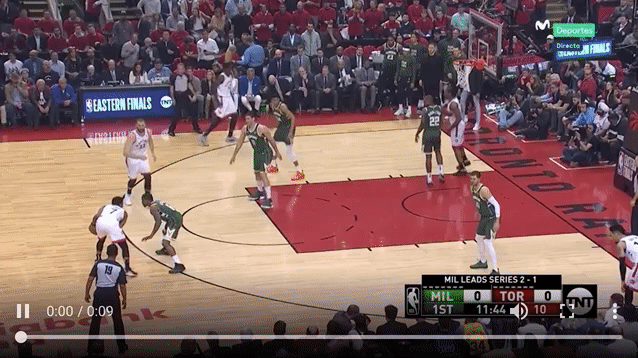 "Usually, his passes are always on point. But that pass, I don't know," Siakam said, laughing, as the Raptors gathered for shootaround on the morning of Thursday's pivotal Game 5. "He's a warrior. … It doesn't matter whether he's injured, whatever, he's always put it all on the line. And he does everything to make sure that we win. That's definitely a guy that I always want to have on my team. I'm so happy that I have him on my team. I'm sure he doesn't make excuses about [the injury.] That's the type of guy that he is."
And that will have to continue because Lowry's thumb isn't getting any better. The Raptors guard shared sparse details Thursday, saying it feels just as bad as it has since he suffered the injury, and that he won't be able to have the issue "taken care of" until Toronto's season ends.
That suggests a structural problem, and perhaps something that can't be corrected with mere rest. But no sense speculating. Lowry has at least two games remaining to play in this series, and he hopes a bunch more after that. The injury isn't going away. But neither is Lowry.
"It's pretty bad. Honestly, it's pretty bad," he said. "It hurts on everything. Everything. Every time I use the hand it hurts. But it's whatever. At this point, it is what it is.
"I've still got a lot to give, I've still got a lot more to give. My thumb being hurt, it is what it is. But my body feels great, my mind feels strong — that's an important thing."
Stream all Sportsnet games of the NBA Finals as the Toronto Raptors take on the Golden State Warriors for the Larry O'Brien Trophy. Plus, get the Stanley Cup Final, MLB, IndyCar and more.
The Raptors have needed it. With Kawhi Leonard limited by his own injuries, Siakam demonstrating the inconsistency found in most young players, and the entire team fatigued from the stress of Game 3's dual overtime periods, Lowry's effectiveness in Game 4 was paramount. The Raptors won that game so handily because they played with pace, moved the ball effectively and embraced a free-flowing offensive structure that led to 32 of Toronto's 41 buckets being assisted.
That starts with Lowry. He led the Raptors in both touches and passes in Game 4, and consistently pushed his team's pace — clapping his hands and urging officials to let him inbound turnovers faster, rushing the ball up the floor while the Bucks were still setting their defence, and probing Milwaukee's paint with aggressive drives to discombobulate coverages and open up opportunities for his teammates.
"I'm just playing basketball — just trying to help my team win," Lowry said. "It's not about scoring for me — it's about everything else. And I think just the aggressiveness of me in general offensively has helped the team.
"I think I know what we need a little bit. I see the game, as always. I feel the game early on. I see what it is. And understand every situation is always going to be different."
Look at how Lowry directs traffic on this play, pointing out an attacking opportunity to Siakam: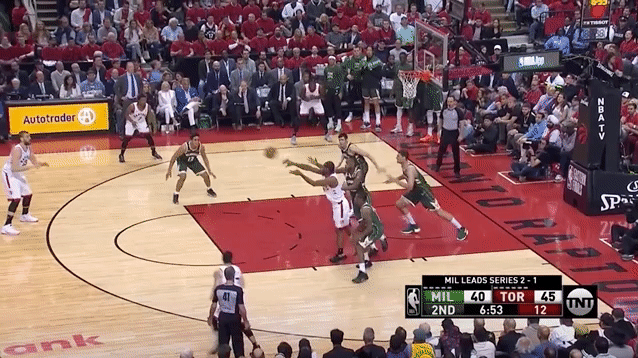 He essentially plays this next possession with one arm, using his right hand to create two shooting opportunities for Serge Ibaka, who finally takes the second one (plus, extra points for boxing out George Hill):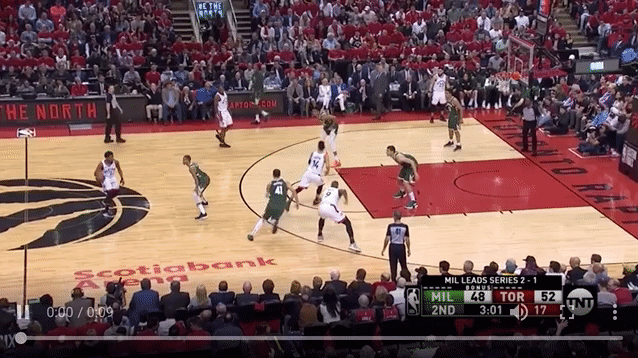 Here, he helps force a turnover, attacks decisively in the opposite direction and is even in position for an offensive rebound in case Siakam doesn't finish the play:
The fact that the Raptors are 8-2 in these playoffs when they put up 21 assists or more, and 2-4 in games with less, is no coincidence. And when Lowry's playing like this, it has a cascading effect on the rest of the roster.
"I think it's more fun for everybody to play with ball movement — I think it's more fun for everybody to watch," said Raptors head coach Nick Nurse. "I think it builds a better energy and spirit to play at the other end."
Of course, it's unlikely Game 5 will play out the same way as Game 4. If one thing's been consistent when it comes to the Raptors this postseason, it's the inconsistency of the team's performance from game to game. At times they've moved the ball freely and effectively. At others, they've handed it to Leonard and let him carry them through. You never know until the ball goes up.
So far in this series, Toronto and Milwaukee have split a pair of lop-sided games and a pair of close ones, too. It's hard to know what to count on any given night. But through four games, the Raptors have been able to count on Lowry, injury and all.
"Game 5's going to be different than Game 4, Game 3, Game 2, Game 1," he said. "Every game's going to be different. We've just got to go out there and play extremely hard, understand the game plan and know what we've got to do. And play with confidence. Play free."