As the Toronto Raptors begin a post-season of sky-high expectations, first up on their quest will be the Orlando Magic and their all-star centre Nikola Vucevic.
Terrence Ross may be the more familiar name for Raptors fans heading into this series, but Vucevic is the Magic's best player and Orlando's game rose along with his towards the end of the season.
For the season, Vucevic averaged 20.8 points, 12.0 rebounds and 3.8 assists on 51.8 per cent shooting and was instrumental in Orlando's late post-season push that saw them win 11 of their final 13 games. The seven-footer dominated during that stretch, scoring 21.8 points per game and putting up a 27-point, 20-rebound performance against the Atlanta Hawks on Mar. 17.
The Magic feature a stout defence but only an offence that ranked 22nd in the NBA over the course of the season. However, during the aforementioned 13-game run, the Magic's offence appeared to awaken to the tune of 116.4 points per 100 possessions, a figure that was good for fourth in the league during that span.
Therefore, even though on paper Orlando doesn't look to possess much of a challenge for the Raptors, the reality is Vucevic and Co. are peaking at the right time. And the No. 1 matchup worth monitoring will be how the Raptors handle the Magic's star big man. This will be a team effort to try to slow him down, but most of the responsibility will fall on Toronto centres Serge Ibaka and Marc Gasol.
Here's a closer examination of what makes Vucevic so good, and how Ibaka, Gasol and the entire Raptors squad can limit his impact in this series.
Vucevic's strengths
To understand exactly what kind of monster the Raptors will be dealing with, we need to look no further than a Nov. 25 affair the Magic played against the Los Angeles Lakers.
Finishing with 31 points, 15 rebounds and seven assists on 10-for-20 shooting from the field and a perfect 3-for-8 from deep, Vucevic put his full range of abilities on display as he led Orlando past a LeBron James–led Lakers team.
This includes his comfort level in the low post and the many moves and ways he has to score down there:
His effectiveness in pick-and-roll and pick-and-pop situations, where his deceptive quickness and three-point stroke make him a nightmare for opponents to guard: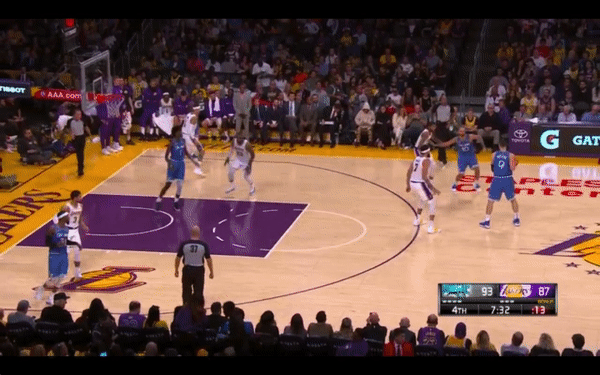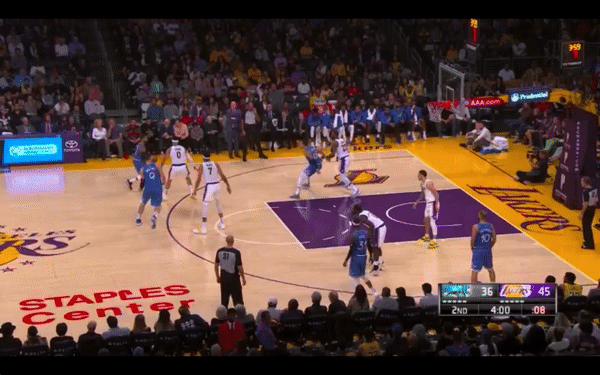 Exceptional vision and touch that allows him to spot cutters and open men from all over the floor: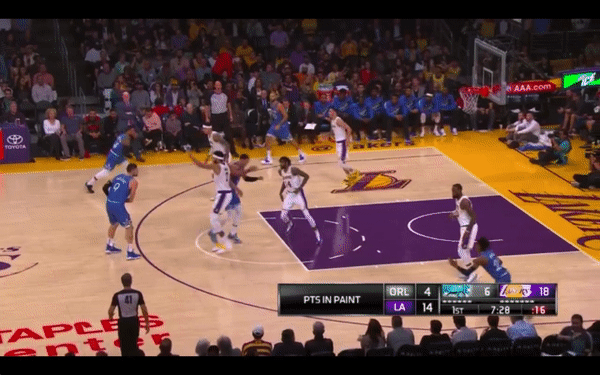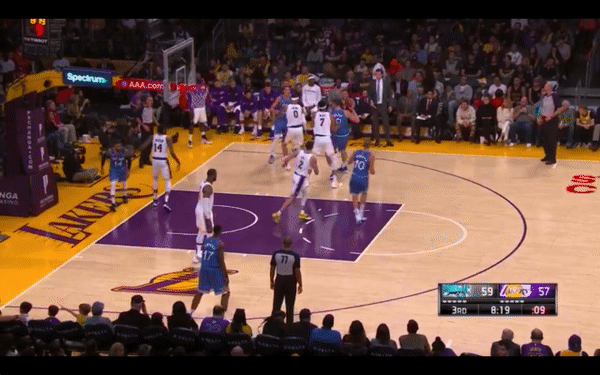 And, lastly, but perhaps most importantly, his prowess cleaning up the defensive boards that lets his team get out in transition and use its youth, speed and athleticism to its fullest: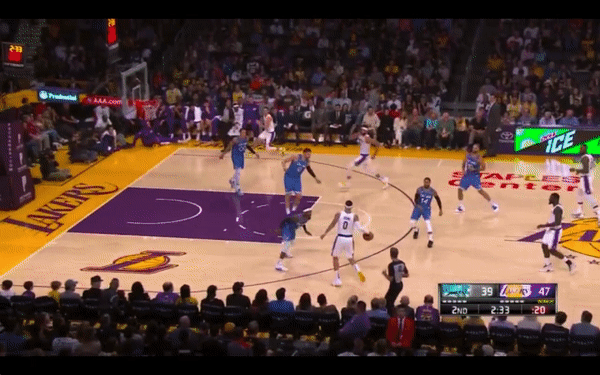 Vucevic vs. Ibaka and Gasol
Now let's look more specifically at how he's performed against the Raptors this season and which matchups he's likely to see.
In the four games Vucevic played against Toronto, he saw Ibaka defending him in 113 possessions, according to NBA.com. For the most part, he had his way with the Raptors centre, scoring 28 points on him over those four contests on 11-for-20 shooting.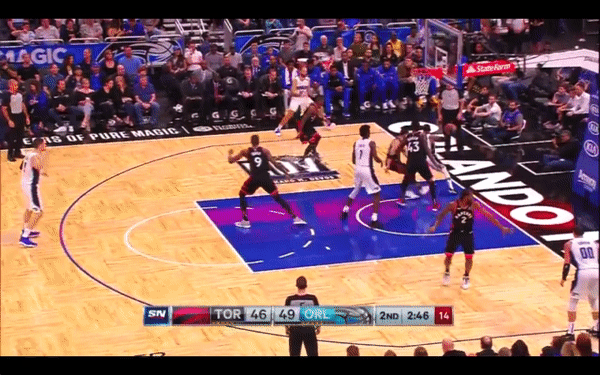 But Ibaka has had success of his own in that matchup. He saw Vucevic defending him 121 times this season – the third most of any player Ibaka saw – and in these matchups, he came away with 29 points on 14-of-30 shooting.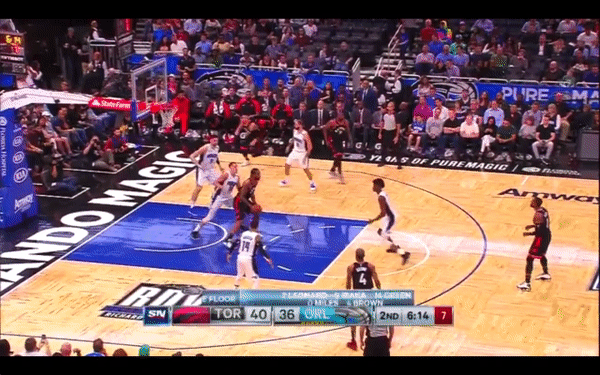 A similar trend can be seen in the matchup this season between Vucevic and Gasol, albeit in a smaller sample size.
Gasol and Vucevic met up only twice this season, both times after Gasol had become a Raptor. He got primary-defender duties on the Orlando centre in both games, but didn't do much better than Ibaka did. Vucevic scored 19 points on 8-of-15 shooting in 66 possessions against Gasol.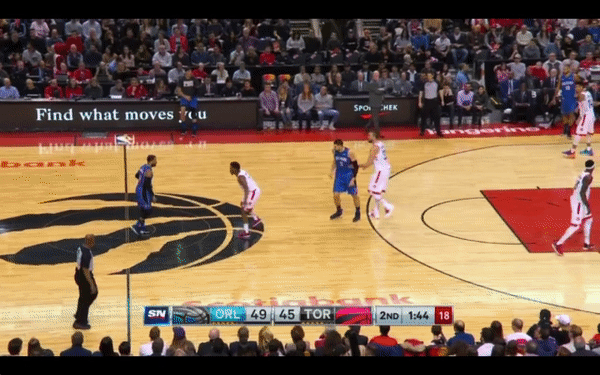 On the flip side, Gasol worked Vucevic even harder, scoring 24 points on 50 per cent shooting in 78 possessions.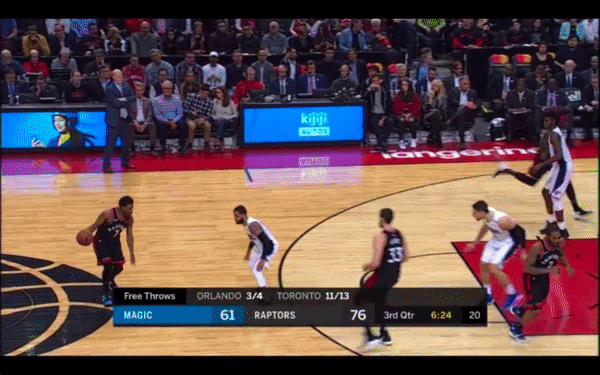 The fact that both Raptors centres are able to be just as effective against Vucevic as he is against them creates a neutralizing effect, something that could be big for the Raptors.
How the Raptors can game plan for Vucevic
Of course, just because you can go shot for shot with a guy doesn't mean you should settle for letting him get his.
As such, if the Raptors want to take Vucevic out of this series – a tall order, for sure – then it will require a team effort.
Luckily, Toronto's last game against Orlando offered some clues as to how they can do it — such as trusting each other to be in the right positions when the Magic go to their bread-and-butter pick-and-roll setups: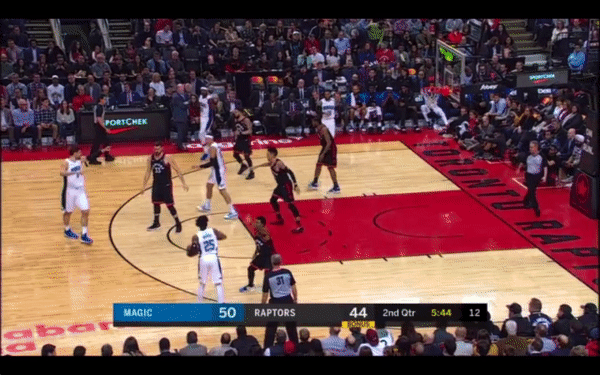 Staying at home with their individual assignments could take away Vucevic's passing weapon and force him into one-on-one situations he might not be totally comfortable with: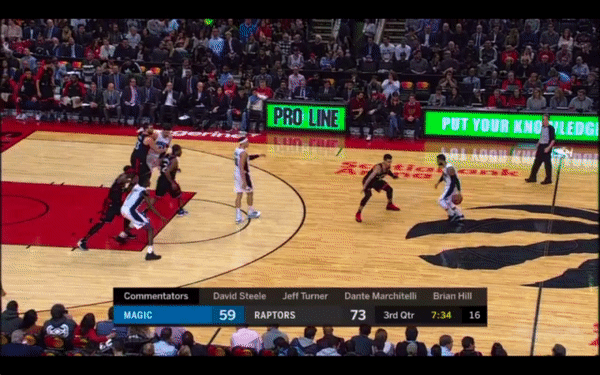 And, finally, the team can crash the offensive boards to limit his impact on the glass and Orlando's transition game as much as possible: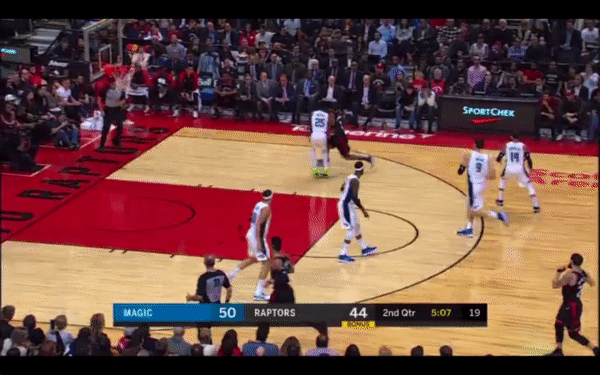 Vucevic is definitely a load, but he may also be the only Orlando player the Raptors should actually be worried about. It's unlikely Nurse's team will be able to completely take him out of the series, but if they can limit enough of what he wants to do this should be easy work for the Raptors in Round 1.