Following a shaky defensive first half against the Minnesota Timberwolves on Wednesday, Toronto Raptors head coach Dwane Casey decided he'd have a short leash to start the third quarter. The Wolves opened on a quick 6-0 run, and Casey opted for an abnormally quick hook for two of his starters, Jonas Valanciunas and Luis Scola.
It was an admission that Wednesday wasn't the night for that frontcourt duo.
"They saved the day," Casey said of his bench unit. "They came in and set the tone at the end, got stops. I don't know what the run was but it was significant."
The change reflected what's long felt like an inevitable and necessary change to the starting lineup: it's time to start Patrick Patterson.
The Scola-Valanciunas pairing simply isn't working, and it's sinking the Raptors early in each half. It's not a condemnation of either player, to be clear, but more about how the two compliment each other (or, don't). Individually, Valanciunas is playing well, though Scola hasn't been quite as effective of late, shooting 38.2 percent over his last 24 games and showing some wear from what's been his heaviest minutes load in three seasons. Even if his coach continues to see value in keeping the 35 year-old on the floor for long stretches.
"You say struggling, what is he struggling at?" Casey challenged last week. "With him, he still gives us something: That experience, that steady hand. Luis is the least of our problems right now."
Scola does bring a lot to the table from an intangible perspective, having emerged as a vocal leader in the locker room as the team looks to shift into playoff mode. He also maintains utility on the floor. He's 0-for-10 from long-range over his last four games but can offer some scoring and playmaking from the elbows or the block, and he's a willing and physical defender, effective in the right matchup.
In other words, it's not Scola's fault that the starting lineup isn't working, but he's the change that needs to be made.
The Raptors opted to start Scola over Patrick Patterson at the beginning of the season after Patterson had a woeful preseason showing. Casey was clear at the time that he didn't plan to make the starting spot a fluid one – the job would be Scola's until it wasn't. But the pairings – Scola with Valanciunas in a plodding, offense-first pairing and Patterson and Bismack Biyombo forming a more offensively challenged, defense-first pairing – never made much sense on paper. And while the bench duo has thrived, no lineup iteration has been able to succeed with Scola alongside Valanciunas.

Patterson, meanwhile, has spent the last several months turning in the best season of his career. Even with his offense not as "fluid or as consistent as it should be," as he puts it, Patterson has posted some of the best plus-minus numbers in the entire NBA, thriving as a versatile, multi-position defender.
"Honestly, it's probably my offense," Patterson says of why his defense has really picked up. "Because my offense isn't there, [I'm] finding more impactful ways to force my will on the game."
Alongside the Raptors' starers, Patterson would make defending quicker or rangier frontcourts – something the Raptors will almost definitely run into in the first round of the playoffs – a more realistic proposition. That would be even more true once DeMarre Carroll returns, as Patterson's newly found ability to guard threes or switch onto ones will open up a ton of switching opportunities, one-through-four. That's a major luxury for the coaching staff, one that would go largely unleveraged with the current rotation.
The spacing Patterson provides would also help unclutter driving lanes for Kyle Lowry and DeMar DeRozan, stretching a defense out more than Scola can. It's true that Scola has been a more effective shooter, canning 39 percent of his outside looks this year to Patterson's 35.2 percent, but spacing is about how a defense reacts more than percentages, and defenses are far less comfortable with an open Patterson than an open Scola.
But the issue is far more about defense than offense. When Scola and Valanciunas share the floor, the Raptors can't safely switch in the pick-and-roll and don't have a big on the floor capable of corralling a perimeter ball-handler or effectively chasing a pick-and-pop big.

"There's different ways to play defense and we're a very good defensive team," Scola said Wednesday. "They score on us but I haven't seen a game that ended up in zero points yet. They're always gonna score. We have to give them something. I believe we do a good job of picking what we want to give up and what we don't want to give up and what kind of defensive team we are. For now, we're doing it well."
And it's hard to argue with his last point. With the Raptors having won 17 of 20 games and the second unit thriving as a group, there may not be a large impetus for change at the moment. But is it worth letting a squeaky wheel go unoiled because the cart is still upright?
The Raptors and Casey are fine standing pat in the regular season, but that death lineup – Lowry and four reserves, the league's best lineup that's played at least 150 minutes together – will lose some of its edge when opponents shorten their rotations in the playoffs. By sticking with the status quo, the Raptors are essentially conceding the early parts of each half and assuming they'll make up the difference later, but opponents will scrap bench-heavy units and better stagger minutes in late April.
No other potential East playoff team forces themselves to play from behind quite like the Raptors, per data from Nylon Calculus. They're start-of-third drop-off is substantial, too.
"We can't wait to get kicked in the teeth like that to get going," Casey said Wednesday.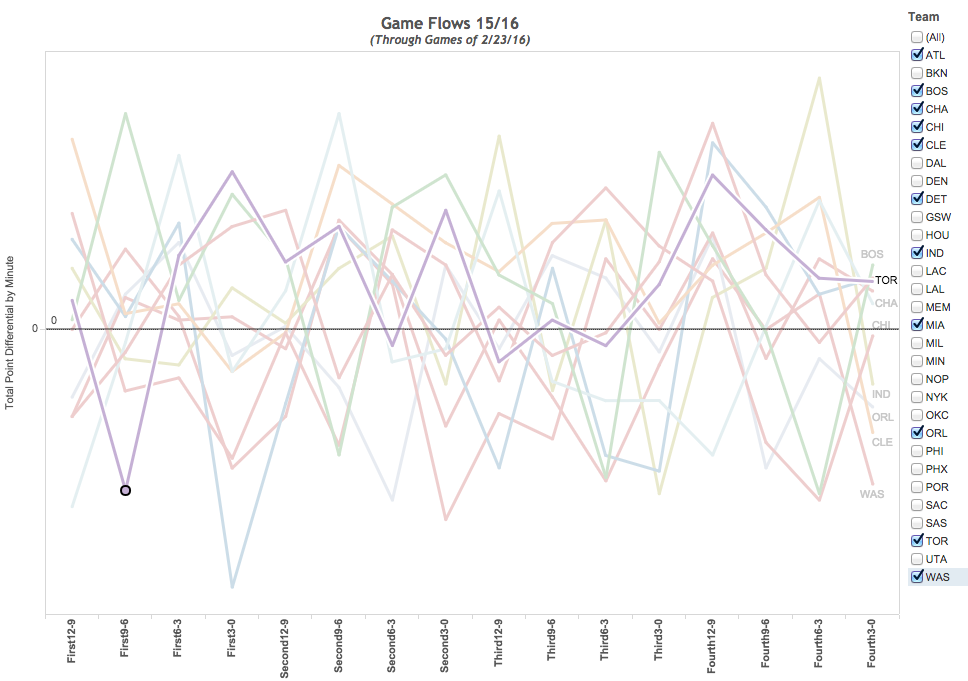 Casey is understandably a fan of role consistency, and there's probably the matter of respect for a well-liked veteran in Scola that may be stalling a switch, as well. He'll also tell you that Patterson plays plenty against starters, though Nylon Calculus estimates Patterson plays opposite just 2.37 starters on average, which would register as pretty heavily sheltered minutes. (There's a small concern that Patterson may not be as effective against more starter-heavy lineups, but he's such a natural two-way fit with Valanciunas and the other starters that the impact is probably overstated in this case).
In comparison, Scola plays against 4.03 starters on average, the highest mark on the team. His minutes come almost exclusively against opposing starting groups, and while that helps explain some of his poor on-off numbers, it's also evidence that he's not being deployed optimally.
The second unit doesn't necessarily need Scola, given how well they've performed as a four-some, but those lineups have struggled to score without Lowry—even with DeRozan on the court. Casey's gotten creative in response to the difficulty of a Joseph-Biyombo pick-and-roll based attack, and Scola's ability to get his own shot would serve well off the bench, further helping to maintain scoring when Lowry sits. That's an important consideration as the team looks to trim a few minutes per-game off of Lowry's workload down the stretch.
There's not a great sample of Scola with the second unit this year. Likewise, there are only small samples of Patterson with the different potential starting groups, though he and James Johnson have long played well together.
It is admittedly a risk, then, to flip the fours, albeit a calculated one.
But now seems like the right time (or when Carroll returns, if they insist on stalling longer), giving the team ample opportunity to get comfortable with a new rotation ahead of the playoffs, with time to reverse course if it doesn't work out as planned.
"We're trying to go to a very high place. To do that, we need to get better," Scola says. "Not because we're bad but because we want to be special."
That's exactly the point.