Jamal Murray wants to make history.
The six-foot-five point guard from Kitchener, Ont., has dreams just like any of the other representatives of the wave of Canadian basketball talent that has been washing up on U.S. shores in recent years.
The 18-year-old wants to take his game as far as he can. He wants to play in the NBA; he wants to be a first-round pick. He wants to be taken in the lottery like predecessors Tristan Thompson, Anthony Bennett and Andrew Wiggins—to name a few.
But Murray is carving his own path. While the vast majority of Canadian lottery talent has spent significant amounts of time in the U.S. honing their games—both in high school and college—Murray hopes to make a name for himself as the rarest of the rare: A Canadian lottery pick with a made-in-Canada label.
---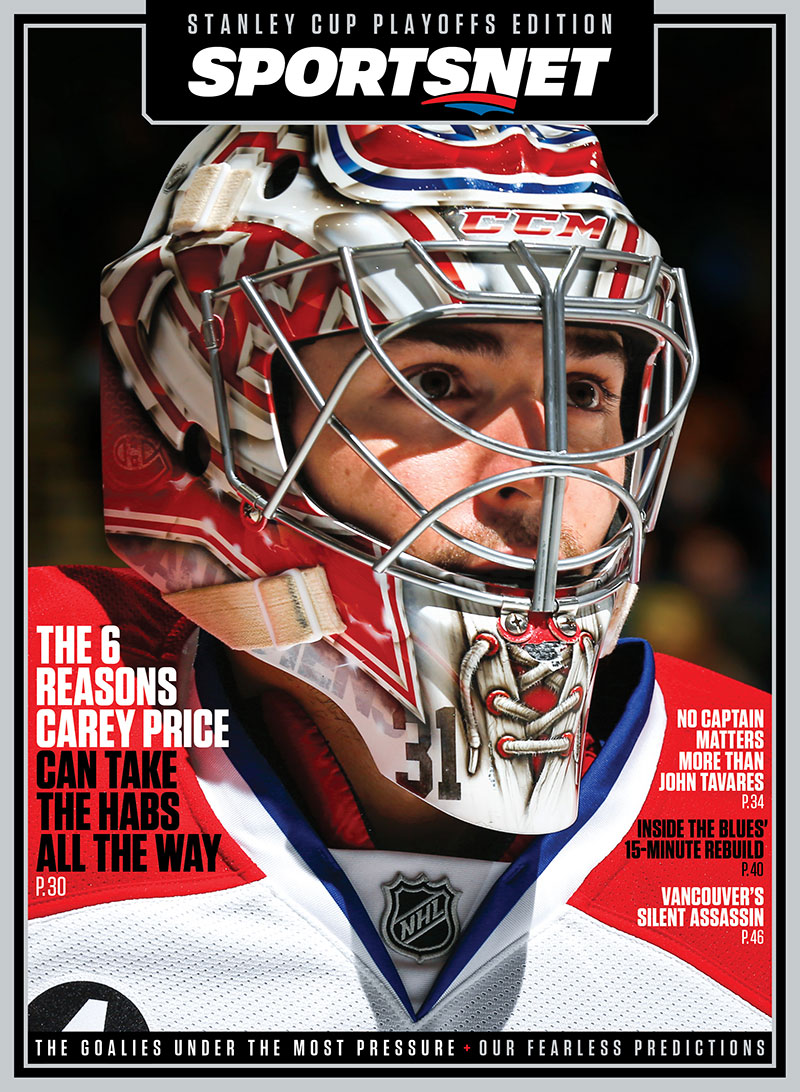 Sportsnet Magazine Stanley Cup Playoffs Edition: The six reasons why Carey Price can take the Montreal Canadiens all the way. Download it right now on your iOS or Android device, free to Sportsnet ONE subscribers.
---
"That would be great," he says. "It's a chance to make history… that's what I'm looking forward to, to have the opportunity to show my talent and what I've been working toward."
On Tuesday night Murray stole the show at the inaugural BioSteel All-Canadian game at the Mattamy Athletic Centre at Ryerson University in downtown Toronto as he led all scorers with 29 points while adding 10 assists and eight rebounds, although Team White still fell to Team Red 99–95.
But with more than 50 NBA front-office personnel on hand to watch him and fellow headliner Thon Maker—the seven-foot Sudanese-Australian who is Murray's teammate at the Athlete Institute Basketball Academy in Orangeville, Ont.—Murray had every facet of his game on display.
He showed himself an elite three-point shooter, well in command of time and space, and proved his athleticism as he went the length of the floor in the second half and split the defence for a dunk.
It was just more of the same for Murray who has been a fixture with Canada Basketball's development program for several summers.
This past weekend at the Nike Hoop Summit in Portland—where the top under-19 international players take on the U.S. junior national team in front of hundreds of NBA scouts—he led the World Team to the win by dropping 30 points and dishing five assists to earn MVP honours. The only other World Team player to score more than 30 points in the event's history was future Hall of Famer Dirk Nowitzki of the Dallas Mavericks.
It was his second year at the Hoop Summit playing for Ryerson University head coach Roy Rana, and his development was on full display. Murray's become world class while staying home.
"He's approaching the game with so much more confidence, his aggressiveness—you can tell, he feels like he's ready to be on the big stage and he proved that [at the Hoop Summit]," said Rana. "I've coached a lot of great point guards and that was one of the great performances I've seen or been a part of—he was able to dominate the game in such a way that not only did we win, but he helped everyone look better as well. It was a special day and he's really starting to create some separation for himself."
Murray has played all of his high school basketball in Canada—first at Grand River Collegiate in Kitchener and for the past two seasons at AIA, a program gunning to become a stay-at-home solution for elite Canadian players who have traditionally scattered throughout the U.S. seeking greater exposure and competition in high school.
Murray's success makes him a trail blazer of sorts. The only Canadian to be a lottery pick—among the first 14 players taken in the first round—while playing high school basketball in Canada is the Celtics' Olynyk, and he trained at Gonzaga University for five years.
Murray's progress has other top players curious about his path.
"I'm one of the only guys to do it [stay in Canada]," he says. "And people are following up, asking questions, what's it like, stuff like that."
Did he feel he was taking a risk by not going taking the U.S. prep-school route?
"It's not a risk when you're staying close to home," says Murray. "I see my family on weekends most of the time."
Murray is in the midst of making up his mind about where he'll play in 2015–16. He's currently expected to finish high school a year from now, but if he completes enough of his course work he could play college basketball this coming fall and has interest from most of the elite U.S. programs. Another possibility is that he graduates but stays at AIA, in which case he could enter the NBA draft a year from now, having never played in the U.S.
Playing in Canada has hurt him in some superficial ways. Amazingly, he doesn't appear among ESPN.com's top 100 NCAA prospects for the class of 2015 or the top 60 for the class of 2016, even though respected NBA prospect guide DraftExpress has him projected as the No. 18 pick in the 2016 NBA draft.
"A lot of people said it's because I play in Canada, but, you know, I play every game mostly in the States," Murray says. "They have their reasons, but for now I'm just doing what I do on the court."
The BioSteel game was a rare home-grown opportunity for Murray and a number of other elite Canadian players to gain the kind of exposure and attention that players have often thought they had to go to the U.S. to get.
"I think it's something that we really needed here, and our kids really needed," says Tony McIntyre, co-founder of the highly regarded CIA Bounce AAU program and director of basketball operations at the Athlete Institute.
McIntyre came up with the idea for the all-star game over lunch with AI president Jesse Tipping just a few months ago and they were able to get it sponsored, televised and played in front a full house in record time.
"Obviously with the McDonald's [All-American Game] and the Jordan [Brand Classic] there's a platform for American kids," he says. "[But] we needed to give our kids a chance to showcase their talents and all 24 of them [in the BioSteel game], instead of hoping we get one or two of them into those games each year."
The result is that for a player like Murray taking on the world doesn't require leaving home.
In time history may be on his side.