Masai Ujiri has said the Toronto Raptors' biggest need is at the power forward position, and with the NBA trade deadline just two days out now the conversation is starting to feel a little frenzied. Is Markieff Morris on the way? What about Thaddeus Young? Or Kenneth Faried? Ryan Anderson?!
The names are all well-known, but the jury is still out on whether any of them is enough of an upgrade to Luis Scola to be worth giving up a first-round pick in the return package.
To answer that question, let's back things up a step: The main reason Toronto needs a PF upgrade is for defence. Anyone who saw Karl-Anthony Towns torch the Raptors in their last pre-All Star Weekend showdown knows the team desperately needs a starting big who can stay in front of a quick-footed stretch four. But let's not forget the reason Scola is starting in the first place: his offence.
Scola's shooting creates room for the two lynchpins of the Toronto offence, DeMar DeRozan and Kyle Lowry. What's more, with two non-three point shooters on the floor to begin games right now—Jonas Valanciunas and one of Norman Powell/James Johnson—you absolutely need the starting four to do that. Without it, you're going to have opposing bigs standing with one foot in the paint all game, and forcing DeRozan and Lowry into a trick shot-off, something no Raptors fan wants to see.
Further, since the Raptors play at one of the slowest paces in the league, you need a power forward who excels in the half-court, not on the fast-break. And Scola does that. Here's his shot chart for the season: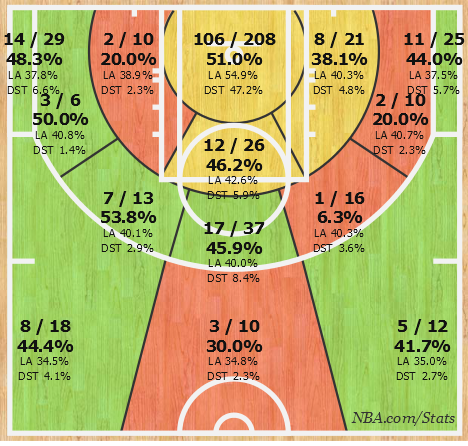 Scola's taking a lot of crap for his defence lately, but that chart is beautiful. He's shooting 43 percent from three on the season—a career high—and providing a ton of reason for defences to stay honest. And that's one of the main reasons the Raptors, despite all the injuries, have stayed in the top 10 in offensive efficiency.
Yes, the Raptors need better D out of their starting unit and particularly at the four. But if the new PF can't create space you're likely taking too much away from the offence for a defensive upgrade to be of any use.
So, all that said, how well do the guys stack up against Scola and the role he plays in the starting unit?
The reviews: mixed. Here are the four guys' shot charts from this season:
MARKIEFF MORRIS, PHOENIX SUNS

CAREER: .443 FG%, .324 3P% // 2015: .397 FG%, .289 3P%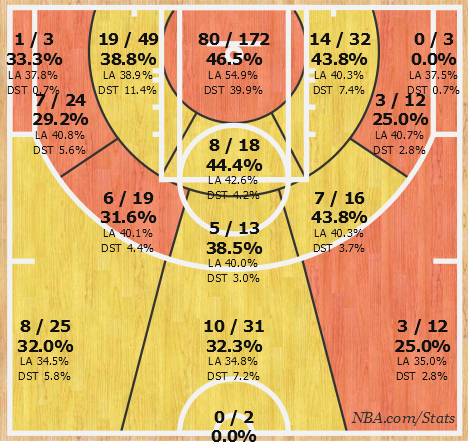 Wow. That's an unflattering shot chart. He's not significantly above league average at any spot on the floor, and he's well below at the rim. He's taking a good number of triples—2.1 per game this season—but the shot-making just isn't there. How much of this general funk is due to his ongoing rift with Phoenix management is anybody's guess, but the reality is his career numbers aren't great for a big man.
Long story short, you get Morris and you're getting a higher-volume offensive player than Scola, but you're not getting a more efficient one.
UPDATE: The Raptors have reportedly shown no interest in acquiring Morris:
THADDEUS YOUNG, BROOKLYN NETS

CAREER: .497 FG%, .320 3P% // 2015: .513 FG%, .217 3P%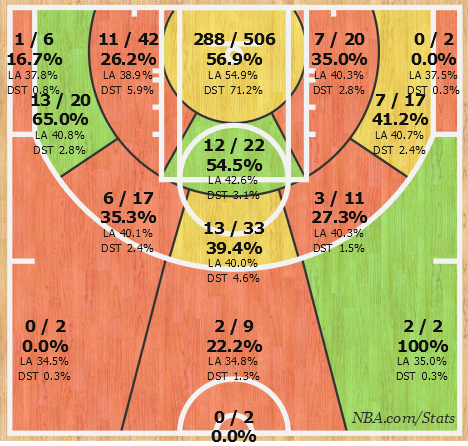 He doesn't always shoot threes, but when he does he misses them. He takes the vast majority of his shots at the rim (where he's just slightly above league average), and doesn't do so well when he gets outside that zone. Not sure how he works with the current Raptors team.
KENNETH FARIED, DENVER NUGGETS

CAREER: .543 FG%, .083 3P% // 2015: .555 FG%, INC 3P%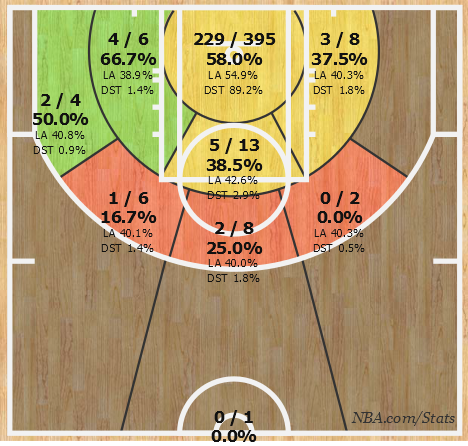 If you want an extra defender hanging around the paint at all times, Faried is your trade target. He's played 1,236 minutes so far this season and taken 20 perimeter shots—none of them threes. He's the Player Efficiency Rating (PER) darling of this group, but it's clear by now he's the perfect limited-minutes Sixth Man big for a free-wheeling second unit. Not a great fit for the Raptors' starting five.
RYAN ANDERSON, NEW ORLEANS PELICANS

CAREER: .423 FG%, .379 3P% // 2015: .431 FG%, .383 3P%
Well, that's more like it. He's been rough this year from the left corner, but he's at least league average everywhere else along the arc in a supremely high volume of shots. Another thing to like here is that Anderson's 2015 numbers match almost exactly his career numbers, so the efficiency he's showing this season in New Orleans isn't suddenly going to fade to the mean down the stretch. He's this good year in, year out.
However, even though the conceit here is that we're looking solely at how these guys would fit the offence, it would be nigh-irresponsible to give Anderson a free pass on defence. Given his career metrics in defensive win shares and defensive box plus-minus, he might actually be a downgrade from Scola on that end.
In the end, Anderson is by far the best option for replacing what Scola does on offence, but nobody out there seems like a perfect solution.
Unless…
AL HORFORD, ATLANTA HAWKS

CAREER: .537 FG%, .335 3P% // 2015: .507 FG%, .340 3P%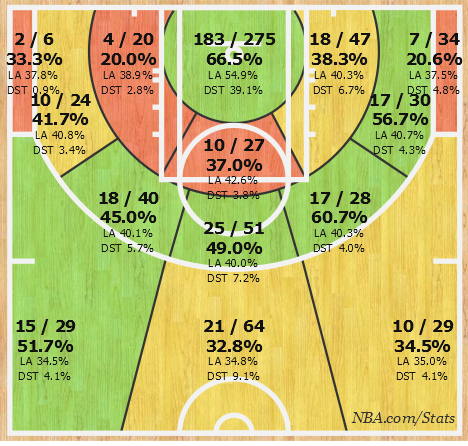 He hasn't been mentioned as someone Ujiri has been chasing. But still, Raptors fans can dream.