Considering the endless routes a general manager can take when trying to build a title contender, the two NBA finalists are nearly polar opposites.
A team with no lottery picks on its roster is about to face a squad with eight of them. A homegrown core who doesn't know what it's like to play professionally without one another will go up against an ever-mutating group, built as the season went along, figuring out chemistry and tendencies on the fly.
Two MVPs versus an aspiring one.
Five straight NBA Finals versus none, period.
The Toronto Raptors and Golden State Warriors were built differently for a variety of reasons.
Raptors president Masai Ujiri is known for not taking the conservative way out whenever he hits a fork in the road.
Conversely, Golden State Warriors GM Bob Myers inherited a team with Stephen Curry, continued to strike gold in the draft and used the team's early success as leverage to bring in big-name free agents.
Myers is a two-time NBA Executive of the Year. Ujiri, with his divergent management style, might match that accomplishment soon.
Here's a look at how the rosters of the Raptors and Warriors were built for the 2018-19 post-season:
Toronto Raptors
Toronto fans have witnessed a series of aggressive moves in recent years that have stripped the team of most of its homegrown players in the acquisition of a bonafide superstar and a handful of proven complementary pieces.
Acquired via draft: Pascal Siakam (2016, 27th overall), OG Anunoby (2017, 23rd overall)
The art of flipping assets
Last season, the Raptors had a total of seven players who were selected with their own draft picks. That number is down to two this year.
Players like DeMar DeRozan and Jakob Poeltl were shipped away in the Leonard deal, while Jonas Valanciunas and Delon Wright were sent to Memphis along with other assets, so Toronto could get Gasol.
Ujiri was smart about who he would keep, though, managing to execute all those trades without completely compromising the franchise's long-term future.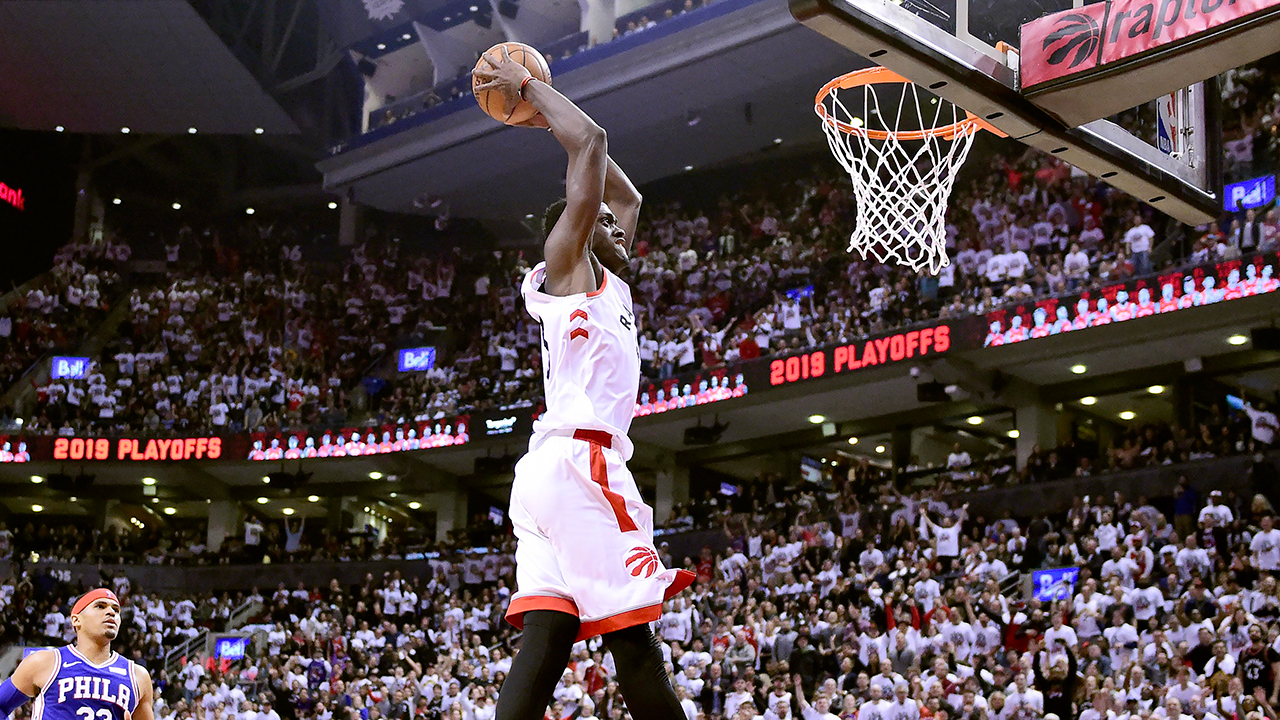 Acquired via trade: Kyle Lowry (2012), Norman Powell (2015), Serge Ibaka (2017), Danny Green (2018), Kawhi Leonard (2018), Marc Gasol (2019)
The trade that never was
The deal was in place: Kyle Lowry would head to the New York Knicks in exchange for Metta World Peace, Iman Shumpert and a future first-round pick.
Six years later, Ujiri must be feeling pretty lucky it fell through.
Knicks owner James Dolan was wary of making deals with Ujiri, feeling cheated over the trade that sent Carmelo Anthony from Denver to the Knicks, when the now-Toronto president was GM of the Nuggets.
In a clear attempt to dismantle the Raptors' core and start from scratch, Ujiri dealt Rudy Gay to the Sacramento Kings, and Lowry came very close to being next. The halted deal forced the team to completely change its course, as Toronto's then-general manager kept his star guard instead, and built around him.
Strangely, the Raptors have Dolan to thank for the way the chips fell over the last six years.
Acquired via free agency: Fred VanVleet (2016), Chris Boucher (2018), Jeremy Lin (2019), Jodie Meeks (2019), Malcolm Miller (2019), Patrick McCaw (2019), Eric Moreland (2019)
Best signing of 2018-19
Or rather a re-signing.
The Raptors made a good decision in offering Fred VanVleet a second contract worth $18 million over two years last July.
The guard, who first signed with the Raptors as an undrafted free agent in 2016, has been a force off the bench in the post-season, hitting a bevy of clutch shots — including seven three-pointers in Game 5 of the Eastern Conference Finals — and showing off his playmaking skills, all while providing the leadership of a veteran at the age of 25.
VanVleet has averaged six points and 2.7 assists in 22.1 minutes in the playoffs.
Golden State Warriors
By now, every NBA fan must have heard the fabled story of how the Warriors wisely used the draft to build what's arguably the best core the NBA has ever seen. After that, it wasn't too difficult to acquire big names in free agency, and as a result, there was really no need for Myers to be as aggressive in the trade market as Ujiri.
Acquired via draft: Stephen Curry (2009, seventh overall), Klay Thompson (2011, 11th overall), Draymond Green (2012, 35th overall), Kevon Looney (2015, 30th overall), Damian Jones (2016, 30th overall), Jacob Evans (2018, 28th overall)
A second-round bargain
A lot had to go right for the Warriors to snag Green, one of the greatest second-round steals in NBA history.
A minor trade with the New Jersey Nets in 2011, which sent a couple of expiring contracts east, gave the Warriors the 2012 second-rounder that eventually turned into a three-time all-star, 2017 Defensive Player of the Year, member of multiple all-NBA teams and defensive teams, and an essential cog in the Warriors' system.
Held back by the "he's maxed out his potential" narrative, Green was Golden State's third pick in that draft. The other two were used to select Harrison Barnes at No. 7 and Festus Ezeli at 30.
If there is a podcasting odd couple, this might be it. Donnovan Bennett and JD Bunkis don't agree on much, but you'll agree this is the best Toronto Raptors podcast going.
Acquired via trades: Andre Iguodala (2013), Jordan Bell (2017)
The Iguodala three-team trade
After only one season with the Denver Nuggets, Iguodala wanted out.
The Warriors acquired their longtime sixth man in 2013 via a three-team sign-and-trade deal with the Nuggets and Utah Jazz, who got four draft picks — among other pieces, which included future NBA champion Richard Jefferson — from Golden State. Iguodala was already an all-star by that point, and his qualities as an inside cutter and spot-up shooter fit perfectly in the Warriors' system at a time when Curry's ankles were still leaving room for doubt.
When Curry became one of the most prolific players in the game, Iguodala had no problem adjusting to a complementary role, developing into a defensive specialist and an indispensable contributor, both on the court and from a mental standpoint.
Acquired via free agency: Shaun Livingston (2014), Kevin Durant (2016), Quinn Cook (2017), DeMarcus Cousins (2018), Jonas Jerebko (2018), Alfonzo McKinnie (2018, waivers), Andrew Bogut (2019)
Best signing of 2018-19
In different circumstances, this would be an easy answer: DeMarcus Cousins.
Alas, the big man hasn't yet gotten a chance to make an impactful contribution, as he finds himself once again dealing with an injury — this time his quad. The Warriors are hopeful that he and Durant (out with a strained right calf) will play at some point during the Finals. By then, maybe Cousins can take the spotlight as the Warriors' best signing of the season.
But in the absence of their final all-star, Golden State can find comfort in a depth signing that proved to be a smart move: Alfonzo McKinnie, who was possibly bound to make the Finals one way or another.
The Warriors signed the 26-year-old forward after he was waived by the Raptors last October. McKinnie has been solid off the bench for the Warriors, and even started Game 4 of the Western Conference Finals as Iguodala dealt with calf tightness — he finished with 12 points in 26 minutes.