The 2019 NBA Playoffs have had its share of exciting moments and brilliant performances — buzzer beaters, 50-point outings, dramatic duels and more. In the second round, we're currently being reminded on a nightly basis that the league's deep pool of star-level talent is unparalleled. But who takes the crown?
Here's a (definitive) ranking of the the NBA's best performers — so far — still competing in the playoffs:
1. Kevin Durant
Playoff stats: 34.3 PPG | 5.3 RPG | 4.9 APG | 1.4 SPG | 1.3 BPG | 52.7 FG% | 40.7 3P%
The Golden State Warriors star is strengthening his case as the best active player in the league. He leads the NBA post-season in scoring, and has a 50-point game and 45-point game to his name already.
His 50-point night in the opening round put the Los Angeles Clippers' season to a close, and demonstrated that there's simply no stopping him when he's rolling offensively.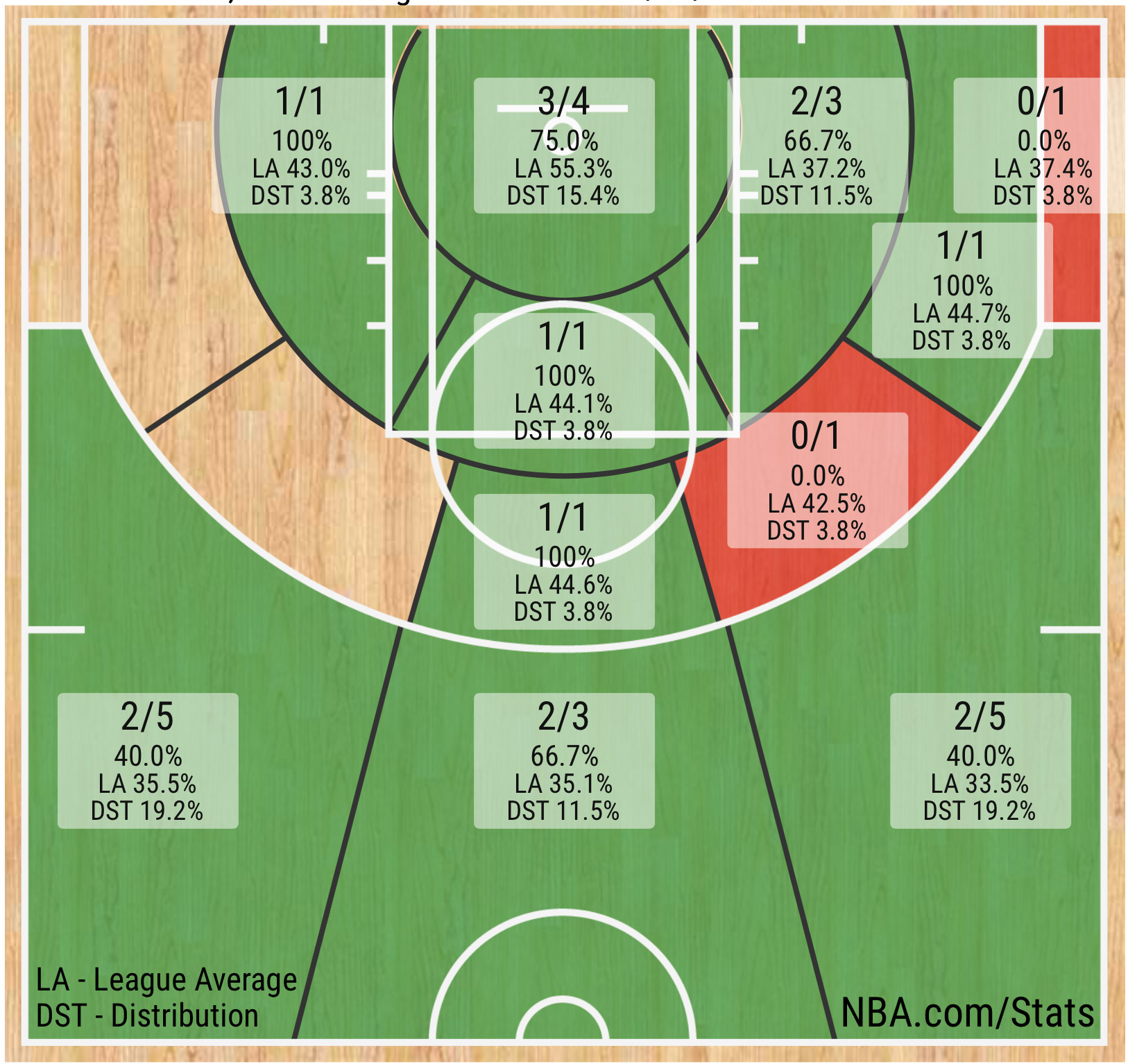 Durant has long been the most lethal, unguardable scorer in the NBA, and as he shows off the rest of his well-rounded game he's the biggest reason the Warriors have regained their mojo and are in a good position to knock out the Houston Rockets for the fourth time in five years.
2. Kawhi Leonard
Playoff stats: 31.3 PPG | 7.3 RPG | 3.3 APG | 1.3 SPG | 0.4 BPG | 57.7 FG% | 46.5 3P%
I've already outlined how Leonard is the best Raptors playoff performer of all-time, and there's just as easy an argument to be made for him to be No. 1 on this list, too.
Leonard has been unstoppable throughout the playoffs, at times carrying the Raptors on his back and at others playing the role of go-to superstar to perfection while helping lift what's been a stellar starting unit. His scoring, in particular, has been eye-opening — for all his accolades and accomplishments over his career, including a Finals MVP trophy, he's never put the ball in the net more frequently or efficiently.
Leonard leads the NBA in almost every advanced metric, including win shares per 48 minutes and player efficiency rating. But you don't need numbers to understand that he's been flat-out awesome thus far.
3. Damian Lillard
Playoff stats: 31.1 PPG | 4.1 RPG | 5.7 APG | 2.1 SPG | 0.6 BPG | 45.8 FG% | 42.5 3P%
No words required. Just watch.
Damian Lillard's buzzer beater fits perfectly with DMX

— Isaac (@WorldofIsaac) April 24, 2019
Oh, and today he's celebrating an anniversary:
Maybe after this post-season we'll (finally) no longer have to refer to Lillard as the NBA's most under appreciated superstar.
4. Giannis Antetokounmpo
Playoff stats: 29.8 PPG | 10.8 RPG | 3.3 APG | 1.0 SPG | 1.3 BPG | 47.7 FG% | 34.6 3P%
An MVP-worthy regular season has translated nicely to the post-season for the Greek Freak who, until Milwaukee's Game 1 hiccup versus Boston, has helped the Bucks dominate thus far.
In a closely-contested Game 2, it was a monster third-quarter from Antetokounmpo that put the game away and has Milwaukee once again looking like the team to beat in the East.
Giannis is HOT with 28 PTS & 10 REB as we head to the 4Q on TNT! #FearTheDeer | #NBAPlayoffs pic.twitter.com/F43mwuj0v8

— NBA on TNT (@NBAonTNT) May 1, 2019
5. Nikola Jokic
Playoff stats: 23.9 PPG | 12.0 RPG | 8.6 APG | 1.4 SPG | 0.8 BPG | 49.4 FG% | 36.1 3P%
Because his team needs it, Jokic has upped his scoring role in the playoffs but remains one of the NBA's most unique and lethal players who does his damage in a variety of ways, beginning with his command of the boards and historic-level passing from the centre position.
Jokic went five hole pic.twitter.com/euvO1tH7Bi

— Dime (@DimeUPROXX) May 2, 2019
6. Steph Curry
Playoff stats: 23.3 PPG | 6.3 RPG | 5.6 APG | 1.3 SPG | 0.4 BPG | 47.4 FG% | 42.3 3P%
Overshadowed, justifiably, by Durant's brilliance, Curry has remained impactful and a constant threat when he's on the floor. That said, we're still waiting for a signature performance of the 2019 playoffs — the closest so far was a 38-point, 15-rebound barrage in Game 1 of the first round against the Clippers.
7. Joel Embiid
Playoff stats: 21.2 PPG | 11.3 RPG | 3.5 APG | 0.7 SPG | 2.0 BPG | 44.6 FG% | 21.1 3P%
Embiid isn't at full-strength and is still dominating stretches of games. Heading into the second round, he was the NBA's leader in win shares per 48 minutes after dominating both the scoreboard and the glass in Round 1 against the Nets. And while his stats haven't popped out against the Raptors, thanks in part to the defensive work of one Marc Gasol, Embiid put his skill on display with this clutch, expert-level move to ice Game 2 in Toronto.
8. Pascal Siakam
Playoff stats: 21.2 PPG | 11.3 RPG | 3.5 APG | 0.7 SPG | 2.0 BPG | 44.6 FG% | 21.1 3P%
He's carried the Raptors in stretches and played the part of co-star to Kawhi Leonard to perfection. Siakam ranks eighth in the playoffs in points per game. He's been a workhorse for Toronto, and as his minutes have increased from the regular season so too have his stats. Siakam has been one of the true breakout stars of the 2019 playoffs to this point.
Kawhi with the block
Siakam with the flush #WeTheNorth | #NBAPlayoffs pic.twitter.com/9BnTc8Ur5Q

— NBA on TNT (@NBAonTNT) April 28, 2019
9. James Harden
Playoff stats: 29.0 PPG | 6.3 RPG | 7.1 APG | 2.1 SPG | 1.0 BPG | 37.7 FG% | 33.7 3P%
Sure, probably too low — after all, Harden is fourth in the playoffs in scoring at 29 points per game — but the deeper you dig into Harden's numbers the more it seems he's not affecting his team the same way those listed above him have.
Yes, Harden's prescience fundamentally changes the way in which teams defend, but he's struggling from deep (33 per cent) and his win shares per 48 minute mark of .136 currently ranks 56th among all players who have seen the floor this post-season (for context, Leonard boasts a .362 in that category).
10. Kyrie Irving
Playoff stats: 20.8 PPG | 5.0 RPG | 7.7 APG | 1.0 SPG | 0.7 BPG | 42.1 FG% | 38.9 3P%
Until Tuesday night's nine-point stinker, Irving had been helping to breathe life into a Celtics team that appeared on the brink. As Boston looks to regain the edge in their series against Milwaukee, Irving reminds us of what he's capable of each and every night with his unparalleled bag of tricks and well-honed circus shots.