And so the powerful play goes on, and you may contribute a verse.
This slightly adjusted Walt Whitman line is the overarching theme of the NBA restart, from the more vital perspective of players continuing to contribute their voices and resources towards social justice causes to the smaller perspective of teams contributing thrilling upsets and highlight plays throughout what now feels like all hours of the day.
What follows here are a few of those verses from the past week of NBA bubble life.
Livestream the Raptors' quest to defend their NBA title with select NBA playoff games on Sportsnet NOW.
Social Justice Remains the Focus
NBA players returned to play with the condition that the restart be used as a platform to discuss racism, police brutality and the larger fight for equality.
Within the past week, players' last names returned to the backs of their jerseys after they initially started play with the option of replacing their moniker with one of 29 league-approved messages.
The vast majority of players did opt for a message on their jerseys, and so when it came time for their names to return, the league offered players the choice to keep their selected messages while adding their names at the bottom.
Evidently, players have largely kept their messages intact. It's an impactful reminder that even when a sense of normalcy comes calling, the players have resisted it, refusing to forget the work they set out do — as should anyone beyond the walls of Disney World.
T.J. Warren, Bubble Beast
Something happened when T.J. Warren stepped into the Orlando bubble.
Whatever that something (or combination of somethings) is, the past five games have seen Warren carve out his own personal dreamscape for the Indiana Pacers. In doing so, he has pushed his team into a tie for fourth place with the Miami Heat, carving through defences like a shark fin through water on his way to securing victory after victory.
Prior to the restart, Warren was averaging 18.7 points, 4.0 rebounds and 1.4 assists on 52.9 per cent shooting from the field, 37.5 per cent from three, and 81.2 per cent from the free throw line.
In the bubble, he's posting 34.8 points, 6.6 rebounds and 2.4 assists on 60.5 per cent shooting, 55.6 per cent from beyond the arc, and 88.9 per cent shooting at the charity stripe, all on a significantly increased usage percentage of 28.5 (up from 22.4).
All that said, his game (unleashed in part due to an injury to Domantas Sabonis) oddly hasn't changed too much during this short span, save for the fact that he's taking over three times as many above-the-break triples, and has raised his percentage from a quite good 38.9 to an absurd 61.3.
Aside from that, Warren is just simply making everything he's taking, from difficult pull-ups from far, far out to floaters in tight quarters.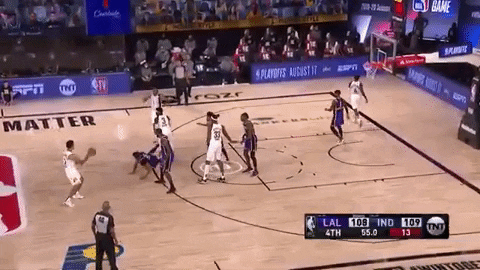 Whatever ethereal energy the Magic Kingdom had to offer, it appears that Warren has absorbed it all.
The Perfect Suns
If Warren has been the belle of the bubble ball, then the Phoenix Suns are the surrounding dancers, jiving and thriving in striking synchronization with the type of zest that only comes from having unearthed a previously unknown beat.
Across the board, the Suns have stunned and delighted and inspired, staring daggers into the intimidating maw of the monolithic task before them — win all eight of the seeding games or else the journey to Orlando will have, at least as it pertains to this season, been for naught.
And so here they are, now 5–0 with a top-10 offence (eighth) and defence (fifth) throughout that stretch that juxtaposes starkly against their overall 15th-ranked offence and 18th-ranked defence.
There are some slightly more obvious reasons as to why this is. For one, the trio of Deandre Ayton, Devin Booker and Ricky Rubio is finally getting some time together, after teaming up in only 27 pre-restart games. Also, Mikal Bridges is growing as a young defensive dynamo, and Booker is playing at a superstar level.
It also feels appropriate to highlight a less flashy yet hyper-important aspect of their startling success. Without the likes of Kelly Oubre Jr. (knee) and Aron Baynes (knee), rookie Cameron Johnson has been asked to soak up more minutes and has played all five bubble games thus far with the starting unit, having only done that once prior all season long.
In that time, his surface-level box score stats haven't changed drastically (although his general efficiency has gone up), but his effect on the starters has been palpable.
Johnson's superb fit largely has to do with his three-point marksmanship (39.5 per cent this season), and he's the perfect type of player to spot up in the corners (42 per cent from the left, 39.3 per cent from the right), ready and willing to catch and fire any pass coming from a penetrating Booker.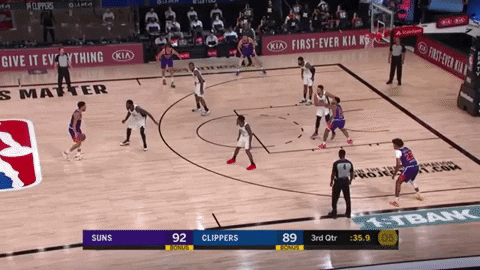 Combine that type of gravity with the potent pick-and-roll combination of Booker and Ayton, and suddenly the Suns have a go-to attack that forces opponents to make consistently difficult decisions, many of which tend to err on leaving Johnson open.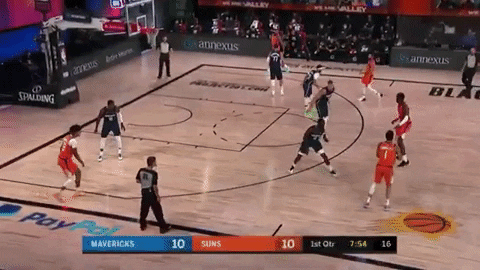 Those difficult decisions can become even more so when defences are scrambling in transition, and with opponents having learned to stick with Johnson while also attempting to corral an ever-charging Booker, at least one of the other options on the floor should have a good look.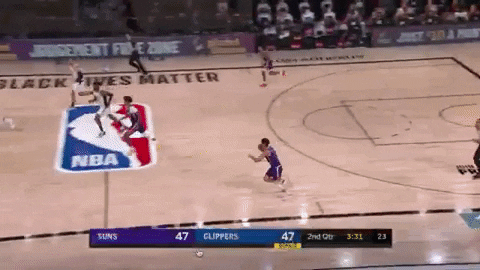 Keep dancing, Suns.
Raptors Pet Play Woes
If the Toronto Raptors and Boston Celtics are ever to play each other in a playoff series, this year would be a heck of a place to start. The two clubs are mirrors (albeit slightly foggy) of one another, each boasting a glut of plus defenders, dangerous shooters, a well-regarded head coach, and a burgeoning young star.
And while the Raptors' defensive prowess as a whole supersedes the Celtics', the latter is uniquely set up to give the Raptors fits. That became obvious this past Friday night, when the two matched up with largely healthy rosters for the first time all season.
With Toronto missing a cornucopia of wide-open looks in the half-court, the team eventually turned to one of its pet plays in an attempt to get the offence flowing: running the pick-and-roll with Pascal Siakam as the ball handler and a guard as the screener.
This play has been immensely successful for the Raptors this season, and while they haven't run it all the time (partly due to injuries and perhaps partly due to Nick Nurse saving it for particular moments), it has been a staple of their crunch-time offence, which is the fourth-best in the league.
Prior to the hiatus, when Siakam ran the play with Kyle Lowry as the screener, for example, those plays resulted in 1.58 points per possession, an exceptional mark when you compare the fact that the Dallas Mavericks, who own the top offence in the league this season, amassed 1.25 points per possession in their pre-bubble half-court attack.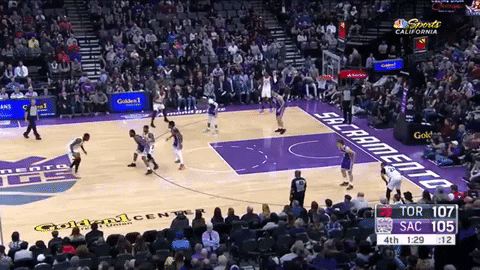 But the Celtics stymied that play better than any opponent has all year long, freely switching or staying depending on who was involved in the play. When it was Jaylen Brown and Jayson Tatum, for example, the two had no problem switching, since both have the size and strength to make things tough for Siakam. The only time Boston's defenders made sure not to switch was when Toronto attempted to force Kemba Walker into the play for Siakam to attack, effectively eroding any chance at Siakam getting Walker one-on-one.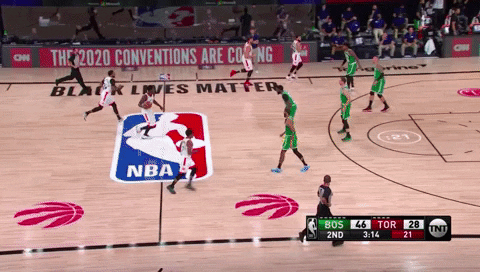 This is only a single play, certainly, but it's a good microcosm of the challenges Toronto's offence will face if it does in fact run into Boston come the post-season.
Outmaneuvering a mirror image, after all, is no easy feat.
Injuries Continue to Pile Up
This past Tuesday, 20-year-old Jaren Jackson Jr. went down with a meniscus tear in his left knee. He's just the latest of a panoply of players to sustain serious-to-season-ending injuries in the bubble, proving that the concern of NBA players having had varying levels of access to gymnasiums, workout equipment and the like during the hiatus was more than valid.
Here is a list of the most notable injuries to date:
From a fiscal standpoint, these injuries (or potential injuries) are extra consequential for players who are about to finish their rookie deals and look for their next payday, whether that be an extension with their current team or a deal elsewhere.
Jonathan Isaac, for example, is one such player. He's proven himself, when healthy, to be a focal point of the Orlando Magic as a stalwart, versatile defender and growing offensive piece. But he was hurt for 32 games this season prior to the restart, and now finds himself staring at another rehab process after tearing his ACL last Sunday against the Sacramento Kings.
If the injury bug had chosen to leave Isaac be this year, he would very likely be in line for a major payday this coming off-season, but now that situation is undeniably murkier.
The league did create an enhanced insurance policy in partnership with the NBPA for players who suffer career-ending injuries due to COVID-19 and conventional basketball injuries in the bubble that would include providing players with several million dollars in coverage, but the policy is rather vague in how much it would actually help a player like Isaac, who would certainly be anticipating more than that had he never played in the restart.
And so, as successful as the restart has been so far, the fact remains: Playing in the bubble is a risk from a variety of angles, and at this point one can only hope that everything else goes smoothly from here.