Nick Nurse is settling in, getting ready to take the great leap forward after his 27-year coaching apprenticeship.
The eighth head coach in Toronto Raptors franchise history has furniture in his office adjacent to the practice floor at the BioSteel Centre — four single-seaters for now, but a couch is on order. There are books in the wall unit behind his desk. Family pictures rest on top. On another wall are framed photographs of some of his favourite musicians, the soundtrack for his late-night cram sessions.
He quizzes me on them, and I get B.B. King, but fail on Muddy Waters and Chet Baker. There is a painting, too, of jazz icon Thelonious Monk, braids and cigarette dangling at the same angle over his piano
The artist? Raptors assistant coach Patrick Mutombo.
[sidebar]
"We were talking about some stuff one day and he came back with that, it was a gift," says Nurse.
Beginning on Tuesday in Vancouver, Nurse gets to work trying to leverage one of the greatest gifts a rookie NBA head coach can ever have — a winning team; all-star talent and few apparent holes — into something the Raptors have never had: an appearance in the NBA Finals and, as implausible as it seem in the Golden State Warriors era, a meaningful run at an NBA title.
When coming off a 59-win season and trading franchise icon DeMar DeRozan for one (guaranteed) season of MVP candidate Kawhi Leonard, there is no other way to think.
It's miles from Grandview College in Des Moines, Iowa — where the 51-year-old got his first full-time head coaching job at age 24 — and a far cry, too, from the typical first job NBA head coaches step into: dysfunction, rookies and tumult.
"I understand how fortunate I am here, to have this city, this organization, these players, these fans," Nurse was saying during an interview before training camp opens in Vancouver on Tuesday. "I mean, this an unbelievable job for anybody and to be a first-time guy? I understand that I'm very fortunate that the chips fell this way."
[relatedlinks]
Fortunate, but not lucky. Nurse's road from small-town Iowa to one of the biggest markets in the NBA was paved by long series of successes in not-always-perfect circumstances, including multiple championships in the low-budget British Basketball League and the low-budget G-League, and multiple coach-of-the-year awards to match.
His resumé is short on NBA or major-college pedigree so rather than helping hands from friends in high places, Nurse's breaks have been performance-based — the latest being the Raptors' successful transition under his supervision to a 'space-and-pace' attack, emphasizing ball movement and threes, that saw Toronto finish third in the NBA in offensive rating.
When the Raptors failed to get past the Cleveland Cavaliers in the playoffs for the third straight year, the decision was made to spark change by firing Dwane Casey — the most successful head coach the Raptors have ever had — and after a month-long search, hiring one of his lead assistants, one with zero NBA head coaching experience.
"Did it surprise me when they let Case go? Hell yeah, it did, especially the way it played out," says Nurse, who is full of praise for how his predecessor lifted Toronto from an Eastern Conference also-ran to an Eastern Conference power over seven seasons. "There was one press conference and then the next conference, and then a day went by and you kind of thought the storm was over and you're going to keep going along, so it did catch you off guard."
But, not unprepared. "You know [your opportunity] is coming … I'd probably been preparing for [a head coaching job] for a couple of years in the back of my mind: 'What's the presentation going to be, what are you going to cover, etc. There's a sense of urgency when people start talking about it, so you're like, 'Hey, I better get more ready and stuff.'"
When Raptors president Masai Ujiri invited him to interview on the Monday after Casey was fired on Friday, May 11, Nurse was ready with a 12-month outline of what his first season would look like, from training camp to exit interviews.
They liked what they heard, and now, after five years playing in the rhythm section, Nurse is at centre stage.
If teams reflect their coach, what does he hope his first NBA team will look like?
"I like to have an attacking style on both ends," he says. "I place a lot of value on pace of the game, going after people … always be the aggressor and forcing the issue a little bit when we have the ball, and when we don't have it, we want to come at you too.
"[But] I can tell you who we're going to be, but now I have to show them. There has to be a plan," he says. "For every philosophical idea about how we're going to do things, there has to be a plan to get there and we have to be able to execute it, first in practice and then in games."
He'll also have to navigate the tricky transition from player-friendly assistant coach and sounding board to the guy dictating the on-court fortunes of 15 highly-paid professionals, none of them easily fooled.
One of the books on his shelf is the memoir of former Detroit Pistons and Dream Team head coach Chuck Daly, who famously compared coaching an NBA team to connecting with "12 CEOs," each running their own business. The coach's job was to find a way for them all to see their own benefit in working together.
Nurse believes the secret lies in making clear that each player's 'business' is directly tied to them being shown a path to their best basketball selves:
"You get that all the time — 'How can you coach these guys? They have these egos and they make all this money.' Well, they really want to be coached because they want to play well," he says. "If you are tactically sound in what your philosophies are and then the nitty gritty of your tactics, and they feel like it's helping them and helping the team, then you're on your way.
"It sounds easy when you say it — you have to communicate, you have to build trust, you have to be tactically sound … but it's not easy to do all of those things because there's moving pieces. There's a lot of guys, there's emotion, there's scoreboard, there's scrutiny, there are all kinds of things that are infiltrating your process — but those are the main things in how you approach it."
With the Raptors, the process is infiltrated by the recent past. Taking over a 59-win team that has won four playoff series in three years is a blessing for a rookie head coach, but also means that the normal markers of success — a .500 season and maybe a playoff berth — will be an abject failure.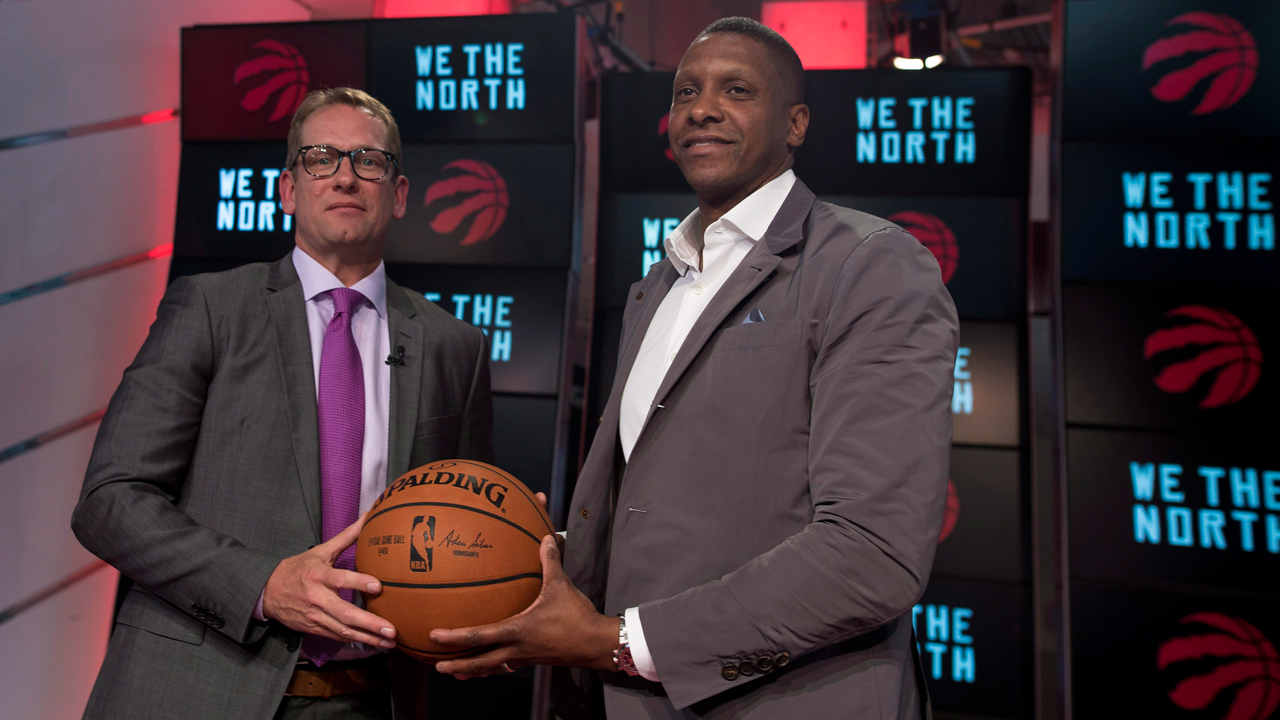 Similarly, inheriting a (presumably healthy) Leonard, the best player the Raptors have ever had, is a lottery ticket. But, given that the only NBA coach Leonard has ever had is San Antonio Spurs legend Gregg Popovich — inarguably one of the greatest coaches in league history — the pressure is on Nurse to measure up.
"I just have to do me," he says. "Pop and I are two different personalities, Case and I are two different personalities. I hope [my message] is different from what they've heard before."
The source of that confidence?
"You work towards that a little bit," he says. Twenty-seven years on the grind, obsessively studying end-of-game situations; driving through the South Dakota night to watch minor-pro games, coaching in leagues where the resources were slim and winning was the only way up have prepared him for his solo, he figures.
"It's called not being afraid," he says. "I'm not afraid."
With that, a buzzer sounds on the practice floor and Nurse is up like a shot for his next appointment, this one on wood. He's out the door and into the light.
Alone for a moment as I get up to leave, I glance behind me on the wall at the white board that Nurse looks at from his desk, filled with notes and plans and tactics. Scrawled in marker in the top left corner is another musical reference, a line from a rock poet — Jim Morrison — rather than a jazz or blues icon. But the message is clear and speaks to Nurse's most important philosophy of all:
"The time to hesitate is through."