The nightmare ending to the Toronto Raptors season looks something like this:
Canada's lone NBA entry grinds their way through the second half of the season, profiting from a travel-light (no more Western Conference road games) and home-heavy schedule (the Raptors have a league-high 21 home games remaining with 37 to play) and track down the Boston Celtics for first place in the East, with a franchise-record 59 wins.
They battle through a tough first-round series against Joel Embiid and the Philadelphia 76ers, get pushed hard by the Miami Heat but survive and then — just as a franchise-first NBA Finals berth is within view — they end up getting smothered by the Celtics, as the NBA's best defensive team exploits Toronto's every conceivable weakness.
It's the worst-case scenario: The Raptors don't have to go through LeBron James to get to the NBA Finals, and they still get undone by their own inherent flaws.
With the season just over the halfway mark and the NBA's Feb. 8 trade deadline a little over two weeks away the question is what can be done to change the trajectory?
As advertised, through 45 games the Raptors are shooting more threes, making more passes and weaning themselves off their historical over-reliance on DeMar DeRozan and Kyle Lowry.
And the results have been impressive as the Raptors join the Golden State Warriors as the only teams ranked in the top six both offensively and defensively, and are ranked third in the NBA in net rating. They are on the verge of elite.
But about those flaws…
Even as their three-point attempt rate climbs — at 31.8 per cent they are fifth in the NBA — there are still questions about who can reliably convert those looks given they ranked 26th in the NBA in percentage made at 35.1.
NBA.com stats maven John Schuhmann published a scary chart — for Raptors fans at least — on Monday listing NBA three-point shooting since Christmas Day for players with at least 25 attempts.
There are only five players with that many attempts shooting less than 21 per cent and four of them are Raptors — OG Anunoby (7-for-40, 17.5 per cent); Norman Powell (5-for-26; 19.2 per cent); Pascal Siakam (5-for-25, 20 per cent) and Serge Ibaka (8-for-39; 20.5 per cent).
The good news is the Raptors are 8-6 over that stretch, even with four rotation players shooting a combined 25-for-130 — that's 19.2 per cent — from three.
The bad news? That is a lot of missed threes.
While Ibaka's track record is long enough that it's reasonable to expect a rebound to his typical standards — he shot 39.8 per cent over the previous two seasons — the same can't be said of Anunoby or Siakam.
Both project to have important roles in any of the goals the Raptors want to accomplish defensively, but are so unproven as shooters their presence will basically beg teams to leave them unguarded while running multiple defenders at Lowry and DeRozan.
Livestream the Raptors and other marquee NBA Playoffs matchups, including Games 2, 3 and 6 of the Raptors-Cavaliers series. Plus, get coverage of the NBA Finals, NBA Draft & NBA Awards.
As for Powell, his funk has nearly cost him his rotation spot. This a season after his electric three-point shooting turned the Raptors' first-round series against Milwaukee in Toronto's favour.
It might be a coincidence that the Raptors are shooting just 33.3 per cent from three in 24 games against teams that are currently at .500 or better, or it could be a symptom of an illness that could get worse as the competition heats up.
They're 14-10 in those games, but against teams that currently project to be in the top four in either conference they're 3-6 and shooting 36.7 per cent — although that number is a bit inflated by their 18-of-42 outing against the somnolent Cavaliers. Take that out and the Raptors are shooting 34 per cent from three against the NBA's best teams.
Another issue — although one that may well be related to the Raptors' shooting woes — is that in the guts of games the team's new ball-moving ways are discarded.
The NBA defines 'clutch' as games that are within five points or less during the last five minutes of the game and overtime. In all situations, the Raptors have proven an efficient team offensively with a rating of 109.8, tied for fourth in the NBA while averaging 23 assists a game (13th) and 45.2 potential assists (13th) — significant improvements over a year ago when they were last in each category.
In 79 crunch-time minutes spread over 22 games so far this year, however, the Raptors' offensive rating falls to 101.6 (23rd) and their assists tumble to 0.8 in clutch minutes (28th).
The Raptors have tried to become more diversified offensively in part by reducing DeRozan and Lowry's usage rates by about 10 per cent, respectively, to 30.1 and 22.1 per cent. But for DeRozan those numbers balloon in crunch time to 45.8, third in the NBA behind LeBron James and Kyrie Irving.
DeRozan's reasonably efficient – he averages 4.4 points on 45 per cent shooting, second to James' 4.6 points on 52 per cent shooting – but if the Raptors' goal is to be less predictable when the game is on the line and defences are locked in, it's a goal they haven't reached yet.
And while Lowry's usage has dropped from 35.1 per cent last year to 22.9 this season, DeRozan's has gone up from the hefty 42.9 usage rate he sported last year in the clutch.
In sum: If the games aren't close, the Raptors are a pretty egalitarian team, offensively. When they are?
They rely on DeRozan more than ever.
Related: The 31-14 Raptors are just 2-4 in games decided by three points or less.
Would some more knock-down three-point shooting around DeRozan help come clutch time?
With the trade deadline coming into view it would seem that the Raptors would be wise to comb the rosters of teams that are likely punting on the playoffs in a search for additional shooting if they're going to shoot as much as they do from three.
But it's not a turnkey solution and the organizational philosophy seems to be to look beyond a short-term fix in favour of longer-term, internal development.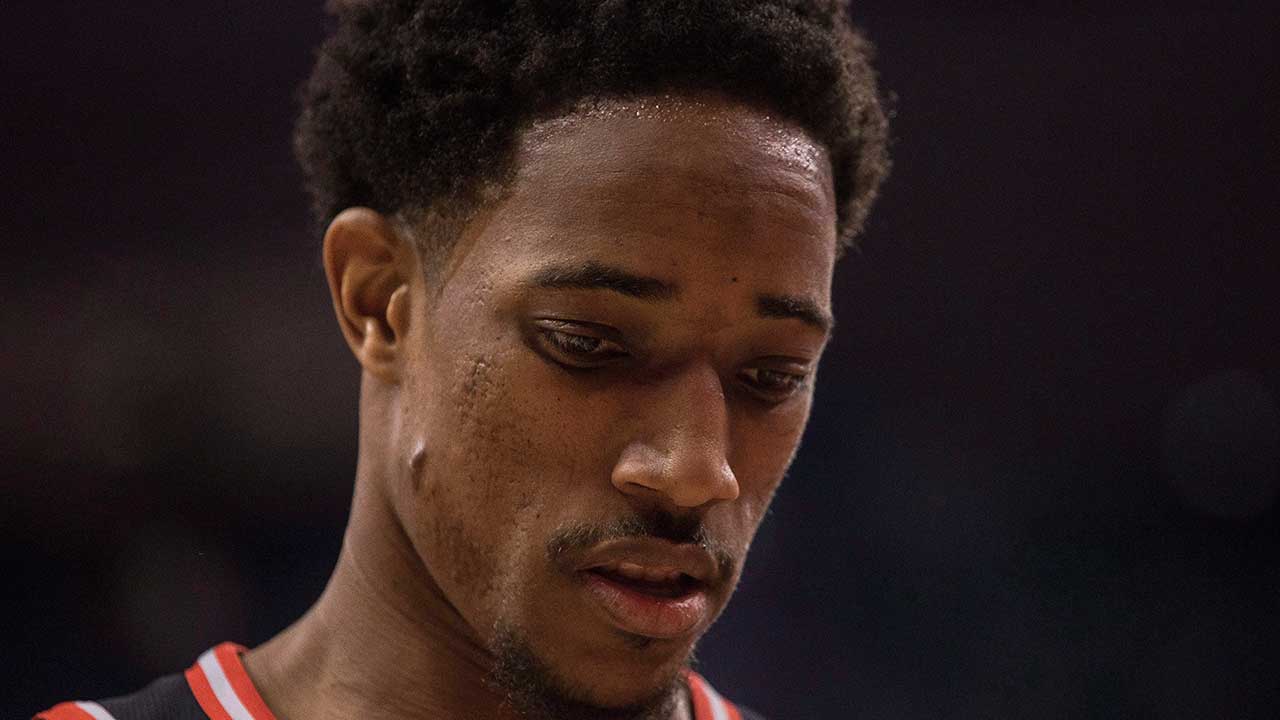 A year ago the Raptors went big at the deadline, were lauded for landing Ibaka and P.J. Tucker – providing the depth and defensive versatility at four the team seemed desperate for – and in the end were swept in the second round after surrendering Terrence Ross, a first-round pick and a pair of seconds.
The most questionable move of Raptors president Masai Ujiri's tenure? Going hard to acquire free agent DeMarre Carroll, a move that backfired badly enough that Ujiri had to attach a first-round pick to get out from under Carroll's contract and wonky knee this past summer.
And while it's too early to fully judge the merits of C.J. Miles as a free agent acquisition, it's safe to say, after an inconsistent first half, the Raptors are expecting more from their designated sharp-shooter whose defensive short-comings have been an obstacle to him seeing more minutes and more minutes in the fourth quarter.
Meanwhile, the Raptors have been rewarded by their commitment to give bigger roles to their core of homegrown role players. The best stories of Toronto's season have been the development of Siakam, Delon Wright and Jakob Poeltl, as well as the promise flashed by Anunoby.
Viewed through that lens it's hard to imagine that Ujiri will be in a rush to dive into the trade market for short-term help.
Elite shooters that can defend well enough to earn minutes in crunch time are a rare commodity, while drafting and developing has yielded a slew of improving young players on cheap contracts, and trades and free agency have yielded mix results and a high price.
If there is a podcasting odd couple, this might be it. Donnovan Bennett and JD Bunkis don't agree on much, but you'll agree this is the best Toronto Raptors podcast going.
A better bet? The Raptors banking on continued internal improvement: Wright is shooting 46.2 per cent from three in his last 18 games, compared with 28.6 per cent in his first 14, while Fred VanVleet is shooting 42 per cent from deep since mid-November after shooting 16 per cent in the first month of the season.
Can Anunoby regain a hint of his November-December form when he shot 39-for-87 for 44.8 per cent?
Can Miles – whose fitness seemed to suffer in a first half beset by minor injuries, some major dental surgery, a bad cold and the birth of his first child – get on track to earn more closing-unit minutes?
That's another wild card too.
But if past experience predicts future behaviour, expect the Raptors to look internally for solutions to a pretty short list of problems, and hope that even with a quiet trade deadline they can put any nightmare scenarios on hold.