To say that DeMar DeRozan is off to a strong start this season would be like calling Queen's A Night At the Opera 'okay', or a potential Donald Trump presidency 'problematic.' In other words: a massive understatement.
The Raptors' all-star shooting guard has been flat-out unstoppable thus far in the 2016-17 NBA campaign, posting career-best numbers across the board and leading the NBA in scoring. Yes, it's early, and no, DeRozan isn't likely to keep up this pace for Toronto's remaining 78 games. But with his ability to get to the rim at ease (and make free-throws at a high rate), a skill-set that makes him virtually unguardable, and the fact that he's being asked to take plenty of shots night in and night out, DeRozan seems poised to remain in the scoring title conversation for the duration of the year.
But just how good has DeRozan been to this point? Let's take a closer look at what the numbers tell us:
36.3: That's how many points per game the 27 year-old Raptors' co-captain is averaging through four games. That's good for first place in the NBA, edging fellow L.A. native Russell Westbrook by two points, and ahead of Damian Lillard (32.6), James Harden (31.8), and Anthony Davis (31.6). It's the hottest four-game stretch of DeRozan's career, besting the 31.0 points per game he averaged through four games in March, 2015.
To put into context just how impressive he's been in the early going, take a look at the only other players in the modern era to score at least 30 points in their first four games. Pretty good company to keep:
He's also established new Raptors records in the process:
94.1: The percentage of DeRozan's points that have come from 2-pt field goals. It wasn't until his fourth game that he hit a three, and has only attempted 1.5 per game.
For a player not known for his three-point prowess, DeRozan's lack of long-range shooting, even on a Raptors team that could really use a boost in that category, is ultimately a good thing— a sign that the player and his coach have figured out the most effective way to utilize him. Take a look at his shot chart from his season debut vs. Detroit last week. DeRozan has an elite ability to knock down the mid-range shot, whether on pull-up jumpers (he's made 7.8 FGs on pull-up shots, the most in the NBA and three more per game than second-place), or with his increasingly-dangerous post-ups and turnarounds near the free-throw line. It's abundantly clear that the 7-year vet has more command over his game now than ever.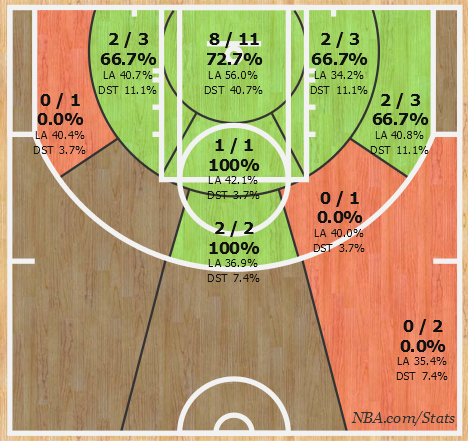 40: His season-best 40 points— the second-highest single-game output of his career and second time he's reached that number this season alone— came in a closely contested matchup versus former-rivals, the Washington Wizards. After coughing up an early lead, it looked like John Wall and the Wizards would mount a comeback, but DeRozan had different plans, putting together his strongest game yet, adding five boards and five dimes for good measure:
25.3: Field goals attempted per game. It's a ludicrously high number, but not much of a surprise given where this Raptors team is going to regularly generate its offense from. Still, DeRozan's 25+ attempts puts him second in the NBA, just one shot shy from one-man show Russell Westbrook in Oklahoma City, and nearly three attempts per game more than third place, another one-man show in New Orleans' Anthony Davis.
Part of DeRozan's high-volume shooting (which, it should be noted, isn't anything new) can be explained by the need to simply ride the hot hand, as well as Kyle Lowry's quiet scoring to begin the season, which forces DeRozan to play an even bigger role offensively. It remains to be seen if DeRozan can keep up that pace while remaining effective, but when asked if fatigue will eventually set in and whether or not he may run out of gas eventually while slinging up so many shots, the Raptors star dismissed the notion. "I'm like a Tesla," he told reporters.
55.4: This is DeRozan's shooting percentage through four games and, for my money, the most impressive aspect of his NBA JAM-like performance this season. One of the biggest knocks on DeRozan throughout his career, and certainly illuminated in the early going of the 2016 playoffs, has been DeRozan's shooting efficiency. As mentioned, it's nothing new for DeRozan to be shooting a high volume of shots— he averaged over 17 per game last season, and that number jumped to 19.9 in the post-season— but for a career 44 per cent shooter, his shooting rate— a direct result of his aforementioned shot selection— has been wildly impressive.
He's been incredibly effective scoring the ball, posting a player efficiency rating of 34.8, good for third in the NBA, while averaging 0.556 points per touch, second (…to Andrew Wiggins) among players who have played an average of more than 30 minutes per game.
The Dunk: Ok, so it's not a number, unless you're counting the number of souls crushed in the following video (that would be 'one', Tristan Thompson's). But DeRozan's vicious slam overtop of the Cleveland Cavaliers' starting centre, which tied the Raptors' game vs. the defending champs at 91 with 1:30 remaining, sent an emphatic message to both the Cavs and the rest of the NBA that he is showing absolutely zero mercy on the competition.
All in all, not a bad start to the year for the 46th-ranked player in the NBA.
DeRozan will look to continue his record-setting pace Friday evening versus the Miami Heat, with coverage beginning at 7 pm ET on Sportsnet One.