Jonas Valanciunas went to Old Reliable late in the first quarter of the Toronto Raptors' win last week over the Utah Jazz. Catching the ball from 15 feet, he faced up and pump-faked Derrick Favors, drawing the defender closer, then took a first step toward the rim and drew a foul. How, after four years of this same slow, methodical move, are defenders still biting on it? Well, they are, and that could play a major role in Toronto's success this season and beyond.
The Raptors are already keenly aware that Valanciunas can score on the low block, and it's a big reason why the team handed him a $64 million extension last summer. But with two drive-oriented guards leading the offensive charge, there's not much of a place to, as assistant coach Nick Nurse says, "Olajuwon it," every time down the floor. That's why the key for growing Valanciunas and increasing his share of the pie on offense is to increase the variety of ways in which he can contribute.
Keeping defenders honest on those up-fakes was a major priority this offseason when Nurse visited Valanciunas in Lithuania. "We didn't do any post stuff," Nurse says of the early part of his visit. "We worked all away from the basket, attacking off the dribble, relocating for catch-and-shoot jump shots. We did a lot of work on his shooting—and I mean a lot of reps, almost putting him through a Terrence Ross workout."
Increasing Valanciunas' efficiency in the mid-range made sense as a goal. Already a solid, if hesitant shooter, he stood to spend a fair amount of time both in the baseline dunker position and around the free-throw line, prime spots to unleash a quick jumper. The returns have been great, with Valanciunas shooting 51.7 percent on jump-shots outside of 10 feet.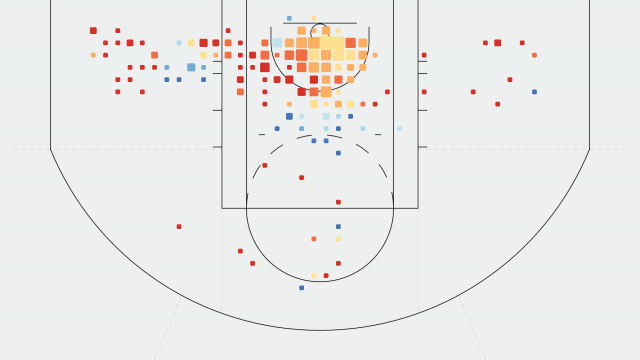 The confidence in letting it fly quickly burned Favors later on that same possession.
The Raptors have grown creative in trying to get Valanciunas the ball in post-up situations outside of the traditional low-block clear-outs most people think of. Rather just throw Valanciunas the ball, they'll have him set a screen, then dive into strong post position. He becomes an option if he gains an advantage there, and if not, he's in good position for offensive rebounds, where he's grabbing an elite 14.1 percent of possible boards and scoring a ton of easy second-chance baskets.
"Huge," head coach Dwane Casey says of Valanciunas' impact on the offense. "It opens up the floor because now they've gotta not worry just about DeRozan and Lowry out on the perimeter, but now thery've gotta roll back, digging in in the post. What JV gives us is a balance."
Valanciunas' primary function in the offense, though, is setting screens for Kyle Lowry and DeMar DeRozan. As he's improved the effectiveness and unpredictability of his screens he's become more adept at switching the direction of his pick or slipping the screen without telegraphing. The Raptors finish plays with the pick-and-roll ball-handler more than all but two other teams, per data from NBA.com, and while they use the dive-man sparingly, Valanciunas' hands are a major asset when he rolls to the rim.
When it comes to his low-post game, "JV is evolving," says Casey. "He's more comfortable once he catches the ball down there. He doesn't get rattled by fake digs, fake double-teams like last year. This year, he's doing a much better job of reading that."
Valanciunas is only shooting 48.7 percent on post-ups this season, down from 51.3 percent a year ago, but more important than a dip in scoring may be the improvements in his passing. He's posting a career-high assists rate of 5.4 percent, and while that's still a very modest number, it's his best means of getting more touches, as the team grows confident the possession won't end once he gets the ball.
It's an area of the game Valanciunas is eager to improve in. He counts Arvydas Sabonis, one of the greatest passing big men of all time, among his idols, and he recognizes the importance of becoming a more aware and adept playmaker.
"I wish one day I would pass like him," Valanciunas says. "That's something that's gotta come. To not just put your head down and try to bully somebody, to see everybody—who's cutting, who's spacing out. Then it comes: Easy baskets."
On plays where Valanciunas doesn't dive or pop, the Raptors will occasionally delay his dive and then cut to the rim either as a dump-off option or to draw the help away from the attacker. Or, sometimes, both in the same possession.
That growing versatility is a big part of why Valanciunas has used a career-high 20.5 percent of plays when he's on the floor, and why his efficiency hasn't suffered in response. Even with his post scoring down, he's contributing meaningfully on several different play types and ranks in the 92nd percentile in overall points per-possession.
The Raptors score 4.4 more points per-100 possessions when Valanciunas is on the floor, an appreciable gain, though not as substantial as the slippage the team sees on the defensive end, where he's improved but still needs work. His offensive impact only grows when one of Lowry or DeRozan hit the bench, too, with Valanciunas proving an effective second-weapon in those scenarios.
It's why there's an argument to be made that Valanciunas should be spending more time propping up those bench units.That would serve to get him more touches and help lift the offense of a reserve group that still struggles to score without Lowry. In that sense, he could also be a factor in getting Lowry and DeRozan additional rest down the stretch.
"I was going to say important, but he's crucial for us," says awkwardly fitting frontcourt mate Luis Scola. "We really need him. And we need him to be happy, so we try to play around him as much as we can."
"We always try to get JV going," Lowry adds. "When he works extremely hard like he does and he gets position like he does, he's gotta get the ball."
As the stretch run nears, the Raptors are still stuck searching for offense outside of that duo. Should he continue to focus on variety and not volume, Valanciunas has a huge opportunity ahead of him.