•Tucker values his defensive toughness the way scorers value high point totals
•Charles Oakley and Anthony Mason were big influences on Tucker's physical style
•Raptors' four best defensive-rated lineups all feature Tucker

P.J. Tucker is on his back, dropped there by Paul George's shoulder to his chest. This is by design.
Tucker's that is.
The Indiana Pacers superstar has been whistled for his fifth foul and walks dejectedly back up the court.
The Raptors' Swiss Army knife defender stays on the ground, pounding his right fist to his chest, celebrating while lying down.
For Tucker it was another game-changing defensive play forcing a turnover at a key moment. They've become almost common in his 13-game-and-counting second tour of duty with the Raptors, the club that drafted him in the second-round in 2006 and cut him after he appeared in just 17 games of his rookie season.
He's returned to the Raptors at a time of great need, an older, wiser player bringing a playoff-bound club the kind of finishing touches that earn wins when the games get tight, contentious and – sure – ugly.
After leaving Toronto he took his talents across Europe, with stops in Israel, Ukraine, Italy and Germany before returning and catching on with the Phoenix Suns for the 2012-13 season, completing the transition from go-to interior scorer in college to lock-down, guard-everyone defender in the NBA. "Know your role" is an NBA cliché, but for Tucker they are words to make a living by.
"As a pro, and being a good pro, you figure it out," says Tucker. "There's a few superstars in the league who score the ball and that's what they do and everything kind of revolves around them. Everybody else has a role. That's why I got back in the league and have been so successful because I figured out that role and learned how to play that role and got better and better in affecting the game in my role.
"Mine has been playing defence and shooting threes and I've just kind of cultivated that little niche, you know?"
We know.
When Tucker gets a stop – when he personally halts the opposition in their tracks, turning defence into offence, it's his version of performance art.
"That's like scoring 40 for me," Tucker says. "For me, being able to take someone out of their game and be able to stop a main player on another team is bigger than scoring any amount of points or anything else.
"It's part of the game that's not glorified and people don't always want to do but it wins games. It's knowing roles and knowing what you bring and being the best at it you possibly can be."
George torched the Raptors for 27.6 points per game in the first round of the playoffs a year ago and in his last start before facing the Raptors he put 39 points on Charlotte. Against the Raptors with Tucker and DeMarre Carroll handling the matchup most of the time, George finished with a fairly ordinary 18 points on 14 shots and Toronto won by 25.
In a very short amount of time Tucker has earned himself a growing presence in Raptors head coach Dwane Casey's rotation as the playoffs round into view and perhaps just as importantly, he's been a growing influence on the culture of the team.
Charles Oakley, who joined the Raptors in 1998 after starring for 10 years with the Knicks, remains a near mythic figure in Toronto because he brought a direct demeanor to a young, talented, Raptors team, both on the floor and off.
Tucker, it should be noted, was an Oakley fan while growing up in Raleigh, North Carolina.
"I used to love those Knicks teams," he says. "Everyone loved the Bulls back then? I loved the Knicks. Anthony Mason? Oakley? I loved it. I wanted to be like that. Offensively Charles Barkley was my favourite player ever, but defensively, toughness, all-around? Oakley and Anthony Mason [a bigger, burlier version of Oakley, if you can imagine], those were my guys. Those were my guys … you didn't come through the lane without getting cracked. You didn't try to get a rebound without getting hit. It wasn't going to happen."
The NBA will never again be the slugfest that it was in the 90s, but the spirit lives on in Tucker, who would prefer to blow up screens rather than slither around them. Tucker gave up on football heading into the ninth grade – training camp in the syrupy humidity of the North Carolina Summer didn't appeal to him, not when there was an air-conditioned gym to play hoops in.
But football never quite gave up on him. Throughout his career at the University of Texas he says then-Longhorns head coach Mack Brown would regularly try to entice Tucker to play football for him on teams that ended up winning a national championship in 2006. "He was always all, Julius Peppers, blah, blah, blah," says Tucker, referring to the NFL star who played two seasons of basketball for North Carolina. "In my senior year he said if I just put my name in I'd get drafted in the NFL. I just said no thanks."
Casey still sees the football player in the six-foot-six, 250-pounder.
"His physical build is perfect for a defensive player," says Casey. "He's like a defensive running back, he's strong, he's probably one of the strongest guys on our team. His centre of gravity is there, his balance, he … has active hands without fouling. He just knows how to play."
"For me, being able to take someone out of their game and be able to stop a main player on another team is bigger than scoring any amount of points or anything else."
With lead dog Kyle Lowry sidelined after wrist surgery and the Raptors having seemingly exhausted the limits of handing the ball to DeMar DeRozan and hoping he can score enough that they can win, the willingness to move the ball offensively and defend with the energy Tucker does has caught on. He's not the only Raptor to sign off on the plan – it's been Patrick Patterson's role for years and Carroll and Cory Joseph are co-signees, while Serge Ibaka brings a set of tools few others in the league can offer – but Tucker is the most fervent apostle, in word and deed.
Even though he's come to the team late he felt perfectly comfortable calling out his teammates – DeRozan included — after their no-show against the Oklahoma City Thunder last Thursday. And status as a well-respected, hard-nosed veteran means he can hold the room.
"First of all he's been here before, maybe not with the same people but he knows the city, he feels more comfortable than the typical guy who first comes here," says Joseph, who first got to know Tucker in summer pick-up games at the University of Texas. "And second of all, he's an 11-year [pro]; he's proven himself as a defensive stopper and the way he plays, playing his heart out at 110 per cent, every time, you have to respect that. You have to respect that. When a guy lays it on the line every time he's out there, you have to respect when he talks.
"And lastly," says Joseph. "What he says, it makes sense."
Tucker's zeal for defence is evident in conversation. It's not just hustle and heart. Defending in the NBA is accepting that you'll never be perfect – the opposition is simply too good – but recognizing that turning a superstar's 12-of-21 shooting night into a 7-of-19 can be the difference often enough. It's victory in increments, fought possession by possession.
"The number one thing for me is knowing your opponent," says Tucker. "I know everybody I guard. I know everything they like to do. I know where they get their shots from. I know how they get their shots off. I know how much time they need to shoot the ball. I know all that stuff at once, on the fly.
Tucker is an expert at using the shot-clock as the ultimate help defender. As the clock winds down it dictates how tight he's going to press into his man or how aggressively he's going to slide into help position, knowing every second off the clock means more pressure on the offensive team to get a shot up.
He's mastered the art of staying low and wide while keeping his hands churning like a blender. His trick? He's only rarely reaching for steals, so he doesn't lose his balance – death against crafty ball-handler. Instead he's using his hands to disrupt dribbles and shooters from getting the ball in their preferred shot pocket. He lives to make life hard.
"Great players are going to make shots, but I'm just trying to get him from 60 per cent from that spot to 39 per cent, or make him shoot from a little further out where his percentage is going to be a bit lower," he says. "It's little things. People don't think about how many little things there are like that that can really change and affect people on offence."
For example?
"I'm big and strong, so when you push off me to step back into your shot, I can take the hit and still get back into you and contest your shot," he says. "Now you're trying to recover from the hit and get into the rhythm of you shot and I'm still right there, now the percentages are going to go down. Guys are going to make shots, but they're going to have work their ass off and they'll be that much more tired on the other end."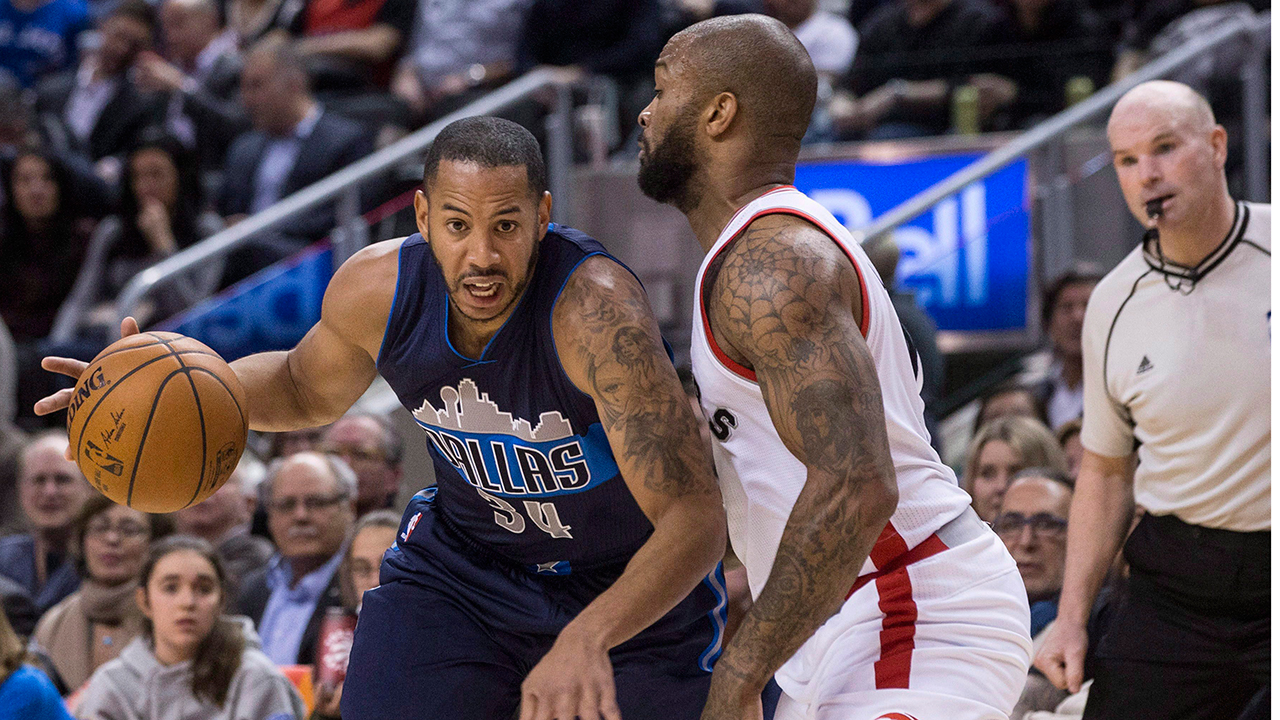 Tucker has the ability to guard multiple positions effectively (Chris Young/CP)
The numbers back up it up. The Raptors held the Detroit Pistons to just 34.9 per cent shooting on Friday and then followed up by holding the Pacers to 41.3 per cent from the floor on Sunday. The Raptors are 8-5 since the All-Star break. In their eight wins they have a defensive rating of 96.7 (points/100 possessions) while in their five losses they have given up 109.3 points/100. Prior to the all-star break the Raptors were winning games with a defensive rating of 101.3, riding one of the most prolific offences in the NBA.
Tucker has played a significant role in the Raptors' shift towards a more defensive approach. Toronto is 12 points better defensively per 100 possessions with him on the floor than when he's off since he arrived and he is featured in four of the Raptors' 10 most common lineups post-all-star. Similarly, the Raptors have four common lineups with sub-100 defensive ratings, all featuring Tucker. Finally, Tucker's present in the Raptors' three highest-rated two-man units (minimum 100 minutes played) since he was acquired.
"I have to find him as many minutes as possible," says Casey, who has been playing Tucker ahead of Carroll in the fourth quarter of late. "He shows up well in all our scenarios."
Tucker will take all the minutes he can get, but his style won't change.
"Not everyone wants to play defence and not everyone wants to be a good defender," he says. "Some guys play defence just because they have to play defence, not because they want to be down there and really enjoy the satisfaction of getting a stop."
It's clear where Tucker stands on the issue, even if it sometimes leaves him flat on his back.