Whatever happened to Bryant "Big Country" Reeves?
The player with the seemingly perfect nickname and the first player ever drafted by the Vancouver Grizzlies (No. 6 overall) in 1995, has all but disappeared from the public eye and our Canadian sporting consciousness since the Grizzlies packed up and left for Memphis 17 years ago. But not for filmmaker and Vancouver Grizzlies fan since the age of seven, Kat Jayme.
Jayme, who was a star high-school basketball player herself, has written and directed a new documentary, In Search of Big Country. It premiered recently at the Vancouver International Film Festival. Jayme says she has been dreaming about making the film since she began studying film at The University of British Columbia. She now hopes that the film becomes a catalyst for a conversation about the NBA returning to Vancouver.
Sportsnet.ca recently had a chance to chat with Jayme about the movie and her search for the Oklahoma State big man:
Sportsnet.ca:
Why did you want to make his film?
Kat Jayme:
I wanted to take you on a journey of finding "Big Country" and telling the story of the Grizzlies. When they came to town, they were like a gateway to dreaming. And in fact, because of them, I wanted to be the first girl to play in the NBA. That never happened. I became a filmmaker instead and so my dreams kind of shifted. The Grizzlies became my dream project. While I was doing research, I realized that "Big Country" was the only guy that no one has spoken to. And many had tried. Like everyone had tried to get in touch with him but no one was successful. So, I'm just like, 'I'm going to be the first one to find "Big Country.'" I just made it my life's mission to get in touch with him.
SN:
There's been other, big players, high draft picks that didn't necessarily pan out or bring their team success. Even if we look at the other Canadian franchise, the Raptors have had Andrea Bargnani and Rafael Arajuo. Why do you think "Big Country" represents the Grizzlies and people conflate his career with the plight of the franchise?
KJ:
He was our first-round pick and he was the guy that was our franchise player. And that comes with a lot of expectations, but also he did get that $61 million-dollar contract. He put up good numbers. And there is a year where he looked super promising and was the second-leading scoring centre behind Shaq and then unfortunately injuries took over. But I mean he's an easy scapegoat. He doesn't necessarily look like the typical NBA player. He is a country boy at heart. So, I feel like the media and fans were kind of ruthless.
SN:
What has been the response from Grizzlies fans to the film?
KJ:
It's been surprisingly overwhelmingly positive. I think we've definitely struck a chord. We sold out our first show in a 670-seat theater in just two days. Then we sold out another show in Tinseltown and then we sold out a third screening as well. I think it just shows… we were the worst team in the NBA, but were so loved by Vancouver.
SN:
Has going through the process of making this film impacted your perception of whether or not Vancouver could support an NBA team again?
KJ:
I'm hoping it helps start that conversation to get another team back here. Heads are turning and looking and seeing how much noise Vancouver's making and people are coming to these movies decked out in Grizzlies gear. The premiere was a dream premiere. It honestly felt like we were at an NBA game.
[snippet id=3360195]
SN:
This film is about Vancouver but also about Reeves' hometown of Gans, Oklahoma where people were crying on camera talking about him. What was going there like?
KJ:
Oh, he's so loved by everyone in Oklahoma. He's an Oklahoma legend, especially in Stillwater, which is where he played University and especially in his hometown. He comes from humble beginnings and became super successful. How many people make it to the NBA? I never made it to the WNBA. Like, he's one in a million but as everyone says in the film, why he is so loved and beloved is that money didn't change him. He still wanted to come back home and never forgot who he was.
There's one of the interviews that unfortunately got cut from the film and is one of my favorite lines. One of his friends said, "you know, walking down the street you would never know which one of us is a millionaire." He would never tell you that he was an NBA player. Being Bryant "Big Country" Reeves is not something that he brings up. I can't speak highly enough of Bryant. I don't think any other NBA player would have given me the time of day, but Bryant opened up his home to me and my crew and helped me achieve one of my childhood dreams.
SN:
What's the one thing that you were surprised by throughout the process of making the film?
KJ:
The other thing about Bryant that I loved, that I learned about him, is that he is so proud to be a Grizzly. The scene where he takes me down to his quote unquote man cave, you can tell just by the way he was walking downstairs. He's kept so much Grizzlies memorabilia to show it off. He's so proud even in his home gym where he plays basketball, he has the Vancouver Grizzlies logo on the floor and on his lawn. When you ask him, "why do you have that here?" he says, "It's just part of who I am."
So that was a really cool thing for me to realize and see how proud he was to have lived in Canada and have played for Vancouver.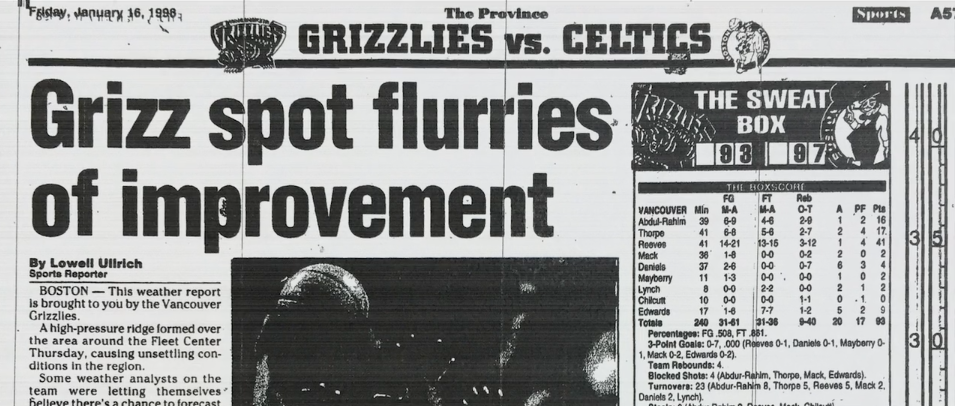 SN:
What's next for you as a filmmaker?
KJ:
Funny you ask because next is a full-length documentary on the Vancouver Grizzlies. Deep into the history and mystery behind the last season, but also those lovable fans that I've met who are so heartbroken that their team left and they were the worst team in NBA. So, it's this kind of story of underdogs and lovable losers.