Despite the newly signed four-year, $50-million contract and larger profile, not much has changed for Kelly Olynyk. That's why the NBA veteran comes back to Canada in the summer instead of staying in his home in Boston or getting a head start in the locale of his new franchise in Miami.
Similar to the way Kevin Durant took over the Rucker and DeMar DeRozan has made it mandatory to play in the Drew league, Kelly Olynyk has made a habit of getting in runs in Toronto.
Which is why it was special for those in attendance but not all that surprising when he decided to suit up for "1 Love TO" and play in the Nike Crown League — Toronto's summer pro-am.
NBA players Tristan Thompson, James Johnson, Anthony Bennett, Cory Joseph, Joel Anthony, Jamal Murray, Bruno Caboclo and Andrew Nicholson have been spotted at Crown League but Olynyk recently shut it down with a 38-point, 13-rebound performance. And of course, he hit the game-winner on a fall-away three-point buzzer-beater, then ran to the stands to celebrate with the Canadian national junior team members assembled in the crowd.
But the unassuming Olynyk, donning a JanSport backpack and skate shoes, looking more like a university student on the Ryerson University campus than a millionaire professional athlete, explained why he is proud to come back to Canada to instruct, train and see the growth of basketball.
SN – You could be training anywhere in the world. Why are you getting runs in at the Crown League in Canada?
KO – This is where I grew up. I was born in Scarborough. My dad used to coach at U of T. I used to come and play at Ryerson. I see it has progressed. I played [in the Crown League] two years ago when it was at Jarvis Collegiate. I walked in the gym and your heart just sank. You never thought this was going to be in Toronto. The way it looks, everything is just unbelievable. Nike has done an unbelievable job putting this on. You can't even explain it to people, they have to come see it.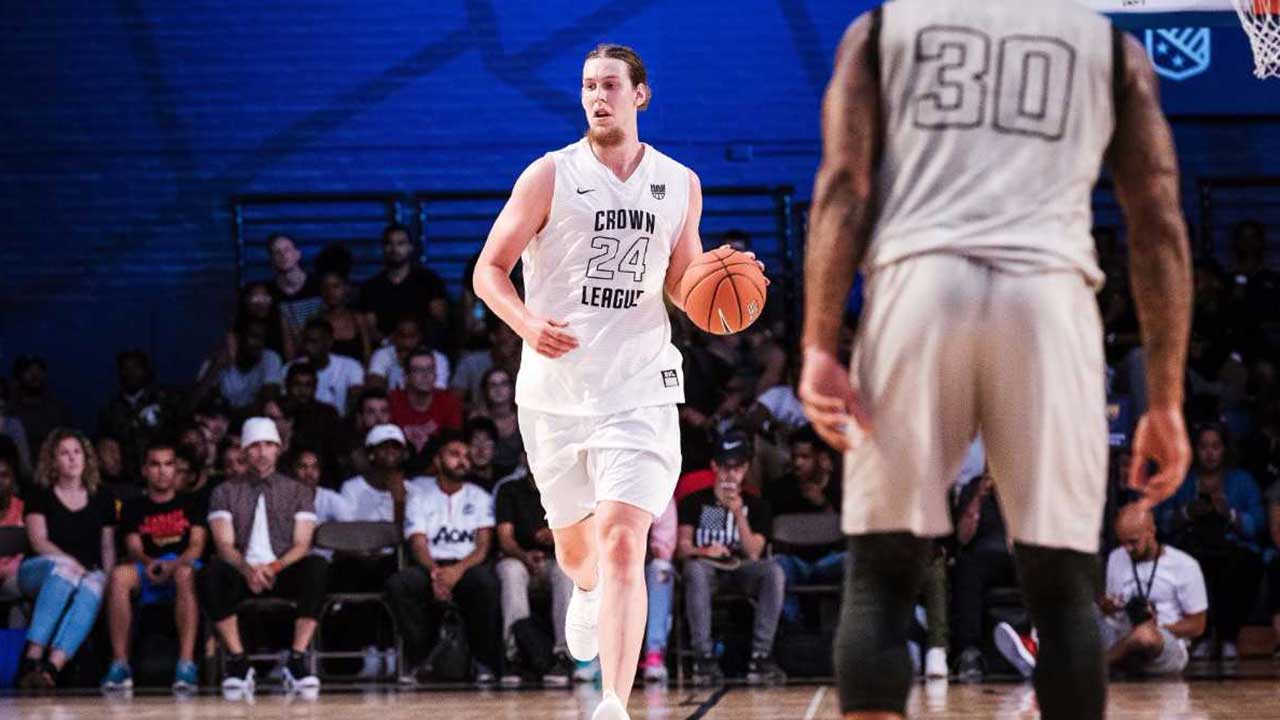 SN – With the increase in Canadian professional players, do you think this could eventually challenge the Rucker or the Drew League?
KO – I think it can be. It definitely can be. I don't think guys really know what it entails. I've told a bunch of people there is a league up in Toronto, it's the Crown League, it's dope but unless you come see it you won't know. What it does is it brings passion and love and intense basketball to the city in the summer, which is rare. You don't even have that in a lot of cities in America in the summer. To see this as real basketball with professional athletes for kids to be able to come and be inspired and watch and learn and grow, it gives them something to do to help them grow and learn. I was working out at U of T and when I was a kid the Goldring Centre wasn't there. Just to see how the city and the facilities have grown, it's a great time to be a young kid passionate about basketball.
[snippet id=3360195]
SN – What was it like for you to watch the national team win gold at the FIBA U-19 World Championships?
KO – It was remarkable. It was really surreal to watch. Watching all through that tournament, the ups and downs and a couple injuries and them bounce back and take down the U.S. in the semi's and just dominate a game in the finals. It just shows you where basketball in this country is going. It is only going up. Those kids are so talented and so gifted. To think of where we were at that level and to see them, they are on a whole other planet. I'm just so happy and proud of them. And proud of our country. It gives another meaning to wear Canada across your chest. I'm proud for us and think it's just the start.
History made by this group right here! I see you young bucks! Fiba U19 World Cup Champs! So proud of the red and white #WeAreTeamCanada pic.twitter.com/wRWHz2XH1c

— Kelly Olynyk (@KellyOlynyk) July 9, 2017
SN – Ca you foresee a day when the junior team is followed the way the hockey World Juniors are?
KO – Definitely. I think that is where it is going and that's where it is going to get to. You see the buzz around the sport, it's huge. Especially in this country but worldwide. It's going in a direction where nobody really knows what the limit is to it. So hopefully these things get noticed and get celebrated and get the knowledge they deserve.
SN – What was your first time going through free agency like?
KO – It's been a whirlwind, man. Free agency is crazy. You hear it's crazy but once you go through it you realize that everything happens so fast. It's like nothing is going on, nothing is going on, then all of a sudden it's bang, bang, bang, bang. It was definitely nice. It's tough to leave Boston after being there four years and planting roots there and building a home but it was a great opportunity for me in Miami. I think it's a great fit. The guys they have down there, Pat Riley and Erik Spoelstra, and everything they do in making players into even better players with their development schemes, its wonderful to be a part of and I can't wait to get started.
SN – Did you get more texts when you won a playoff game or when you took your talents to South Beach?
KO – That's a good question. That playoff game was huge for us getting into the Eastern Conference Finals. One of the biggest highlights of my career to date. There are going to be a lot of highlights to come in South Beach, for sure.