It's been a banner week for the Toronto Raptors organization.
For the second straight year, the defending champion Raptors 905 played the perfect host — weather notwithstanding — to the NBA G League Showcase. The Raptors defeated demolished the mighty Cleveland Cavaliers by 34 without Kyle Lowry, before almost pulling off one of the greatest regular season comebacks in NBA history in a two-point loss to the Golden State Warriors after trailing by 27 at halftime.
The refereeing in that game left much to be desired, in a season where that has caused much consternation between the players and officials. That seemed like an appropriate place to start an interview with 905 head coach Jerry Stackhouse, a two-time all-star during his playing days.
Sportsnet: Officiating has been a prickly subject this season. Shaun Livingston butted heads with Courtney Kirkland to serve as a sort of tipping point, and Draymond Green recently said a whole new crop of referees are needed. How do you view the tension between the two sides?
Jerry Stackhouse: That's always going to be a point of contention for as long as basketball is played. As a coach, I probably feel like they missed a few calls on my end. The other coach feels he missed a few calls on his end. But at the end of the day, it kind of balances out.
I think from a rapport standpoint, guys just want to be able to talk to officials. The older officials are kind of phasing out of the game now. They (the old officials) might miss a call or something, but they would at least have some dialogue with you, a little back-and-forth. When you take that approach of being stoic, and especially when you're a young guy trying to get your foot in the door as an official, it helps if you communicate a little bit more. That's all players want.
Even as coaches, we know you can make a mistake, I know it's tough. If you miss one, it's OK to take a stance of 'I might have missed one,' instead of just taking a hard stance of 'No I didn't.' It's not a perfect game so don't have a perfect disposition when dealing with coaches and players.
Livestream the Raptors and other marquee NBA Playoffs matchups, including Games 2, 3 and 6 of the Raptors-Cavaliers series. Plus, get coverage of the NBA Finals, NBA Draft & NBA Awards.
SN: What are your thoughts on DeMar DeRozan having an MVP calibre season?
JS: I just love it, every year he comes back, and he just gets better.
No matter what it is, he finds something to get better. I've seen that over the three years that I've been here and this year — the three-ball — he's accepting the fact that in the playoffs, you have to have contributions from different people. But there's times where he still has to go be DeMar DeRozan, one of the best scorers in the league, one of the most efficient scorers in the league and he utilizes his midrange game to do so.
That's his strength. You don't want to take that away. But at the same time, the inclusion of the rest of the guys will bode well for us in late playoff runs when they try to key in on him and try to take the ball out of his hands, take the ball out of Kyle (Lowry)'s hands. Now guys feel comfortable, where they've made plays throughout the course of the year in big situations and can do so again when the playoffs roll around.
With DeMar, it may not be that he's always getting an assist. But his dominance out there creates a hockey assist where he sprays the ball and somebody else is still there. He won't get anything on the boxscore for it, but we as coaches know that he made that play and I think he understands that and he just wants to win. That's what I love about him the most, he just wants to win and is willing to do whatever it takes.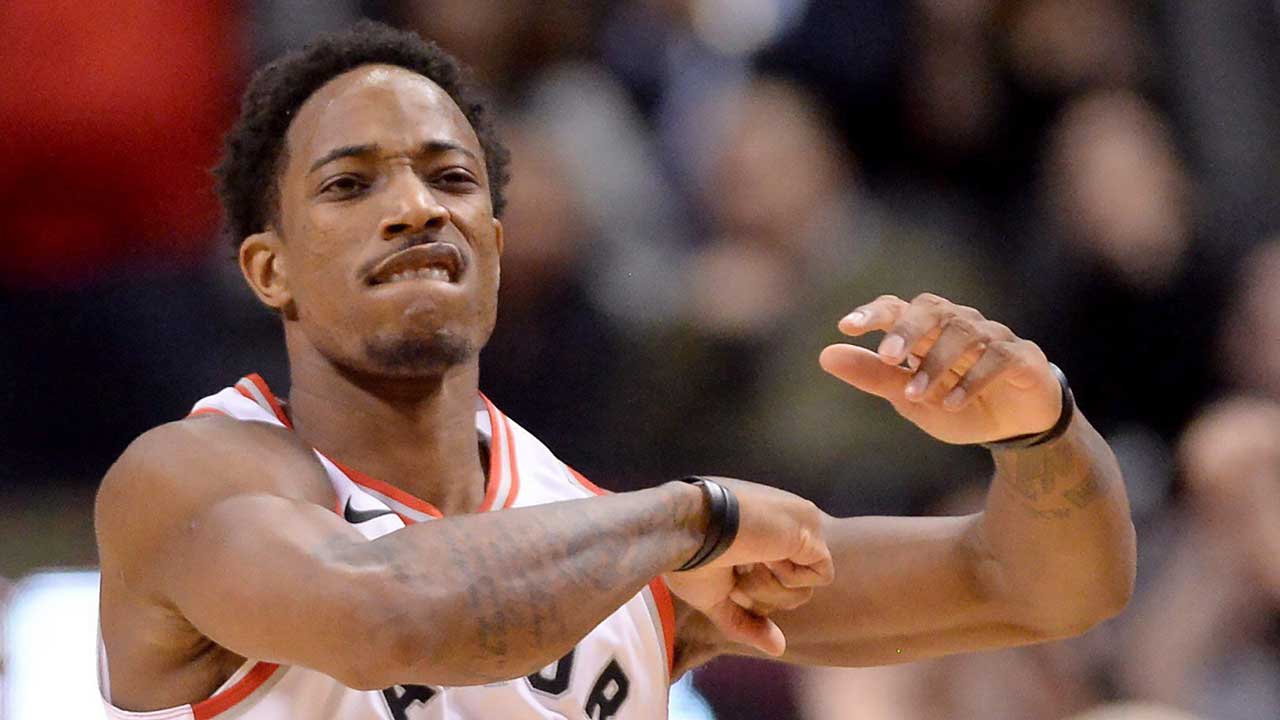 SN: How difficult is it for a coach — Dwane Casey in this case — to change the playing style of a team as much as he has?
JS: Casey has a lot of good guys on his staff who really understand basketball. Nick Nurse is one of the smartest basketball minds. It's not something he hadn't talked about before in terms of moving the ball more. The fact that they're doing it this time, when the message comes from up top, that we need to reset some things, then you reset some things. That's the way it is.
I think there are still going to be moments when other guys aren't going well. We may need DeMar DeRozan to be DeMar DeRozan and bail us out, need Kyle Lowry to bail us out some nights. You want to see more body movement, more ball movement and gives some other guys the opportunity to have an impact on the game.
SN: Ball movement, three-point shooting and small-ball have become the new vogue of the NBA, but another trend that has gained prominence this season is vegan diets. Is that the way forward for players?
JS: I think sports science has become a huge part of sports in general, not just the NBA. Being able to take care of your body and train properly is one thing, but nutrition has been a huge part of the next level and making sure a guy is able to sustain the grind and pound of an 82-game regular season.
I'm with it. I'm at a stage in my career where I want a little bit of meat in my diet (laughs), but I understand guys doing whatever they can to gain a little edge. I actually was a pescatarian for a stretch during my playing career, got away from the red meat and different things like that.
Alex McKechnie is one of the pioneers with this stuff and everything he does with the big club trickles down.
If guys need a day or so, I try to make sure that we schedule days for recovery. We listen to those guys (training staff) because the same way we're great at what we do, they're great at what they do and how they look at sleep and rest and how players need to perform at their optimal peak, so we listen.
If there is a podcasting odd couple, this might be it. Donnovan Bennett and JD Bunkis don't agree on much, but you'll agree this is the best Toronto Raptors podcast going.
SN: What's the feeling like to have a Showcase event in Mississauga and host peers like Elton Brand, Malik Rose, and Allan Houston?
JS: It's cool, man. Being in the basketball world, we see these guys all the time. But the Showcase is really about the players, want to try and give them the opportunity to showcase themselves. It's almost like an audition. You've got all these teams' general managers, assistant general managers all present here, so that's a really good thing and you want to try to put your best foot forward. It's good to see Shareef (Abdur-Rahim), Elton (Brand), all those guys, but it's really about the players.