TORONTO — The Toronto Raptors and Milwaukee Bucks played 58 minutes of basketball the other night. Fifty-eight minutes of hard, merciless, lung-burning basketball in this, the eighth month of their seasons. Six players in the game finished with more than 40 minutes. Kawhi Leonard and Pascal Siakam were both up over 50. But no one in Toronto's eight-man rotation played less than Serge Ibaka, whose minute total at the end of the night read 14.
So, two nights later, with Leonard clearly compromised, Siakam continuing his hot-and-cold post-season with an off night, and who knows how many of his teammates running purely on vapours, of course it was Ibaka sending a jolt through his team midway through an already frenetic, up-and-down first quarter.
Ibaka checked in and immediately went to work on the glass, grabbing a pair of quick rebounds, before gobbling up a steal and, a couple possessions later, providing Norman Powell both a pass and a pick, collecting his first assist of the night. Early in the second quarter, he pulled down an offensive rebound and scored his first points on a little turnaround hook shot over Giannis Antetokounmpo.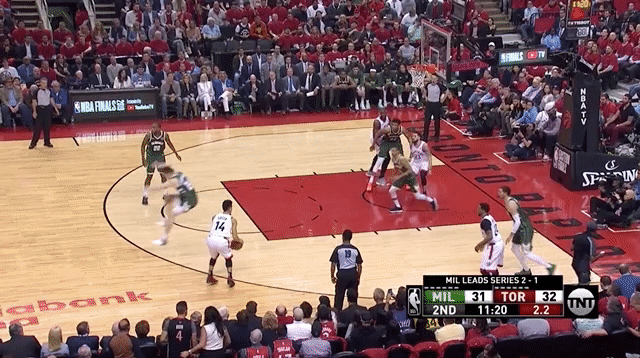 And moments later, he dropped a hammer on a 13-0 Raptors run, beating both Antetokounmpo and Nikola Mirotic to not one but two offensive rebounds before flushing a put-back and nearly bringing down the basket in celebration. It's a minor miracle he wasn't whistled for a technical foul.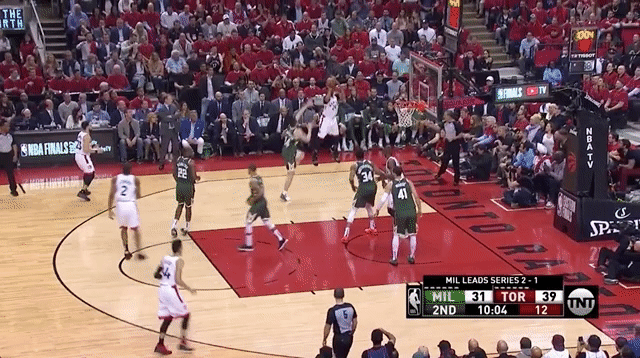 Ibaka nearly came away with a double-double in that first shift, putting up 10 points and seven rebounds over 10 rollicking minutes in which the Raptors outscored the Bucks, 27-14. He was the catalyst for the Raptors surging out ahead to a double-digit lead they'd build and build on as the night wore on, eventually coming away with a series-tying, 120-102 victory.
"That's who he is, in a nutshell," said Fred VanVleet, standing in an energetic Raptors post-game locker room, as his teammates carried on lively conversations, their knees, ankles, and elbows burritoed in ice. "Making open shots, being that defensive anchor. I think having him back there, giving him the freedom to kind of roam around and help us at the rim, has been big for us. Serge was unbelievable tonight."
It really doesn't get much more entertaining than an energized, engaged Ibaka, scowling and talking to himself after buckets, banging around beneath the offensive glass fighting for rebounds, spreading his feet out wide and tiger-crouching on defence in front of Antetokounmpo, daring the Greek behemoth to drive on him.
Ibaka finished with 17 points on 7-of-12 shooting, but perhaps more important were his 13 rebounds (four on the offensive glass), which helped allow the Raptors to win the battle of the boards, 44-40, for the first time in the series.
"They've been winning the rebound battle for a while. So, I think tonight we did a pretty good job, with Serge especially, just going to the glass and rebounding the basketball," Siakam said. "I think when he's aggressive like that on the glass, his presence is definitely felt."
And it wasn't only Ibaka, who finished plus-24, making a big impact off Toronto's bench. VanVleet was a plus-25 with 13 points , while Powell was a plus-29 with 18. In all, those three outscored Milwaukee's entire bench, 48-23, a startling reversal from the series' first three games.
Coming into the night, Toronto's reserves were being outscored 130-78 in the series — Toronto had lost the bench battle by at least 15 points in each game. Tuesday, they played like they were taking that beating to heart.
Eastern Conference Final bench scoring
| | Milwaukee | Toronto |
| --- | --- | --- |
| Game 1 | 22 | 12 |
| Game 2 | 54 | 39 |
| Game 3 | 54 | 27 |
| Game 4 | 23 | 48 |
| TOTAL | 153 | 126 |
"Oh yeah, we have to take it personally. We're here for a reason. It's not by mistake that we're here," Ibaka said. "We showed during the season what the bench can do. And then when we have a couple games where we can't really play our best basketball or we can't really help our team — we take that personally, everybody. We come the next day, we watch film. We stay on the court. We take extra shots, just to try to come back and be better, like we did tonight."
After Nurse dramatically increased his minutes in Game 2, Powell's influence on this series has been immense. He's scored double-digits in three straight, and is shooting 48 per cent from the field since Game 2, including 41 per cent from beyond the arc. He's now plus-18 for the series with a 9.7 net rating, both of which lead his team.
"I'm going out there and trying to impact the game where I see that I can. Just take what the defence is giving me and stay confident in my reads," Powell said. "I think the first two games they really brought the intensity to us. They really came out and were more physical, were more active. We wanted to change that narrative coming home. We wanted to protect home court. We wanted to come out with a lot of juice, be the aggressors, be more physical, and take the game to them."
Meanwhile, late in the first quarter, VanVleet stepped confidently into his first three-point attempt of the evening, a heavily contested look at that, and drilled it. In the second quarter, he sunk another. And early in the fourth, one more. After going 2-of-11 from distance over the first three games of the series, and 7-of-25 since the start of the second round, the prideful VanVleet went 3-of-3 Tuesday, hitting five of his six attempts from the field a night after the birth of his second child, Fred Jr.
"Honestly, it's been rough shooting the ball. Pretty bad stretch. So, it's good to see some go in," VanVleet said. "I expect more of myself. It's tough to not play up to standards. And being caught up in a bunch of different reasons that nobody really cares about. That's just the circumstance I'm in. So, you've just got to keep focused, keep working, and try to get better between these days. Staying right mentally is a key part of that. I have the opportunity. And sometimes it comes all at once. That's just how it happens sometimes."
Not only for VanVleet, but for Toronto's entire second unit. The Raptors won the 18 minutes that Ibaka, Powell and VanVleet shared the floor Tuesday night by 10 points. The group played to a 57.1 net rating. Coming into the night, that three-man lineup had been outscored by 10 over the course of the playoffs, playing to a minus-2.5 net rating. Time and again, Nurse had been asked about the trio's utility when playing together. And time and again, he'd defended his players.
"I always say this — that I want them to come in and hold their own defensively and execute the defensive schemes. And I just didn't see many problems there," Nurse said. "They were able to guard a bunch of different people. Two of those three guys, Norm and Serge, ended up on Giannis quite a bit. Chipping in there is good.
"Serge was great on the glass. Fred gives us some play calling, some organization. [VanVleet and Powell] give us some dribble penetration and then some shooting, too. It's important that those guys are out there to be able to catch the pass off the double-teams, space, and, if they rush out to them, they can get back into the paint and make the next play as well."
Their strong early play encouraging Nurse to stick with those three through the first few minutes of Tuesday's fourth quarter, with Leonard, Siakam, and Kyle Lowry all on the bench, and the game still in the balance. And they quickly rewarded him by pushing Toronto's lead higher and higher.
VanVleet pick-pocketed Mirotic immediately after a Raptors turnover, and raced to the basket for an easy two. A couple minutes later, he freed himself on a nifty little dribble hand-off with Marc Gasol and pulled up from well beyond the elbow, watching a three-pointer catch backboard, front rim, back rim, and front rim again before dropping.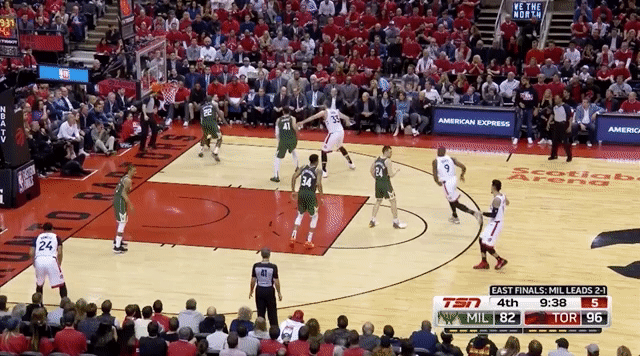 On the next possession, he beat his man and hit a floater in the lane, a sight unseen since maybe as far back as the first round. And after Ibaka corralled a turnover at the other end, VanVleet aggressively clapped his hands demanding the ball and quickly pushed in transition, finding a streaking Powell for a reverse to put the Raptors up 20.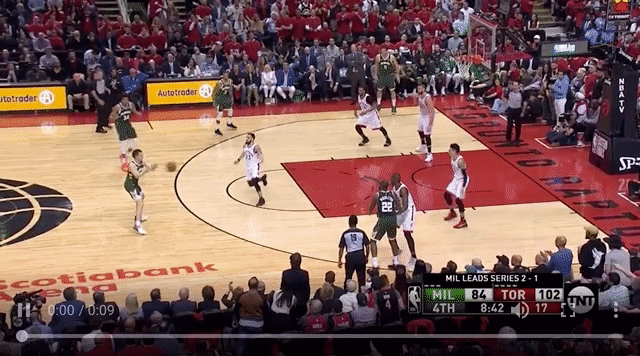 "I think there's some speed we need there with Norman. There's some athleticism we need there with Serge. And there's some ball handling and running the club with Fred that we need from those guys," Nurse said. "They're scoring, they're shooting it a little better, Serge is on the glass — it's really them playing up to their capabilities."
Thing is, this is the first time in the series, and one of only a few times all playoffs, that the Raptors have received this kind of effort from their bench. That doesn't make it any less welcome or encouraging. It just demonstrates how necessary it is for the Raptors to be successful. The Bucks still hold a clear depth advantage and the larger sample clearly shows their reserves have been more impactful. But Tuesday, for a night at least, Toronto's bench showed up. Now, they have to do it again.