TORONTO — Danny Green pushes the large silver door of the Toronto Raptors locker room as it opens slowly like a bank vault. He pokes his head out, eyes the faces milling about the corridor, and finds Amjed Osman waiting patiently outside the door. "Serge isn't in here," Green tells him.
Osman types into his phone and relays the information to Harrison Sanford, who is upstairs in the Scotiabank Arena concourse, setting up a portable recording studio he stores in a heavy-duty travel case.
It's media day, and Green has spent the past few hours doing interviews and standing for photographs. He and the Raptors are waiting to board a plane to Vancouver, where they'll hold training camp, and most of the players have put in their duty in front of a microphone for the day.
Not Green. He still has a podcast to tape — and is tasked with trying to secure a guest.
While he's preparing for his first season on a new team, Green has also joined Osman and Sanford on another team. They are the three behind Inside the Green Room, the new podcast co-hosted by Green and Sanford, who has covered the NBA for years, and produced by the 24-year-old Osman, who also runs the show's social media channels among various other duties. Osman and Sanford have driven up to Toronto from New York City, and they'll make the return trip later that same day.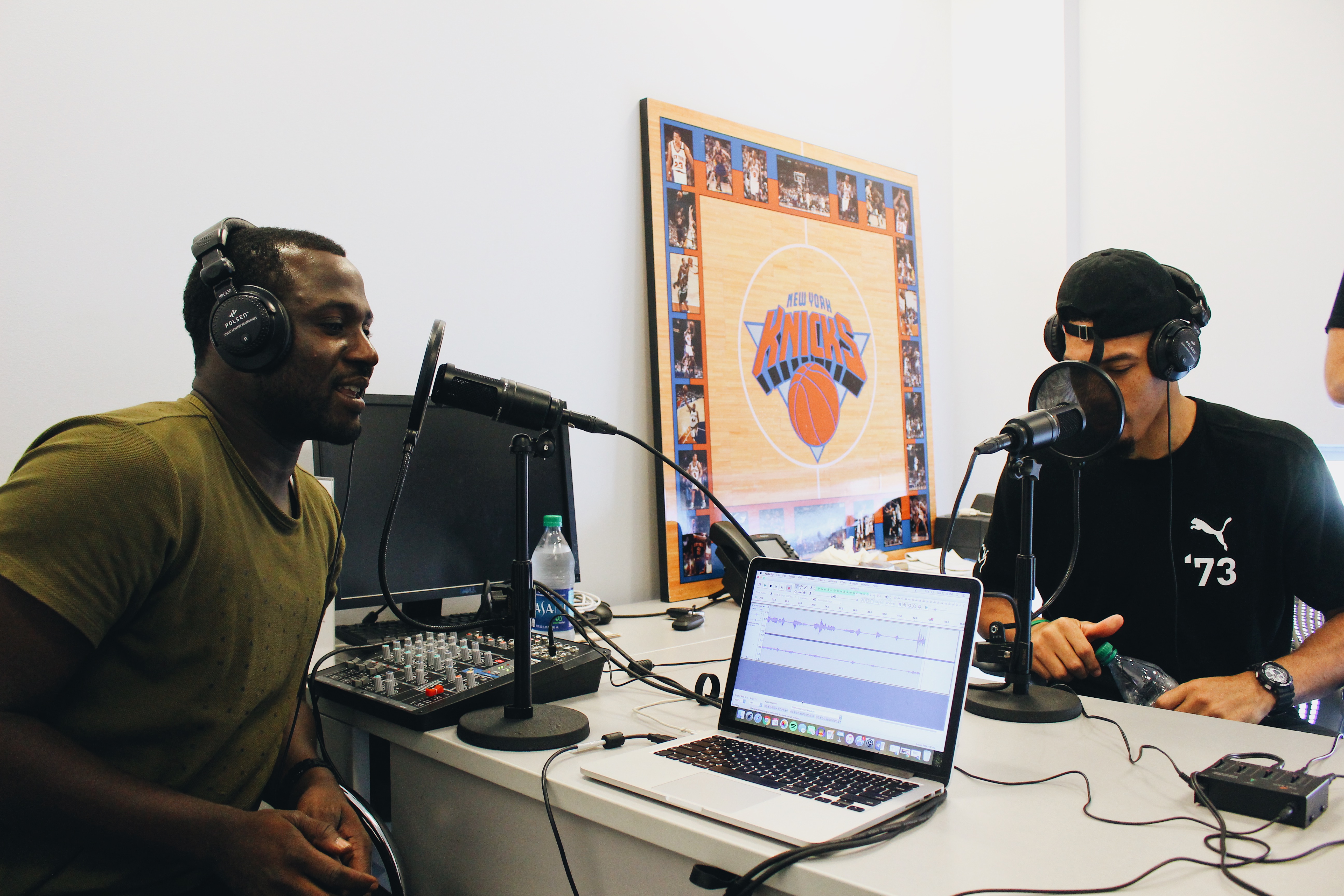 Although it's still in its infancy stage, Green had planned to start the podcast well before he was a Toronto Raptor.
In a stroke of luck, he was traded to Toronto, alongside Kawhi Leonard, as part of the summer's marquee NBA deal. It's shone a spotlight on the 10-year veteran, who went from being a trusted quote in the locker room to a player whose opinion was suddenly in high demand from fans and beat writers alike.
"Since the trade, people think I know all about what's going on with Kawhi," he says with a laugh, "so they want to tune in and hear my opinion. I want to keep it interesting for them."
It's not hard. Green is relatively unfiltered for an athlete, willing to speak his mind and excited about being able to do it through a medium in which he can speak directly to his fans.
"I was surprised," Sanford says of how comfortable his co-host is behind a microphone, engaging and entertaining. "He's delivering more than I anticipated, which is great. I didn't anticipate laughing as much as I have been."
"He's a big personality and full of life," Osman says of Green. "He'll tell you himself: he's not an overly social person, but he's got stories to tell. He has wisdom to share. Ultimately we're trying to give something to the fans while simultaneously building a career for Danny after basketball."
When asked what Green brings to the table as a broadcaster, Osman doesn't hesitate. "He can sit and dissect play," he says, "but more importantly Danny knows people. He can speak to somebody's character and how that applies on and off the court."
It's a unique perspective in what is likely to soon become a saturated market. There are several athletes with their own shows — in the NBA, J.J. Redick's show on The Ringer network is popular, while Serge Ibaka's cooking show on YouTube and JaVale McGee's strange post-game videos from the Oracle Arena parking lot bring an extra element of access to athletes we traditionally haven't seen.
As athletes look for more ways to speak directly to the fans, a platform like Green's is only growing.
Six episodes in, the early results have been promising and Green and his podcast team have found the Canadian public to be extremely receptive. They even took their show on the road prior to media day and taped a live episode in Halifax.
During some down time on the East Coast, Green huddled Osman and Sanford together. His message was simple. "The three of us are a team," he told them. "We're in this together; I am as committed as you are, and I trust you two to help bring this thing to life and make it the best platform we possibly can."
Osman was ready for battle. "I was just like, 'Wow,' that feels awesome to hear. It shows a lot about his character, that he's a super-genuine human being."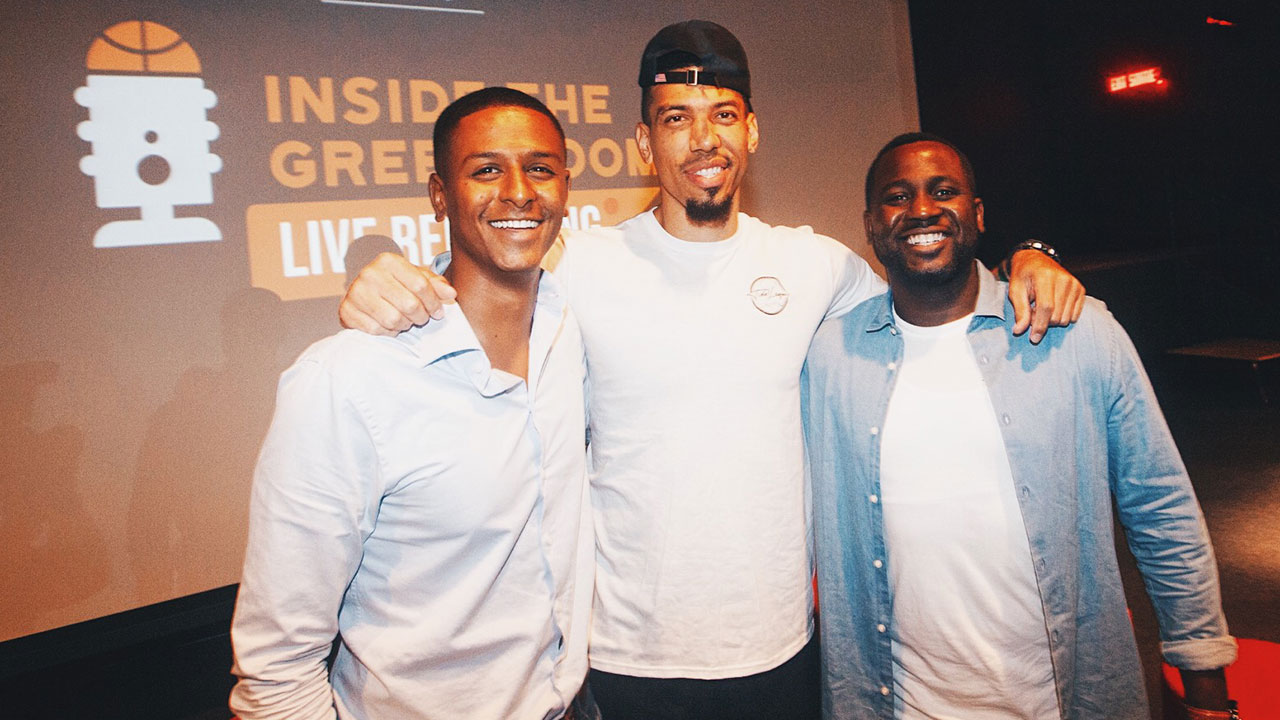 Sanford and Green have known each other since they were teenagers growing up in Long Island. Green was a high school star at St Mary's High School — a McDonald's All-American — and Sanford covered his team, which at one point was the top-ranked in the country. They sparked a friendship — Sanford even made the trip to Chapel Hill to celebrate North Carolina's NCAA title with Green — and as their respective careers progressed, the two continued to cross paths. Green was on his way to establishing himself in the NBA, while Sanford covered various teams, including the Houston Rockets, before taking a job covering sports in Ohio, where he met Osman.
Earlier this year, when Sports Spectrum Ohio cut back their coverage — and staff — Sanford approached Green with the idea of starting a podcast. Green had become a popular interview subject in the Spurs locker room — he's already cultivated go-to status among reporters in a short time here in Toronto— and spent the last two summers taking part in Syracuse's Sportscaster U program with an eye on a future in broadcasting.
Green didn't need much convincing. He trusted Sanford, who had first dipped his toes into the podcasting waters back in 2008 while attending Cornell, where he hosted a sports podcast with guests that included NHL commissioner Gary Bettman.
"Harrison has a drive and tenacity unlike anybody I've met in my life," says Osman. "That man hustles. He is so driven and focused."
While Sanford took a fairly linear route to his current gig, the same can't be said of Osman.
Born in Saudi Arabia to Sudanese parents, his parents applied for the diversity lottery for eight straight years until their names were drawn and the family was able to immigrate to the United States when he was a small boy, settling into a low-income neighbourhood in Columbus, Ohio. As he picked up the English language, Osman would watch local news broadcasts with his father each night, paying close attention to the different ways various networks would tell the same story, sparking an interest in the narrative form that he says inspires him to this day and tries to apply to the podcast and other creative pursuits.
He was the first in his family to go to college, attending nearby Ohio State, where he pursued photography as a hobby. It's also where he met Sanford, who had seen the professional-quality photos Osman was posting on social media. Earlier this year, Sanford asked Osman if he would take a few shots of he and Green for promotional use in advance of the start of their podcast.
"I can take photos," Osman said, "but I can do a lot more than that." He went on to outline a vision that went beyond a podcast — an entire Danny Green channel of multimedia content that would focus as much on basketball as the man himself.
It wasn't until the first-ever podcast taping back in July that Osman actually met Green in person. "Danny took a chance on me," Osman says.
"I saw right away what he was able to do, production-wise," Green says of Osman, "and how he was able to give us insight. But Harrison brought him on board, and I trust Harrison. As time went on it was clear that he was great at his job."
But Sanford wasn't sure the show would ever get off the ground. The surprise trade to Toronto threw a potential wrench in the process. "On the day he was traded I was hesitant about what to do next," he says. "I didn't know how he felt about getting traded, or whether or not he'd want to go forward with the podcast. It's a big season for him, and now he's on this new team. Would he think this show would take away from locking in on the court?" he wondered. He sent Green a text message, asking if he still wanted to do the podcast. There was no hesitation: "Yes, definitely."
"The pieces of the puzzle had been forming for a long time," says Sanford, "and now they had suddenly come together."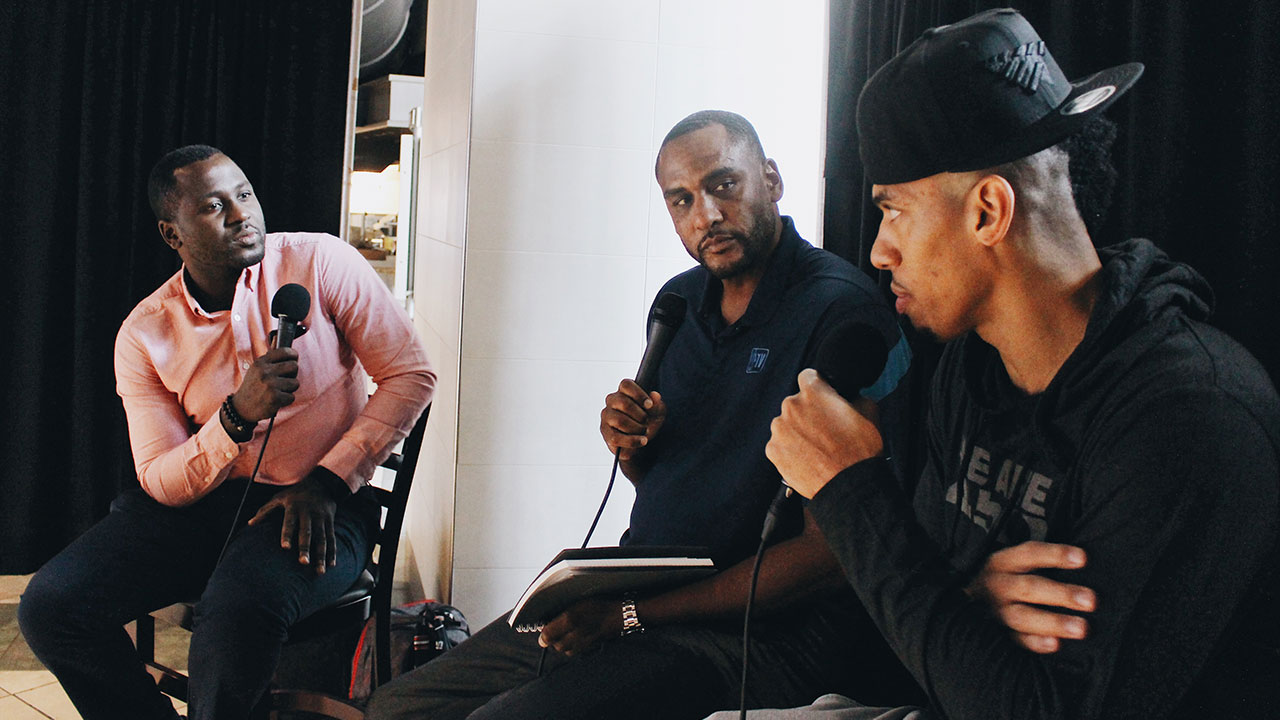 Back at Scotiabank Arena on media day, the arena lobby has all but cleared out after a frenzied morning, some empty coffee cups and folding chairs left unattended in the wake.
Osman arranges three stools in a quiet corner of the concourse and prepares to hit 'Record.' He, Sanford and Green huddle quickly to go over the rough plan for the episode. They'll talk about their recent live show in Halifax — the first time any of them had visited the Maritimes — along with impressions from Green's first official day in a Raptors uniform.
Former NBA all-star Steve Smith, who is in town as an analyst for NBATV, has agreed to join in as a guest on the podcast. Having put in a long day himself, the 49-year-old has a natural rapport with Green, who has made it clear he'd like to follow in his footsteps and turn to broadcasting once his own career is over.
Smith shares his thoughts on the new-look Raptors before talking about why players are conditioned to withhold elements of their personality when speaking to the media — a wall Green hopes his podcast will help break down. They also talk about the Jimmy Butler saga, and its topics like this that Smith warns will be the most difficult to discuss.
"The biggest challenge for athletes when they step into broadcasting," Smith says after the episode is over, "is to be able to be critical of guys you played with. The first couple of years for me, I'd be talking about Tim [Duncan], or Rasheed [Wallace] and guys I played with, and I'd get that call: Smitty, I heard what you were saying about me! And I was already retired, so to do something like this while you're still playing could be hard for Danny."
Green says he has no reservations when it comes to speaking his mind no matter the topic, but is conscious of putting his fellow NBAers at ease when they appear on the show.
"I don't want guys to feel like we're pressuring guys to talk about something they don't want to," he says, "to feel like they're talking to the Feds. But I still want to be able to be comfortable, to give their opinions and not be criticized for it."
But the opportunity for a direct line between he and the fans was too good to pass up.
"It's a whole new world for guys like Danny who have a voice and have something to say," says Smith. "It's fantastic. We didn't have this opportunity when I played."
The group secured a deal with Yahoo Sports to help produce Inside The Green Room. They'll tape episodes out of the company's Toronto studios, and at the time of writing this were recording an episode with Serge Ibaka, who Green first tried to get on the show back at media day.
"I hate asking guys to come on," Green admits, and says it's the only part of his new side gig that he doesn't love. When it comes to future dream guests, he says he'd like to cater to his new fan base, and cites the likes of Drake, The Weeknd and Tory Lanez. He's also eying "the top NHL guy," he says with a grin, quickly adding: "I don't know who that'd be."
While there may be speed bumps and learning curves as he prepares to grow the show, Green isn't worried. He likes his team.
"Amjed and Harrison make it easy for me," he says. "I just have to show up and talk freely."