"Do you think they have the Taste of the Wild?" DeMarre Carroll asks, searching for his go-to brand of dog food with focused eyes darting back and forth across the aisles like he was running a three-man weave.
It's a frigid Saturday in Toronto and the Raptors forward stands out among the throngs of holiday shoppers at PetSmart in the city's Leaside neighbourhood. He loads his shopping cart past its capacity— dog beds, kibble, and every kind of toy and treat you can imagine overflow— as if he were a contestant on Supermarket Sweep.
None of the goods will come home with him today— Carroll already loaded up on supplies for his own pets last week. That's when he got the idea to return to the store and buy items to donate to the Toronto Humane Society in what is fast-becoming an annual tradition for Carroll and his family. So while the rest of his team returns home from a one-game road trip to Boston where they played the night before (Carroll stayed home to rest as he continues to recover from last season's knee injury), the Raptors' starting small forward, in association with the PetSmart Charities of Canada, is spending his weekend giving back to Toronto's pet community.
Though he's only been living in the city for a little over a year, Carroll has made a point of being actively involved, giving his time and energy to a number of causes—hospital visits, feeding the homeless, and an upcoming bowling event to raise awareness for liver disease, to name just three.
Carroll says he's always encouraging his teammates to get more involved with the community, and that he's only recently realized the kind of impact a public figure like himself can have. "It takes a few years to understand," he says, "but as a pro athlete it's important to get involved. You can make an impact on people just by showing up an being there."
Today's cause is especially close to his heart. Carroll was an animal lover as far back as he can remember, growing up in a house with pet iguanas, hamsters, ferrets, and his favourite of them all: dogs.
"I've always had dogs," Carroll says as he loads beds, treats, and massive bags of dry food into the cab of his matte black pick-up truck. "Until you've lived with dogs you can't really appreciate them."
As a child he had two Chow Chows and when they eventually passed, the Carroll family got a Siberian Husky, which made for a strange (and, yes, adorable) sight in rural Alabama.
Today he has two English bulldogs, Dream and Pluto. They've ve been with him throughout his NBA journey, moving with he and his wife from Memphis to Houston to Salt Lake City to Atlanta, and now in what Carroll hopes will be their most permanent dwelling in suburban Toronto. Carroll beams when he talks about them. His eyes light up with the same enthusiasm he has when talking about his young daughter and 10-month-old son, whipping out his cell phone on more than one occasion to show off pictures of the pooches posing in front of the Carroll family Christmas tree at home.
Three years ago, when he was a member of the Hawks, he and his wife paid a visit to a local Atlanta animal shelter. Taken aback by the sight of more than thirty dogs in cages, Carroll recalls finding the nearest pet store, and returning later that day with nearly one thousand dollars worth of toys and treats for the pets. Ever since, he's made a point of giving back to a pet community that often has no voice, relying on the donation of time and resources from volunteers.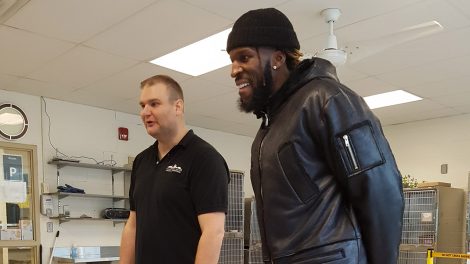 Once we reach the Humane Society in downtown Toronto, Carroll's affinity for dogs becomes even clearer. As he gets out of the truck he's greeted by Harley, a massive German Shepherd mix with a mean bark and gentle eyes. "Hey buddy," Carroll greets him with a smile as the dog attempts to jump into the back of the car.
After a few trips unloading the goods out of the truck, Carroll tours the facilities, stopping to meet each dog, cat, rabbit, turtle, and every other creature in the building. He asks a steady stream of questions to the Humane Society staff, recalling memories of animals from his past.
In a far corner of the facility, in a pen closed to the public, are some of the more aggressive dogs that just need a little more time, or the right foster parent, to get adjusted to their surroundings before being considered adoptable. One bulldog mix in particular barks incessantly, jumping against the door of his cage and showing his teeth to whoever passes. Carroll stops in front of him and locks eyes, emitting a quiet, peaceful energy that briefly calms the dog. "Man," Carroll says to nobody in particular, "I hope he gets adopted."
The animals at this shelter will enjoy the goodies Carroll donated, but he intends to grow this project in the years to come and plans to hold a food drive for pets at a Raptor game next season.
"I don't care about the publicity," he says, as if that wasn't clear enough from the total absence news cameras, and my status as the lone media member in sight, tagging along on what would otherwise be a private trip. "I just want to help these pets find a home and I hope this can help. Nobody should be alone during Christmas."