The Toronto Raptors have all the respect in the world for the Boston Celtics.
They see their class-of-the-league defence. They've noted their grit in battling through a slew of injuries.
They have the proper respect for their young talent and their even younger-looking head coach, Brad Stevens.
But they can't help but notice Boston's remarkable habit of winning games in unlikely ways.
The latest was a Jaylen Brown buzzer-beating three to take down Utah on the road Wednesday night in a game the Jazz had in control most of the night. According to Inpredictable.com, the Jazz, up eight early in the fourth quarter had an 80 per cent or better chance to win at that point and a 91.9 per cent chance to win when they led by four with the ball and 1:36 left to play. A couple of miscues later, and Brown's triple was scored with one second left and Boston stole another one.
"Luck of the Irish, man. That's what it's gotta be," joked Raptors point guard Fred VanVleet the other day. "Nah, I was just talking about it … I don't know if it's because they're on TV so much, or every TV game they have, they always win a buzzer-beater, but it just feels like they have the most [late-game wins] … and they might have that stat. Do they?"
Why yes, they do.
The win was Boston's league-leading 14th double-digit comeback this season, the second-most in the NBA. The Celtics have also scored five go-ahead baskets in the final five seconds of the game this season, most in the NBA.
"They're unbelievable in late-game situations, and they've got a lot of young guys that have gotten experience with injuries or whatever the situation, and guys have been stepping up for them," said VanVleet, who has hit a few key shots in tight situations himself this season for the Raptors. "So they kinda hang around, hang around, and then the last four minutes they're down eight, and you feel like they're winning. You just know that they're going to pull it out. So, give them a lot of credit. They've been able to excel in those late-game scenarios this year, and hopefully they used all of their magic up in the regular season."
It's not sound strategy to suggest another team has been lucky, and the Celtics' record despite losing key members of their roster for long stretches is admirable. Gordon Hayward has been out for the season since opening night and more recently Kyrie Irving (knee) and Marcus Smart (thumb) are recovering from surgery, while Al Horford and Marcus Morris missed the Utah game with ankle injuries and are questionable for Saturday night.
But if their expected win-loss totals on Basketball-Reference.com are to be believed, the Celtics at the very least maximized their opportunities as their statistical profile is consistent with a 48-win team. They've already carved out 52.
Perhaps coaching has something do to with it, although measuring the precise impact is tricky. But if a team consistently manages to make the right play late in games, the guy calling the plays will always get some credit.
"Coach Brad Stevens is awesome," said Raptors point guard Kyle Lowry. "I think they've got some great young, level-headed talented players. Jaylen Brown is awesome, [rookie forward Jayson] Tatum is really, really, really good, Al Horford is a seasoned veteran and Terry Rozier [starting at point guard in place of Irving] is really talented. He can play basketball. Those guys are really good and they've been in these situations a lot this year."
Livestream the Raptors and other marquee NBA Playoffs matchups, including Games 2, 3 and 6 of the Raptors-Cavaliers series. Plus, get coverage of the NBA Finals, NBA Draft & NBA Awards.
Boston's late-game heroics might stick out locally because if the Raptors have one glitch in what has been an otherwise nearly flawless regular season it's that they have struggled more late in close games than their overall record suggests they would.
They've only been in 12 three-point games all season and are 5-7 in them, compared to Boston's 11-8 mark in 19 tight games.
The tendency is to explain the discrepancy as something driven by personnel or coaching, but Raptors head coach Dwane Casey allows that sometimes shots go in, and sometimes they don't.
"Shot-making makes up for a lot of sins," said Casey. "I keep hearing about how some of [Boston's] guys messed up their plays and missed assignments … but if a shot goes in, it works."
The Raptors have struggled to score in crunch time, relative to the rest of the game with their offensive rating slipping to 105.4 – 20th in the NBA compared to their overall 111.6 mark, which is third.
But they've improved significantly since the all-star break, putting up an 11-4 mark in games that are within five points with five minutes left in regulation or overtime with a 115 rating on offence and an impressive 98.9 on defence.
That's helped their overall record in clutch games to improve to 25-16, compared with Boston's 27-14 record in the clutch, the second-highest win total in the league.
The Raptors have even been victims of Boston's ability to ice games late, or their own struggles to do the same as the Raptors missed two shots by DeMar DeRozan on their final possession that could have changed the outcome of a 95-94 Celtics win back in November when Boston was in the midst of a 16-game win streak.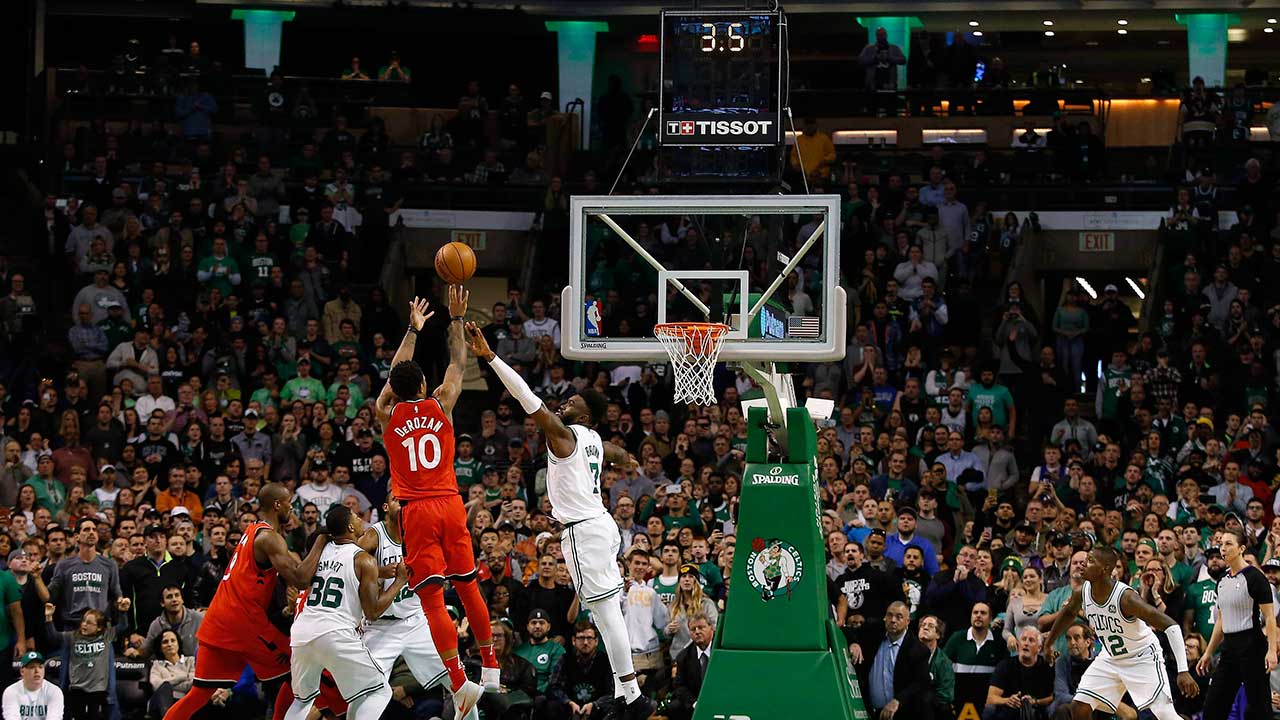 The Raptors got a measure of revenge with a blowout win at the Air Canada Centre in February. But if they want to put the finishing touches on their No. 1 seed in the East, Saturday is the night.
The win would put Toronto up four in the East with each team having six to play and would mean that the Raptors wouldn't be conceding a potential head-to-head tie-breaker to Boston in their four-game series.
A loss would cut the Raptors lead to two games and make the last game in the series – on Wednesday in Toronto – even more significant.
If there is a podcasting odd couple, this might be it. Donnovan Bennett and JD Bunkis don't agree on much, but you'll agree this is the best Toronto Raptors podcast going.
It's the start of fairly challenging slate of games down the stretch for the Raptors, who have Boston and Cleveland on the road, Boston at home on the second night of a back-to-back with games against Indiana and Miami — both playoff teams — filling out the calendar around dates around lottery-bound Detroit and Orlando.
That's good preparation for the post-season given the Raptors have never won the first game in the first round of a playoff series in the Dwane Casey era. Toronto has typically been able to coast down the stretch in past regular seasons and could be tempted to this year, but a strong slate of games should help guard against that.
Maybe that will get the Raptors to the playoffs charged and ready to go.
"It should; no question," said Casey. "Somebody chasing you, pushing you, you feel the footsteps behind you … I think it will help us going into the playoffs, that mentality, keeping that edge. I thought the last couple years we lost it a little bit. Even without that, we should be looking at the big picture and looking at something that is very important, which is the playoffs."
It could be another close game Saturday in Boston against the late-game maestros — or the team that can count on its lucky charms, whichever side you prefer.
Either way, all the better for the Raptors.