TORONTO — The Toronto Raptors had all of an hour to breathe and enjoy their substantial Game 7 accomplishment before turning their focus to the Miami Heat. The second round of the playoffs starts Tuesday, and head coach Dwane Casey gave his players until midnight Sunday to enjoy before looking forward.
A different type of transition team
The only thing quicker than the turnaround between series might be Goran Dragic in transition. The Heat have thrived in the open court since losing Chris Bosh to another blood clot (he's not expected back for this series), and a large part of that has to do with freeing the speedy Dragic to push the tempo, surrounded by wings in single-big lineups.
"They got Joe (Johnson) and that makes a big difference, Luol (Deng) is playing extremely well, they're playing a lot up tempo, Goran's out in transition a lot more than he was earlier in the year," Kyle Lowry said of the newer-look Heat. "It's just a real different team. They're playing hard, playing scrappy, but they're really playing up tempo and trying to use their spacing to their advantage."
Looking at season-long numbers doesn't necessarily do the Heat's attack justice. Even after the all-star break, when they lost Bosh, the Heat only ranked 18th in pace. That's two spots lower than Indiana, and the two teams were similar in terms of fast-break points, too. The Heat push the issue in a different way. Whereas Indiana thrives off forcing turnovers and running from there, the Heat play more conservatively, instead pushing off of stops and in semi-transition, letting Dragic get into the teeth and causing chaos from initial breakdowns.
They're comfortable setting up in the half court if immediate opportunities don't present themselves, and from there things slow down – they're a top-10 half-court offence, and they have the shot-makers to be effective there. But they're dangerous on the run, and their uptick in 3-point shooting in the second half, when they hit 36.5 per cent from outside, is paramount to that. The Raptors were an above-average team defending in transition despite their woes guarding the 3-point line, and that will have to be a point of emphasis all season long.
"They're an in-the-paint team, they're getting downhill, they're getting out in transition," head coach Dwane Casey said. "So we've got to do a job getting back in transition and try to keep the ball out of the paint. It's easier said than done, preparing for them is different than preparing for Indiana."
The battle inside
Part of what allows the Heat's defence to be successful despite a more conservative on-ball nature is the presence of Hassan Whiteside, the league's leading shot-blocker.


(courtesy BasketballReference.com)
With such a major presence waiting in the paint, the Raptors may have to adjust their drive-oriented attack.
"I don't know, ain't no secret," Lowry said. "Just get the ball over his hand. You have to be smart about the decisions you make, we're definitely going to be conscious of where he is at all times but you can't be afraid to make the right plays."
The right plays could often involve Jonas Valanciunas. Valanciunas is one of the few bigs who can rebound with Whiteside, and he's talented enough to score on him in the post or get him into foul trouble with his pump-fakes and up-and-unders. Maybe the biggest weapon Valanciunas provides, one he's worked on tirelessly, is his ability to hit the mid-range jumper.
"JV might be shooting a few more jump shots than we normally would see because that's just the shots Whiteside gives up," Lowry said.
Valanciunas shot 47.2 per cent from outside of 10 feet on the season, hitting from as far out as 19 feet. It's not the primary option, but it's a means of exploiting the Heat's drop-back pick-and-roll coverage or dragging Whiteside a little outside of the paint, a major victory if he obliges.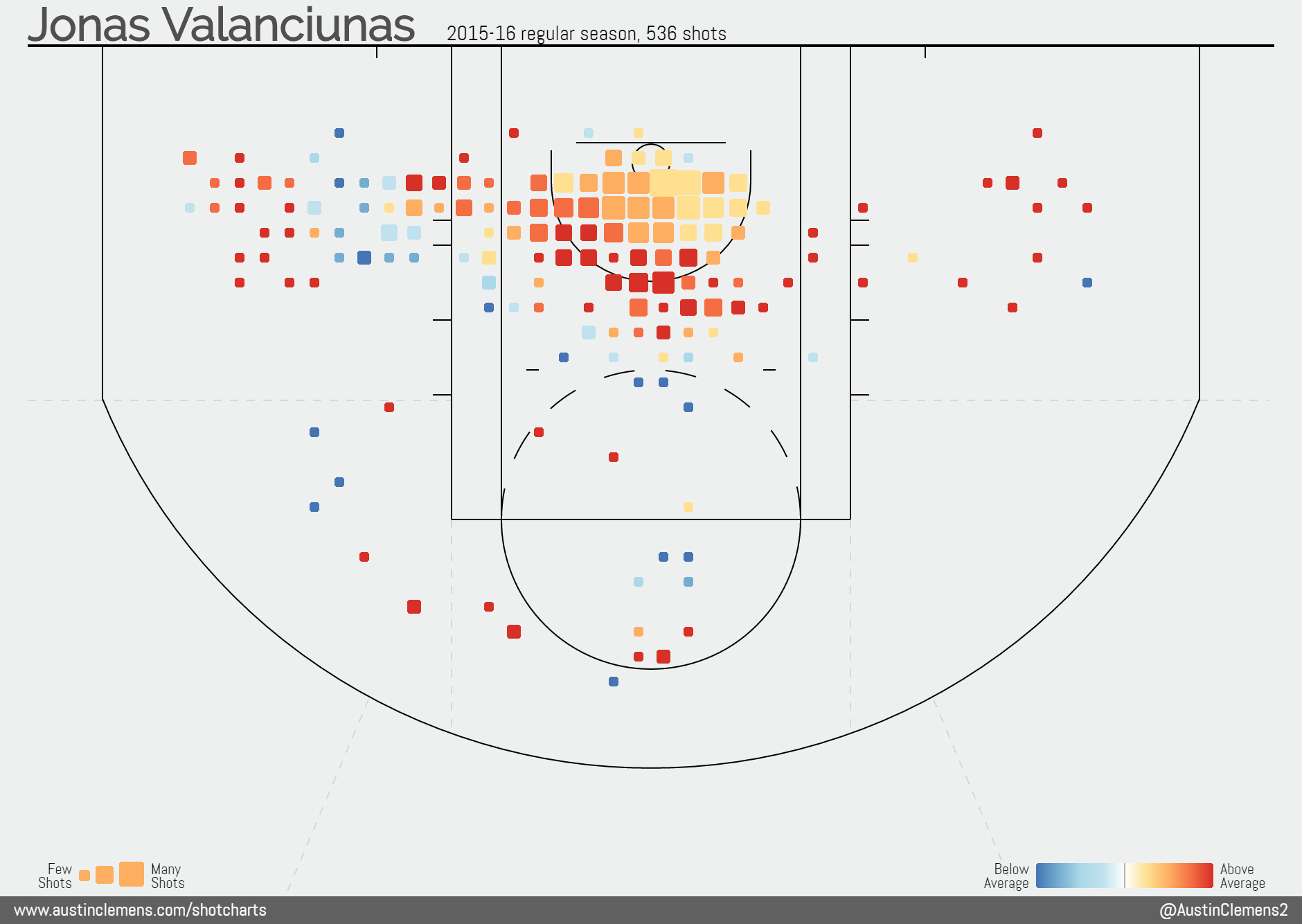 (Courtesy AustinClemens.com)
An entirely new matchup
Due to injuries and a bit of roster turnover on both sides, the Heat and Raptors that square off Tuesday will be dissimilar to the teams that met four times during the year. Dragic, Deng, Whiteside, Wade and Johnson all missed at least one game against Toronto, Valanciunas missed the second meeting, and DeMarre Carroll is yet to see the Heat this season, a pretty major difference.
"I've guarded both of them," Carroll said of his familiarity with Johnson and Wade. "Joe I know last year quite well from the Brooklyn series. We went toe-to-toe in that one. I know Joe. I'm probably more familiar with Joe, but it doesn't matter."
And all of those injuries are not to speak of the remarkable emergence of two second-round picks late in the year in Josh Richardson and Norman Powell. Both players should figure in to their respective rotations to open the series, playing important defensive roles.
"It will be fun for me. I think I played a total of six minutes against Miami. The first time, I think I guarded Wade like three times," Powell said of one of the players he models his game after.
Carroll will probably draw the Johnson assignment more often than the Wade one, as the Raptors seem better staffed to chase Wade around in part because of Powell's emergence.
Pearl Jammed up
Raptors-Heat Game 5 is scheduled for May 11, the same night Pearl Jam are scheduled to play at the Air Canada Centre. No matter – the concert will be moved to May 12 if and when the Raptors require the venue for a fifth battle.