TORONTO — In late 2003 when Alex Anthopoulos first joined the Toronto Blue Jays as a scouting co-ordinator, he quickly became a Raptors fan, regularly scrounging up what little money he had left after paying rent to buy a $12 seat in the old Sprite Zone section. Even as his career took off, even as he moved on to the Los Angeles Dodgers and the Atlanta Braves, he continued to follow the team, which is why when word broke of the trade for Kawhi Leonard last summer, he had two reactions — one as a fan, one as a sports executive.
"As a Raptors fan, I got it in terms of you're getting arguably one of the best players in the league, you're only getting him under certain circumstances and yes there's only the one year of control, but I loved the boldness — it was all about winning," Anthopoulos said in the lead-up to Saturday's 100-94 win over the Milwaukee Bucks that clinched the Raptors' first-ever trip to the NBA Finals.
"From an executive standpoint I loved it because you love seeing teams and executives that go for it. Not that they didn't take a shot in the past, but they were going to take a shot and that's what it's all about."
Anthopoulos, of course, knows a thing or two about taking big swings in an effort to get a team over the hump, having orchestrated a couple of blockbuster buildups as GM of the Blue Jays. The first one, ahead of the 2013 season, didn't work, but it set the stage for his audacious trade deadline in 2015 that helped end the club's 21-year post-season drought, brought the team to national prominence and reignited a passion for baseball across Canada.
Unlike Raptors president Masai Ujiri, who made the ballsy decision to trade a player who'd committed his heart and soul to the franchise and the city in DeMar DeRozan to get Leonard, Anthopoulos mostly flipped prospects to get David Price, Troy Tulowitzki, Ben Revere, Mark Lowe and LaTroy Hawkins. But there are similarities in the amount of capital he spent on rental players in a bid to finally win, which is why he can appreciate the complexities behind Ujiri's decision.
"To me, as a sports executive, when you talk about integrity, it means doing right by the organization," said Anthopoulos. "There was going to be fallout (trading DeRozan), regardless of who you were getting, because of who you were trading, and the risk associated with it, and the one year of control (on Leonard). The easy path would have been to not do it, right? Keep a good player, not do it. You can't get criticized for the deals you don't make. But if you don't take a shot, you may never get there. That's what I admire more than anything else."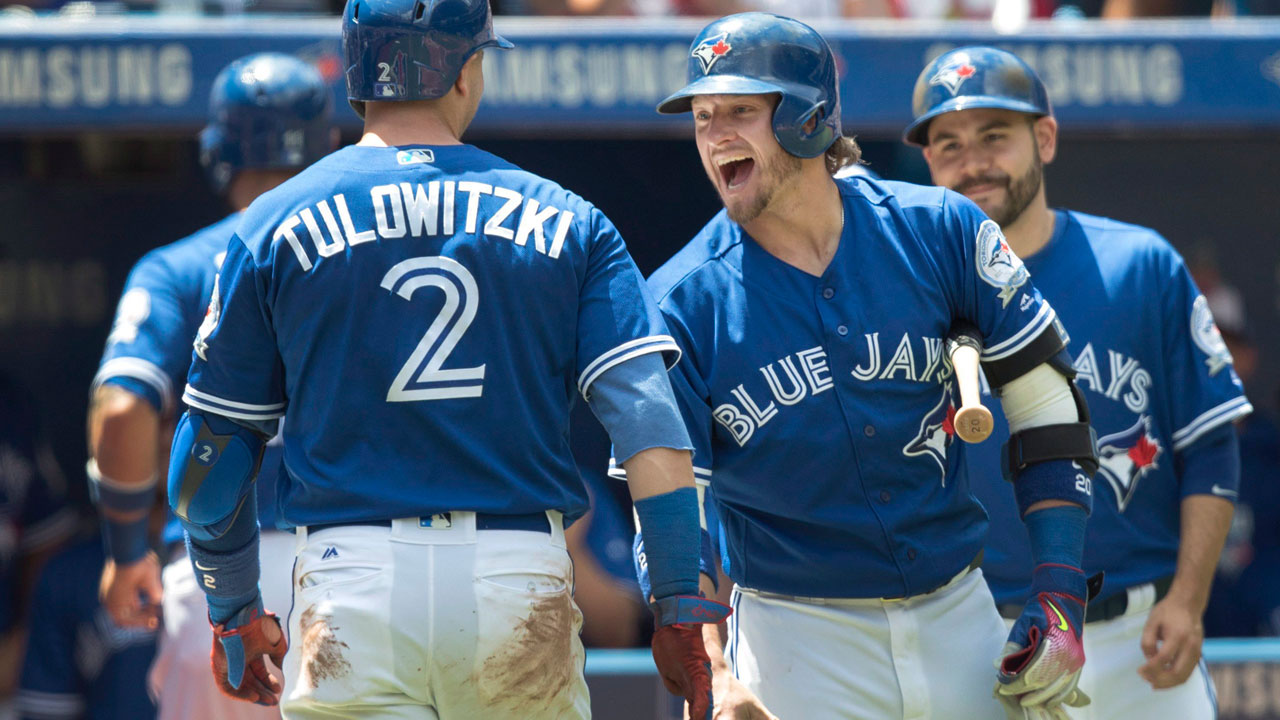 From experience, Anthopoulos came to understand that opportunities with truly elite players are fleeting, and there must be an urgency to seizing the day. Toronto's sporting history since the Blue Jays won consecutive World Series in 1992-93 is filled with pain and suffering and loss and struggle, offering a reminder of what happens if you sit on your hands too long waiting for the stars to align.
The Blue Jays, for instance, pissed away consecutive Cy Young seasons from Roger Clemens, Cy Young campaigns by Pat Hentgen and Roy Halladay, plus MVP-calibre production from Carlos Delgado and Jose Bautista between their post-season appearances.
They routinely did nothing with greatness.
The Maple Leafs have rarely had greatness, although they were resuscitated by the acquisition of Doug Gilmour and ignited by Nikolai Borschevsky's Game 7 overtime winner against the Detroit Red Wings in the first round of the 1993 Stanley Cup Playoffs. Still, they only found heartbreak in the conference final, as a generation of fans still seethes at the mention of Kerry Fraser, the referee who a missed high-stick call on Wayne Gretzky in a Game 6 overtime just ahead of the Great One's winner that forced a decisive Game 7 in Toronto the Los Angeles Kings won to advance.
The Maple Leafs got back to the conference final again the next season but were outclassed by the Vancouver Canucks, and fell one series win short of playing for the Stanley Cup again against the Buffalo Sabres in 1999 and the Carolina Hurricanes in 2002 behind Mats Sundin, who never had a sufficient supporting cast to break through.
They haven't had a sniff since, although Kyle Dubas certainly recognizes the urgency of leveraging a young core that features Auston Matthews, Mitch Marner and Morgan Reilly, even if his signing of veteran free-agent centre John Tavares last summer wasn't enough to get his team over the top this season.
The Raptors, meanwhile, for years only had Vince Carter winning the Slam Dunk competition to cling to. Eventually, he carried them to Game 7 of the 2001 Eastern Conference semifinal against the Philadelphia 76ers, but his buzzer-beater attempt clanked off the rim, the relationship soon went sideways and the franchise went dark until Kyle Lowry and DeRozan emerged six years ago.
That wasn't enough, either, as LeBron James crushed their souls in each of the previous three post-seasons, including in 2016 during the Raptors' only other conference final appearance. By the end of it, Ujiri was left with a decision to make: Keep running out the same crew hoping for a different outcome, or make drastic changes?
After last year's flop against the Cavs, he fired Coach of the Year Dwayne Casey and then flipped DeRozan, Jakob Poeltl and a first-round pick to the San Antonio Spurs for Leonard, who'd played just nine games the previous season because of a quad injury that had soured his relationship with the club, and Danny Green.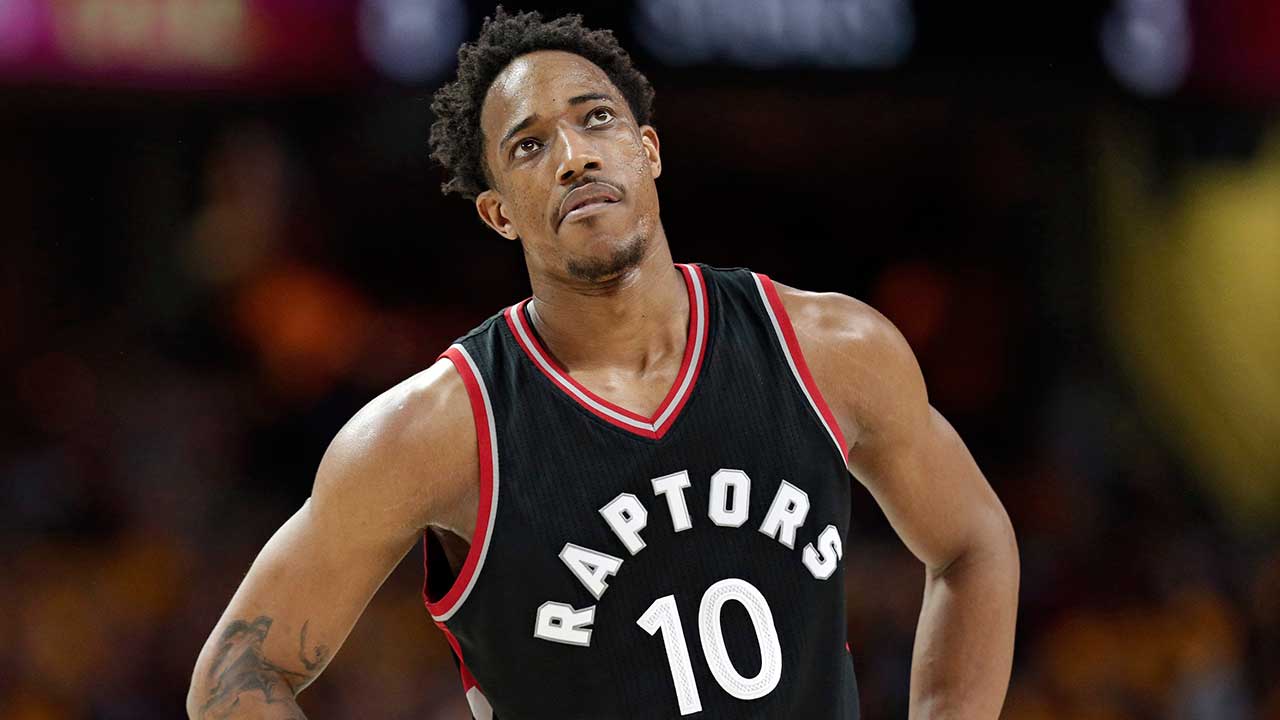 The Raptors needed a difference-maker, Leonard was available and Ujiri got it done, even if it meant parting with DeRozan, one of the few all-stars to be all-in and not jilt the Raptors, even if it risked angering Lowry, and polarizing fans, and giving up years of control for a one-year shot.
"It's no secret, he was trying to win some games, trying to get to the finals and win a championship," Green said of his impressions of what Ujiri was hoping to accomplish with the deal. "He felt like they needed to make some moves. Right now, things are working out like it's genius. We've got to continue to try to make him look good, me, Kawhi, Marc (Gasol), all the guys he traded for. So far things are going well. He was trying to bring the city some history, some good history. He's done a pretty good job so far."
Leonard, whose future in free agency has spawned a cottage industry of speculation, has been beyond description during the playoffs with signature moment after signature moment. His four-bounces-off-the-rim-and-in buzzer-beater to eliminate the 76ers in the second round was a franchise-demon exorcizing moment, akin to Roberto Alomar's homer off Dennis Eckersley in the 1992 ALCS against the Oakland Athletics, that killed the 'Blue Jays are chokers' narrative.
While not as iconic, Leonard's monster dunk over Giannis Antetokounmpo midway through the fourth quarter Saturday was another exclamation-point moment that will be on highlight loops for years to come.
Up at the podium with the Eastern Conference Final championship trophy between him and Leonard after the game, Kyle Lowry was asked what made this group capable of a breakthrough. Lowry laughed one of those are-you-kidding-me laughs and glanced twice over Leonard in a did-you-miss-the-dude-to-my-right way.
"The one thing about Kawhi, and you guys all know it, is he literally stays level-headed all the time," said Lowry, who was very close with DeRozan and initially implied that the deal had soured his relationship with Ujiri. "He never gets up, he never gets down. He showed some emotion after Game 7 against the Sixers. But I think him and Danny (Green) brought that championship pedigree here, just kind of staying level-headed and even-keeled. Then you've got Marc Gasol coming in, another veteran that's been in the league a long time. …
"We just played hard and stayed the course. Nick Nurse did a good job of setting the tone early in the year. You knew we were working for April, May and June. And now we'll start June."
In the process, they've given a generation of fans in the city, in the country a series of the kind of exhilarating memories that make sports so worth watching. Participation in youth basketball will surely surge, the way baseball numbers did after Joe Carter won the '93 World Series with his home run off Mitch Williams, and again when Jose Bautista's bat flip won the 2015 ALDS against the Texas Rangers.
Being competitive and in the hunt year after year is great, but eventually you have to take your shot, for better or worse, to really make a mark. Good regular seasons and first-round playoff losses year after year don't make memories that last a lifetime.
Ujiri could have stuck the course. He'd rekindled a franchise that was in trouble, worked to purge the defeatist attitude about Toronto that had long permeated the Raptors, and built a team perennially a notch below legitimate title contender. His legacy was set.
But he took a chance with a deal that could easily have blown up in his face. It didn't.
"It's not about, which I've experienced, getting the accolades, winning the winter, doing all those kinds of things — your job is to be right," says Anthopoulos. "Regardless of what happens, Masai was right, he was proven right. The goal was to get farther than they ever have and at this moment in time, it's the farthest they've been in the history of the organization. It's easy to say now, but at the end of the day, this was clearly not a self-serving move. Masai has had a lot of success, he didn't need to do this. If he was worried about himself and his career, you don't get criticized for the moves you don't make.
"He was willing to take the bullets because he believed with conviction that this was the right thing to do for the organization, as hard it is. That, for me, is a reminder of that's the way you're supposed to do the job."
Ujiri got Leonard and Green and Gasol, and it was the right thing to do. Now, Game 1 of the NBA Finals against the Golden State Warriors on Thursday at Scotiabank Arena awaits. These things can happen in Toronto, after all.