In the aftermath of the Toronto Raptors' Game 2 rout of the Orlando Magic Tuesday night, a lot has been made about the team's defensive work.
The Raptors managed to hold Orlando to just 82 points and suffocated it to a dismal 37.0 per cent shooting from the field and 26.5 per cent from deep.
The performance has been the focus of what Toronto's defensive blueprint can look like. But much the same can be said of the team's strong defensive play seen in the third quarter of Game 1 when it shut down Orlando to just 5-for-18 shooting and 18 points in the frame.
The Raptors have an embarrassment of riches when it comes to above-average defenders with the likes of Pascal Siakam's length and athleticism, Kyle Lowry's toughness, smarts and anticipation, and Serge Ibaka's shot-blocking instincts and strength defending the paint.
Not to take away from the contributions of these players (and the jobs Norman Powell and Fred VanVleet have done), but the work they've been doing defensively has been more apparent within the team's concept.
Taking a closer look at the third-quarter from Game 1 and the work done in all of Game 2, three performances in particular jump out: The jobs Marc Gasol, Danny Green and Kawhi Leonard have done.
These players have been Toronto's defensive pillars thus far, dominating their defensive assignments individually and tangibly impacting the Magic's offensive game plan.
Here's how they've done it.
Marc Gasol
Gasol has had the most apparent defensive impact because of the job he's done on Magic all-star centre Nikola Vucevic.
Coming into the series, Vucevic was averaging 20.8 points and 12.0 rebounds on 51.8 per cent shooting while in four regular season games against the Raptors, he averaged 20.0 points and 15.5 rebounds on 55 per cent shooting.
The playoffs have been a whole other story, as Vucevic is averaging only 8.5 points and 7.0 rebounds on a putrid 28.6 per cent shooting, and Gasol is the reason why.
According to NBA.com's stats site, Vucevic has seen the Toronto centre on 88 defensive possessions so far – more than any other Raptors player combined – and is only 6-for-17 from the field against him, turning the ball over five times in that span. Gasol also had four steals in Game 2.
Both Vucevic himself and Magic head coach Steve Clifford believe the Orlando big man will eventually crack the code against Gasol over the next two games in the Magic Kingdom, but that confidence seems more like a load of hot air when you actually see the job Gasol has been doing.
This includes in one-one-one situations: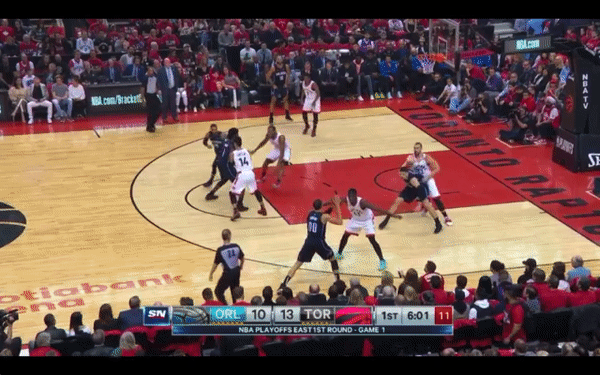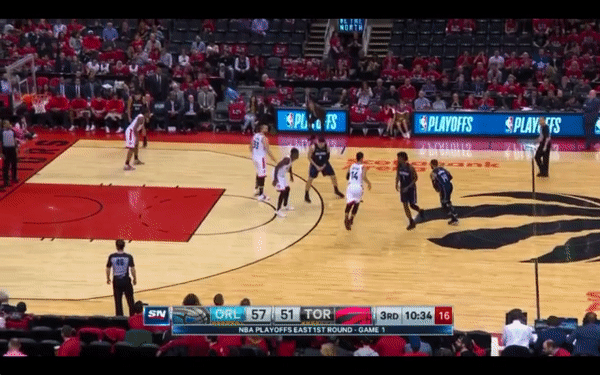 In recovery scenarios off Orlando ball-screen action trying to free up Vucevic: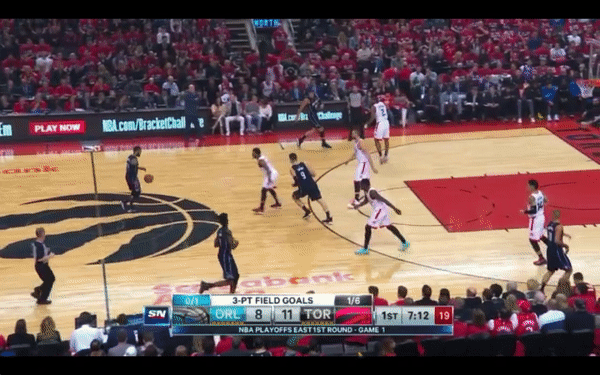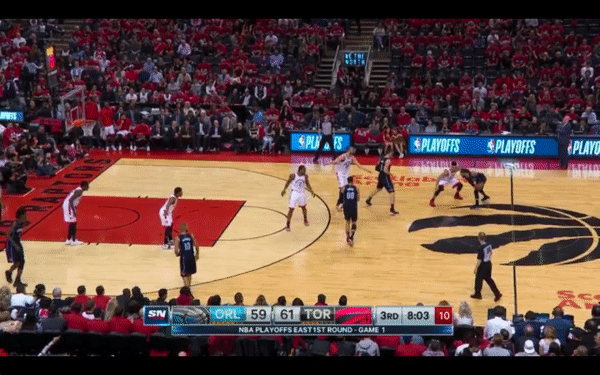 And even when Vucevic is just looking to move the ball, Gasol has been a major thorn in his side: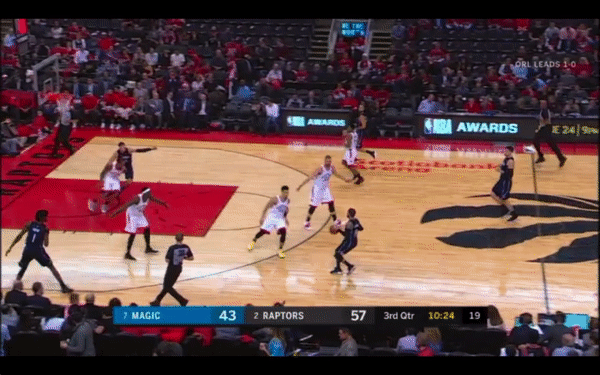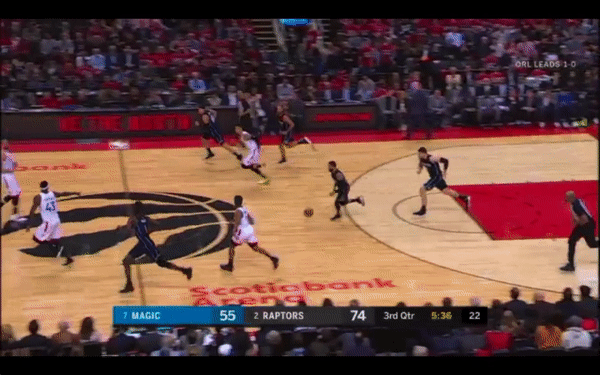 That last clip you see above is of particular interest. Even though it's Leonard who ends up getting back on defence and comes up with the steal out of nowhere, it was Gasol who first got back into the heart of the paint to stop a potential Vucevic drive to the rim. Gasol forced Vucevic to hesitate and make a pass that isn't as sharp had he been thinking pass all the way.
Priority No. 1 for the big Spaniard is to lock up Vucevic, but the other duty Nurse has tasked Gasol with has been to be the de facto back-line, in-the-paint stopper. Like a middle linebacker in football, Gasol commands the Raptors' defence from that spot and has managed to stop potentially dangerous Magic drives to the hoop in their tracks such as seen with these following examples:
From the Magic's perspective, the biggest problem for them to solve moving forward in this series will be Gasol and the all-world job he's done so far defensively. A mission that very well may prove impossible with how locked in he is on the defensive end of the floor.
Danny Green
If Gasol has been Toronto's most important defender so far, Green's been a close second.
In Game 1, D.J. Augustin scored 19 of his 25 points in the first half, going 7-for-9 from the field, with Lowry as his primary defender. Then Raptors coach Nick Nurse made the tweak to put Green on him, and in the six quarters since, Augustin has scored only 15 points on 3-of-10 shooting.
Green's dominance over Augustin shouldn't be much of a surprise because of the physical differences between the two.
Green is listed at six-foot-six, 215 pounds while Augustin is only six-feet, 183 pounds. That's a significant size disadvantage for the Magic point who may be pretty quick, but not quick enough to fully shake the length and strength Green has over him as the three following clips emphatically illustrate: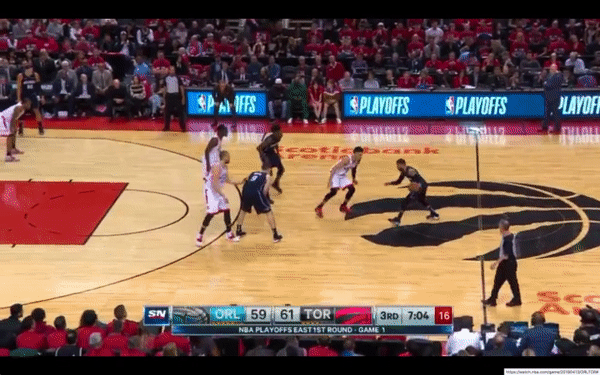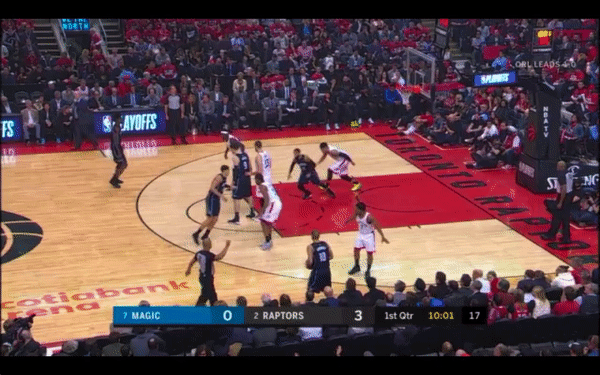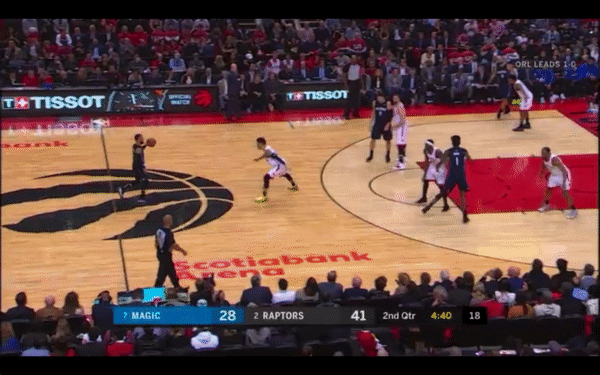 The Magic's greatest weakness is their lack of offensive firepower and Augustin is one of the rare players on Orlando who can get his own shot and create his own offence. Through six quarters against Green, that source of offence has disappeared and there's no reason why Toronto would give it back now for the remainder of the series.
Kawhi Leonard
Though he's Toronto's best individual defender, Leonard's impact has been far more subtle than what's been seen from Gasol and Green.
Leonard hasn't been given a hard defensive assignment the way Gasol and Green have – although he's been matched up with Aaron Gordon the most in this series. He's seen him in 56 defensive possessions, according to NBA.com's stats site – and as such he's been able to play, to use another football metaphor, more of a defensive back's role on defence for the Raptors.
What this means is Leonard has been seen as a bit of a roamer at times, with Nurse taking advantage of all of his natural athletic gifts allowing him to switch off his man to help stop penetration and still recover in time.
An example of this can be seen in the first quarter of Game 2 where we see Leonard start on Gordon, collapse into the paint to try to stop penetration from the weak side of the floor, then run out to prevent an Evan Fournier three. Leonard finished off the defensive possession by not overextending on Fournier, read a pass heading to the corner, make the steal and convert on the other end: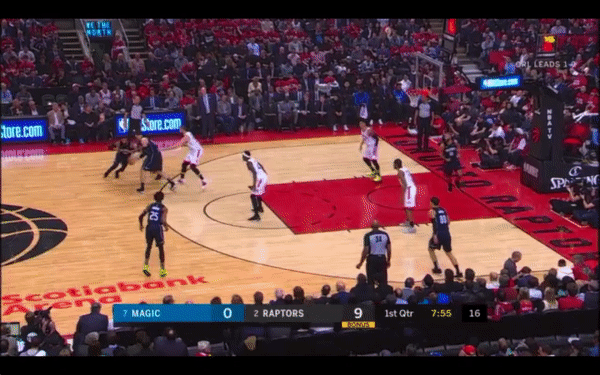 There's been times when Leonard has looked like a prime Darrelle Revis where the Magic haven't even considered sending the ball to the man he's defending, such as seen late in the third quarter of Game 2 with Leonard on Terrence Ross: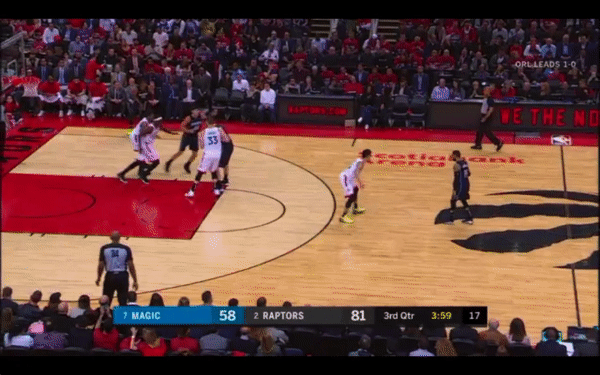 It's entirely possible the Magic's play was to plant Ross in the left corner as a decoy. But when you consider how unbalanced the floor was and the fact Orlando never considered moving the ball where Leonard was situated, it certainly seems like the Raptors star's presence alone shut down an entire half of the court.
Like much the same with Gasol on Vucevic and Green on Augustin, there's not a whole lot the Magic can do about Leonard roaming about and causing havoc. He's so long, athletic and strong that it doesn't matter who he switches onto in this series because he will have the advantage, regardless.
As such, backed by his Gasol and Green's defensive contributions that are just expected to continue, the only way Orlando wins this series is by some Disney miracle.