TORONTO – The Toronto Raptors have come a long way since Vince Carter christened the Air Canada Centre with an alley-oop against the then Vancouver Grizzlies on a Sunday afternoon 17 years ago this week.
Perhaps most telling is that Carter himself, the Raptors' first superstar turned now prodigal old man, could return with the now Memphis Grizzlies and the occasion be marked by a collective shrug at a sold-out ACC.
There were a smattering of boos, a good share of cheers but little drama, either way.
There are more important things for the Raptors and their fans to worry about as the season heads into its serious stages.
Mainly: would this year continue on the trajectory of the first 50-odd games, or go off the rails the way things did this time a year ago?
The Raptors did their little part with a 98-85 win over the Memphis Grizzlies so hard to look at only a mother could smile.
Well, Raptors head coach Dwane Casey liked it too, appreciating the way the Grizzlies ugly up the game and forced his team to respond.
"If you don't, you get beat up," said Casey. "If you don't snap back to that physicality and defensive mode, you are going to get punched in the mouth. They are a grind-it-out team, old school."
The Raptors met the challenge and Toronto improved to 36-18 on the season to stay four games behind the Cleveland Cavaliers for first in the Eastern Conference and – perhaps more importantly – four-and-a-half games up on the Boston Celtics in third.
The Raptors opened up a 42-30 lead midway through the second quarter but as has been a habit of late, failed to build on their early advantage in what was a turgid evening of basketball with Toronto holding Memphis to 37-per-cent shooting but connecting on just 41 per cent themselves, including just 7-of-28 from three.
It was a two-point game midway through the third quarter before Toronto pushed it to double figures at the end of the third. Toronto can't do these things the easy way, however. Memphis cut the Raptors' lead to five with 1:44 left – Carter did his part with a season-high 16 points – before Cory Joseph, who grew up watching Carter star with the Raptors, drilled a decisive three to push the lead to 10 with 1:09 left. Joseph had 14 off the bench for Toronto, who were led by Kyle Lowry's 18 points and seven assists and DeMar DeRozan's 21 points, including 9-of-10 from the stripe.
It was an important win in that it settled things down after the trade deadline came and went without the Raptors making any moves to bolster a club that's firmly in control of the second seed in the Eastern Conference, but shadowed by last season's fall.
Having lost games on either side of the all-star break, keeping a slump from becoming a slide was essential. Job done as they head to New York Monday and then return for a seven-game homestand.
In facing the Grizzlies, the Raptors were looking at a team not unlike what they seem to be trending towards themselves: a good, well-respected club, built on continuity and depth and a clear identity; in their case a commitment to defence and an offence that runs through their big men.
Memphis is hardly one of the NBA's glamour spots but they have played at a 51-win pace for the past six years, including this one in which they've lost Marc Gasol – arguably their best player – for the season with a broken foot.
The Grizzlies, the Raptors' expansion cousins once removed, have been one of the steadiest teams in the NBA since.
But as the Raptors try to make their own path towards perennially being competitive – including this season the Raptors have played at a 51-win pace for three years now – the reality is getting from good to really good isn't easy.
"It's very hard," said veteran Grizzlies point guard Mike Conley. "You can be a 50-win team every year and not be good enough to sniff a Western Conference or Eastern Conference finals. We had the opportunity to go to the Western Conference finals a few years ago and I don't think we realized how hard it would be to get back. We might have taken that for granted, thinking we were good enough to get back."
That is a problem the Raptors would love to have, but for now they need to focus on avoiding any hint of what happened here a year ago – a fantastic first 50-plus games followed by a 12-20 finish, their four-game sweep in the first round at the hands of the Washington Wizards included.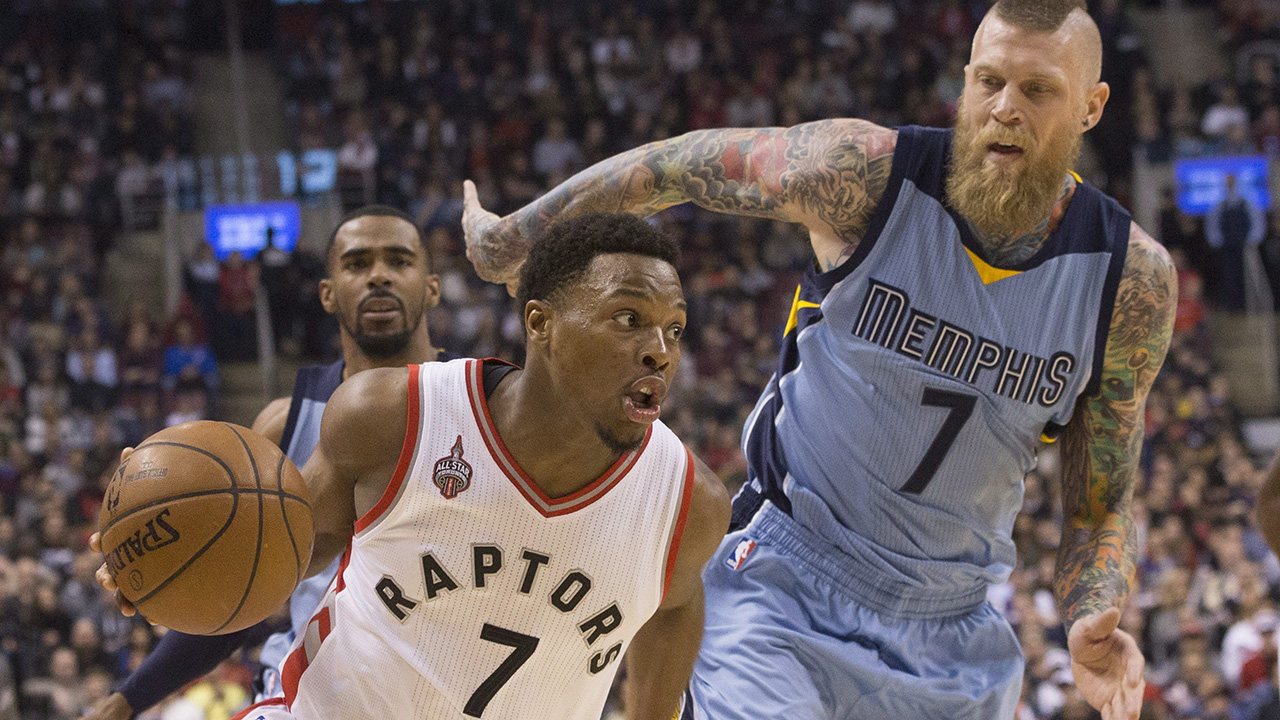 Raptors forward Kyle Lowry drives past Chris Andersen of the Grizzlies on Sunday. (Chris Young/CP)
That's doubtless one of the reasons there was a lot of wringing of hands about the Raptors standing pat at the trade deadline, well, that and the fact that Luis Scola continues to struggle at the starting power forward spot as he finished with seven points on 11 shots in 18 minutes.
But the Grizzlies are proof that winning without superstars is no simple feat, and the margin for error is slim. Memphis had Golden State down 2-1 in the second-round of the Western Conference playoffs a year ago before the Warriors came back to win three straight to eliminate the Grizzlies in six games.
There was even talk that the Grizzlies – like the Atlanta Hawks in the East – might be looking to retool their core at the deadline after years of being good but not quite good enough. They did move a couple of peripheral pieces but will keep grinding as they stand.
"People can get a little too comfortable and think that winning is easy, that's why you have to give all the credit to San Antonio and Golden State who continually get better as the years go on – it's hard to sustain that," said Conley.
"We just needed to run into some luck, have some guys not get injured up and have some good fortune on our side," he said, of trying to climb the Western Conference mountain. "We've had some opportunities the past couple of seasons."
From Carter's perspective, he sees what the Raptors are doing and recognizes how difficult it is. Enough time has passed that his name is slowly being pushed down the record books. The win was DeRozan's 232nd as a Raptor, tying him with Morris Peterson and Chris Bosh for the most in franchise history. He trails only Carter for highest winning percentage among Raptors who have played at least 400 games. Carter sees evident progress.
His advice?
"They've just got to stick with it," Carter said. "Continue with the pieces they have and add to it and it's all about seeding and a little luck. We look at other teams and they make it look so easy, but still luck. You're talking about getting guys to gain experience in the playoffs … I think when that happens everything else is easy."
Nearly two decades after the Raptors looked poised to break through, led by a much younger Carter, they've clawed their way back to relevance again.
Easy? It hasn't come easy and likely won't get any easier from here.