MILWAUKEE — It all started so well for the Toronto Raptors, and it all started so well for Marc Gasol.
It was the soft-handed, veteran centre who set up Pascal Siakam for Toronto's first points Wednesday night in Game 1 of the Eastern Conference Final. It was Gasol who, minutes later, drilled his first of two first-half three-pointers to extend his team's early lead over the Milwaukee Bucks. And it was the big Spaniard who went to the dressing room plus-10 with eight rebounds, a couple assists, and a blocked shot — a typically comprehensive first-half for one of Toronto's cornerstones.
But little did he know at the time, Gasol wasn't going to make another shot in the game. And not for lack of trying. He went 0-for-7 in the second-half, including 0-for-4 from beyond the arc, as Toronto's shooting cratered when the ball was in the hands of anyone but Kyle Lowry and Kawhi Leonard, who hit 12 of their team's 13 second-half shots. Gasol's second half was practically an inverse of his first, as he went minus-9 with only four rebounds, and finished the game 2-of-11 from the field.
His misery certainly had plenty of company, as the Raptors collapsed collectively down the stretch and were outscored by 15 in the fourth quarter, allowing Milwaukee to steal a 108-100 victory. But what gives with the late-game breakdown? Why did Toronto's pace, energy, and effectiveness bleed off so significantly in the game's most crucial minutes? Coming off a physically and emotionally draining seven game brawl with the Philadelphia 76ers and starting a new series on the road 72 hours later, were the Raptors simply fatigued?
"To be honest, no. I didn't feel tired," said Gasol, who played 45 minutes in Sunday's Game 7 and 40 minutes in Wednesday's Game 1. "I took quite a few shots and a lot of them felt good. Some of them went in-and-out, especially the short bunnies. But you take them with confidence when they feel good.
"And I was able to get to the spots that I wanted defensively. I tried to cover ground as much as possible defensively, and communicate and be in multiple spots at the same time. It's just the way it is."
Which speaks to the challenge facing Gasol defensively in this series, and the general challenge of playing defence in 2019's NBA, where gigantic, agile, fast-moving monsters such as Giannis Antetokounmpo roam the earth. How can you be, as Gasol put it, in multiple spots at the same time? How can you both crowd the paint and deny said monster's easy looks at the rim, while also defending the three-point line?
The best teams surround their gigantic, agile monster with capable three-point shooters, who will camp out around the arc, which is, problematically, very far away from the paint you're trying to protect. And there may be no better example of this roster construction in the NBA than the Bucks.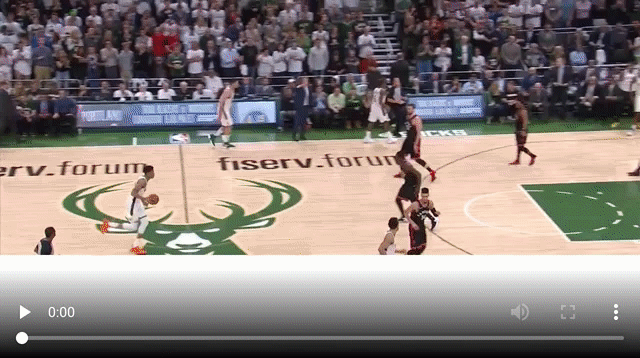 If you really clamp down on Antetokounmpo, helping off his teammates to build a wall between him and the rim, the Bucks will be happy to feast on three-pointers from Eric Bledsoe, Khris Middleton, Nikola Mirotic, and others.
If you stay more strictly man-to-man, Antetokounmpo is going to go off, scoring both over and around his defender, while drawing a bevy of fouls. There might not be a player in the league who can reliably stop him one-on-one.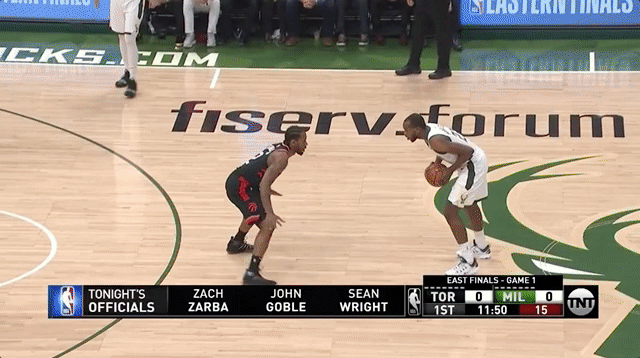 Gasol has to help off his assignment, generally Bucks centre Brook Lopez, in order to contain Antetokounmpo. And the Raptors did about as good of a job as they could have hoped Wednesday, keeping Antetokounmpo from having one of his rampaging nights. The problem was Lopez had that night instead.
The Bucks centre went off for 29 points on 12-of-21 shooting, including 4-of-11 from beyond the arc. He hit three of those three-pointers in the fourth quarter, two of them assisted by Antetokounmpo. Lopez's willingness to shoot from distance forces opposing centres like Gasol to essentially be in two places at once. You have to stay home in the paint to help on Antetokounmpo, but you also have to guard out to the line to contest Lopez's range.
"Once he gets going, his range is pretty deep," Gasol said. "And, obviously, you want to take away the paint first, and Giannis' drives. But you're only one pass away, so you've got to be mindful of Brook stopping and shooting from pretty far. So, you cannot overcommit to those Giannis drives. But, at the same time, you have to stop the drives. So, it's kind of hard."
That deep range makes Lopez particularly tricky. Few of his three-point attempts come from right at the line — they're often a couple steps behind it. Of Lopez's 11 three-point attempts Wednesday, seven came from 27 feet or deeper, which means a defender has to go even further out to contest his shots.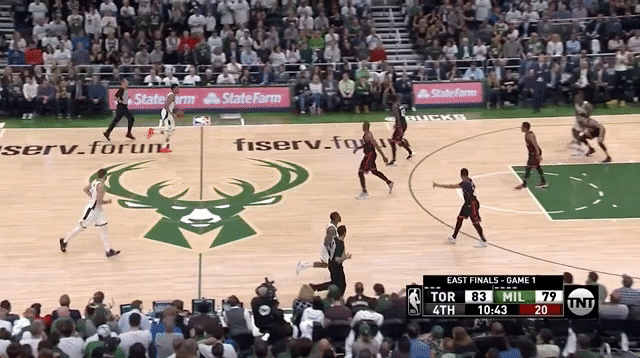 It's a trend Raptors head coach Nick Nurse has seen across the league, where the new three-point shot is just an even deeper three-point shot.
"You're seeing all kinds of people now saying, 'Okay, if you're going to be able to get to me on the line, and contest the shot, maybe if I'm six or eight feet behind it I'll have a cleaner look, and you've got a longer run to contest,'" Nurse said. "It stresses spacing. Because you're driving into the paint, you've got to close down and help, and then the ball gets kicked out and usually you have one or two strides back and now maybe you've got three or four."
If it's a problem again in Game 2, Nurse will have to consider a more even dispersion of his centre minutes between Gasol and Serge Ibaka, who played only 17 minutes in Game 1. Gasol's crucial to Toronto's offence, particularly its starting unit which has been the best lineup in the playoffs. But is it sustainable for the 34-year-old to play 40+ minutes per night in a series with a game every other day?
Ibaka's younger and generally more athletic than Gasol, which should, in theory, allow him to both collapse into the paint against Antetokounmpo drives and recover out to the three-point line to contest Lopez three's a bit more effectively. Ibaka can also operate a bit faster than Gasol on the offensive end, and take advantage of the mid-range pick-and-pop opportunities that he should have plenty of when playing against the much-slower Lopez.
That could force Bucks head coach Mike Budenholzer to take Lopez off the floor in favour of a more dynamic defender like Ersan Ilyasova if Ibaka's being particularly effective.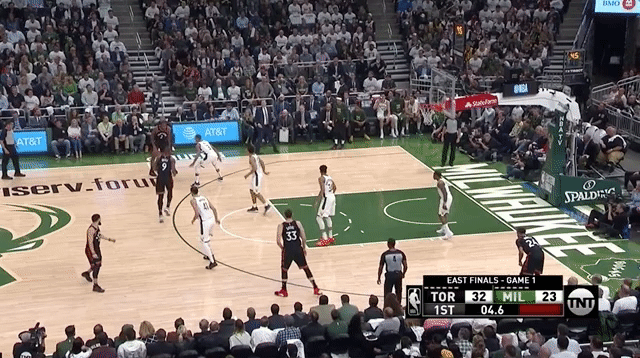 But the inconsistency of Ibaka's effectiveness is the thing. Wednesday, Ibaka was minus-17 with a game-low-by-a-mile minus-52.3 net rating. Also unhelpful was that the Raptors played at a 97-possesion pace during his minutes, significantly lower than the 101.5-posesion pace of the game, and the 104-possesion pace they played at with Gasol on the floor. Ibaka's supposed to bring energy and speed things up, not slow things down.
Ibaka singled himself out as needing to do a better job when he met with the media Thursday morning. And what in particular did he dislike about his Game 1?
"The energy. I know every time when I bring my energy on the court, my teammates can feed from that. I didn't bring that last night," Ibaka said. "I have to try to, early in the game when I check in, try to bring a little bit of everything. I think the most important thing is the defensive mindset. That's really what matters."
Rebounding was certainly an issue, as the Raptors were crushed on the glass, 60-46, while giving up an absolutely unacceptable 15 offensive boards. Clearly, Gasol is a big part of that, and he'd surely like to come down with more than the 12 of 22 available rebounds that he did in Game 1.
But Siakam (six rebounds), Danny Green (six), and Leonard (nine) all tied for second on the team with 18 rebound chances each, and none of them cracked the 50 per cent threshold that Gasol did.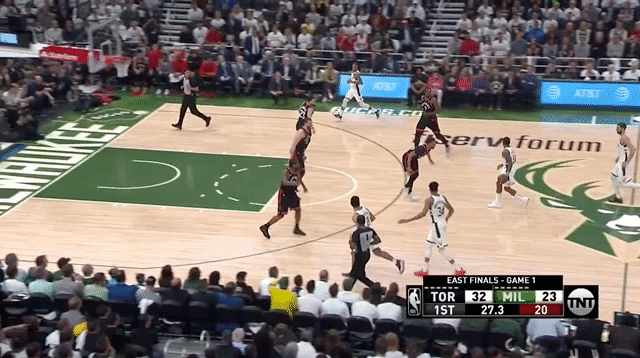 Part of that is due to how quickly the Raptors are looking to play in this series. Toronto wants to be operating much more up-tempo than it was against Philadelphia, and when the offence is humming like it was in the first half Wednesday, it can be easy for players to fall into a habit of running out a little too quickly off an opposition miss before ensuring the rebound has been secured.
"It's always a little tricky when you start out in a fast-paced game," Nurse said. "You're getting so much good stuff early in your offence, guys get a little anxious to get out in the offence a little bit. I think we missed some block-outs because of that. We've just got to make sure we're hanging in there and holding those block-outs and trying to move them back. And using a little bit more physicality and securing the ball. That's probably one of the major concerns."
This is again where Lopez's threat from beyond the arc comes into play. If Gasol is out near the three-point line guarding, it's harder for him to be a presence beneath the basket to fight for potential rebounds, as well.
"It's got to be a team-effort thing. If I go help and try to contest some of the shots, obviously the paint is going to be more open," Gasol said. "We all have to go in there and try to get them. We all need to box out because we all cross-match and mismatch. So, we're going to be a little bit out of position. Rebounding, it's going to be a big thing."
Ibaka's presence on the glass was one of the biggest swing factors for the Raptors in Game 7 against the Sixers. After the Raptors spent essentially the entire series being dominated on the glass, Ibaka contributed one of his most assertive rebounding performances in some time, coming away with four on the offensive glass. That intensity simply wasn't there on Wednesday.
" I told myself last night after the loss that I have to play better for my team to have a chance to win — I have to do it," Ibaka said. "I have to be out there rebounding on defence. I know every time when I get a couple rebounds and play with great action on the defensive end, that kind of opens up my offensive game. So, I think this is something I have to focus on the next game."
Discouragingly, the Raptors didn't even get good returns from the nine minutes in which Gasol and Ibaka shared the floor in Game 1, as the Raptors were outscored by eight in those minutes. That pairing was extremely effective against the 76ers, and Nurse's move to use them together may have been the adjustment of that series. But it doesn't sound like Game 1 soured him on the duo's potential effectiveness going forward.
"It didn't go very well. We need to look at it. But I don't like to try to judge it on one little stint," Nurse said. "We're going to play Serge and Marc together. We've just got to make sure that we get them a little more comfortable in what they're doing, both offensively and defensively. And I think there's some very specifically defined roles that we can find for them to do that."
Whatever those roles for their centre tandem are, the Raptors will need to find them quickly if they're going to head back to Toronto with the series split. In Game 2, the Raptors have to do just as good of a job defensively on Antetokounmpo, if not better. Not to mention finding a way to prevent Lopez from getting hot. Not to mention paying attention to Milwaukee's many other shooters. Not to mention the rebounding. And on and on.
It's a lot to grapple with. But that's the challenge Milwaukee presents. And that's before the Raptors can even think about their own shooting struggles.
"We had open shots, and we took open shots — we just didn't make them," Gasol said. "I think that shifted the pace in their favour. We're not getting stops, so we're running into a set defence and they're running into a scrambling defence. Then Brook makes a couple shots from out there, and it makes things pretty tough on everybody.
"If we make more shots, that will help us set our defence. And we're confident we will. We saw the things we can do to continue to improve. We can definitely do a better job on the things that didn't work so well."