TORONTO – The Toronto Raptors are putting together a legendary regular season in their spare time. They are paying the NBA piper with cash they've saved up and can afford to spend.
With 13 games remaining the mighty Cleveland Cavaliers and LeBron James are only one game ahead of the Raptors for top seed in the Eastern Conference. It's a race to the finish with first prize home court advantage in the conference finals.
The difference between the much-hyped Cavs and the under-the-radar Raptors is that as Cleveland keeps dodging minefields of their own making — be it coaches being fired or James not-so-subtly questioning his teammates' commitment via Twitter, and then yukking it up with pal Dwyane Wade at halftime when the Cavaliers are getting drilled by Wade's Miami Heat — the Raptors seem to be advancing without really trying, or at least without sacrificing the big picture.
It's like they're the San Antonio Spurs-lite. It's like they know what they're doing.
Sunday's 105-100 win over the Orlando Magic at the Air Canada Centre wasn't a work of art, by any stretch. Instead of Kyle Lowry raining down game-changing threes it was Jason Thompson and Bismack Biyombo winning battles for offensive rebounds and making put-backs.
The Raptors were led by DeMar DeRozan, who started off making his first four shots but then just two of his next 12. Still he made it to the line 16 times and essentially iced the game by getting fouled and converting a lay-up and a free throw with 54 seconds left and the Raptors' lead down to one point.
For once their best all-around player might not have been Lowry, even though he was on the court for every pivotal play and forced a Magic turnover the play before DeRozan's big basket.
Once again Toronto's most important contributor might have been Biyombo, making his fourth straight start for Jonas Valanciunas. The Congolese centre had 12 points, 13 rebounds — five offensive — and six blocked shots. He's in the midst of the best stretch of basketball of his career, averaging 11 points, 15 rebounds and three blocks on 71-per-cent shooting from the floor in his four starts.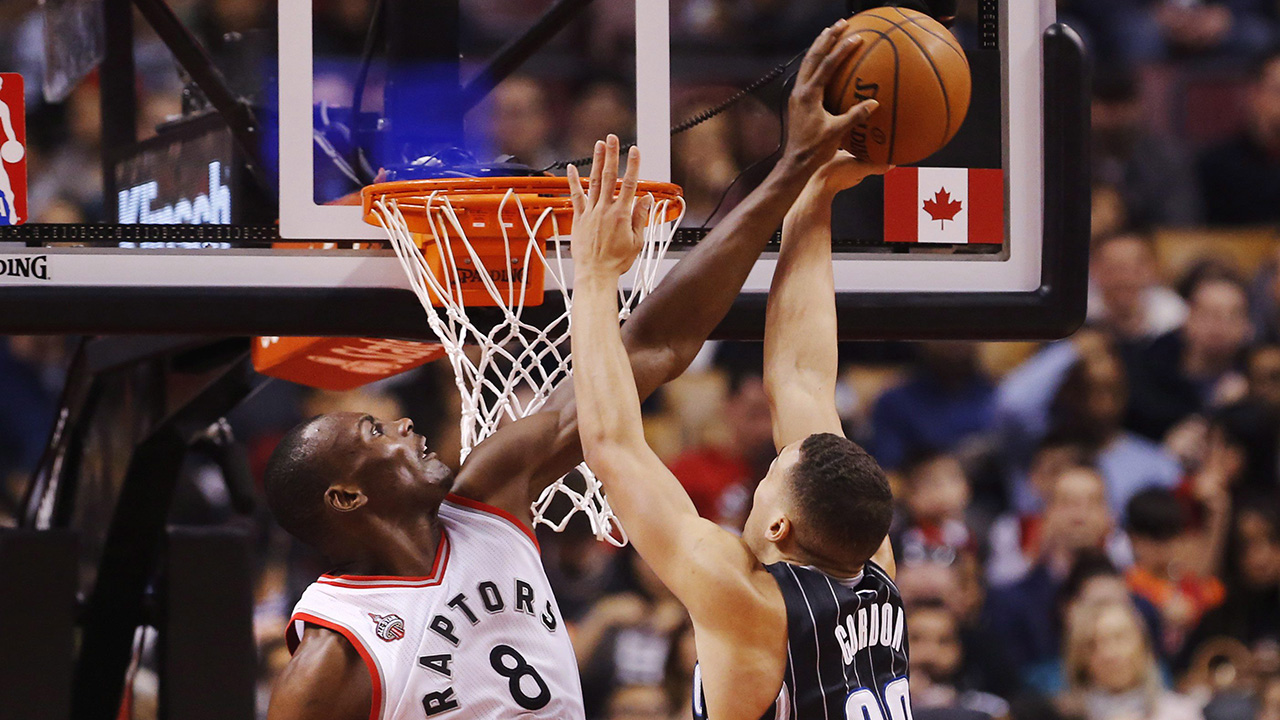 Raptors centre Bismack Biyombo blocks Aaron Gordon of the Magic on Sunday. (Mark Blinch/CP)
And as for unexpected contributors, how about newcomer Thompson, who played the entire fourth quarter and grabbed 10 rebounds in 27 minutes.
The Spurs would have sat out two or three rotation players and still won by 20 somehow. The Raptors don't do that. In a perfect world Lowry wouldn't have needed to play 40 minutes. In a perfect world the Raptors would have put away the vulnerable Magic early — Toronto led by 11 after three minutes played. Instead they went defence optional for the second and third quarter as Orlando — 9-21 since they played Toronto in London in January — built up a seven-point lead with four minutes left in the third quarter.
But the Raptors held Orlando to 18 points on 38-per-cent shooting and somehow managed to pull their way back into a game even while shooting just 8-of-22 from the field in the fourth quarter themselves.
But big picture? They did win their fourth straight game and seventh in their last eight while sitting out Valanciunas (due to a bruised hand, though he could have played if needed), Swiss Army knife guard Cory Joseph (rest) and Patrick Patterson (ankle), while James Johnson (foot) and DeMarre Carroll (knee) were already out.
The win improved Toronto to 48-21 and gave them a 7.5-game lead over No. 3 seeded Atlanta. With that kind of margin there will be plenty of opportunities to rest key rotation players down the stretch. Lowry has already got one game off, as has DeRozan, and now Joseph. There will be more off days coming, and it's all part of a plan.
"We're trying to be strategic," said Raptors head coach Dwane Casey. "No disrespect to any team that we're playing, believe me, we're going into these games to win, it's not vacation time. It's just giving their bodies time to recover. To make sure we have them fresh. What we don't want to do is hold everyone out the last two weeks and be out of rhythm once the playoffs start. That's hard to do, to ramp it back up from zero to 100 once the playoffs start."
It's a remarkable situation the Raptors find themselves in. Instead of drawing down on their credit card as the season reaches its finale, they have been saving diligently, building up equity and now have plenty of resources to use wisely and as needed.
And while they are eager to chase down top spot in the East for the first time in franchise history — the best previous finish was third overall — they recognize that it's not worth depleting their reserves in the pursuit.
"[Top seed] will only change things if you get to the seventh game of the conference finals," said Luis Scola, who was one of the first Raptors regulars to get the benefit of some time off. He finished with 20 points and eight rebounds in his second consecutive strong outing after a prolonged mid-season swoon.
"… We can't really worry about that. Of course we want to win games, of course we want to finish first. But the most important thing is to build good habits and good momentum going into the playoffs."
It's a strange situation the Raptors find themselves in. Their goals are well within reach and yet they've got here without spending their last dollar on gas money. There's some fuel in the tank and a few dollars left for a nice meal and good hotel room.
It's a situation they've earned and now have the time to enjoy.