TORONTO — Toronto Raptors head coach Nick Nurse and his staff put a lot of time and effort into preparation, as basketball coaches do. They game plan and scheme. They study habits, tendencies. They watch past possessions over and over. They package together clips from previous games and present them to their players purposefully, thinking about how best to communicate their message and ensure it resonates. They do it every day.
"And we end up showing them all these clips, and all these coverages and all these matchups and all these things — blah, blah, blah," Nurse said Saturday at Scotiabank Arena, before his team played the Milwaukee Bucks in Game 6 of the Eastern Conference Finals. "And at the end of it, almost every time, I say, 'This is about 15 per cent of the game.'"
The other 85 per cent? That's the stuff you can't game plan for. You can show it on film, sure. But players don't need to be reminded about it. It's what you either have or you don't when the ball goes up. It's your focus, your effort level, your desire, your hustle. Your willingness to lay it on the line.
"The rest of it is: Are we going to sprint back? Are we going to communicate great? Are we going to get physical? Are we going to get into bodies? Are we going to block out with some toughness? I can keep going on and on," Nurse said. "I think for our team, it's that way. I think when we've put out a good physical effort with a defensive mindset first, and then taken care of at least trying to block out and control the glass a little bit — we've had a lot of good playoff games with that mentality."
That effort, that determination and that sheer resilience more than anything else, is why the Toronto Raptors will play in the NBA Finals next week against the Golden State Warriors, after they roared back from a 15-point hole to claim Saturday's Game 6, 100-94 over the Bucks.
"Our communication, scheme, switching, blitzing. Our rotations, contesting shots, all those things have been growing here since the start of the playoffs," Nurse said afterward. "There are some stretches where it's darned hard to complete a pass against us. That wears into a team after a while when you're up into them and you're denying and everybody is just that connected and playing that hard."
The Raptors have needed to compete that hard. They've had no choice. Because among the 16 teams in these NBA playoffs, the Raptors rank in the bottom half in terms of field-goal percentage, offensive efficiency, assist rate, rebounding and points per game.
Like Nurse, we could keep going on and on.
Do you know what they rank first in? Deflections, loose balls recovered, screen assists, contested shots, charges drawn, box outs — all the hustle and grit categories on the margins of the boxscore, which is where the Raptors won their games. That's how they overcame dropping Game 1 to the Orlando Magic, falling behind 2-1 to the Philadelphia 76ers and plummeting into a 2-0 hole against the Bucks. They just outworked and out-grimed their opposition.
"We've got a bunch of warriors on this team. Guys that are going to give everything until the last second," said Pascal Siakam. "I just like the fact that we were never rattled, you know?"
Here's what that 85 per cent looks like: It's Kyle Lowry throwing his head toward knees and shins in pursuit of this loose ball, tracking it as it pinballed around and then throwing himself at it again:
It's Kawhi Leonard flying into the lane after his own missed free throw, grabbing the rebound over three opponents and drawing a foul from Giannis Antetokounmpo to get back to the line: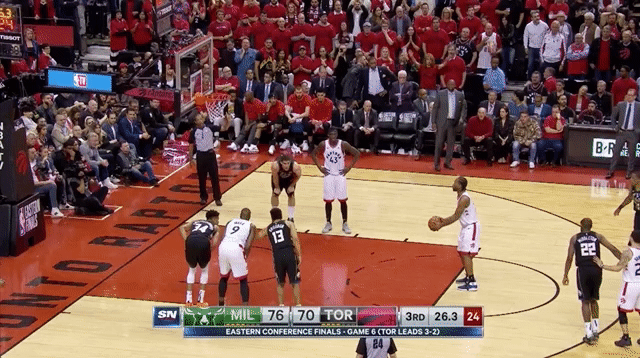 It's Lowry stepping in front of a stampeding Malcolm Brogdon to take this charge, his league-leading 13th of the playoffs, which is only three less than the Warriors have as a team:
It's the way Leonard fought through this aggressive double team and still made the right pass, then turned on a dime to pull down another offensive board over everyone:
It's this late-game anticipation steal to prevent an easy Antetokounmpo bucket by Siakam, who guarded three different players on the possession: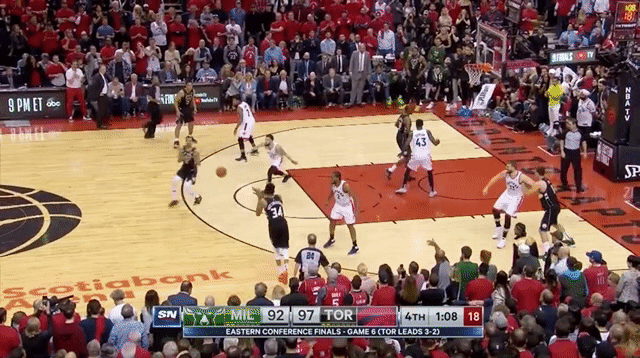 That's why the Raptors were able to overcome a first half Saturday where they were, generally speaking, playing like crap. Shooters were passing up good looks beyond the arc. Defenders were biting on ball fakes. The Bucks were dominating the glass and had seven offensive rebounds before Toronto had one. Leonard committed his fourth turnover three minutes into the second quarter. Danny Green missed his first four shots from range, three of them wide open in the corner. Both of the team's centres, Marc Gasol and Serge Ibaka, picked up their third fouls in the second quarter.
If not for a handful of inspired defensive possessions, Fred VanVleet's continued unconscious shooting from three and Lowry's typically effortful play, things could have been completely out of hand by halftime. But at some point, the Raptors found the piss and vinegar that's been a trademark of their play throughout the post-season. At some point, they decided they just wanted it more.
"It's the purest level of basketball, I think," Gasol said. "You can draw up the best plays. You can draw up the best defensive schemes. But it comes down to those little details, and guys buying in. And I thought that everyone that stepped on the floor had that mindset of putting everything out there for the team — whatever the case may be.
"It's fun to play that way. It's the way it should be."
As Gasol spoke in a jubilant Raptors dressing room about an hour after the game, Ibaka and Green were getting changed nearby. Ibaka looked over at Green, caught his eye and shook his head.
"Bro, we just beat them in four straight — that's crazy," he said. "That's one of the best teams."
Green grinned and raised his eyebrows.
"You know what's crazier?" he asked. "We didn't even play that well."
And that's the thing — the Raptors have yet to show their best selves offensively through 18 playoffs games. After scoring 112.5 points per 100 possessions in the regular season, they're down to 108.1 in the playoffs. A 47.4 per cent regular-season field-goal rate has dropped off to 44.1. Their three-point percentage has dropped in turn, from 36.6 per cent to 34.5.
"We haven't shot well in many games — we really haven't shot well," Green said. "We haven't played our best basketball, offensively. Hopefully, we're saving it."
Green is in an epic shooting slump, averaging 31.4 per cent from distance in these playoffs after converting at a 45.5 per cent rate during the regular season. Siakam's shooting has similarly dropped off, just not to such a drastic extent. Gasol's and Ibaka's, too. Nurse spent large swaths of each series talking about how he was just waiting for his players to convert more of the open looks they were generating.
But it never happened. For these playoffs, the Raptors are shooting 28.4 per cent on three-pointers classified as open by NBA.com, and 36.8 per cent on those judged to be wide open. During the regular season, those numbers were 33.2 and 40.9, respectively. The Raptors have reached the Finals in spite of that. It doesn't happen accidentally.
"One thing I've learned about those moments — it's about toughness. I don't care what talents you have. If you don't have toughness, you don't want to be here," Ibaka said. "We're here today and we won tonight's game because we have toughness. We've got tough people.
"Kawhi, he's got skill — but he's a tough guy. He's got soul. He's hurt. But he's playing. He keeps pushing. You've got Kyle, he's hurt. And he keeps going."
[relatedlinks]
It will be absolutely crucial that it continues against the Warriors. Golden State's more talented, they shoot better, they score more and they've reached five consecutive Finals for good reason. They're a hell of a test.
But the Raptors feel they've already passed the three toughest tests they could in the East, winning three series they've trailed. And they don't think they've played anywhere near their potential. What they know regardless of how they're shooting or scoring, they can beat the NBA's best teams with focus and effort. With desire and hustle. With the 85 per cent.
"We've been battle-tested in all three series that we've had so far — different looks, different playing styles, different coverages, different rotations," said Norman Powell. "I just think the group of guys we have are so selfless and able to give themselves up for the team, sacrifice whatever the team needs to be able to go out there and get a win.
"We've just been so motivating with one another, keeping guys motivated and positive through the ups and downs of bad games, bad shooting nights, good games. Just continuing to stay in the ear of guys that might have been struggling or not getting the minutes that they want or not hitting the shots that they normally hit. We've all been really tied in as a family — motivating our brothers to keep going. And to keep fighting."