Kawhi Leonard's Hall of Fame resume is still being written in the NBA, but his ticket has already been stamped at the high school level.
On Thursday Leonard will be inducted as part of the inaugural class at his former high school, Martin Luther King High School in Riverside, Calif.
Leonard transferred to the school as a junior in 2007 and won two state titles on a team that also featured NBAer Tony Snell of the Milwaukee Bucks. In his senior year King went 30-3 behind averages of 22.6 points, 13.1 rebounds, 3.9 assists and 3.0 blocks per game from Leonard, who was named California's Mr. Basketball in 2009. Unsurprisingly, that same season he was also named Martin Luther King's Athlete of the Year. It's not hard to see why:
"Whenever you start a Hall of Fame, in your inaugural class you begin with the legends," says current Martin Luther King athletic director Getty George. "In our 20 years, by leaps and bounds, Kawhi Leonard — an NBA champion, Finals MVP, Defensive Player of the Year — is first and foremost on that list."
Leonard is joined in the inaugural class by Ray Plutko, a former principal at the school with a background as an athletic commissioner in California and Colorado, and Nicole Smith, who won a high school title in golf and has since gone on to a career in the LPGA.
A plaque depicting Leonard was commissioned and will hang in the school's hallways after it is presented at halftime of Friday's football game.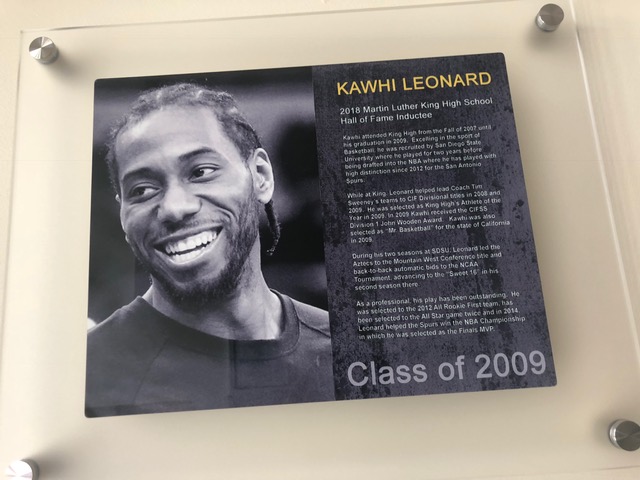 Leonard's high school career set the stage for an impressive collegiate career at San Diego State, where in his two seasons he led the Aztecs to two straight conference titles and NCAA Tournament bids, reaching the Sweet 16 in 2011. That year he was drafted 15th overall by the San Antonio Spurs and immediately became an integral part of the team's rotation. "Kawhi guards the toughest perimeter player on the other team," Spurs coach Greg Popovich told USA Today during Leonard's rookie season. "He has an inclination to do it. He enjoys the role."
On July 18 Leonard was traded to the Toronto Raptors in exchange for DeMar DeRozan.
Leonard is not expected to attend Thursday's Hall of Fame banquet but will be represented by a family member.
The 27-year old two-time all-star is set to report to the Toronto Raptors by Sept. 15 ahead of the start of training camp.