TORONTO — It wasn't Danny Green's favourite spot to shoot from on the floor, but it was good enough. Above the break on the right side. A spot he shot from 124 times this season, 56 of which were successful. Statistically, it was the best place for him to be other than a corner.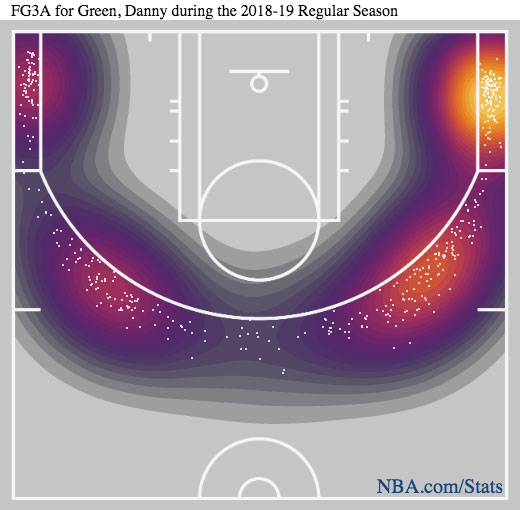 And, wow, was he ever open. Toronto's late-game offence had maintained a night-long trend of discombobulation. Down three with 17 seconds remaining, Kyle Lowry tried to nutmeg Ben Simmons, a baffling, low-percentage choice that resulted in the ball getting caught up between the 76ers point guard's legs. A mad scramble ensued. Lowry hit the deck. The ball skipped out to Kawhi Leonard beyond the arc. He drew Green's defender and quickly flipped the ball over to his now unguarded teammate standing in that sweet spot on the right side. Green had a completely unobstructed look from 26 feet.
The ball just didn't drop. It kissed the rim's front lip, crashed into its back one, and popped out. Green was so certain it was going in, he'd already begun shading back to the defensive end as Joel Embiid leaked out. Out of his hand, it felt exactly the way it should.
"It felt good, it felt good. Just a little off the mark," Green said Tuesday, reflecting on the shot that could have changed it all. "Back rim, some in-and-out, a little off the mark, probably could've used a little more arc in my shot. Some games it goes that way."
Monday was certainly one of those games — and not only for Green. Nearly 60 per cent of Toronto's 91 field goal attempts were classified as uncontested by NBA.com's tracking data, an absolutely huge number. The opportunities were there. But, maddeningly, the Raptors shot worse on those uncontested field goals (35 per cent) than they did on contested ones (38 per cent) in dropping Game 2 to the 76ers, 94-89.
Green in particular struggled on attempts classified as uncontested, going 1-for-6. Marc Gasol struggled as well at 1-for-5. That should confirm what your eye test probably gathered from watching the game. The Raptors missed too many good looks.
"You have to take them. Those are good looks. You take them over and over again," Gasol said. "You can't get stuck on a missed shot or two missed shots. If it's a good shot and you feel in rhythm, take it. If not, move it. Don't overthink it and kill the flow of the game."
Of Green's six three-point attempts, four were categorized as wide open by NBA.com, which means the closest defender was more than six feet away. Green only hit one of those shots. Likewise, all four of Gasol's three-point attempts were considered wide open. Also likewise, he only hit one.
That's your ballgame right there. There's obviously more to it, as Philadelphia overhauled its defensive assignments and strategies, throwing the Raptors completely out of rhythm during a startlingly stagnant first half at the offensive end. But if Green and Gasol converted more of the open looks they saw — hell, if Green just hit that one at the end — we're having a much different discussion today.
"Just like any competitor, you wish you could get that shot back. I know that if I get that shot back 10 times, I think I'll make at least eight of them," Green said. "Or at least the next nine. I probably wouldn't make the next nine. But, confidently, mentally, I'm thinking, 'Next one's going in.' I know I had a chance to tie it up for my team. And it's the playoffs. You want to win, you want to compete, you want to go out there and make big plays. That's what we live for. But, obviously, we have more basketball to play. Hopefully I get another opportunity."
You can bet he will. If the 76ers are going to ask Embiid to stay home and limit the five-footers Pascal Siakam feasted on in Game 1, and aggressively send help on Kawhi Leonard any time he has the ball in his hands, someone's going to be open on the perimeter. It could be Green, it could be Gasol, it could even be Lowry, who's struggled himself from distance this post-season.
In fact, most Raptors are struggling from range. Over the first two games of the series, the Raptors have hit only 31.6 per cent (12-of-38) of their three-pointers deemed wide open by NBA.com. If you're an optimist, that will tell you the Raptors are doing well to generate a wealth of good looks from beyond the arc. If you're a pessimist, that will tell you the Raptors are wasting terrific opportunities to run up the score. As always, the fairest assessment lies somewhere in between.
"If the ball moves well, if we attack the paint, I'll get some open, uncontested looks," Green said. "Got a couple last night that I felt were pretty good. Just a little off the mark."
Green should know. His 45.5 per cent rate from distance was good for second in the league this season among NBA regulars who averaged more than one three-point attempt per game. But so far the playoffs have been a different story. Of the 70 players averaging four three-point attempts or more per game this post-season, Green's 31.6 per cent success rate ranks in the bottom third at 55th. (Lowry's even further down, sitting 60th at 28.6 per cent)
Green was fine in the first round, if a little below the high standard he's set for himself. But a 2-for-10 start to the second round has hurt his average, and the fact the Raptors lost Monday's game in the fashion they did, and by the point spread they did, isn't making it feel any better.
Of course, judging a shooter based on a two-game sample — even based on Green's seven playoff games thus far — is an insane exercise. It's such a miniscule sample — if Green shoots well in Game 3, he could dramatically improve his playoff percentages.
And shooting's a streaky business. Guys run hot and cold. There was a three-game stretch in December when Green missed 12-of-15. A two-game stretch in January when he went 0-of-8. A three-game run right before the all-star break when he didn't hit a three at all. And this is the guy who finished with the second-best rate in the league.
You just have to trust that it'll turn. The issue at this time of year is it may not turn fast enough. The Raptors have no choice but to win three of their next five, and while that's a decent buffer for unusually cold shooting to regress, it's not nearly a large enough one to feel comfortable that it will. No one can say whether the Raptors are going to shoot better or not over the remainder of this series. But you can be pretty confident in saying that they must.