At first glance, you'd think that Milwaukee Bucks star Giannis Antetokounmpo has had a decent showing in this Eastern Conference Finals series against the Toronto Raptors.
With averages of 23 points, 14 rebounds and 5.8 assists on 46 per cent shooting from the field over the five games played so far, Antetokounmpo has been solid for Milwaukee.
But when you're the MVP front-runner, solid just isn't good enough. Especially when your team is on the brink after dropping the last three games straight, despite having boasted the best record in the NBA and never having lost three straight before all season long.
Though Antetokounmpo's numbers have looked fine it's apparent that since Raptors head coach Nick Nurse opted to make Kawhi Leonard the primary defender against him, things have become much tougher for the Greek star and his team.
The fourth quarter of Thursday's Game 5 played out as a microcosm of the issues Antetokounmpo has had with Leonard and the Raptors. He scored just six points and turned the ball over twice while Leonard willed the Raptors to a big road victory with a 15-point, three-assist, zero-turnover masterpiece.
Here's a closer look at those 12 minutes that illustrate why Antetokounmpo hasn't been able to break through with a signature, MVP-calibre performance yet in this series.
Second-line defence and double-teams
Though Leonard has been given most of the credit as the primary defender, he's had a lot of help in the form of the Raptors' back-line and the occasional hard doubles Nurse likes to send Antetokounmpo's way when he's on the baseline as can be seen in this example below: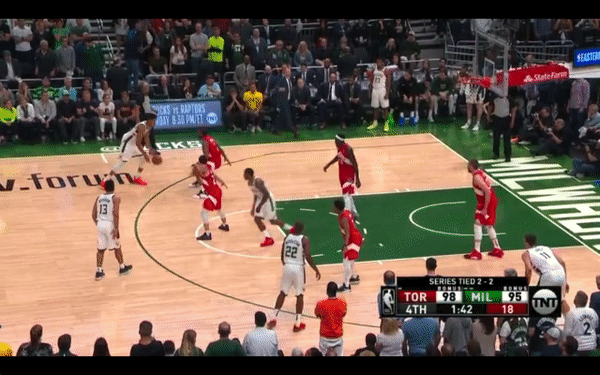 This has been a major adjustment by the Raptors that Antetokounmpo, for all his talent, hasn't been able to figure out.
Not only has he been unable to bully his way through Leonard — who's probably stronger — but when the occasions have come that he has been able to get past the Raptors' do-everything-star, Antetokounmpo has been met with length that's clearly bothered him at the rim and has forced him to either pass out or take heavily contested shots.
Few teams in the NBA have the personnel to do this, but the Raptors do thanks to the wingspans of Marc Gasol, Pascal Siakam and Serge Ibaka and it has flummoxed Antetokounmpo to no end.
Playing at a slower pace
This has probably been the single biggest reason why the Raptors have found success over the last three games.
In Milwaukee's two victories in the series, it's averaged 103.2 possessions per game, but in the three losses, the Bucks have only managed 100.1 possessions per game.
In layman's terms this means the Bucks haven't been able to play as fast as they want and, thus, their dangerous transition game has been more limited — as evidenced by the 8.5 fast-break points average in their wins compared to the 6.3 fast-break points per contest they've managed in the three losses.
This is of particular note because limiting the Bucks in transition also means you're limiting Antetokounmpo out on the break as well.
Antetokounmpo is among the very best in the open floor, but the Raptors have made a concerted effort to get back and keep his chances at dunks and layups to a minimum.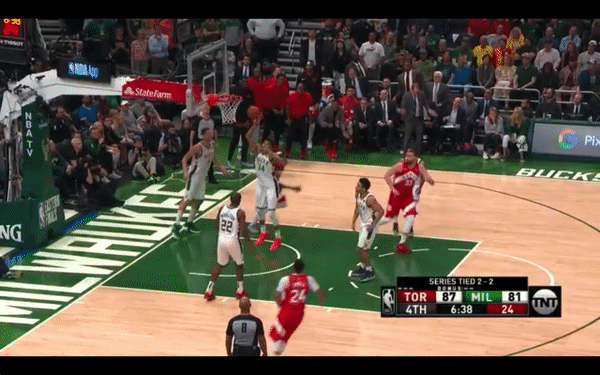 And then on offence, the Raptors have managed to slow things down for them by putting the ball in Leonard's hands and letting him go to work with the shot clock running down, confident that no matter what the shot, he will hit it and force the Bucks to inbound the ball at their basket — giving the Raptors' defence time to set up on the other end.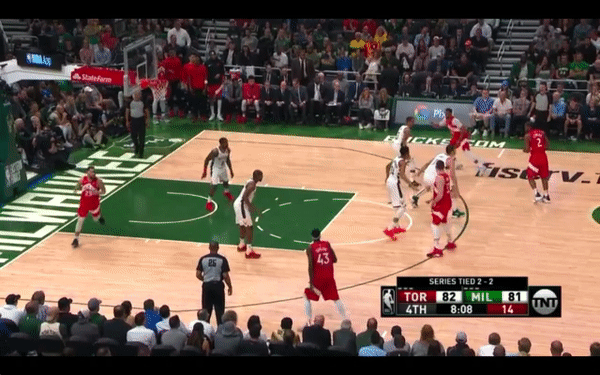 Though it's much easier said than done, the way to stop Antetokounmpo and the Bucks is actually pretty simple: Stop them from running. The Raptors have effectively managed to do that so far.
Closing out hard on shooters
The Bucks like to take a lot of threes, but that doesn't necessarily mean they're the most accurate.
During the regular season, Milwaukee averaged 38.2 three-point attempts per game – the second most in the league – but only shot 35.3 per cent from deep, good for No. 15 overall. In this series against the Raptors, however, their rate has remained about the same (39 attempts per game) but their efficiency has completely plummeted to 30.3 per cent.
Some of this has been odd bad luck on the part of Milwaukee's myriad of shooters, but give credit to Toronto's defence. More often than not, this is a team that's selling out on the Bucks' shooters, either forcing them off the line or at least getting a hand up for a semi-contest on what looked like open threes.
In the clip below pay extra attention to how far out Norman Powell goes to chase down and contest Malcolm Brogdon's look after Antetokounmpo is forced to pass out of the hard double-team.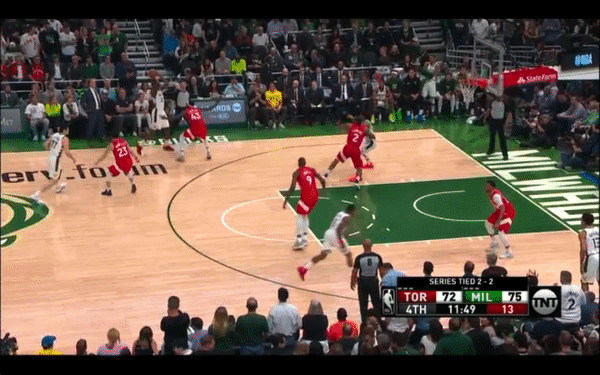 That's all-out effort to try to change a shot – if even a little – and is a small thing that's had big ripple effects on the success the Raptors have had in slowing Antetokounmpo down, showcasing how unsuccessful the Bucks have been in punishing the Raptors whenever they've decided to send extra help Antetokounmpo's way.
The Raptors won't let their spirits be broken
Lastly, while this doesn't have anything to do with the X's and O's of what the Raptors have managed to do against Antetokounmpo, it's still worth noting that no matter how much he tries, Antetokounmpo simply can't intimidate the Raptors or suck their spirit out of them the way he's managed to against just about every other opponent this season.
An under-reported part of Antetokounmpo's game is the way seems to beat teams into submission with his relentless need to dunk on his competition.
Because of his unique blend of length and strength, Antetokounmpo will eventually break through and find a few jams that get him going, leading to even more wherein he'll start to snarl, flex and try to intimidate his opponent.
This is a tactic that usually works. But against Toronto, no matter how much force he's managed to boom a slam home with or the number of mean mugs he's had, it hasn't phased the Raptors in the slightest.
For example, take a look at this Antetokounmpo alley-oop that pulls the Bucks within a point with about two minutes to play. It was well-executed and it managed to keep a nervous Fiserv Forum actively engaged.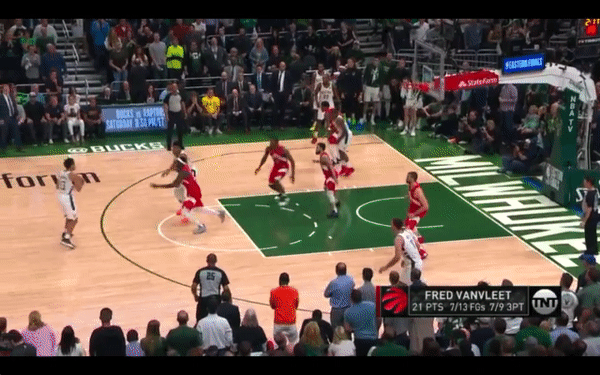 This was an emotional play at a very key moment of the game and threatened to swing momentum in Milwaukee's favour. But then, cool as ever, Leonard took a pull-up three. He missed. But right away he managed to track down that miss with Antetokounmpo right there underneath the basket and draw a foul.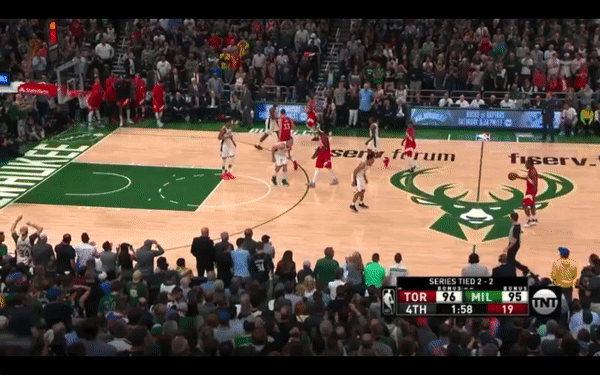 Antetokounmpo was seen visibly upset with himself, and while he could only shake his head at being unable to come down with a rebound that should've been his, Leonard calmly drilled both free throws.
It's a sequence that serves as a good metaphor for the series that Antetokounmpo and Leonard are having, in general. Antetokounmpo is trying his best to make an impact, but it's just falling on deaf ears, his decent boxscores looking more like empty calories. Meanwhile, every move Leonard makes seems to be that much heavier.
It's the difference between a man who's been told he's the MVP and one who's playing like the MVP.