Every new NBA season brings its fair share of surprises. But for the Toronto Raptors that wasn't really supposed to be possible.
While the team underwent a good deal of roster turnover during the off-season, the coach and veteran core remained the same.
But so far there have been several unexpected — if not unlikely — developments, and many of them are showing up on the stat sheet. Here are five of them:
Surprising Stat #1: DeMar DeRozan is averaging 4.9 assists per game
When Dwane Casey said this past summer that he wanted to use DeRozan as more of a point guard, it seemed like the kind of off-season storyline that quickly disappears when the regular season begins. Like how just about every athlete in every league in the world is in their best shape ever a week before training camp starts. Or, you know, the off-season buzz about how DeRozan was wowing everyone with his three-point shooting.
But through 22 games, DeRozan is proving as good as his coach's word. He's averaging nearly a full assist more than his previous career high of 4.0, set back in 2013–14 and matched in 2015–16.
His 4.9 assists per game lead all shooting guards not named James Harden, who is pretty much a point guard now even with Chris Paul as his new running mate. And in his last 10 he's been even better, with 5.7 per game.
DeRozan's improvement in this area has also helped the Raptors move from last in the league, with 18.5 assists per game in 2016–17, to fifth so far this season with 23.6.
Take that, SI ranking.
Surprising Stat #2: The Raptors are still somehow 10.1 points per 100 possessions better with DeRozan off the court
Speaking of SI, DeRozan's on-off-court numbers were used against him when the website ranked him the 36th best player in the NBA over the summer.
"For five straight years, the Raptors have performed better with DeRozan off the floor," wrote SI's Rob Mahoney.
This assessment is based on numbers you can find in the play-by-play section of DeRozan's basketball-reference page, but many Raptors fans took issue with it for obvious reasons — ie. no one player is responsible for the entire scoring output by both teams while he's on the floor, and, also, DeRozan is most often matched up against top-line opponents.
That said, given the fact that DeRozan has become more of a distributor this year, you'd assume the on-off numbers might be tilting in his favour. But no. Somehow, they've gotten worse:
| Season | On-Off |
| --- | --- |
| 2012-13 | -1.9 |
| 2013-14 | -0.3 |
| 2014-15 | -0.9 |
| 2015-16 | -6.1 |
| 2016-17 | -4.7 |
| 2017-18 | -10.2 |
At least he's got company: Kyle Lowry, who was a +8.7 last year, is a -8.4 this year.
The Raptors' leader in the stat in 2017–18? Bruno Caboclo. Based on his seven-minute sample, the Raptors are 72.5 points per 100 possessions better with him on the court.
Also note: That's clearly ridiculous on a number of levels, and I'm not seriously holding that up as meaningful of anything.
The Raptors' leader among guys who've played at least 300 minutes is Fred VanVleet, with +17.8. The other leaders are primarily bench players as well, which just proves what we already knew: the Raptors' bench tends to be better than most other NBA teams' benches, and that's the basis for a good chunk of the team's regular-season success.
So is the team really better without DeRozan? No, of course not. Imagine how badly the Raptors' starters would get burned most nights without him.
That said, I do think it's kind of funny.
Surprising Stat #3: VanVleet is leading the NBA in net rating
According to NBA.com, VanVleet has an offensive rating of 114.1 and a defensive rating of 95.2, giving him a net rating of 18.9 — which is the best in the league among qualified players. For comparison's sake, Steph Curry is sitting at 16.6. James Harden is at 13.2.
The stat is essentially an estimate of how much better per 100 possessions the Raptors are than their opponents when VanVleet is on the court, so (similar to the discussion above) there are more factors at play here.
But still… not bad for an undrafted, second-year, third-string point guard. VanVleet's proving he's a player.
Surprising Stat #4: OG Anunoby has taken four mid-range shots
This piece could've been entirely built on surprising Anunoby stats. How about: 22 games played (a.k.a. 100 per cent NBA attendance).
Or: 10 starts.
Or: 41.7 3P%.
Anunoby wasn't supposed to be recovered from ACL surgery in time to start the season (a major reason why he fell to the Raptors in June's draft), and he wasn't supposed to be much of a three-point shooter either — he shot just 31.1 per cent from the shorter college line in his shortened sophomore season.
"The biggest key to Anunoby's ability to find an offensive role at the NBA level will be his jump shot, which is somewhat of a question mark at this stage," Jonathan Givony of Draft Express wrote before the draft.
But while his quick recovery and better-than-expected long-range game have both been noteworthy, his mature shot selection and new-age-NBA offensive mindset stand out even more.
Anunoby has taken 109 shots in his rookie year, and 105 of them have come in the immediate basket area or from three. That's in stark contrast to the Raptors of recent years, who were so often blasted for taking low-percentage long twos.
His shot chart is a prototypical-three-and-D-man thing of beauty: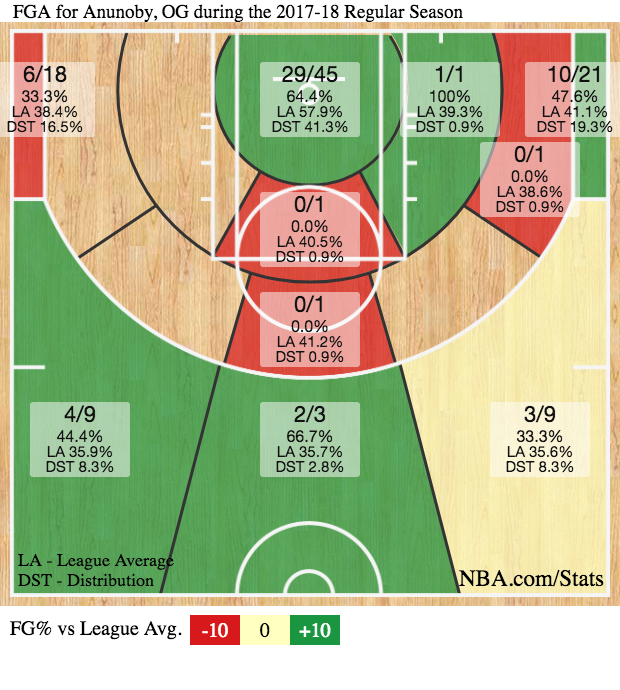 Surprising Stat #5: Jakob Poeltl is taking 10.6 FGA/36
Years from now when Poeltl starts suiting up in the Big 3, don't bat an eye when he looks less than stellar out of the gate.
I mean it: The Austrian big man made a huge leap between years one and two in the NCAA, and he's done the same thing in the NBA.
In his rookie year in 2016–17, he rebounded the ball well as he got used to the pro game, but was invisible on the offensive end of the floor. He took just 6.6 shots per 36 minutes (which netted him only 9.5 points). That ranked him 457th of the 486 guys who suited up, below offence-averse guys like Bismack Biyombo and Tristan Thompson.
But among several other things, that's changed in year two. His 10.6 takes per 36 don't make him Russell Westbrook or anything, but they represent a huge leap and put him ahead of some more-noted shooters, such as Trevor Ariza and Wilson Chandler.
The uptick in shots has come along with a huge jump in efficiency. Not only is he taking four more shots per 36 minutes, but he's bumped his FG% from 58.3 in his rookie season to 69.6 in his sophomore year. That latter figure currently puts him first in the NBA.
Add it all up and he's currently sitting second on the team in player efficiency rating — at 21.2 — behind only DeRozan.