TORONTO – A championship parade, in Toronto, this time for real and not uttered in sarcasm about the aspirations of the local teams, should be a coming of age moment for a city long tormented by a sports history of frustration and disappointment.
Masai Ujiri did many things in helping the Raptors win the NBA championship being feted Monday, but none more important than working to eradicate the air of defeatism that seemed embedded both in the local psyche, and in the way executives sometimes operated.
Toronto is a glamour market and Ujiri behaved like it. He refused to hide behind the nobody-wants-to-come-north nonsense that at times weighed down the Raptors, Blue Jays and even Maple Leafs. He swung big, the way a team in a city as sizable and economically powerful as Toronto should.
And in doing so, he built upon what the Blue Jays demonstrated during their runs to American League Championship Series in 2015-16, and showed athletes around the continent that Toronto is a really, really special place in which to win.
"Toronto is a selling point. It's a selling point," Paul Beeston, the Blue Jays president emeritus who oversaw the club from its inception in 1977 through 2015, blares into the phone. "All you have to do is to be in this city. You don't think people in the United States, players in the NBA witnessed what happened here with Jurassic Parks going up across the country, the loudness, the price of the tickets and the interest? It's a place you'd want to play. It's a selling point.
"Yeah, you have issues, but they're not major issues. They're issues that can be dealt with. … There's a very, very compelling case to be made that this is a place you want to play – if you're committed to winning. Because if you're committed to winning, you don't have a problem."
Beeston and Hall of Fame general manager Pat Gillick proved that when the Blue Jays lured prime free agents like Jack Morris, Dave Winfield, Paul Molitor and Dave Stewart north, carried the highest payroll in baseball and won consecutive World Series titles in 1992-93.
The usual digs thrown Toronto's way – the taxes are higher; customs are a pain; the lack of ESPN; Antonio Davis' infamous concern about his children's education being hampered by learning the metric system at school – weren't an issue for a team well-run.
The Blue Jays ran out quality clubs from 1983 onwards, and when their initial core couldn't get over the hump, Gillick rewired the clubhouse by flipping Fred McGriff and Tony Fernandez to San Diego for Roberto Alomar and Joe Carter and then cleverly augmenting that group.
Along the way the Blue Jays became a place players went to win championships – with both Winfield and Molitor signing in Toronto for just that reason.
"What players want to do is win – when they get to the level of being major-league players, they all want that opportunity to play for the championship," says Beeston. "There wasn't an issue with Jack Morris, with Dave Winfield, with Paul Molitor. It wasn't even an issue when we got Roger Clemens. They came here because they wanted to win and they had an opportunity to play into October. We were able to show players we were committed to winning."
A similar formula worked for the Maple Leafs last summer when Kyle Dubas methodically worked to land John Tavares, the type of prime, franchise-altering free agent that had long eluded the club's grasp. Building upon the promising foundation of Auston Matthews, Mitch Marner and Morgan Rielly, the incisive GM of a team that should be the NHL's New York Yankees acted like he ran the NHL's New York Yankees and got his man, even though the taxes were better elsewhere, and the media would have been lighter, and yadda-yadda.
Look, winning a Stanley Cup is great anywhere, but save for Montreal maybe, truth is it would greater doing it in Toronto.
The wild celebrations triggered by the Raptors' dispatching of the Golden State Warriors is, in part, a result of Ujiri's unburdening the franchise of the trauma left by the flights of players from first first-rounder Damon Stoudamire to Tracy McGrady to Vince Carter to Chris Bosh. At times, it felt like the franchise was in countdown mode with each new star that arrived, as if the thought of Toronto being a place where they would want to stay was impossible to fathom.
To that end, the relative lack of hand-wringing over whether Kawhi Leonard will stay or go since the remarkably bold deal that sacrificed the devoted DeMar DeRozan to the San Antonio Spurs for the superstar forward, is progress.
Whatever Leonard decides during his pending free agency shouldn't become a referendum on the city, or the franchise. The Raptors run a program strong enough that attracting other star players shouldn't seem like the stuff of fantasy.
Ujiri's message after the acquisition of Leonard should be heeded.
"The narrative of not wanting to come to this city is gone," he said then. "I think that's old and we should move past that. Believe in this city. Believe in yourself. We can stop talking about coming to the city or wanting to come to the city – that's old talk. We want to win. We have a privilege and an opportunity to be one of the NBA teams here. That's a huge privilege for us and it's our jobs here to try and get these players. It's our jobs to try and sell it to these players here. But we're proud of who we are. We're proud to have these guys. We're proud to have the young guys we have. We're proud of what Kyle (Lowry) and everybody have done here. So let's move past that narrative of wanting to stay here or wanting to come here."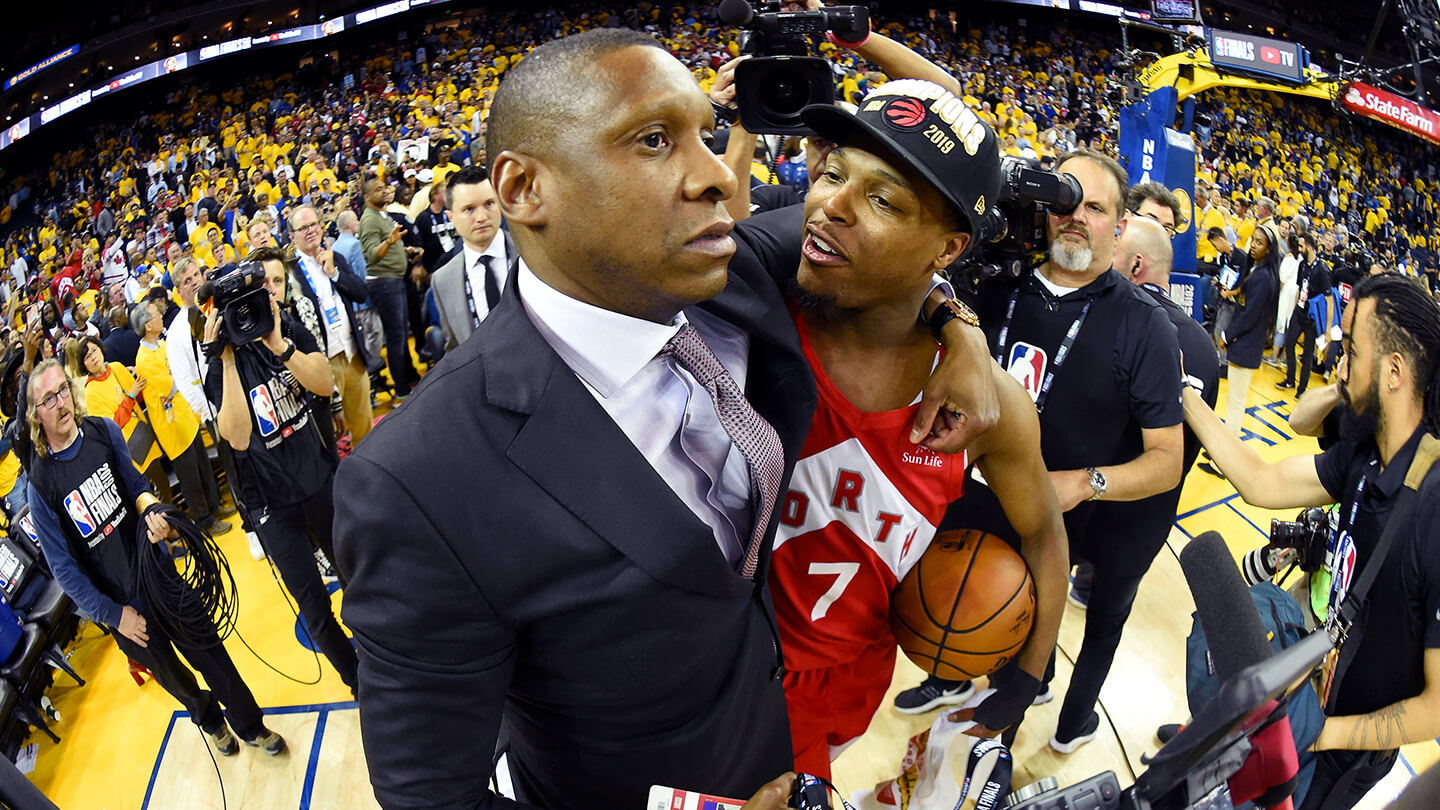 Dubas is on that train. The Blue Jays, under president and CEO Mark Shapiro and GM Ross Atkins, shouldn't be afraid to jump aboard, too, and accelerate their current rebuild by flexing some of that clout.
Run a program worth being a part of and Toronto is a prime, prime sports destination.
"I've always believed that. I believe it with us, the Raptors, everything. Toronto and Canada is a selling point, it's not a detriment," says Beeston. "Our arena is downtown, the stadium is downtown, you have the Entertainment District, great restaurants, different areas in the city – who wouldn't want to be here? Toronto is a sales tool, a positive for getting players to come here. But you have to want to win."
The Raptors really wanted to win, and did, in the process reminding a city of what it is, and what it should be.