TORONTO — During a stoppage in play a minute and a half into the first of what would be two dramatic, tense and dogged overtime periods Sunday, Toronto Raptors head coach Nick Nurse told his point guard Fred VanVleet to run one of the team's set plays. The design had VanVleet, the ball in his hands, dribbling around a screen at the right elbow while Danny Green, who was camped out in the left corner, darting along the baseline to the opposite side of the floor and running around a Marc Gasol screen with his hands up ready for a pass. If everything worked the way it was intended to, Green would have a split second of space for a catch-and-shoot three.
At the time, the game was tied and hanging very much in the balance. And Green was having an awful shooting night, missing all eight of his attempts, including five from beyond the arc. But when he checked into the game after a long absence late in the fourth quarter, replacing the fouled-out Norman Powell, who was thoroughly outplaying him on the night, Green had a quick word with Nurse that gave his coach the confidence to call the play.
"We put him back in and I said to him, 'You've got to hit one here for us here, man,'" Nurse remembered. "And he goes, 'I will.' And I said, 'OK.' So, we drew one up for him and he knocked it down."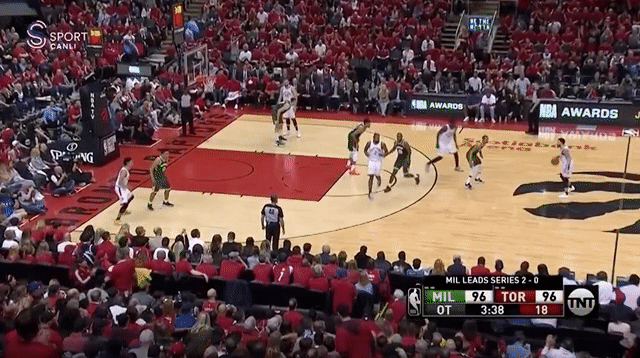 He sure did. And the Raptors ultimately won a game they desperately needed to win. But still, considering the night he was having, the playoffs he's been having and the consequence of the moment, was Green surprised to see that play called for him?
"Yes, I was — I was very surprised," Green said. "I told Nick [Nurse] to stick with me. I had one in the chamber for him at some point. Luckily, it came. And he called my number. For a coach to do that, to have the confidence in me, to be 0-for-8 at the time, and actually hit the next one, or call a play for me in double overtime, and one went in — it felt good. Hopefully, it starts a rhythm, builds for next game."
That would be a welcome — perhaps necessary — occurrence as Green continues to suffer through a shooting slump that's lingered for most of his post-season. His field goal percentage has dropped 12 points from the regular season. His three-point percentage, 10 points. His effective field goal rate (down nearly 15 per cent) and true shooting (down 10) have followed suit. It's hard to imagine the Raptors winning this series if those trends hold.
Green's contributions in other areas — assists, rebounds, steals, blocked shots, you name it — have all remained consistent. It's just the shooting. And that's troubling, because it's the part of his game the Raptors currently need the most — particularly from beyond the arc, where Toronto is converting at a 33.3 per cent clip in the playoffs, the lowest of the final four teams.
It doesn't look any better the further you break it down. The Raptors have shot 33 per cent on three-pointers classified as either open or wide open by NBA.com in the playoffs, down from 38 per cent during the regular season, and 43 per cent in the 23 games after the all-star break.
Over 15 playoffs games, Green's at 38 per cent on those open and wide-open looks, a drop from the 48 per cent he hit during the regular season. The samples are obviously vastly different, but a comparison of Green's shot chart from the regular season (left) to the playoffs (right) is telling: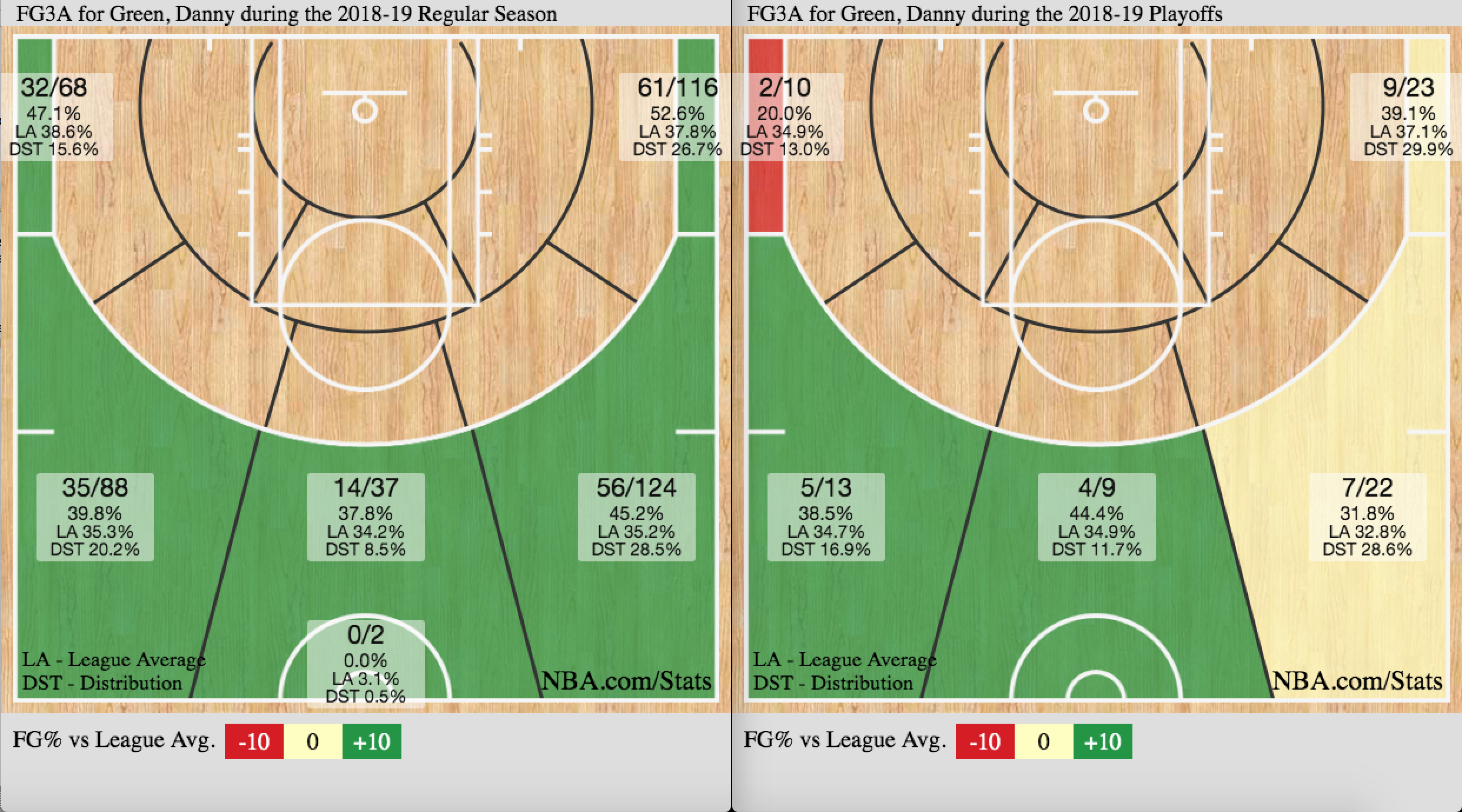 Green's struggles in the corners are particularly baffling, as he's shot only 33.3 per cent (11-of-33) on what should be his highest-percentage opportunities. He hit over 50 per cent of those looks in the regular season, on his way to setting a career mark for three-point shooting at 45.5 per cent. Only Brooklyn's Joe Harris (47.4 per cent) shot better. Even the prolific Curry brothers, Seth (45 per cent) and Steph (43.7 per cent), didn't shoot as well. So, what exactly is going on here?
"I think it's just part of the game. Sometimes you get good looks, sometimes miss them," Green said. "I didn't think I had a great rhythm last game. Sometimes it happens that way. There are no concerns right now. Some of them were off balance, some of them were maybe rushed. But, for the most part, I just missed. You've got to keep taking those shots confidently.
"My thing is, regardless of whether I'm making shots or not, I have to find other ways to impact the game. And that's blocking shots, getting rebounds, getting steals, being active defensively. Getting on the offensive glass and trying to push people or trying to get tip-outs. Creating space by running the floor and giving those guys lanes to attack the rim. Obviously, I would love to make shots. I think we all would. And my teammates would love for me to make shots, too. So, I'm going to do my best to try to help them. I need to help them. But I've got to find other ways to impact the game."
Of course, there is more to basketball than only shooting, and it speaks to the all-around influence Green has on his teammates that despite shooting so poorly he's currently tied with Kawhi Leonard for second on the Raptors in net rating (9.5) this post-season, closely trailing Kyle Lowry (11). When he's been on the floor in these playoffs, the Raptors have outscored their opposition by 88 points. When he's been off the floor, the Raptors have been outscored by 21.
Playing with Toronto's starting unit, which has been one of the most effective lineups across the league throughout the post-season, certainly helps. But it's not like Toronto's starters have played so well — they've won their minutes in Games 1 and 3 of the Milwaukee series — in spite of Green. He's contributing in other ways. Game 2 wasn't his best night, no doubt. But when Nurse looked back at the film of Game 3, he saw all the little things Green was doing that helped his lineups be productive.
"I thought he ran the floor a little harder, I thought he cut more decisively on offence rather than just kind of sitting in the corner and hoping something came to him. I thought he relocated a little bit better," Nurse said. "So, we're going to try to continue to stress him moving a little bit harder and a little swifter, and maybe that'll shake him free. And again, geez, I still think the guy's a really, really good shooter. He's a really, really good, proven playoff shooter. And he's got a chance, I think, to impact the series still."
If there is a podcasting odd couple, this might be it. Donnovan Bennett and JD Bunkis don't agree on much, but you'll agree this is the best Toronto Raptors podcast going.
For Nurse and the Raptors, it would certainly be nice, and maybe even essential. Getting one of those hot three-point shooting nights from Green — whether it's 4-of-7, 5-of-10, 6-of-9 — like he's had on various playoff runs with the San Antonio Spurs, or like he had throughout his first season with the Raptors, would be a massive relief for a struggling offence that's scoring 99.1 points per 100 possessions through the first three games of this series, down from 108.5 in the first two rounds, and 112.5 during the regular season.
Remember, it was Green going 5-of-7 in Game 5 of the Philadelphia series that helped give the Raptors the cushion they needed to run away with the game. That was the eighth time in Green's playoff career that he's hit five or more threes in a night. He's more than capable. The problem is that in 15 games this post-season, that's the only time he's sunk more than three.
The Raptors have plenty of ways to analyze Green's shot and determine if anything's awry mechanically. Nurse says they've checked the film, looked at how the ball's coming out of Green's hands, the positioning of his feet. No answers there.
"We like to check all those things just to make sure they're lined up — we do that after each and every game just to see if anything sticks out," Nurse said. "And nothing's really stuck out for us with him."
Of course, technique and mechanics are the last thing Green wants to think about right now. No one's more aware he's slumping than him. And over the last two games, he's watched his minutes bleed slowly to Powell, who's gone 7-of-13 from deep in the series.
But the thing about being a shooter like Green is you learn how to ride both the hot streaks and the cold. At times like these, you don't tweak your shooting motion, you don't over-analyze, you don't think endlessly about all the ones you've missed. You just keep shooting without hesitation. Like Green did when he came off that Gasol screen during overtime Sunday night.
"I have to give a lot of credit to my past history coaches for maturing me not just as an adult but as a basketball professional," Green said. "Chad Forcier, Will Hardy, those guys, every day were just telling me, 'Don't worry about the last shot. Think about the next shot because the next one could be a big one. You could be 0-for-9 and nobody cares or even remembers it because that 1-for-10, that one shot could be a game-changing three or a game-changing pull-up, whatever it may be.'
"If you're too worried about the last shot, you're not going to make the next one. A lot of coaches did a great job of letting me mature as an adult and professional shooter to not let those other shots be in my mind. So, when I came around the screen, I didn't think twice. I just thought the next one was going in."