TORONTO – If you are tempted to feel badly about Norm Powell and his plight, don't.
First, he most certainly doesn't want it. And second, he doesn't deserve it.
Now, let's not be heartless about this. Powell is as genuine an athlete as you'll come across – approachable, committed, professional – the type of person it's easy to root for.
So when he's struggling both with his game and his confidence, it's only natural to sympathize. We've all had bad days, weeks or months, it's just they rarely come with stats and video as proof.
But dealing with very public failures is part of the job description as an NBA player, and if you can't? They'll find someone who can.
Toronto Raptors head coach Dwane Casey is a kind soul, but he didn't feel the need to tip toe around the situation Powell finds himself in, where every move he makes seems to make the season-long funk he's been in a little worse.
"We're pros. No one is going to feel sorry for anybody," Casey said. "We'll try to help him as much as we can as staff, extra work, extra film work, encouragement if need be, but we're professionals. When we go in [to games] we have to go in and do our job, whether we feel like we've been slighted, we're frustrated or whatever, we're pros.
"That's what they're paying us for, to do our jobs under stressful situations or maybe uncomfortable situations … I understand it, but I don't feel sorry for a guy going through [tough times] because that's what we're here for. To do our job."
Livestream the Raptors and other marquee NBA Playoffs matchups, including Games 2, 3 and 6 of the Raptors-Cavaliers series. Plus, get coverage of the NBA Finals, NBA Draft & NBA Awards.
The Raptors' third-year guard gets it – he thought he'd be playing a lot better this season, too. That he's lost both his starting role and any regular opportunity with the second unit and now – seemingly – even a chance as an injury replacement wears on him, but he's not broken yet.
"You just put so much into it … you have high expectations for the way you're gonna come out in your third year," he said after the Raptors practiced at BioSteel Monday. [But it] it doesn't go the way you expected, different things happen. That's the journey. You're gonna come along bumps and little barriers in your way, so [it's] how you handle them, how you come across them, how you view 'em, to keep going and move past the obstacles that are in front of you.
"For me, it's always been about hard work and continuing to fight through anything. It's gonna turn around, and I don't care what anybody thinks of me, anybody's views of me. I know who I am as a person, I know what I put into this game. My teammates know, the coaches know, the organization knows, and [I'm going to] stick with that and just keep working."
Now would be a good time for Powell to regain the form that convinced the Raptors to make him the starter at small forward coming out of training camp and reward him with a four-year, $42-million contract extension earlier this season, a deal that is looking like a rare miscalculation by Raptors president Masai Ujiri.
It's been a season of downs without many ups for Powell.
The latest indignity coming Sunday when rather than start him in place of injured rookie OG Anunoby against the Charlotte Hornets, Casey gave the opportunity to Malcolm Miller, who has spent almost the entire season with Raptors 905.
And after Miller did little to distinguish himself in 14 minutes, Casey promised that someone else might get a shot to start against the lowly Atlanta Hawks on Tuesday night at the Air Canada Centre.
If there is a podcasting odd couple, this might be it. Donnovan Bennett and JD Bunkis don't agree on much, but you'll agree this is the best Toronto Raptors podcast going.
Could that be Nigel Hayes, the G-Leaguer who Toronto reportedly signed to a 10-day contract on Monday afternoon? Hayes has shot 44 per cent from the three-point line on nearly six attempts a game in the NBA's minor loop, which is likely the primary reason he's getting a look.
Maybe Casey decides to try Delon Wright?
Who knows, but that it's not likely to be Powell speaks volumes about his current status.
He's had slumps before but prior to this seson some high-water moments always balanced them out.
As a rookie in 2015-16 he came in with low expectations as a second-round pick before playing a vital role starting in place of an injured DeMarre Carroll. Powell seemed to get better week by week and after the all-star break averaged 9.6 points and 3.4 rebounds in 22 minutes a game while shooting 45.5 per cent from three.
In the playoffs he delivered one of the most pivotal performances in franchise history, scoring 13 points on six shots in 22 minutes off the bench in Toronto's Game 7 win in the first round over Indiana.
Last season Powell distinguished himself in the playoffs again, this time in the second round against Milwaukee, when he was inserted as a starter in Game 4 with the Raptors trailing 2-1 and hit all nine of his triples for the remainder of the series as Toronto came back and won in six games.
The ability to hit threes, attack the basket against a rotating defence and defend above his weight class were all attributes that made the Raptors comfortable starting Powell out of training camp this year and signing him to a lucrative extension.
But it's all gone wrong so far.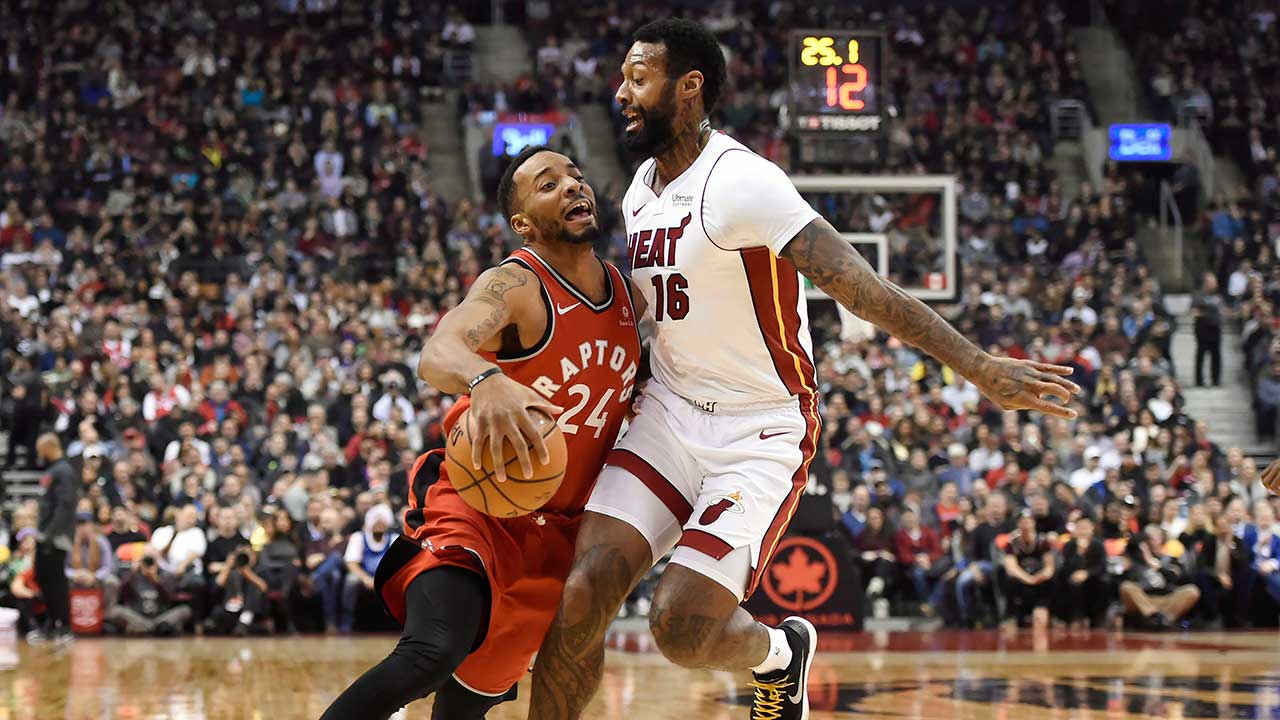 Powell has struggled. He's shot just 29 per cent from three and generally looking out-of-sync with the ball, and his outing against Charlotte might have been a low-point as in just four minutes he clanged two open threes, looked lost on what was an open lay-up and got drawn into fouling the Hornets' Kemba Walker on a three-point attempt. He didn't see the floor for the rest of the game.
He's in the worst kind of basketball Catch-22: If he doesn't perform he doesn't get minutes, but if he doesn't get minutes it's tough to perform.
"I've been caught in that pressing, like worried about making something happen, and it's not happening," he said. "You've just gotta go out there and clear your mind and just play basketball the way you've been playing it your whole life. … Things are gonna switch around."
The Raptors hope so. Powell is popular with his teammates and he's had enough impactful moments where they know he can turn around any given game or series.
"A lot of the things that he went through weren't ideal, but he fought through it and pushed through it and came out on top of it," said DeMar DeRozan. "Go back to his rookie year: Up and down in the D-League, not playing much, start, don't play, next thing you know you're a part of us winning a series in the playoffs, playing in the Eastern Conference finals. That goes a long way.
"Even last year, him not playing much, we start him in a playoff game and we win the series from there on out. It speaks volumes of the type of player that Norm is and the heart that he's got. As long as he understands that and knows he has that in him he'll be fine."
In a perfect world Anunoby would come back from his ankle injury refreshed and ready to augment his defensive contributions with the elite three-point shooting he had on display in November and December, but if he doesn't a rejuvenated Powell would be more than welcome – he could be essential.
"We're going to need Norm Powell," says Casey. "There is no question his game fits more of a playoff style than a lot of guys because he's in attack mode, he's physical, he's mentally tough, he can take contact. His game fits in a playoff game and we're going to need him that's why we're trying to keep him – as much as we can – keep him engaged and on the court."