TORONTO — And now the adjustments begin. As an NBA head coach, you're always adjusting. But the importance of those adjustments — the scrutiny, too — is never higher than in the playoffs, when you compete against the same team at least four, and as many as seven, times consecutively, with each win or loss carrying increasing influence over what you'll be doing next week.
But it's a tough balance when the quality of your process isn't necessarily reflected in your result, as is the case for the Toronto Raptors, who lost to the Orlando Magic Saturday night, 104-101. The Raptors did plenty of things well. They shot better than their opponents, they committed only one more turnover, they had a higher assist rate, true shooting percentage, and effective field goal rate.
But they still lost. And there are still a handful of discernible reasons beyond mere chance that led to that loss, beyond the defensive communication breakdown on DJ Augustin's game-winner.
Raptors head coach Nick Nurse will spend the next 48 hours or so honing in on them as he prepares his team for Tuesday's Game 2.
"There's some adjustments to be made. There was adjustments to be made at halftime," Nurse said. "There was enough of the game where I thought that we did a lot of things really well. You can look at holding them to 40 per cent. But they doubled us in free throws. They made 18 to our nine. That's a bad stat to win the game. And they made more threes than we did. And that's another bad stat to win a game in this day and age."
It certainly is and the single biggest change the Raptors can make between games one and two is that simple one — hit more threes. Easier said than done, obviously. But the Raptors shot 33 per cent from distance in Game 1 — they shot 37 per cent during the regular season, and an NBA-best 41.5 per cent after the All-Star break — missing an array of open looks that could have easily changed the entire narrative of this series heading into game 2.
Here's how the Raptors' shot chart looked at the end of the night. That's a lot of red X's on high percentage looks in the corners: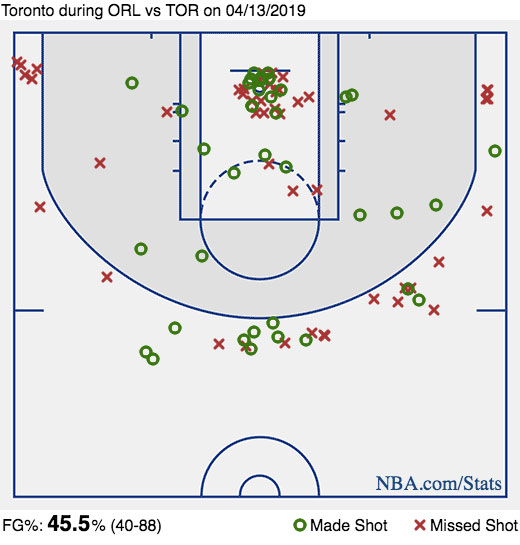 Presumably, Kyle Lowry won't go 0-for-the-series. And Pascal Siakam — who was Toronto's best player at both ends in Game 1 — has room to improve, as well. Shooting threes was the one element of Siakam's game that didn't shine Saturday, as he looked hesitant at times to pull the trigger, and a little awkward on the occasions he did.
Danny Green missed a few from the elbows he normally drains, as well. And Marc Gasol had a critical shot go in-and-out late in the fourth quarter. Of course, you can comb through any NBA game and find dozens of missed opportunities like that. But when the margin of defeat is only three, these things stand out.
And that the Raptors were often missing good looks is encouraging. You have to assume their fortune will turn. When Nurse watched the game back, he saw about a half-dozen possessions, particularly early on, in which he thought his team forced an attempt or settled for a poor look too early in the shot clock. Otherwise, he was happy with the shots his players were selecting.
"I think we had a lot of really, really good looks," Nurse said. "You think you're clear on what you're doing and the guys have a grasp of it. But you don't know until you go out there and see it. And you have to kind of move it from clear to crystal clear, maybe. And just make sure that you turn those six offensive possessions that you didn't like, maybe you cut that in half. And the five or six defensive mistakes that you make, cut that in half. And then hopefully the in-and-outs go out-and-in, right? And maybe some of theirs go out."
Rebounding is another area for obvious improvement going into Tuesday. Coming into the series, it appeared one of the few advantages Orlando's roster would have over Toronto's was rebounding — Magic head coach Steve Clifford even brought it up unprompted on the podium prior to Game 1 as an area his team had to ace.
The Magic didn't blow the Raptors out of the water, winning the rebound battle 48-45, but they did have a significant edge on the offensive glass, where the Magic fought their way to 10 boards. Jonathan Isaac and Aaron Gordon, neither of whom play centre for Orlando, had three each, which speaks to how long, athletic, and pesky Orlando can be in the paint.
What can the Raptors do about that? Personnel-wise, the Raptors aren't built to be a terrific rebounding team, particularly after trading Jonas Valanciunas. Gasol and Serge Ibaka will get theirs, and Siakam finds his way to a handful every game. But, in order to beat a much-bigger Magic outfit, players like Leonard and Lowry will have to do their part.
Leonard wasn't credited with a box out on the night, while Lowry, who's a crafty, skilled rebounder despite his position and size, tied with Gasol at three. Everyone needed to do more.
"We had moments. I think most of that came with the second unit, with us, where we gave up a couple second shots," Nurse said of his team's rebounding. "[Orlando's] pretty long and athletic — and those guys go charging in. That's how they're going to play. Throw it up off the glass and play ping pong with it, right? So, we've got to shore that up a little bit."
One final adjustment? More running. The Magic really dictated the pace Saturday, slowing things down to a rate of 98.5 possessions per 48 minutes. That's right about where the Magic were during the regular season, while the Raptors tended to play quicker, which is part of how they became such a lethal team in transition.
Some of that may be inevitable, as pace typically decreases in the playoffs for all teams as players operate much more carefully and take fewer risks. But slowing things down was an early win in this series for the Magic, beyond the actual win they earned. Still, Nurse wasn't terribly concerned.
"I think, looking back at it, we actually had something like 23 per cent of our plays in transition. Pretty good, pretty high number, especially against that team," Nurse said. "We could push it a little bit more here and there. But you can kind of always say that. So, I thought we did okay there."
So, plenty to work on between now and Game 2. Plenty of adjustments to make. But the fine line Nurse will walk between now and then, is not overreacting. Sometimes you have a pretty good night, and just get beat.
"Saying all that stuff, if Marc's doesn't go in-and-out, and DJ's does, we're talking about something totally different today," Nurse said. "But we're not. So, we've got to play better, shore it up, get tougher, move the ball a little bit better, screen a little bit better, and rebound a little bit better. All of those things."