This NBA season has featured one of the best rookie classes in years.
With franchise-type players like Ben Simmons, Jayson Tatum and Donovan Mitchell, as well as a host of potential stars, 2017-18's rookies are set to alter the landscape of the league.
On Tuesday, the NBA announced it's All-Rookie teams, as voted by a panel of 100 media members.
To no surprise, those earning first-team honours include both Simmons and Mitchell — the candidates for Rookie of the Year — along with Tatum, who's currently starring for the Boston Celtics in their bid for a Finals appearance, Los Angeles Lakers breakout forward Kyle Kuzma and Chicago Bulls big man Lauri Markkanen.
Here are the 10 players named to the first and second all-rookie teams (total votes received in parenthesis).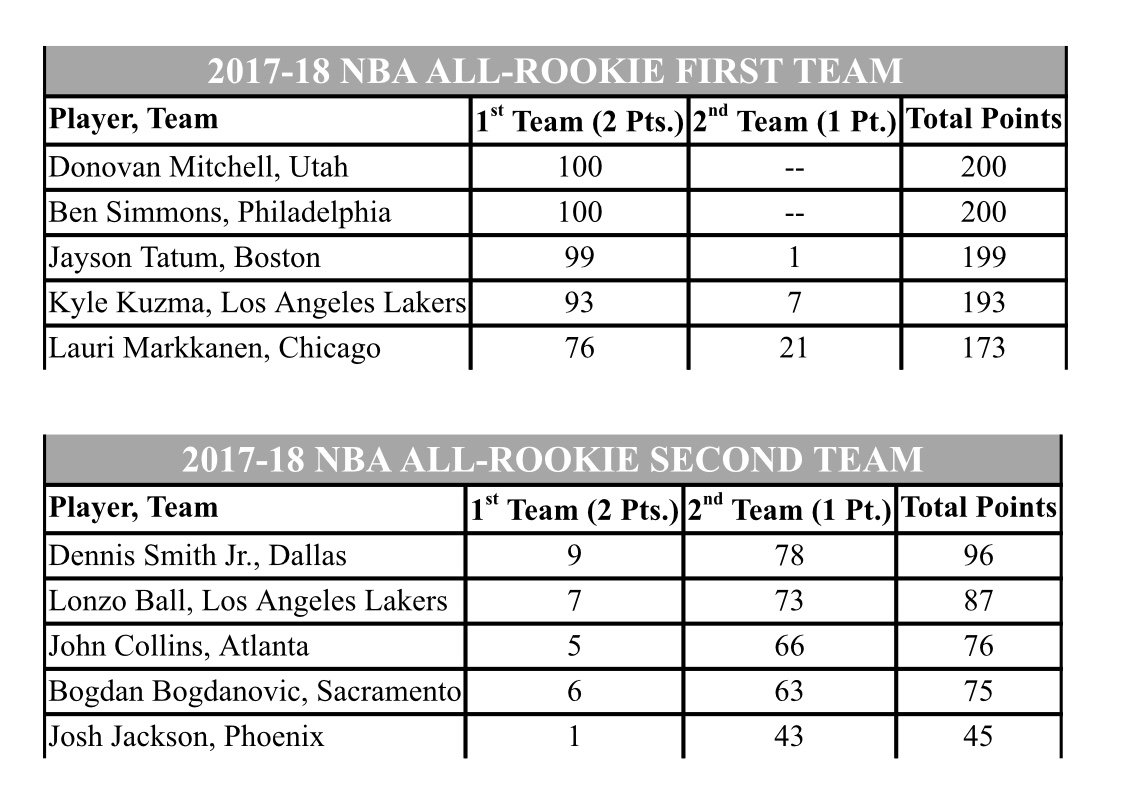 Simmons and Mitchell were the only unanimous decisions, while Tatum received 99 votes out of 100 (that vote going to Phoenix's Josh Jackson).
Among the most notable omissions are Sacramento Kings point guard De'Aaron Fox and Toronto Raptors forward OG Anunoby.
Yea eh

» https://t.co/ZVcoz3wXnt pic.twitter.com/5ilmGUsdee

— Toronto Raptors (@Raptors) May 22, 2018
The 20-year-old rookie finished 13th in voting, including two first-team votes.
Anunoby ranked 25th among rookies in scoring (5.9 points per game), seventh in three-point shooting (37.1 per cent), and 14th in minutes played (20.0 minutes per game).
After coming off the bench for his first 12 games, Anunoby started 62 games and became a mainstay in the Raptors' starting lineup, helping Toronto to the No. 1 seed in the East.
Full voting results will be revealed during the NBA's awards show in June.