TORONTO — The discussion following Sunday afternoon's Game of Thrones episode of a basketball game between the Toronto Raptors and Oklahoma City Thunder — which the visitors won, 132-125, halting Toronto's 11-game win streak in the process — will centre around officiating.
And rightfully so. Things went a little off the rails, as Toronto accumulated four technical fouls and three ejections in the final 11 seconds. The test of a well-officiated contest in any sport is whether you notice the officiating at all. That the referees were escorted off the court amid a full security detail tells you all you need to know.
But lost in all the disillusionment is the fact the Raptors did plenty to lose this game on their own.
"I'm not going to stand here and criticize officials," Raptors head coach Dwane Casey said after the game. "Because we made enough mistakes down the stretch, as well."
Let's start with turnovers. Oklahoma City is forcing an NBA-best 16.1 this season, so this shouldn't come as a tremendous surprise, but the Raptors needed to take much better care of the basketball Sunday.
Toronto coughed the ball up 19 times, and the Thunder scored 28 points off those turnovers, which is simply too much. Some were the typical turnovers that happen throughout the course of an NBA game. But others were uncharacteristically sloppy, like this strip of OG Anunoby:
"We shot ourselves in the foot," Casey said. "We missed some easy shots — lay-ups, free throws, turnovers."
Those shots missed were up and down the lineup, but nobody had a more frustrating night from the field than Serge Ibaka. He scored his team's first five points of the game, finishing a well-executed play with a three-pointer on Toronto's opening possession, before making a nice move to shake Paul George before hitting a fadeaway his next time up the floor.
But Ibaka missed his next nine attempts from the field, including three in the paint. He finished a team-low minus-23 in nearly 30 minutes.
"He just missed shots. It's a make-or-miss league. He had some good looks," Casey said. "A couple times he got antsy and tried to go a little bit iso. But some of the shots he had, we'll live with."
Another big issue, particularly in the early going, was the play of Thunder centre Steven Adams. Oklahoma City didn't miss much in the first quarter, shooting 75 per cent from the field and pouring in 40 points. But the Thunder were particularly effective at the rim, where Raptors centres had all kinds of trouble containing Adams, who went off for 14 points. Here's how Oklahoma City's shot chart looked after that first quarter: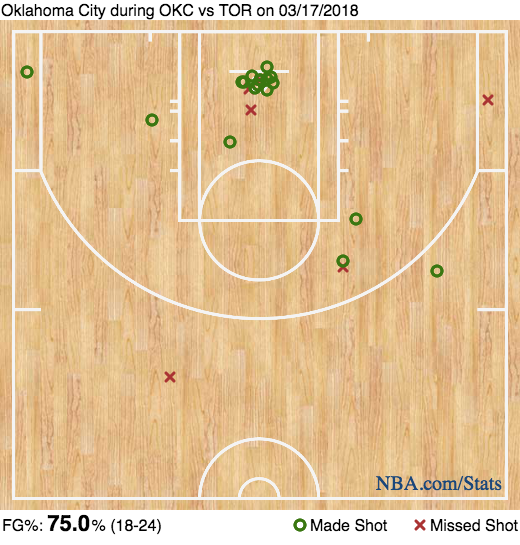 That's not what you want. And it's not like Adams was doing anything fancy. Jonas Valanciunas and Jakob Poeltl simply didn't prove up to the task of staying with him on pick-and-rolls. It didn't help that the Raptors lost Adams occasionally in transition, which allowed him to find his way to freebies like this:
"We did not handle the pick-and-roll with Adams. We didn't rotate properly, quick enough, get back in front," Casey said. "We've done it all year. It's nothing new. But the speed and the conviction you've got to do it with wasn't there for us tonight."
Meanwhile, Oklahoma City's speed proved difficult for Toronto to match from the onset, as Russell Westbrook pushed the pace up and down the floor and the Thunder frequently found good looks early in possessions. The Thunder played at a pace of 104.54 Sunday, more than a possession faster than any NBA team is averaging this season.
"That's what we're going to see in the playoffs," Casey said. "That type of speed, that type of physicality. and we have to do a better job. We've got to prepare them better in those situations to do a better job of getting back in front, challenging the shot, and then, when the shot goes up, we've got to game rebound."
Which was another issue: rebounding. While it wasn't as bad as when these two teams met earlier in the season — a Thunder blowout that saw Oklahoma City out-rebound Toronto 52-34 — it wasn't much better, as the Thunder pulled down 39 boards (Toronto had 31) including 14 on the offensive glass. That's how Oklahoma City ended up with 16 second-chance points.
Of course, some offensive rebounding is being in the right place at the right time, like Adams was here:
But some of it is just effort and positioning, like Westbrook showed here, grabbing a pair of offensive boards over several Raptors:
"It's about aggression. It's about playing against physicality," Casey said. "[Westbrook's] a handful. But he's the start of the problem. Now, everybody else has to get into position and rotate and make sure they get back to their positions in the right amount of time. And we did not do a good job of that tonight."
So, plenty to improve on for the Raptors after Sunday's mayhem. And that the game was tied with less than a minute to go despite all this speaks to how many good things the Raptors did. Toronto shot 57 per cent, put up 31 assists on 46 field goals, and hit 15 three-pointers. Plenty of Raptors had very strong nights offensively.
But if you want to beat a very good team like the Thunder, you can't have the missteps the Raptors did Sunday, regardless of which way the whistle's going. All the consternation over officiating wouldn't even be occurring if Toronto had executed better in a few very important areas. The NBA's referees need to be better. But they didn't cost the Raptors this game.