Welcome to the Toronto Raptors Prospect Report, where each month we check in with the progress of the up-and-coming Raptors honing their craft with the D-League's Raptors 905
Stats: 39.9 MPG | 25.6 PPG | 3.8 RPG | 4.0 APG | 45.2 FG% | 26.3 3P%
Lighting it up
Of the four Raptors who were expected to spend time in the D-League this season, it took Powell the longest to get assigned to the team's affiliate— and what a difference it has been playing in Mississauga compared to Toronto.
In 14 games played with the Raptors, Powell played 75 total minutes and amassed 19 points. He eclipsed that point total in his first game with the 905.
Powell's big scoring figures shouldn't come as a surprise given that he averaged 16.4 points per game in his senior season at UCLA. His relentless drives have been nigh impossible for opposing teams to stop, and he's even shown a little bit of playmaking with a few smart drive-and-kicks.
Simply put, in the five games he's played with the 905, Powell's been completely awesome.
Defence will be how he gets time with Raptors
As great as he's looked on the offensive end, if Powell's going to make it in the NBA it's going to be on defence.
"I think with him it's more of just getting reps as a key defensive stopper," says Raptors 905 GM Dan Tolzman. "In the D-League he's gonna be expected to come in and try to shut down the best player on the other team. In the NBA I don't know if he's there yet, where he's expected to go against the top scorers in the league, but for him to get on the court in the NBA that's where [his playing time] is gonna come from."
Head coach Jesse Mermuys sees great potential in Powell as a true lockdown defender, but feels like there's a lot he still needs to learn.
"He's gotta develop as a one-on-one defender as his specialty. Like a Tony Allen, or a Jimmy Butler, or a P.J. Tucker. Those guys that are all-defensive team-type guys that they make your life [very difficult]. Even when guys get 20-plus, which they're going to because it's the way that the league is setup with the foul calls, you make 'em work for everything, you wear 'em down. So he's gotta develop that.
"I think, right now, he's still playing some college defence. He's gotta learn how to play with his hands back — not being able to touch guys. That's a hard thing to adjust. It's a different game."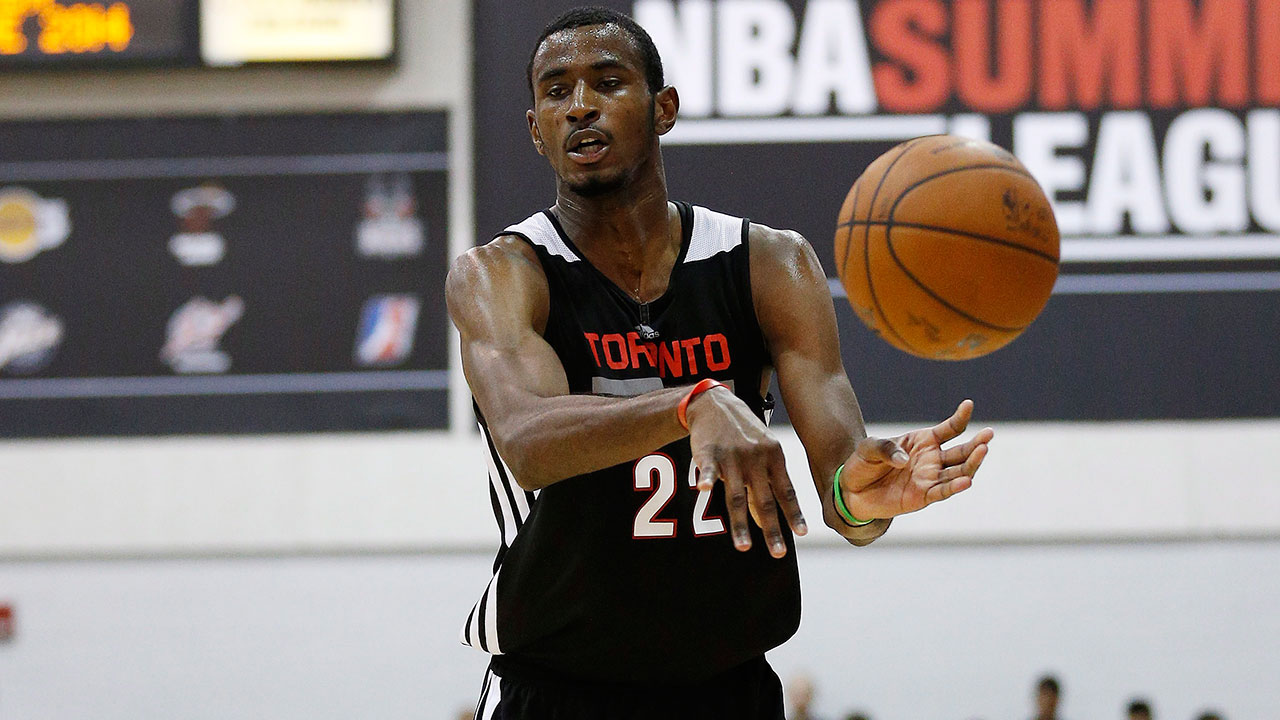 Stats: N/A
Recovering from injury
Daniels was taken by the Raptors in the second-round of the 2014 draft, but has yet to play for the team other than in the Summer League.
Now recently acquired by the 905, fans will have to continue to wait to see him play a game in the GTA, as he's recovering from a foot injury.
"DeAndre is going to be a little bit different of a situation because he's coming off of a broken foot this summer and he's still working his way back. I don't even know the timetable yet, but it'll be a little bit. I'd say a couple weeks," Tolzman says. "We wanted to get our hands on him and get our trainers and our guys rehabbing with him and getting him ready. That way, when he is clear to play, he's up to speed and ready to go, so we just plug him in and we can go."
He played a big factor in the Raptors getting the 905 established so quickly
While Caboclo and Nogueira were mostly talked about as the main developmental reasons for the Raptors pushing to get their own D-League team as quickly as they did, Tolzman explained Daniels played a very large role in the decision as well.
"He's one of the guys that when we fought to get a D-League team, and worked so hard to get one so quickly, he was a guy that was a reason for it because he's a draft-rights player that we have with the Raptors and last year he played down in Australia which is extremely far and hard for us to really track his development as a player.
"When the D-League opened up for us and we got an opportunity as a team, ourselves and him and his representation, we all agreed that this would be a great spot for him to continue his development and work towards one day, hopefully, competing for a roster spot on the Raptors team."