Welcome to the Toronto Raptors Prospect Report, where each month we check in with the progress of the up-and-coming Raptors honing their craft with the D-League's Raptors 905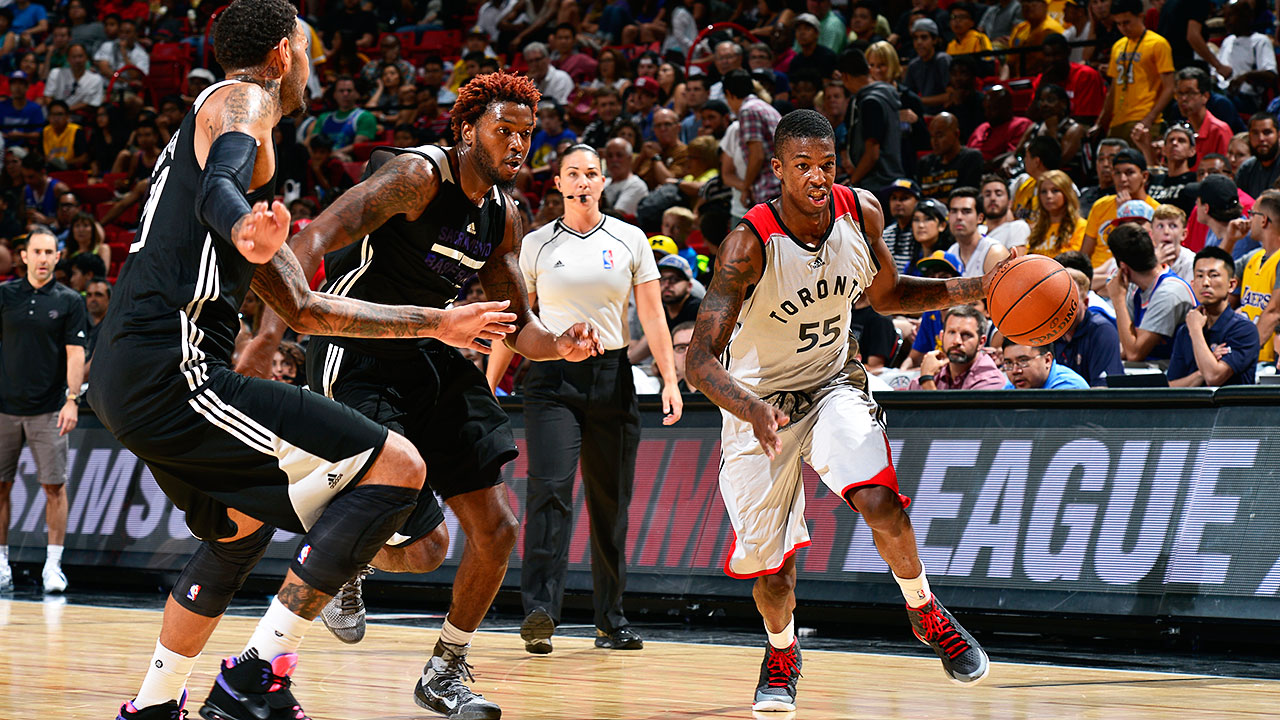 Stats: 36.1 MPG | 17.9 PPG | 4.7 RPG | 7.0 APG | 53.2 FG% | 36.4 3P%
Must improve defensively
Wright has looked unstoppable at times offensively with the junior club, including a 33-point outburst in his last start Jan. 2.
Yet despite earning praise for his defensive ability when he was selected 20th overall in last June's draft, Raptors 905 head coach Jesse Mermuys believes Wright has a long ways to go on that end of the floor.
"Defensively, he's not there yet, and physically he's not there yet," Mermuys says. "He has to put on strength, he has to put on size, his body has to develop."
General manager Dan Tolzman believes Wright is a good defender, just not in the way Mermuys or Casey need him to be yet.
"From Jesse's standpoint he's probably talking more of on-the-ball and one-on-one defence," says Tolzman. "Delon's big thing coming out of college was he's so good playing the passing lanes and with deflections and just using his great anticipation, his hand-eye coordination to just be a menace on the defensive end. He was never a great lock-down-type guy that'll get up in someone's stance and raise havoc that way. A lot of that will come with strength because Delon is still a thin guy and as he puts on muscle he'll improve over time with that."
Probably should be in the NBA
Despite him not being there yet physically, Wright certainly looks NBA-ready in every other way.
His numbers with the 905 pretty much speak for themselves and, during the very brief stints he's had with the Raptors his methodical, even-keel game has made it so he looks very comfortable on the floor against real NBA competition.
"He's come down to the D-League and he's done exactly what you'd expect him to do, with putting up big numbers," Tolzman says. "And the few chances he's got with the Raptors it looks like a walk in the park for him."
Alas, Wright's behind Kyle Lowry and Cory Joseph on Toronto's point guard depth chart, meaning he can't really do anything other than bide his time and hope for an opportunity, something his play may force the Raptors into giving him.
"As the season goes along he's gonna be a guy who's gonna be hard to keep out of games just from the fact that he's so mature for being a rookie," says Tolzman.