There really aren't many red flags around the Toronto Raptors these days. But if you were going to nitpick you could start with their apparent tendency to turn potential blowouts — or at least games where it seems like coasting to the finish might be an option — into nail-biters.
They've been getting away with it for the most part, but the failure to close out games seemed destined to come back and haunt them, and it finally did Sunday night.
The latest in what seems like a long list of contests they could have put away but didn't came against the Houston Rockets at the Air Canada Centre, a game the Rockets came from behind to win 113-107 in front of another sellout, the 67th consecutive at home.
Houston was ripe for the picking.
They played Saturday night in Chicago, lost and didn't arrive at the hotel until 3 a.m., while the Raptors have been home for a week. Houston seems like a team on the verge of unravelling, having lost seven of their past 10 before Sunday and clinging to the final playoff spot in the West; a mighty fall for a team that won 56 games last year and made it to the Western Conference finals.
The Rockets were a dark-horse pick to come out of the West in some quarters but it hasn't worked out that way, not even close, with coaches being fired, contracts being bought out and one-time centrepiece Dwight Howard being actively shopped at the trade deadline.
"I don't think anybody thought we'd be in this situation at this point," said Rockets interim head coach J.B. Bickerstaff before the game. "We made some key additions we thought would be very helpful and they didn't pan out that way.
"We didn't anticipate this. Where we would have been, we couldn't tell you but we obviously thought we'd be in a better spot than we are now."
The Raptors failed to take advantage of the opportunity.
Toronto led by 18 points midway through the second quarter, led by 10 points at the half and 15 points halfway through the third quarter, but as has been the case so often this season, double-digit second-half leads are only placeholders for the Raptors. A similar set of circumstances played out against the Portland Trail Blazers on Friday night, although the Raptors survived a 50-point night from Damian Lillard.
This time a 40-point, 14-assist showing from James Harden did them in. The Raptors lead came undone when the Rockets caught fire from behind the arc, hitting six of nine from distance in the fourth, including Harden's third triple of the quarter to put Houston up 107-105 with 1:47 left.
That capped the comeback, and for once the Raptors didn't have any pushback.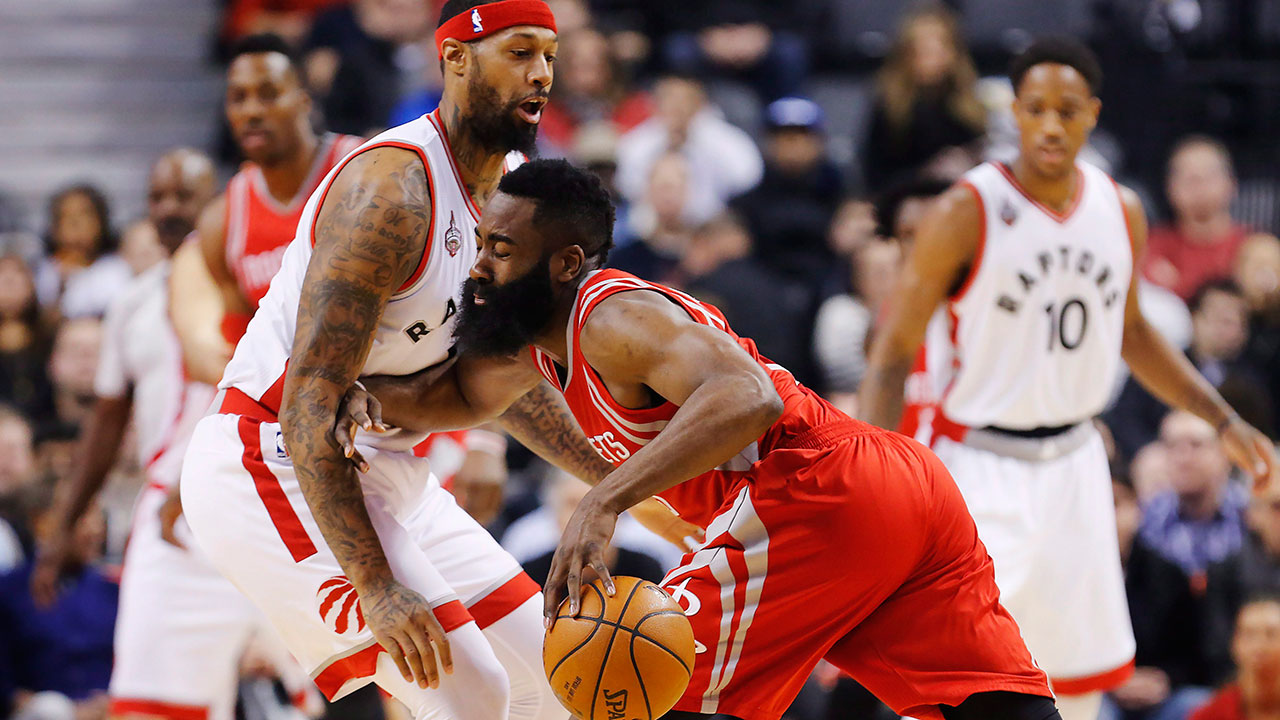 Houston Rockets' James Harden, right, is guarded by Toronto Raptors' James Johnson during the first half. (Mark Blinch/CP)
---
Toronto is 38-6 on the season in games when they have led by 10 points or more, so the evidence suggests that they actually close games out quite well. It stands to reason that winning teams will have more than their share of double-digit leads and not all the time will they be able to put the game out of reach early and for good.
Outside of the Golden State Warriors and the San Antonio Spurs, close games are the norm in the NBA. The Raptors average margin of victory is 4.5 per game, which is sixth best in the league.
But what does seem to be missing for Toronto are games where they do — even occasionally — put teams away decisively. There was a three-game stretch in the Raptors' team-record 12-game home winning streak where they had a double-digit lead heading into the fourth quarter and extended their advantage. But far more common are games like the past two against Utah last Wednesday when Toronto was up 11 heading into the fourth and won by 10 or against Portland Friday when they were up by 13 heading into the fourth and won by two.
Against Houston they couldn't keep their opponent's momentum at bay long enough.
"That's been our Achilles heel all year, I've said that millions of times," said Raptors head coach Dwane Casey. "Luckily we've won some of these games, but I've said it's going to come back to bite us. We've got to maintain the same intensity when we get leads, the same quality of possessions. And not say, okay, I can take this shot or not make this pass. But you learn from it."
The Raptors have created an elevated standard for themselves when losing at home to a quality opponent inspires soul-searching, but that this group holds themselves to a higher standard is why they remain just three games behind Cleveland for top spot in the East, are 23-7 at home and have a five-game lead over Boston for third place in the conference.
Toronto's real struggles have come on the defensive end. Since the all-star break their defensive rating — points allowed per 100 possessions — is 111.3, 27th in the NBA. In contrast, their defensive rating before the all-star game was 101.3, good for ninth in the league.
Houston opened the Raptors up easily as they scored 36 points in the fourth quarter on 12-of-17 shooting, with Harden scoring 20 of his 40 points in the fourth just two nights after Lillard scored 22 of his 50 points in the final 12 minutes.
"This has been kind of a thing that has been occurring too much for us," said Raptors guard Kyle Lowry. "We have to get better defensively. We are giving up 100 points like it was nothing. As a team we all agree, we got to get better defensively."
The game seemed in hand and the frustration built as it began to slip away. The Rockets did a good job harnessing both Lowry and DeMar DeRozan, who had combined to score 63 and 68 points in their previous two games. Houston worked hard to get the ball out of their hands and the result was Luis Scola leading Toronto in scoring with 21 points — just the sixth time this year someone other than the Raptors' all-star guards led the team. Lowry and DeRozan were held to just 10 shots each.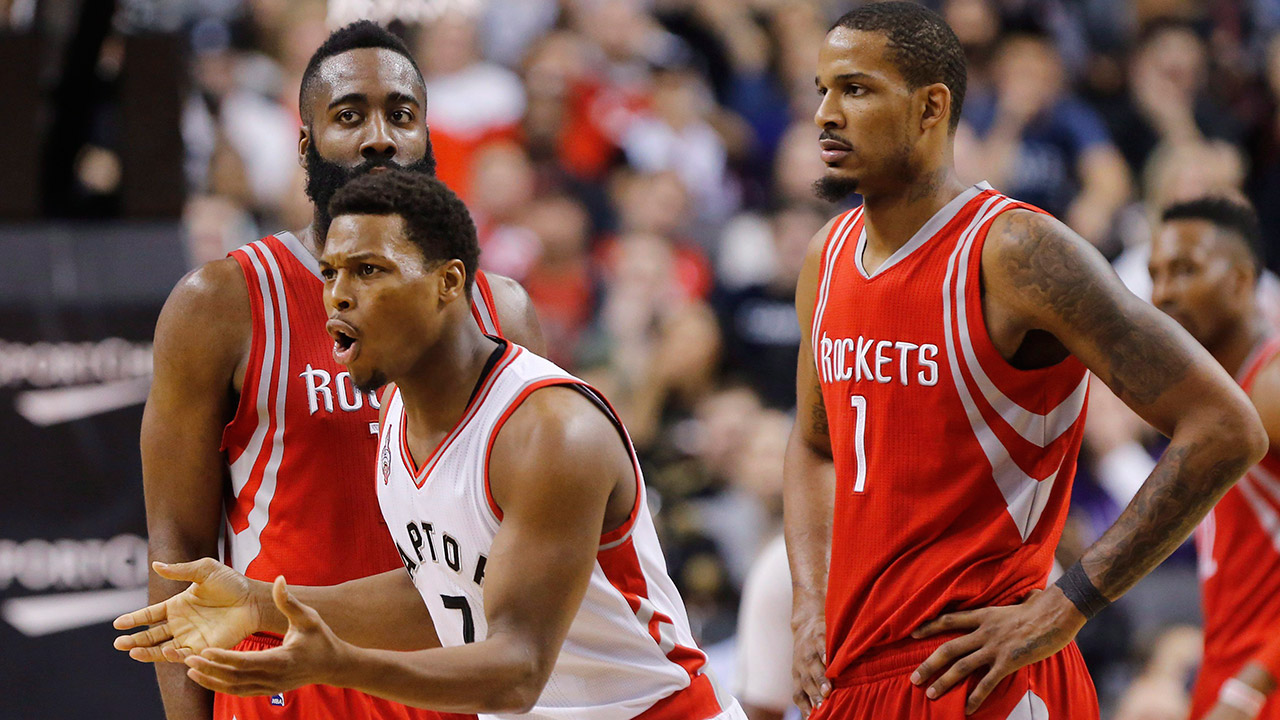 Toronto Raptors' Kyle Lowry (7) reacts to a play against Houston Rockets' Trevor Ariza, right, and James Harden, left, during the second half. (Mark Blinch/CP)
---
The Rockets were chipping away at the Raptors lead early in the fourth when Casey got hit with a strange technical foul for stepping on the floor to call a play, something that is fairly routine.
"I was not talking to the official whatsoever," said Casey. "If you're going to call that, call both coaches. I wasn't talking to the official, I was coaching my team; I was calling out a play. I guess he thought I was yelling at him. That's the first time I've seen that and I've been in this league a long time."
The technical silenced the ACC crowd who were energized after a tremendous hustle play by Lowry that kept a rebound from going out of bounds and gave the Raptors a new shot clock. Instead, Houston got the ball. Three minutes later Houston had their first lead since the first quarter as Trevor Ariza hit a three.
The Raptors had one more lead after a pair of DeRozan free throws with 2:38 left but after Harden's three put Houston back up, and first Lowry and then DeRozan missed layups, each claiming they were fouled, the frustration showed when DeRozan hammered super-pest Patrick Beverley with a perfect body check on a play in which going for the steal seemed like the second option.
DeRozan was hit with a flagrant foul and Beverley hit both of his free throws to push the lead to five. They didn't score when they got to keep the ball, but Houston did burn clock and when DeRozan missed a layup in the paint on the return, the Rockets answered with a fast break dunk by Clint Capella and the Raptors were losers at the Air Canada Centre for the first time since Jan. 3.
The sky is not falling. Even with the loss Toronto maintains that five-game lead over the Celtics and they still trail the Cavaliers by three games for first, which has always seemed like a distant goal anyway.
They have four more games on their current home stand and, including Sunday's loss, their record at the ACC is a sparkling 23-7.
Perspective needs to be maintained.
"For us it's one game," said Lowry. "We stay positive. It's still have an impressive home record."
But every failure for Toronto comes with the added freight that things are closer to falling apart than their record or home court dominance suggests. Even with so much going right for the Raptors there's no harm in remaining vigilant for some red flags being raised, indicators of what could go wrong.