DeMar DeRozan has never seen Pascal Siakam slow down, show fatigue or otherwise indicate that his turbo boost is running low.
The always-sprinting, never-resting style the second-year forward is turning into his trademark and a foothold in the Raptors uber-competitive rotation isn't just for show at the Air Canada Centre when the lights are on.
It's a full-time thing.
"He don't get tired," marvels DeRozan, who tends to preserve his maximum output for moments when it will be most impactful — like on an otherwise lethargic Sunday afternoon when his teammates can't hit a shot and need DeRozan to carry them, offensively. "I don't understand it. Y'all should see [Siakam] before practice. He's out there doing all types of drills, already sweating and everything. It's crazy to see."
More and more Raptors fans are getting the idea. Since benefitting from an early season injury to Jonas Valanciunas to get a sliver of playing time, Siakam has forced his way into an increasingly significant role mainly by always playing as hard as he possibly can. It's exhausting to watch – and yes, he does feel it at times — but Siakam is more than willing to go to the well over-and-over again.
"Yeah, I get tired, but I'm from Africa, so, you know?" said Siakam, who began playing basketball in lieu of soccer at home in Cameroon as a 15-year-old. "I have a ton of energy and I'm just trying to use it as much as I can. For the good of the team."
If there is a podcasting odd couple, this might be it. Donnovan Bennett and JD Bunkis don't agree on much, but you'll agree this is the best Toronto Raptors podcast going.
It was rarely more evident than in Sunday's 100-91 win over the Washington Wizards. It improved the Raptors to 11-5 and gave them sole possession of second place in the East as they won for the sixth time in seven games.
The Wizards – for the second time already this season – were without all-star point guard John Wall, who sat out with a sore knee. Two weeks ago he didn't play in Toronto because of a sore shoulder and the Wizards won handily. On Sunday it looked like history might be repeating itself. The Wizards didn't have Wall, the Raptors didn't have any energy and they couldn't shoot – through the first 45 minutes of the game Toronto was an unsightly 8-of-37 from deep before hitting its last two triples down the stretch. Even though they got Serge Ibaka back from a knee injury, the home side was still down Delon Wright (shoulder) and Norm Powell (hip).
"The energy he brings, just his presence, his vibe as a person is unbelievable. When you go out there on the court and see the things he is able to do it is definitely great to see."
They needed help from somewhere. Although they led at halftime the Wizards open the third quarter on a 12-4 run and Raptors head coach Dwane Casey had seen enough.
Out came Jonas Valanciunas. Out came Serge Ibaka. Out came rookie OG Anunoby, who was struggling to keep up with the much smaller and quicker Bradley Beal. The Wizards' primary offensive threat with Wall out finished with 27, although he had 22 at halftime.
Among the reinforcements was Siakam, and in a few short minutes order was restored.
Siakam's only basket of the period was a hustling, put-back dunk that followed up a Kyle Lowry fastbreak that rolled out – a play that many players would never make because they would have assumed Lowry would have finished the play to begin with. But there were deflections, defensive rebounds and a steal that led to a C.J. Miles three that got the crowd at the ACC roaring and helped put the Raptors up three heading into the fourth quarter.
And there was more where that came from in the fourth quarter, including a chase-down block on the Wizards' Mike Scott that will be on the season-ending highlight reel.
Siakam finished with four points, nine rebounds, two blocks and two steals in 31 minutes off the bench and the Raptors don't win the game without him.
"The run-down block that he got was just all heart and hustle and toughness and persistence," marvelled Casey. "The young man — I've said it for the last two, three weeks — he's playing as well as anybody right now. Just with his speed, his heart, and his attention to detail. When he gets switched off onto some of the small guys, he's doing a heck of a job of staying square, keeping the ball in front of him, containing 'em. He's just on point with everything."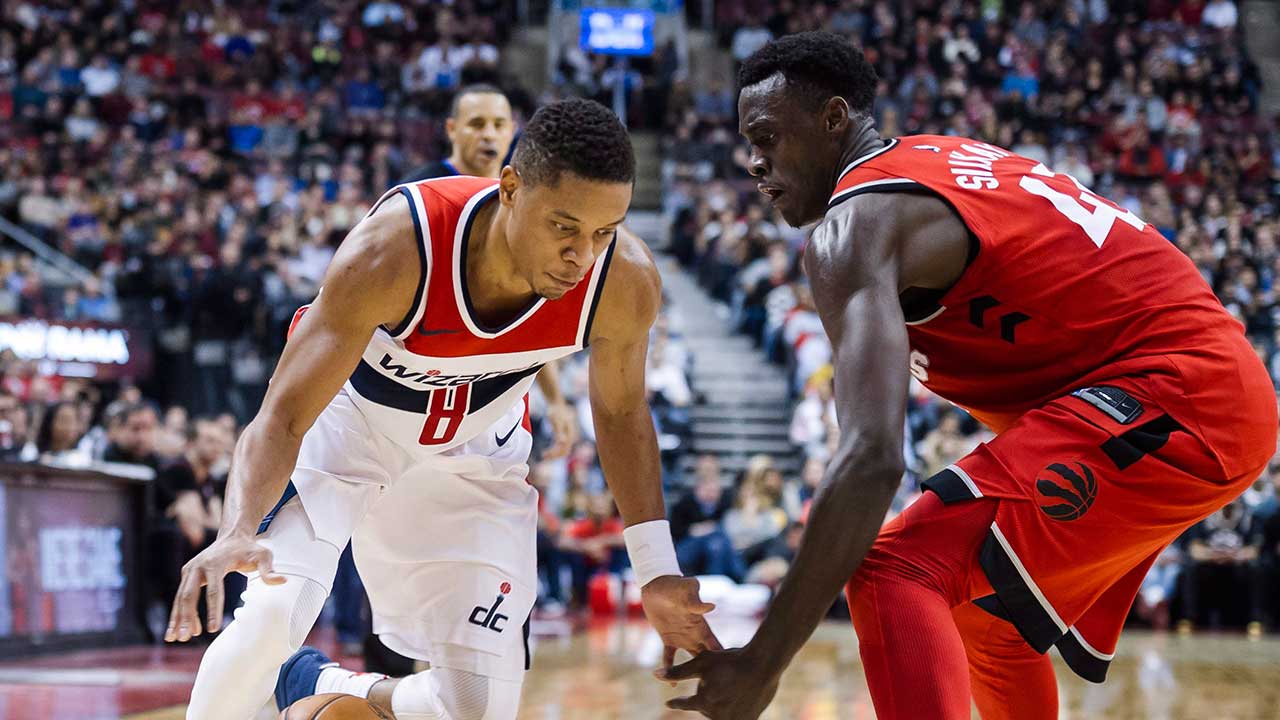 But can a guy who scored two field goals really change a game?
Absolutely, in Casey's eyes:
"That's something we've gotta understand is our roles. He understands it, that helps everybody else. If he has an open shot, he knows he can shoot it. He's got the green light to shoot it, if he's open, he works on 'em. But we don't need that. We need all the other stuff he brings, and sometimes we get caught up in points. He's plus-18 [in scoring differential], the highest on the team … so he had an impact on the game in a lot of areas other than scoring. That's what I love about him."
His teammates love it, too. At six-foot-nine and with long arms and a bouncy athleticism, Siakam checks off a lot of boxes even though his still-developing offensive game was the primary reason he was still available when the Raptors drafted him at No. 27 in 2016. But it's not just his tools but the willingness to use them and the smarts to deploy them correctly that makes Siakam stand out.
"I love him; Pascal is my guy," said DeRozan. "He is my guy. He's great. The energy he brings, just his presence, his vibe as a person is unbelievable. When you go out there on the court and see the things he is able to do it is definitely great to see."
Livestream the Raptors and other marquee NBA Playoffs matchups, including Games 2, 3 and 6 of the Raptors-Cavaliers series. Plus, get coverage of the NBA Finals, NBA Draft & NBA Awards.
But you need to score, too, and while the Raptors came into the game on fire from deep – since making a season-low five triples against the Wizards on Nov. 5th the Raptors were third in the NBA with 78 makes and third by percentage at 43.1 — they struggled Sunday, hitting just 10 of 39 attempts.
Maybe it's the Wizards, but the Raptors killed possession after possession by clanging wide-open looks from beyond the arc.
Luckily they have DeRozan as a security blanket. The Wizards brilliantly kept him off the free-throw line, where he racks up so many easy points. The NBA's leader in free throw attempts was on the line just once on Sunday but it didn't matter as the three-time all-star finished with 33 points by converting 15-of-26 shots from the floor. They all mattered but the attention-getters were a three with 3:10 left that put the Raptors up by eight and a full-speed fastbreak dunk off a seeing-eye pass from Lowry that finished the scoring.
"That's what people don't understand," said Lowry. "That man [DeRozan] is one of the best players in the NBA. It don't matter if he shoots threes or not, he's still going to get you buckets and that's what he does; he's a natural bucket-getter."
DeRozan and Siakam couldn't be much more different at this point in their careers. One plays smooth and economically, using his energy in carefully cultivated spots to score in ways that others can't, letting the game come to him. The other plays at full speed at all times, using all the energy he has, with scoring last on his to-do list. He chases the game and very often catches it.
On a Sunday afternoon in November, the Raptors don't win without massive contributions from both DeRozan and Siakam, each doing what they do best.