For the first time since 2008-09, the Toronto Raptors' starting lineup won't feature DeMar DeRozan.
Instead, Kawhi Leonard will be the centrepiece of the Raptors' offence after being traded for DeRozan in a summer blockbuster. Dominant on both sides of the ball, Leonard brings championship pedigree to the Raptors and instantly bolsters their chances of winning their first title in franchise history. Adding an MVP candidate to a roster with a good mix of seasoned veterans and intriguing young talent makes Toronto a lock to finish at or near the top of the Eastern Conference yet again.
While the starting unit of Kyle Lowry, Danny Green, Leonard, Serge Ibaka and Jonas Valanciunas might not be Toronto's best lineup, those five figure to be on the floor for the opening tip-off Oct. 17 against the Cleveland Cavaliers.
Here's how that group compares to the starting fives of other contenders league-wide.
Projected starting lineup
Kyrie Irving
Jaylen Brown
Gordon Hayward
Jayson Tatum
Al Horford
Finally fully healthy, the Celtics are out to prove they are the class of the Eastern Conference with their mix of all-star veterans and emerging young stars. Hayward returns from injury after having his first season in Boston end after five minutes, while Irving is coming off knee surgery. Both will need to stay on the court for Boston to have a chance at a championship run. The 20-year-old Tatum seems well on his way to stardom himself, helping give the Celtics the firepower to compete with any of the NBA's juggernauts.
Advantage: Celtics
Projected starting lineup
Ben Simmons
J.J. Redick
Robert Covington
Dario Saric
Joel Embiid
After finishing with the Eastern Conference's third seed a year ago, the young 76ers figure to get even better this time around. Simmons and Embiid are budding superstars, Saric is another young player on the rise, and Redick and Covington are steady on the wings. The Raptors may hold the edge with their depth, but we'll lean towards the Sixers based on this five-man unit.
Advantage: 76ers
If there is a podcasting odd couple, this might be it. Donnovan Bennett and JD Bunkis don't agree on much, but you'll agree this is the best Toronto Raptors podcast going.
Projected starting lineup
Patty Mills
DeMar DeRozan
Rudy Gay
LaMarcus Aldridge
Pau Gasol
How this lineup will function as a unit remains to be seen. DeRozan and Gay are reunited from their time in Toronto, but both carry a similar skill set and struggle from beyond the arc. Aldridge is a pillar of stability but there are question marks surrounding Gasol, who is entering his age-38 season. San Antonio also took a major hit with the news of Dejounte Murray's torn ACL. Gregg Popovich has his work cut out for him to maximize the returns from this group.
Advantage: Raptors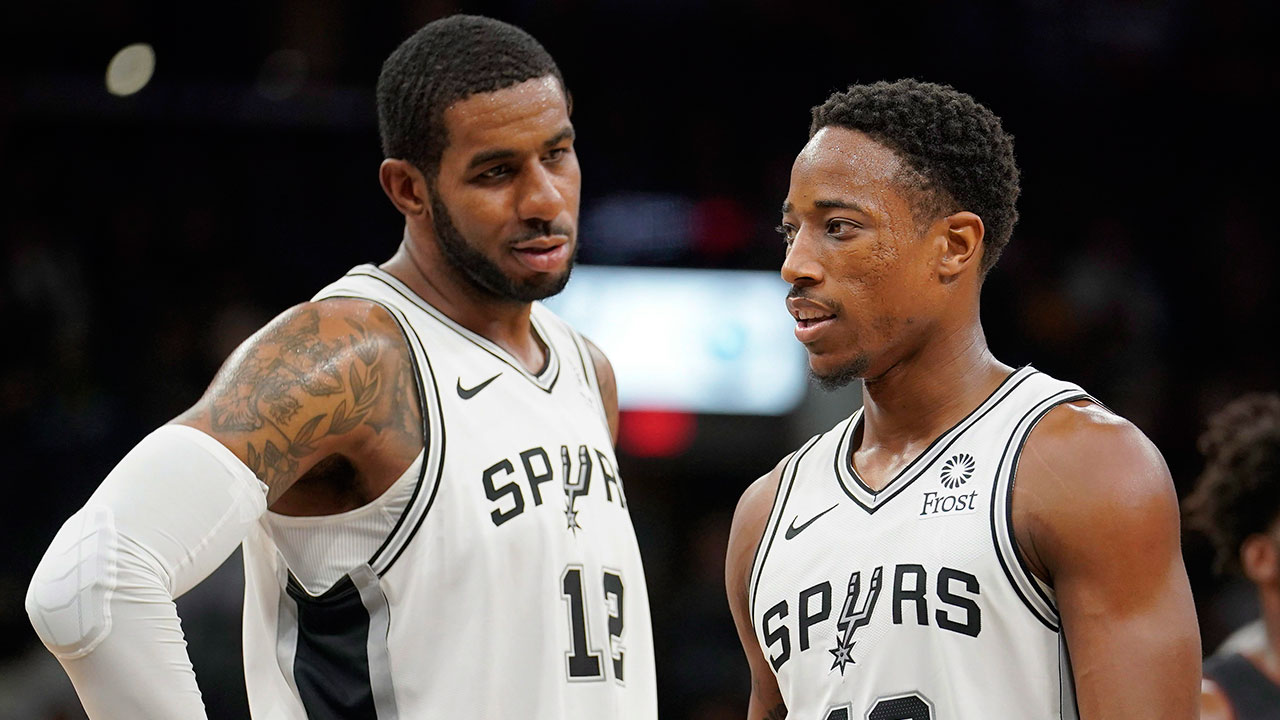 Projected starting lineup
Stephen Curry
Klay Thompson
Draymond Green
Kevin Durant
Jordan Bell
It doesn't matter who keeps the centre spot warm for DeMarcus Cousins later this season, Golden State's starting lineup remains the class of the NBA.
Advantage: Warriors
Projected starting lineup
Chris Paul
James Harden
Carmelo Anthony
P.J. Tucker
Clint Capela
The Rockets posted the league's best record last year, and look for them to finish near the top once again in 2018-19. Trevor Ariza's departure is a big loss for Houston, but there's too much talent on the roster for it to drastically impact things. Anthony might be better-suited for a bench role, but he's been vocal in the past about his desire to remain a starter.
Paul and Harden are the cogs that drive the Rockets' machine, but with the 24-year-old Capela still improving, the sky's the limit for this bunch.
Advantage: Rockets
Projected starting lineup
Lonzo Ball
Kentavious Caldwell-Pope
LeBron James
Brandon Ingram
JaVale McGee
Any starting lineup featuring James is a force to be reckoned with and the four pieces around him are solid. The Lakers are an eccentric bunch overall with the likes of McGeee, Lance Stephenson and Rajon Rondo on the roster and James will have to do some heavy lifting to catapult this team into the league's elite.
Advantage: Raptors