Last summer, I had the opportunity to travel to Nigeria and Ghana with Giants of Africa, a non-profit organization founded by Toronto Raptors general manager Masai Ujiri. GOA runs skills camps for elite young basketball players—typically the 50 best youth players a country can muster—giving them access to the knowledge and advice of NBA coaches and scouts (and of Ujiri himself), and encouraging them to use basketball as a means to improve their lives and the lives of their families and communities.
That trip was an important one for GOA, marking the organization's expansion from Nigeria (where it ran its first camp in 2003) and Kenya (launched in 2014) to reach players in Ghana and Rwanda. You can read about it in depth here.
This year Ujiri has pushed things even further, adding stops in Senegal and Botswana. Halfway through, I caught up with Patrick Engelbrecht, the Raptors' director of global scouting and a coach in the camps, to find out how 2016's first three stops have gone.
SPORTSNET Last year's first stop was Nigeria—the most established GOA camp—and then we moved on to Ghana, where the camp was being held for the first time. I remember the excitement and energy of the campers in Ghana, the feeling of newness the camp had and the rawness of the players there. Did Senegal give you that same feeling? And what was it like to kick the trip off in a country that was getting its first ever GOA camp?
PATRICK ENGELBRECHT Because of SEEDS Academy and other programs run by Amadou Fall [the NBA's vice president of player development for Africa and a native of Senegal], a lot of the kids have access to camps. It was almost like what you thought of Nigeria last year: It had a lot of really established players, guys that already have been through camps and have a fundamental base. So it was more like an elite camp in Senegal.
Senegal is a place that Masai has always held in high regard in terms of need for development. They have so many kids playing in Europe and playing in the U.S. It's kind of a hot spot in Africa in terms of youth basketball. And they're a very tall, long, athletic people—just in general, when you walk around the street. I think their average height for women is like, I dunno, 5'9", and average height for men is like 6'2", 6'3". So they're just tall people in general.
SN Have there been any standout players in the first three camps? I'm remembering Charles Bassey from last year's camp in Nigeria, who then went to the States and killed it in prep school.
ENGELBRECHT I don't know if there's another Charles. He's kind of a special case. But in Senegal there were three or four kids that were really talented, that really have a chance. In Nigeria, they went really young this year, and they also didn't want to repeat any kids who were in the camp last year. So they kind of held out some kids who'd already had that opportunity and brought in some fresh-faced kids. Actually in Nigeria this year, when we first got here, we were expecting all these monsters and there were a lot of young, young kids. After day one, we were scratching our heads a little bit. But as it went on, the kids improved really fast and there was actually some really good talent here. And they're very young, they're going to grow. A lot of 6'8", 6'9" kids that are true age 15, 16, that are going to end up being 6'10" and skilled. Ghana had one player in particular that has a chance. I'm talking about, like, succeeding at the pro level. And then Nigeria probably had about three or four kids.
SN What is it that's setting those players apart in your view? Is it their skillset, their physical makeup and tools, or a combination?
ENGELBRECHT A combination of both. Meaning they have what looks to be prototypical size and maybe they're headed in the direction of having positional skill. You can't teach being 6'10", 6'11", and a lot of those kids could also run and jump and have some touch around the rim and sort of have a skillset where you can see them growing into good players.
We've also had some pretty good guards. Actually, in Nigeria we had some really good guards—like 5'11", 6'0" guards that are really skillful. Senegal had a couple wings that were really skilled and could shoot the ball, handle the ball, playmake.
You can definitely see that the wing play and point-guard play is improving on the continent. The kids have a little bit more access to watching games on television. So they're going out into the playground and they're emulating it. By the time we get them in camp, they might not have the fundamental skillset, but once you give them the tools and put them in a five-on-five game, they have instincts. We've been a little underwhelmed in terms of skill and station work, but we've been pleasantly surprised by the carryover of skills in live play.
SN I remember the effect of Masai's presence on the kids—the way they'd sit up a little taller and seem that extra bit more dialed in. What impact do you think his presence has had on the campers this year?
ENGELBRECHT That's a really huge deal. Masai comes in and it's not like he's just this president, he's not there just to shake hands—he's really involved. I mean, you were there, you saw him. He's doing a lot of the life skills sessions. When we bring it in and cool the kids down, he's giving them a ton of life lessons. And he's really hands on with the kids—pulling guys aside, talking to them one-on-one, small groups, he'll just jump right into the middle of a drill.
A lot of times the kids perk up when they see Masai because they know him as the only African-born GM. So for them it's a sense of pride connected to one of their own being on a global stage doing it for the continent. But there's also an impact from the Raptors playing as well as they did, and kids following it. For us to get all the way to the Eastern Conference Finals and play a generational talent like LeBron James, and also have a kid that grew up in [the Basketball Without Borders] camps, in Bismack Biyombo, play as well as he did in those playoffs, it was really impactful. Now this year when you're asking the kids to choose their team names, they're killing themselves to be the Raptors. We're a little more successful and now it's cool to be a Raptors fan. It's really cool to see that.
SN Is Biyombo far and away the campers' favourite Raptor from that playoff run?
ENGELBRECHT They love Biz. They love him like they love Dikembe. But the kids still love DeMar DeRozan, they still love Kyle Lowry, they still gravitate toward Valanciunas—it's just it's nice for them to see a kid from the continent that went through these [type of] camps, that sat in the same seat they're sitting in, on our team, being successful. It's a double-impact with them also seeing Masai as a general manager. Also, with us drafting a kid this year from Cameroon, Pascal Siakam, who also was at [BWB] camps, these kids are starting to connect the dots. Like, "This isn't just these guys coming over here and teaching us skills. They're going to follow us, they're going to track us and, if we're good enough, they'll draft us."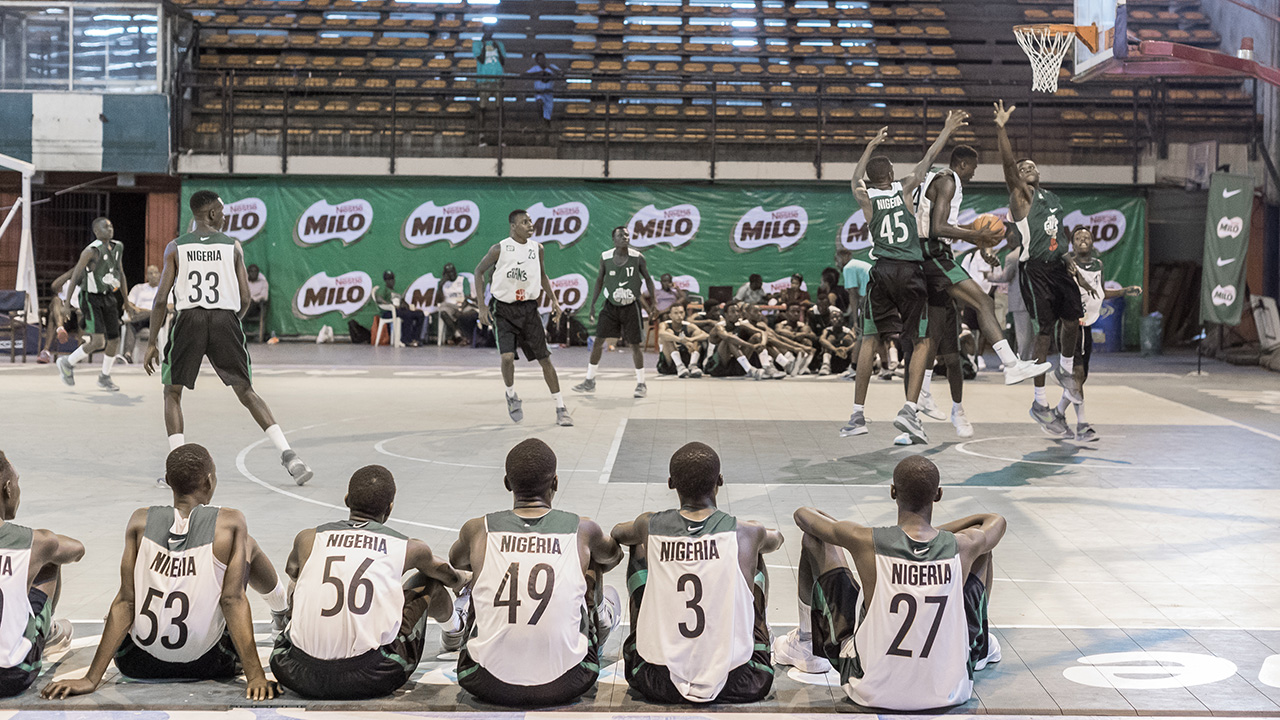 SN You mentioned the life skills work a bit. Last year, there were things Masai told the kids that felt like they were and had always been foundational to him—messages about hard work and respect—and then there were points he hit that felt newer, like he was emphasizing things he felt these particular groups of kids needed to hear—messages about respecting women and taking personal responsibility for the future of your community and even country. What are the big messages this year?
ENGELBRECHT He's hit on the issue of respect for women really hard this year—especially in Nigeria with all the stuff going on with Boko Haram. He's really ringing the bell in terms of respecting women, respecting your sister, your mother, your girlfriend, your aunt, your coworker—that any interaction with a woman in any walk of life should be done with respect and kindness and a sense of equality.
He's also been emphasizing the importance of education and nation building, telling the kids not to sit around blaming government or blaming political systems and situations. He's saying, "Look, you have to go get educated. You have to become skilled at something. And you need to bring that skill back here and help this place get better." That's generally what he's been pushing, and then using basketball as a tool to do that. It's not just about setting your sights on being a pro. It's setting your sights on getting as good as you can get so you can use it as a vehicle to educate yourself and build for your family and for your country.
SN All the GOA coaches are African-born. What affect do you think that has on the kids—seeing all those living examples in addition to Masai?
ENGELBRECHT For me that's always a treat. A lot of these guys, I don't get to work with them on a regular basis. These guys are active in the NCAA or AAU or D-league or pro level and we don't get much of a summer. For these guys to give up a couple weeks or a month of their time to come around and do camps, it's a significant statement about the belief they have in the movement. Most of the guys are happy just to be a part of it.
And it's fun for us to see Masai grow. Whenever Toronto has success, for us it's like success for one of our brothers. Even though I work within the organization and I do my part, whenever our team's doing well it kind of shines a light on him. And by doing that, it shines a light on our continent.
It's exciting being around all the young coaches who were in the camps and have now finished their careers as players and are coming back and giving back and wanting to work in the camps. It's awesome to see alumni coming back and supporting. It's a feeling that things are coming full circle.
Photos courtesy Kevin Couliau @asphaltchronicles @giantsofafrica.