DALLAS — The hope was that after two relatively indifferent starts on their three-game road trip, the Toronto Raptors would be engaged when the ball went up against the Dallas Mavericks.
That's always the hope, or even the plan.
Raptors head coach Nick Nurse was optimistic that there would be some follow through, in large part because the 'lack of urgency' cry was bubbling up from below as Toronto was facing the prospect of dropping three straight for the third time this season.
"We had a good film sessions and a good practice [Saturday]" he said before the game, "…But I think the point most clear yesterday was that they were taking it upon themselves that they had to play better."
What do you know?
For a change it was the Raptor who jumped out to a double-figure lead and seemed to be determined to force the tempo. It helped that they picked up where they left off in Friday's furious ill-fated comeback against the Houston Rockets, where they made four threes in the final 1:21 of the game. Fred VanVleet's three at the 11:12 mark of the second quarter was Toronto's eighth make on 12 attempts, putting them at 12-for-16 in a span of 14:09 of NBA play.
Ah, but could it last? The final score — 123-120 — would suggest it did, but it wasn't a completely smooth ride. After being on fire to start Toronto went frigid for most of the rest of the game — the third quarter an Ice Age — before taking command down the stretch in the fourth.
Nurse threw a zone defence at the Mavericks and the Raptors looked as well-oiled in the guts of a tight game as they have all season. They won the game with an 18-6 run beginning midway through the final period to the final 30 seconds of the game to snap their losing streak at two. Most impressive, all five starters pitched in, the ball moved, and when Kawhi Leonard muscled home a pair of drives — one for a bucket, one for a foul — that locked it down late, they looked organic rather than an offence of last resort, which has been the case at times.
"I thought we were poised," said Raptors point guard Kyle Lowry, who had eight of his 19 points in the final frame and knocked down five threes in the game to along with nine assists. "We had to scrap a little bit more, we had to fight to get that win but once we got the lead back we maintained and kept our composure and just built on each possession."
Lowry's big night was augmented by the usual from Leonard — (33 points and 10 rebounds on 23 shots) — while each of the Raptors' starters were in double figures and Fred VanVleet chipped in 13 points and six assists off the bench. An added quirk: the Raptors shot better from three — 17-of-34 — than they did from two, where they were just 20-of-49.
Their three-point shooting and 32 points at the free-throw lines were enough to survive a brilliant showing from the Mavs' 19-year-old Luka Doncic as Toronto likely faced Dirk Nowitzki for the last time.
It was quite a night, and hey, the Eastern Conference-leading Milwaukee Bucks — who the Raptors play next, but not until Thursday at home — lost too.
Quite a night.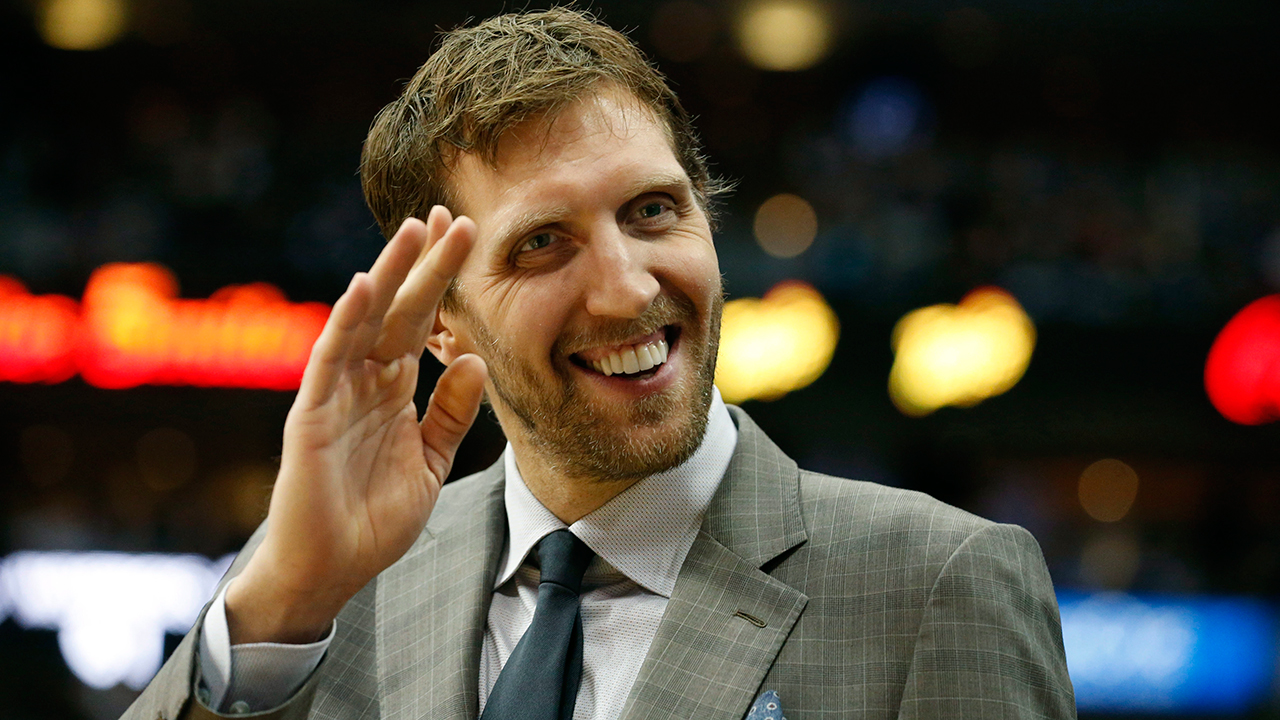 Nowitzki's Last Stand
He hasn't announced anything and those close to him say that the last thing he wants is an extended farewell tour, but it's widely assumed that this will be Mavs icon Nowitzki's last season.
He checked in with 2:43 left in the first quarter to a huge ovation. He's played 21 seasons, all with the Mavericks, the only player to have played that long with one team. He's among the NBA's all-team leaders in games played (fourth), wins (sixth) and scoring (first among non-American players and seventh overall) and in made threes — 11th overall and first among big men.
Coming from Germany as a 19-year-old, Nowitzki changed the game. His trademark one-legged fadeway was as reliable a go-to move as anything this side of Kareem Abdul-Jabbar's 'Skyhook' and his ability to step out as a lethal three-point shooter at seven-feet tall was a sign of things to come.
He made one on his first shot, his roof-scraping arc unmistakeable. The crowd at American Airlines Arena went wild.
"It was frustrating to cover him because he's tall and the way he shoots the ball," said Raptors power forward Ibaka, who matched up against Nowitzki countless times while playing in the Western Conference for the Oklahoma City Thunder. "In the years I played against him I don't think I ever blocked his fadeaway. The only time I blocked him was when he drove or was at the basket. His fadeaway was too high, I would always foul him.
"But he was one of those guys who really influenced me to work on my jump shot too," said Ibaka. "I was not shooting threes, I was more of a power forward — running, rolling. He was one of the guys who influenced you to work on my shot too."
For Nurse, coaching against Nowitzki for likely the last time was a time capsule. Before every prospect of any note had his own highlight reel on YouTube, Nowitzki was a relative unknown when he made his North American debut at a scouting showcase known at the Nike Hoop Summit in 1998.
Nowitzki had 33 points and 14 rebounds and was the game's MVP. Nurse happened to be there.
"It's almost impossible now to be that age and no one know you now and it was like, 'Oh My God' and I just remember being there and everybody going crazy about this guy Dirk. It was pretty cool," said Nurse. "…There was like 15 GMs trying to sign him somehow after the game and it was like, 'Wait a minute, we have to draft him first.'"
Later, Nurse was coaching in the now-defunct USBL when Nowitzki was at his peak, when he led the Mavericks to their first Finals in 2006, the year before he won MVP in 2006-07.
Nurse would make the drive from Enid, Okla. to take in the show. "He was really, really unbelievable, standing there on one leg fading back and making all those shots and things like that," said Nurse. "When I think about him it brings a smile to my face and some cool memories from when I was younger."
He's not the only one.
Doncic Takeover
The Mavericks are blessed in that, just as Nowitzki is preparing to exit the stage, they've added Slovenian teenage sensation Doncic, who will almost certainly be the league's unanimous rookie-of-the-year despite a strong freshman class.
He was brilliant from start to finish as his 35 points, 12 rebounds and 10 assists would indicate. Dallas traded a future first-round pick and the 2018 fifth-overall pick to the Atlanta Hawks, who had taken Doncic third overall. Atlanta wanted Trae Young. It is proving to be a brilliant piece of business for Dallas.
American Airlines Center is one of the last arenas in the NBA to provide courtside media seats and from up close, it is immediately evident why Doncic has superstar potential. At six-foot-eight he combines tremendous size for a point guard with surprising quickness, limitless three-point range, floor vision and the patience to leverage every element of his game. He had it all on display from the runner from the foul line he hit on his first possession to the collection of on-time, on-target passes he was able to deliver from almost any angle — the most spectacular an out-of-nowhere lob behind the defence to Canadian national team stalwart Dwight Powell.
It didn't seem to matter who covered him, he had an answer on his way to his second career triple-double.
"I can't believe his handles. He's up there and he's getting heat and he's just [using] really hard dribbles back and forth and getting space," gushed Nurse. "Our guys were attacking him and he would never get back on his heels. We couldn't get him out of rhythm because he was low and strong and crossing over and then with the burst he was into the paint and what incredible touch. Some of those floaters he shot were at the free-throw line or step inside and it seemed like he made every single one of them and when we did get enough help there he hangs in the air until the last second and throws that incredible two-handed pass to the right corner. He's something else."
Raptors Survive
Their hot start helped the Raptors jump out to a 70-58 halftime lead even as Doncic was lighting it up in the first half, but it didn't last. Toronto started the third quarter 0-of-10 from the floor and, at that point, had hit just nine two-point field goals.
A three-pointer in transition by Dennis Smith Jr. was just the Mavericks' fifth field goal on 14 attempts, but it was enough to give Dallas their first lead, 75-74, with just over five minutes to play in the quarter. Dallas took an 88-85 lead into the final frame after shooting just 4-of-19 in the third.
"We were moving the ball well, in the first [and] second quarter," said Leonard. "The third quarter, we got stagnant, the defence got stagnant."
But they survived. That matched the Mavericks blow for blow early in the fourth as Doncic alone had eight points and two assists, including his own full-court, fastbreak dunk, a step-back three and a pair of lobs for dunks to Powell. But a deep three from Lowry tied the game with 5:54 left and a group effort helped the Raptors seal it.
Not perfect, but a win, and now they go home.