TORONTO – Welcome to the next dimension.
The Toronto Raptors didn't so much win their first-round series over the Orlando Magic Tuesday night as much as they launched themselves through some kind of portal in the NBA space-time continuum, shedding their past and rocketing towards a (near) future as bright as the sun.
Even the gravity of Drake at courtside couldn't hold them back. The Raptors seem determined to launch themselves further.
Struggles in close-out games may be part of franchise history and part of every Raptors fans' scar tissue, but they have nothing to do with this team, not now.
This is a team that had turned itself inside out to inject DNA from the San Antonio Spurs into its brain stem. This is a team that refashioned itself again at mid-season to add Marc Gasol – a winner internationally, a veteran of years of Western Conference playoff wars and acknowledged as one of the smartest, most competitive players in the NBA.
This is a team not only with vision, but with a plan.
But Step 1 was getting out of the first round efficiently and unscathed.
Their 115-96 win over the Magic did the trick, earning Toronto a 4-1 win in the first-round best-of-seven series.
Fittingly it was Kyle Lowry at centre stage. The one Raptor with five years of accumulated playoff frustrations and disappointments, who knew first-hand what happens when opportunities get squandered and series extended, brought the hammer. The team leader who was scoreless in a Game 1 loss personally led the Magic 9-1 before the game was three minutes old. The Raptors never looked back – they led 31-7 at one point in the first quarter and by as much as 37 in the fourth – and now can look ahead at opportunities that only come around every 25 years or so.
Lowry knows what time it is.
"I just think what I see in him is, I think that he's certainly got a lot of years left of good basketball," said Magic head coach Steve Clifford. "But what I see in him is, I think he's looking around and saying this is best team he's played on, this is the best chance they've had [to win a championship], and he's always been a winning player anyway, but I mean, I think he now knows this is his best chance so far, and he's playing at a really high level."
Their Game 1 stumble aside it was evident the Raptors were the better team; they held Orlando to 38.8 per cent shooting for the series and forced them into 15.6 turnovers a game. The question was whether the Raptors would take note of the way their competition in the East was taking care of business – the other first-round series lasted only four or five games – and follow suit.
In Game 5 the adults in the room were heard. There would be no fiddling with phones; no one late to work.
"I think our focus was to try to get out and put a stamp on the game from the defensive end and I think we did that," said Raptors head coach Nick Nurse. "I think that was a good sign that we were ready to go. We were serious, we knew how hard we had to play against this team and obviously got off to a fantastic start."
It took the Magic nearly four minutes to score their first field goal and another three minutes to score their second. Meanwhile Lowry was stealing the ball off the Magic's Khem Birch – the Montreal-native got an extra dose of minutes after Orlando's Nikola Vucevic picked up three fouls in the game's first six minutes – at one end, hustling it up the floor, pitching it inside to Pascal Siakam and then relocating to the corner for a wide-open three.
But everyone was in on the Raptors surge.
Lowry finished with 14 points and nine assists while drawing four charges. Leonard had 27 points on 11 shots, including going five-of-five from deep. Siakam continued to roll as he ended up with 24 points on 16 shots. Fred VanVleet come off the bench and had 10 assists while Norm Powell had 11 points. The Raptors shot 48.2 per cent from the floor and held Orlando to 38.6, the fourth time in five games they held the Magic to 40 per cent or less from the floor. The Raptors have won four straight playoff games for the first time in franchise history and won a best-of-seven series in less than five games for the first time also.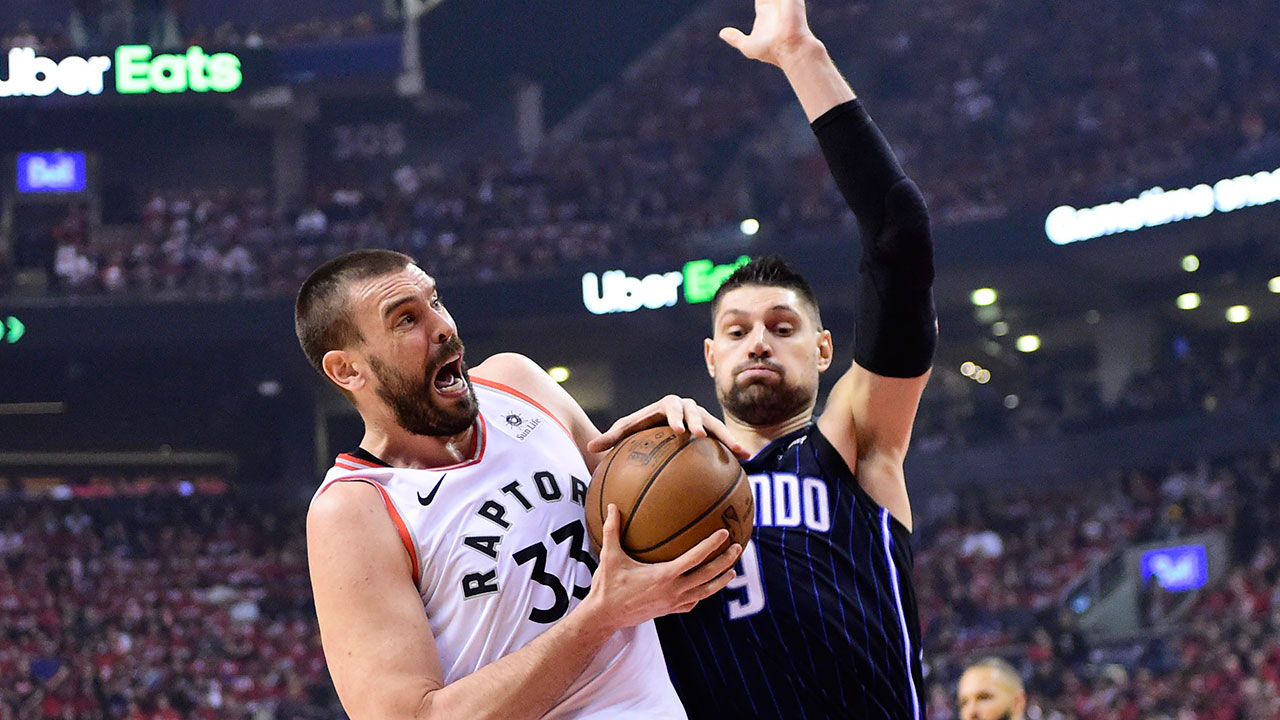 But they are after a bigger piece of history than that, and they might have the pieces.
"What they have, to me, is what you need, and it shows in their numbers: Their balance. If you look at every year in the NBA … most teams [that win it] are Top 10 in offence and defence," said Clifford before the game. "That's what they are. They can play both ends of the floor at a very high level… sometimes you can be so good at one [you can get away with it], but by and large to win it all, you have to have the kind of balance they play with."
It was a bit jarring to hear at first but Clifford's message was clear: in his mind, having watched them up close for five playoff games, the Raptors are a team that can think about winning an NBA title.
Count Lowry in.
"We know what we are, and what we can be," said Lowry, who has played more playoff games for Toronto – 54 – than any other player in franchise history. "We're just, honestly, going. We're just playing, day by day, game by game, possession by possession. We're not getting too up. We're not getting too down. We're just going out there and playing.
"That just shows the professionalism of the team. We got some great veterans, and guys that's been through it. It's been pretty fun to be part of a team that's just kind of staying the course, no ups, no downs, we're just going to ride it and play extremely hard."
This is a Raptors team that can look ahead with confidence, rather than merely hope.
Toronto took a 99-70 lead into the fourth quarter and at one point led by 37. It was Lowry and the starters that were driving it. Leonard was a preposterous +38 while Lowry was +31. The lowest mark was Pascal Siakam at +22.
The Raptors starters were a battering ram, out-scoring the Magic by an astounding 46.3 points per 100 possessions – the best margin by any five-man lineup that has played at least 50 minutes together in the playoffs, according to NBA.com.
But perhaps the most significant element among the gaudy statistics is that they got to play 96 minutes together – the most of any five-man unit in the playoffs. In the regular-season the group was successful as well with a net-rating of 12.2, but had been on the floor in just 14 games for a total of 161 minutes.
So as exciting as it is for the Raptors to escape the first-round quickly and without drama, with stress levels manageable and health intact – you know, the way good teams do — there remains the potential for further improvement.
"To me, it's a continuously learning process, playing with the guys," said Gasol whose first game with Toronto after a career spent in Memphis was Feb. 9. "Game 1 was a perfect example at the end of the game [when Gasol and Leonard got confused on a coverage allowing D.J. Augustin to hit the winning three-pointer]. You play with those guys long enough, and you're in that situation long enough, you know what's expected and what the coverage would be. [But]… you know that you still have a lot of room to grow and you can see it and you can feel it."
The flip side? They're going to need to keep improving. LeBron James is gone but Joel Embiid and the Philadelphia 76ers are a more talented team than Cleveland was a year ago when they swept the Raptors in the second round.
Unlike Orlando, where the Raptors had a clear advantage at every position on the floor, the 76ers could – arguably – hold an edge over the Raptors at every position other than at small forward with Leonard, but even then the Sixers' Jimmy Butler is a four-time All-Star.
Like the Raptors, Philadelphia's best five-man unit hasn't spent huge minutes together as they were bolted together as the season went along but their net rating of 17.6/100 possessions in 161 minutes across 10 games was formidable. They've been even more dominant in the playoffs with a net-rating of 62.2 in 49 minutes after they eliminated Brooklyn in five games with a blowout of their own Tuesday.
It will be a meeting of strength vs. strength, star vs. star. It's the kind of playoff series the Raptors have never been a part of, where they are meeting a marque team on equal terms, or even as the favourite.
This won't be the Toronto scraping by an aging Dwane Wade-led Miami Heat team or a getting pushed aside by a flawed James-led Cavs club.
But these aren't the same old Raptors.
Toronto didn't just advance to the second round, they smashed on through to the other side, where championships get won or lost. Lowry led them there, but he had lots and lots of help.
For Raptors fans, it was new and different and promising.
Let the real playoffs begin.