NEW ORLEANS — The Toronto Raptors were trying to perform a magic trick, an act of self-deception: If they closed their eyes and imagined it, could they make their meeting against the New Orleans Pelicans meaningful enough to find meaning in it?
Easier said than done. The Pelicans are the NBA's failed state. The economy where everyone stopped paying taxes because they assumed their neighbours' weren't paying taxes. It's what lies on the other side of the thin membrane of belief that the games matter, and competition is for real.
Twenty minutes before the ball went up, word filtered out that Pelicans star Anthony Davis wouldn't be playing against the Raptors due to back spasms.
Joining him on the sidelines were two other starters, Jrue Holiday and E'Twaun Moore.
The Raptors weren't playing an NBA team. They were playing a team that's in the NBA.
The Pelicans have been the poster-children for NBA purgatory ever since Davis announced in late January — through his agent — that he didn't want to play in New Orleans any more.
Understandably the Pelicans didn't want to trade one of the most significant players in the league under threat, and so what remains of the season has become a stalemate.
Davis plays limited minutes or not at all, the building is half empty — the Pelicans are last in the NBA in attendance — and the team simply plays out the string.
The Raptors are too, although in a different way. With 14 games left in the regular season, the Raptors can't likely finish worse than second and are unlikely to catch the Milwaukee Bucks for first in the East.
So how to make best use of their time in a game that's on the schedule but otherwise doesn't exist?
"Obviously it's easier to measure or dictate your progression or where you stand against the top teams in the league or in big games," said Raptors guard Danny Green. "Even the games that are not big games are very important for where we are rotations-wise, how fast are we communicating and moving and rotating. Offensively, how crisp is our offence?"
That's what it's come down to — a couple of hundred million dollars of basketball players convene at the Smoothie King Center for a controlled scrimmage.
That's how it looked anyway as the Raptors mostly coasted by the Pelicans 127-104, led by Kawhi Leonard, who needed just 27 minutes and 20 shots to score 31 points, and Kyle Lowry, who recorded his 12th triple-double as a Raptor, finishing with 13 points, 12 rebounds and 12 assists.
The Raptors took control of the game with a brief spurt of defensive commitment in the third quarter, holding the undermanned Pelicans to just 19 points on 8-of-34 shooting as they flew around for four steals and three blocked shots, often turning them into transition baskets. Danny Green (13 points on eight shots in 24 minutes) hit a pair of threes in transition to put the Raptors up by 13 as part of a quick 11-0 run and the Pelicans weren't able to come back.
If there was a silver lining it was that no one got hurt and those 12 minutes when the defence looked connected and the offence flowed from it. Toronto improved to 47-16 before heading to Miami for an afternoon start Sunday against the Heat.
Making something out of nothing took a conscious effort. It would have been easier for the Raptors to let the game flow back and forth until the last few minutes and then take their chances that they could grab a hold of it in their final minutes.
But to their credit, the Raptors didn't do that, at least after half-time. They have bigger goals and used them as motivation to dig down and get some work done.
"I told them today we were playing soft early, we were letting the ball bounce two or three times before someone got a rebound," said Leonard. "And by me saying that I have to show them a tougher game. If play the same way it's hard to listen to guy like that."
Playing the game correctly and with the intent of executing on both ends, even in a game when the penalty for not doing so is likely pretty slight, takes discipline and effort. The Raptors found a way to exercise a little of both.
"It's easy to just go up and down. You [can] make the game a lot easier if you're not playing hard and you don't care about winning," Leonard said. "That's what makes the game tough, you wanting to make every shot or you wanting to make every defensive play out there and wanting to win."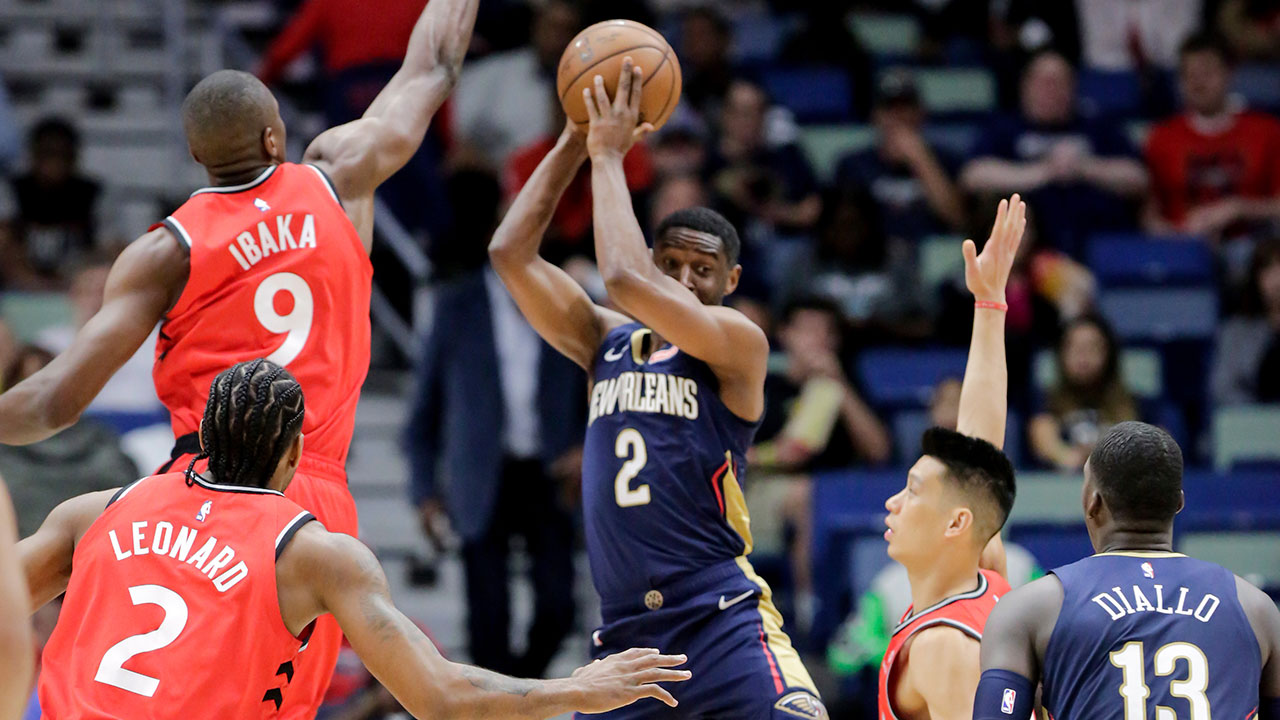 It shouldn't be so hard for a team to find a reason to play at a high level. In the bigger picture, the league does seem to have backed themselves into a corner with regular-season games often so diminished in importance and speculation around the future movements of star players undermining teams for years at a time. The fans are just innocent bystanders at this point and given there were as many Raptors jerseys in the crowd as Anthony Davis shirts in New Orleans, maybe they've moved on already.
The players aren't judging.
"You respect every personal decision that is taken," said Raptors centre Marc Gasol, who got his third start as a Raptor since coming over from Memphis at the trade deadline, finishing with six points and nine rebounds in 19 minutes. "You understand everybody is different and every situation is different. The important thing for us as players to perform is to be happy with what you're doing, to believe truly in what direction the team is going.
"If [Davis] feels this is the direction he wants to go, I completely respect and support him because at the same time you know if the franchise feels they need to go in a different way, they will do it, they will not hesitate to do it."
But on a Friday night in March, Davis' decision left the Raptors a challenge: how to make something out of a nothing game.
The main conclusion that could be drawn from the first half was that Leonard remains an effective offensive player, as he scored 24 of his game-high 31 on just 13 first-half shots. Pascal Siakam wasn't quite as prolific but was effective, chipping in 11 of his 19.
The fact the Raptors led only 64-61 implied the obvious — defence was optional in the early stages of this particular scrimmage, with the two teams combining to shoot 53 per cent from the floor and 65 per cent from two-point range.
There was not a lot of contesting going on. Even Nurse's plan to get a look at Gasol with the starters was foiled as the big Spaniard was pulled after picking up two quick fouls.
But, to the Raptors credit, they decided to make something out of what easily could have been a lost night.
"The message at the start of the game was: This team can score the ball, great pace, great points in the paint, great offensive rebounding team, really high numbers across the NBA in all of those areas," said Raptors head coach Nick Nurse. "I didn't think we brought quite enough physicality in the first half, but I thought we brought it in the second half, and it made a difference."
It's the kind of difference that could make the difference as the Raptors strive to build good habits with a roster that has seen its share of flux even as they've been able to churn out wins. With more meaningless games than not down the stretch, figuring out how to make the most of them might be the most important habit to foster of all.
"We're a team that wants to win and go deep in the playoffs," said Leonard. "So we have to dig deep and not care about who we're playing against and play above the competition."
It's no easy trick, but for one night the Raptors pulled it off.