Jonas Valanciunas is an NBA starter.
He started his first game as a rookie, having arrived from Lithuania for the 2012-13 season, and has heard his name called and made the walk on court under the starter's spotlight in 433 of the 439 contests since then.
The only exceptions were a missed start in 2015 after coming back from a 17-game absence with a broken hand and a five-game stint coming off the bench as a rookie in 2013, again after an extended injury absence.
It's been a Raptors tradition. But it's coming to an end.
Former Raptors head coach Dwane Casey valued continuity and clearly defined roles — he even had them printed out for players on cards. Barring health, or unusual performance blips, he preferred to keep things rolling. Steadiness was his calling card.
Last season — the most successful regular season in franchise history — saw four players start 95 per cent of the games. The only meaningful change came when Norman Powell was hurt early in the season and rookie OG Anunoby took over his starting spot — Powell and Anunoby started 80 of 82 games at small forward.
The rest of the roster started 19 games combined.
But that kind of game-in, game-out stability is something Casey's successor Nick Nurse is trying to ease away from. Which doesn't mean he'll be handing out starts by flipping coins or fiddling with the roster just because — you won't see Kyle Lowry or Kawhi Leonard coming off the bench, safe to assume — but after that, things might be more fluid.
"That is the main thing for Nick," said Valanciunas after the Raptors practiced Sunday at their training centre with the season opener looming Wednesday. "Being flexible, adjusting and showing different lineups every game. Different weapons. Different defence. That is how we can be strong."
It's the centre position that will likely see the most fluctuation.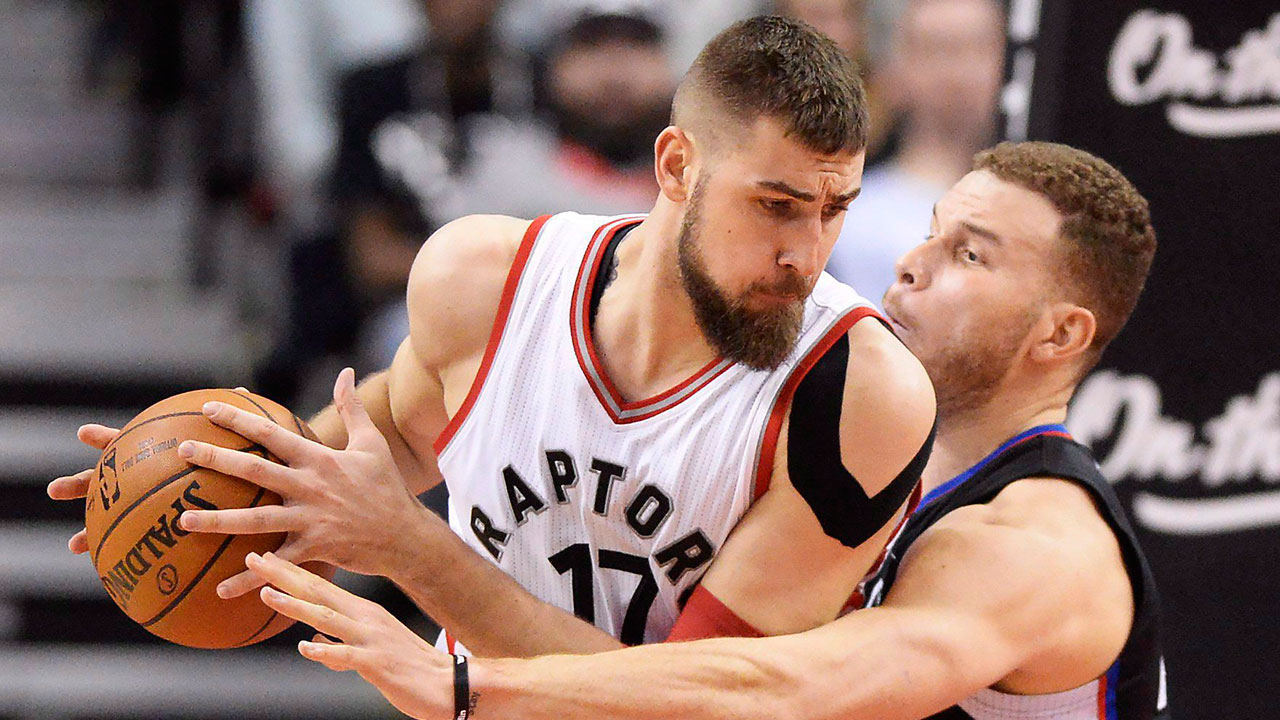 Valanciunas has started nearly 100 games alongside Serge Ibaka since the Congolese big man was acquired at the trade deadline in 2016. The pairing required Ibaka to play more on the perimeter than he was comfortable with. Through training camp and exhibition play, the two bigs flip-flopped starting assignments and were rarely on the floor together, leaving more minutes for Ibaka at centre. That decision has opened up a range of other options through the wing positions and it seems clear that Nurse is determined to use them.
"It's more of a mix and match, he's made that clear," says reserve point guard Fred VanVleet, who led a very successful five-man bench unit that Casey was loathe to tinker with last season. "I think we all have brains here. We can assume Kyle and Kawhi's spots are locked in and anything outside of that will be fluid depending on matchups and who's playing well and who we're playing. I think that kind of gives us a bit more continuity and more mix. Last year, it was like having two separate teams, it was like football almost where you had five in five out."
In theory, it makes perfect sense. On a team of highly-paid professionals, a coach should have the freedom to manipulate and adjust his lineup by the minute if necessary. But athletes are creatures of habit, the thinking goes, and clear expectations and clear roles help them build their habits accordingly.
"Once you know individually where your rotation is and what kind of minutes you'll be playing, the amount and your spots and when you'll go in, it's easier to get a rhythm and be mentally prepared for the game," said VanVleet. "On the sideline, even knowing when to warm up, when to take your warmups off and things like that. You just get more mentally prepared."
But what of getting your name called out with the TV cameras swooping in for a close-up?
It's the kind of status symbol most players have worked for since they were kids and don't necessarily want to give up. Players like it, don't they?
"One-hundred per cent," said Nurse. "I wish I was a starter."
[snippet id=3360195]
But Nurse is confident he will get the leeway he needs to splice his rotation — which will likely run at least 10-deep again — in ways that create the most advantages.
"I think what'll happen is you'll throw a starting lineup out there and you'll win a game and, 'Oh, we don't wanna change the starting lineup' — it's almost like a superstition thing," he said. "I'd like to keep it a little fluid, only because I think this is a super versatile team and I'd like to keep us in a versatile mindset, especially starting out here.
"… I think there's gonna be opportunities to share [starting spots] and move it around a little bit," he said. "That's my mindset right now … There's certainly some prestige that comes with starting [but] I would also say that you'll probably see different guys starting the first half and second half depending on how the first half went, depending on what we think the matchups might be in the second half, depending on maybe somebody got on a roll in the first half and we wanna get 'em right back out there, I don't know."
For his part, Valanciunas says he's good with whatever. If his role changes after seven seasons almost exclusively as a starter, he's fine with it. A year ago, Valanciunas said nearly all his minutes in practice came playing alongside the four other starters. This year, the line-ups have been all over the map. Things may be different come Wednesday night, but he's prepared.
"That is the difference. We know how to play with different matchups," he said. "Doesn't matter if I'm first unit, second unit. Same thing for Serge. I'm starting with Pascal or Serge or OG at the four. Different people, same mindset. Probably that is our advantage and that is our strength.
But what about the spotlight, what about hearing your name announced to the crowd?
"I make sure I hear my name," he said. "Do I start or do I not? I'll make sure I hear my name."
[relatedlinks]